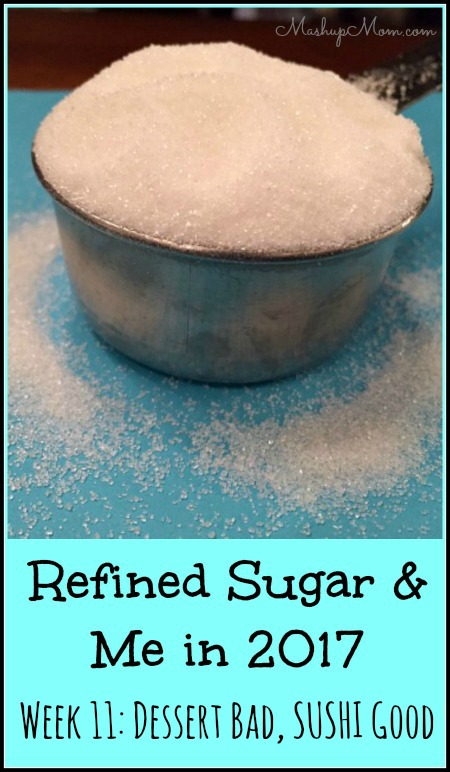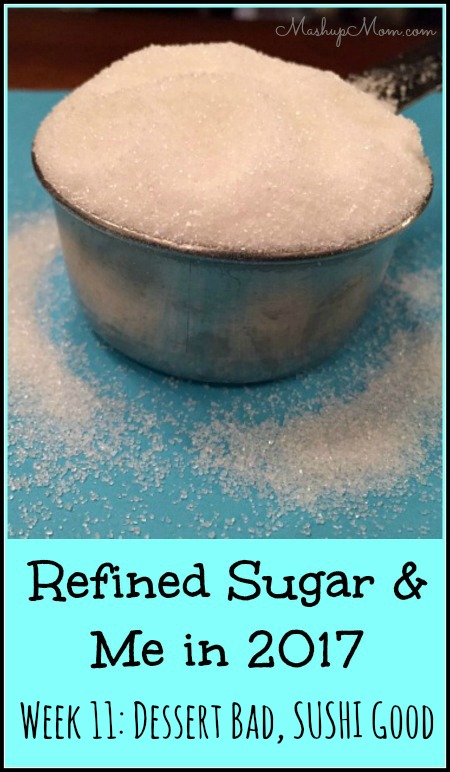 Let's check in on week eleven of refined sugar & me in 2017! This week I'm holding steady weight-wise, so still down a total of 9 pounds in eleven weeks. Thanks for coming along on my (slow) journey, and I'd love to hear about what you've been doing this year as well. I keep trying to remind myself that you don't overturn a lifetime of eating habits in just a few short months — be gentle with yourself on the days when you're not where you'd like to be.
My own personal science experiment
This week… Well, do you ever feel like your body is kind of like your own personal science experiment? After so many years of poor eating habits, I'm still gauging where I can push it and where I need to leave things be on this year's new eating plan. So, here's what I've learned this week about myself and where I'm at right now.
Ice cream, bad
It's been a month since my ill-fated cheesecake experiment, so I thought I'd test out the "dessert once a month" idea with ice cream. Well… that was a bad idea. Not only was it not as good as I remembered, an hour later I was suffering through the worst headache I've had in months, was suddenly exhausted, and felt kind of sick to my stomach. (And no, I didn't have one of those 27 scoop monster sundaes, if that's what you all are thinking… 😉 ) To top it all off, I was also hungrier than usual and ate more junk than usual the whole next day.
So, I'm taking the once-a-month dessert idea off the table for the foreseeable future. For me, it's a bad plan; I just had to figure that out through experience. After being off sugar for a while, either I've forgotten how I felt before or it's too much of a shock to my system: It wasn't worth it, and I didn't actually enjoy it that much.
Sushi, good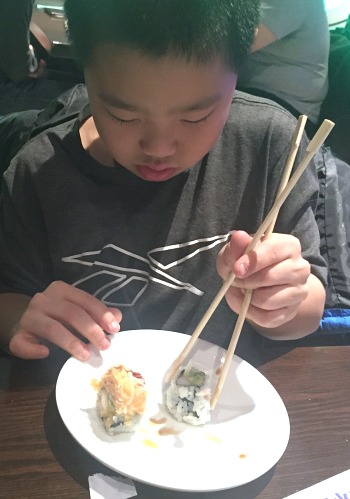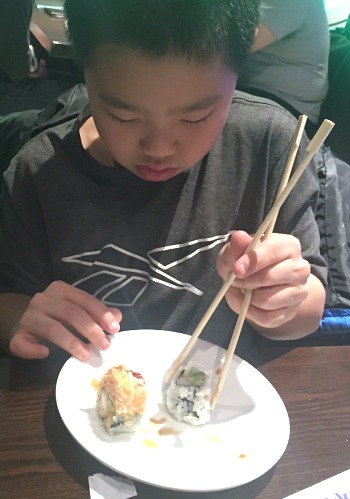 Moving on… I've largely avoided foods like sushi for a while because of the added sugar in the rice, but this week we ended up out for a special celebration dinner. (And yes, I can't use chopsticks to save my life, but Mr. 10 had it down like a pro after about 20 minutes.) Let me tell you: Sushi, good. And luckily I didn't end up with any of the same physical side effects, whether because of the lower amount of sugar or because it was balanced out by the other ingredients — because at this point it's much more difficult to contemplate never enjoying sushi than never having ice cream.
So: Ice cream, no. Sushi, only occasionally! But if you asked me back in December to choose between giving up sushi or giving up ice cream, I likely would have had a different answer. If you haven't gotten on board with the limiting refined sugar experiment yet, give it a try and see if your taste buds and cravings also change.
So, that's me this week
How are you doing on your own healthier eating plan so far — and what have you found that helps you stay on track?
Earlier installments:
Or, you can follow the whole Refined Sugar and Me series here.