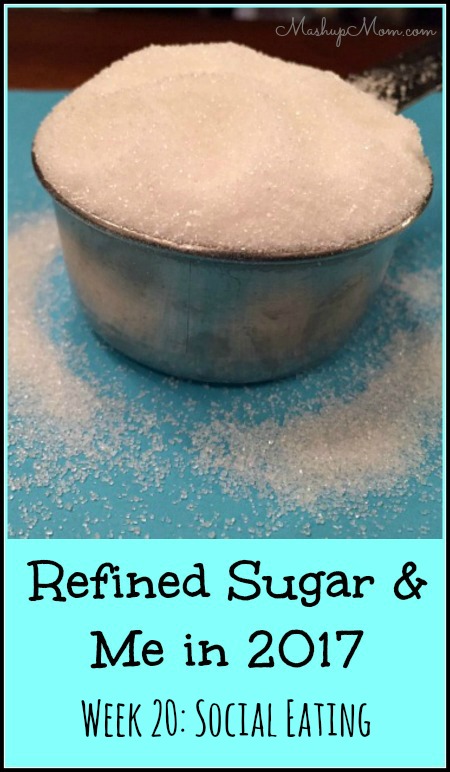 Welcome to week twenty of our ongoing series about refined sugar & me in 2017! This morning I'm again holding steady at a total of 13 pounds down from when I first started avoiding most added sugars and processed foods at the end of December 2016. Just like last week, though Monday finds me a couple pounds heavier than I was earlier in the week — so the weekends are apparently what's getting me. What was the problem this weekend? Mother's Day! 🙂
Social Eating, Sugar, and Societal Expectations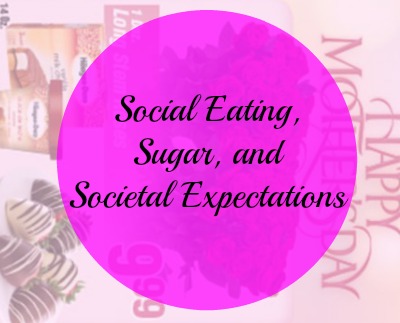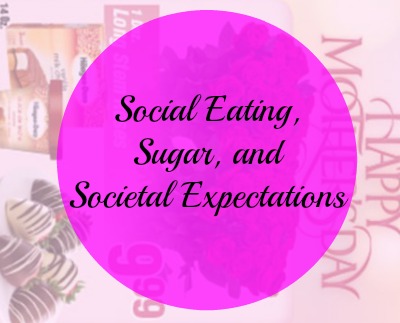 Holidays are really geared towards sabotaging any healthier eating plan, aren't they? Valentine's Day revolves around chocolate, Christmas brings us cookies, fudge, and holiday parties, then there's Halloween (more chocolate) and Thanksgiving = pie and more pie… And there's a reason why: We're geared towards sharing food as a social and bonding activity.
Think about the last time you enjoyed lunch out at a restaurant with friends or family. What generally happens when the dessert menu comes around? Right: "Oh, I'll have something if you're going to have something," or… "How about we split this one?" Or think about the last time you attended a birthday party: Did you accept a piece of cake after singing "Happy Birthday," even if you really didn't want one? When you were at your mother-in-law's house for Easter dinner, did you feel compelled to try a slice of her famous pie?
A lot of us tend to eat more and indulge more when we're in social situations, just like we tend to buy more when shopping with friends. And, we're more likely to lapse when we see other people eating, especially in restaurants.
While I didn't have advertised Mother's Day treats like chocolate covered strawberries or ice cream or cake or pie yesterday, I did enjoy both lox & bagels for brunch and BBQ for dinner, with full awareness that the sugary BBQ sauce and all the simple carbs were going to get me. (And, I didn't feel particularly well last night — lesson hopefully learned, again?) Food is so intertwined with celebration that this seemed an important part of Mother's Day, but now that I've given some thought as to the reasons why, I'll try harder to eat mindfully and avoid this same trap when Memorial Day rolls around in a couple of weeks.
So, that's me this week…
This year is all about slowly figuring out my own pitfalls, it seems like, and mine may or may not be the same as yours. How are you doing on your own healthier eating plan so far — and what have you found that helps you stay on track?