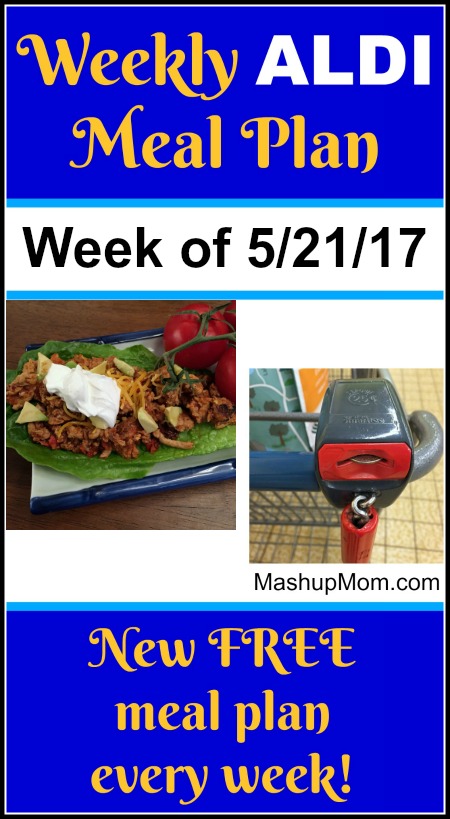 Here's your easy weekly ALDI meal plan for the week of 5/21/17: Pick up everything on the shopping list below, then start cooking on Sunday.
*** Subscribe to the weekly ALDI meal plans here ***
Hope you find these free ALDI meal plans useful!
Things to know about these ALDI meal plans
A few notes before we get started:
I try not to repeat main dish recipes more often than once a month, but you will see favorite easy recipes come up again in these weekly ALDI meal plans as the same meats and produce items come up again on sale. Part of the fun of meal planning lies in mixing old stand-bys with something new each week.
If one or more of these recipes isn't to your taste or if you have other ingredients to use, adapt this ALDI meal plan to your family's preferences — or just use the ideas here to supplement to your own meal planning.
This week's ALDI meal plan reflects prices from the current week's ad (running 5/14-5/20 in Sunday ad markets and 5/17-5/23 in Wednesday ad markets). Non-advertised prices were collected on 5/17/17 at my local store in the Chicago suburbs, but non-advertised prices and produce deals can vary by location & region. In either ad market, shop any time through Saturday and start cooking on Sunday 5/21/17.
So let's get ready to make six complete dinners for a family of four, for $60.00 out the door!
ALDI meal planning week of 5/21/17 – 5/27/17
I'm assuming here that you already have pantry basics like cooking oil and spices. Read through the recipes before you shop to make sure you have the necessary pantry staples on hand.
Six Easy Dinners from ALDI for $60.00
ALDI meal plan — Start cooking 5/21/17
Sunday: BBQ spareribs. (Peel off membrane on bony side, then rub with seasonings of choice, wrap in foil, & bake on a rimmed baking sheet at 300 degrees for 2.5-3 hours or until meat is tender and shrinking away from the bone. Unwrap foil and baste bony side with BBQ sauce. Oven broil for a minute or two, flip ribs and baste meaty side with sauce, then broil another minute or two. Serve with additional sauce. Note: If you have an Instant Pot, you can also pre-cook the ribs in there much more quickly, then just baste and grill or finish off in the oven.) Sides: Corn on the cob plus sauteed broccoli (cook just a few minutes in a large skillet over medium heat with a little olive oil, minced garlic, and red pepper flakes until bright green).
Monday: Chipotle black bean veggie burger salad (reserve the larger outer Romaine leaves to wrap Tuesday's tacos). Side: Easy roasted sweet potatoes.
Tuesday: Low carb chipotle turkey tacos (use ground turkey instead of ground chicken; substitute 8 oz mini sweet peppers for the bell pepper). Serve in lettuce wraps with shredded cheddar, sour cream, and one diced avocado. Side: Quick tomato-cucumber salad (chop the rest of your tomatoes & toss with some chopped cucumber, half a medium onion, sliced, a little red wine vinegar, olive oil, oregano, and salt & pepper to taste).
Wednesday: Spaghetti carbonara (garnish with dried parsley if you don't have fresh handy, and reserve the rest of the pack of bacon for Friday's dinner). Side: Spinach salad with vinaigrette.
Thursday: Easy turkey meatballs (spice up your bread crumbs with a little oregano & basil, since you're buying plain this week). Serve turkey meatballs over the other half of your spaghetti noodles and top with marinara & Parmesan. Make garlic bread with half the sourdough square, plus garden salad with vinaigrette.
Friday: Spinach mushroom frittata. Sides: Fry the up rest of your pack of bacon, plus sourdough toast and sliced mango.
Saturday: Leftovers, family pizza night (ALDI sells a nice big take-and-bake deli pizza), eat out, or date night.
ALDI shopping list — Shop through 5/20/17
Dairy & refrigerated
16 oz Friendly Farms sour cream, $1.19
16 oz Friendly Farms mild shredded cheddar, $2.99
Dozen Goldhen eggs, $.69
5 oz Priano shredded Parmesan, $1.99
Grocery
8 oz can Happy Harvest tomato sauce, $.25
1 can Pueblo Lindo chipotles in adobo, $.99
Dakota's Pride black beans, $.59
Canister of Progresso bread crumbs, $1.49
Happy Harvest canned corn, $.48
16 oz SimplyNature organic spaghetti, $1.19
Priano marinara sauce, $1.89
Burman's regional BBQ sauce, $1.99
Specially Selected sourdough square, $2.99
Specially Selected gourmet vinaigrette, $1.89
Meat & seafood
3 lb Jennie-O ground turkey, $5.99
1 lb Appleton Farms thick cut bacon, $3.69
3 lb spareribs, $5.37
Produce
16 oz mini sweet peppers, $1.69
3 heads garlic, $1.29
3 lb yellow onions, $1.69
24 oz tomatoes on the vine, $1.19
2 Hass avocados, $1.98
1 lb limes, $1.59
8 oz baby bella mushrooms, $1.49
5 oz SimplyNature organic baby spinach, $2.69
8 oz Little Salad bar spinach, $1.49
3 pack Romaine hearts, $2.49
4 pack sweet corn, $1.29
2 mangoes, $.98
Cucumber, $.49
Two sweet potatoes, $1.58
16 oz broccoli crowns, $1.49
Garden salad, $.89
Or, maybe less… 🙂 These meals will likely run you even less if you supplement this week's ALDI purchases with clearance meat you already have in your freezer, pantry staples you picked up on sale, produce you already have on hand, and/or sale produce from your local produce market. Let me know if you give it a try!
Subscribe above to receive a weekly email message about new ALDI meal plans — no spam and I'll never sell your info; just get email notification each week about the new plan!
Happy ALDI shopping and cooking this week, everyone!
Oh and by the way…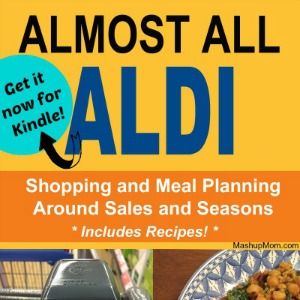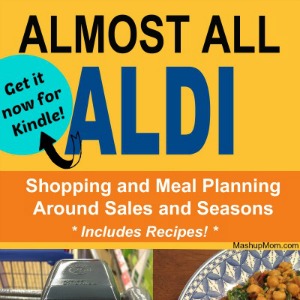 If you enjoy these ALDI meal plans and savings, you might also enjoy my eBook: Almost All ALDI: Shopping and Meal Planning Around Sales and Seasons.