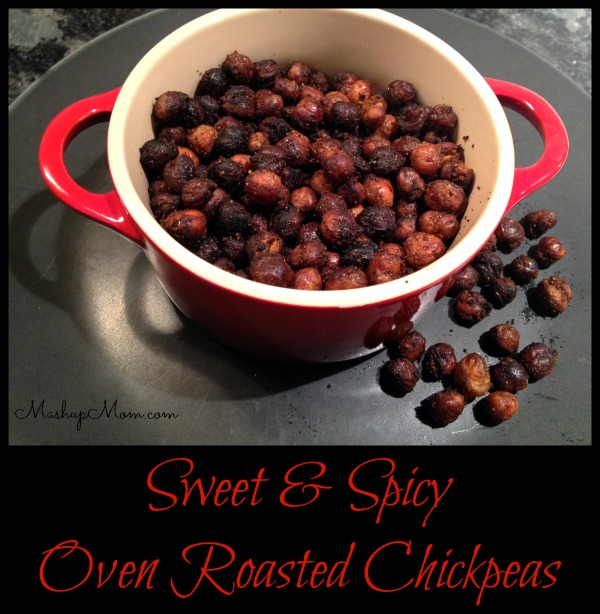 Welcome back to Sunday Scratchups, your weekly recipe from scratch around grocery store matchups! This week I picked up a 7 oz bag of garam masala for $1.79 at Pete's Fresh Market. When you're shopping for ethnic spices, you'll often find a much better deal when you look outside the regular aisle with McCormick, etc., and I found mine alongside their other Indian foods. I paired my new spices with a can of Ziyad chickpeas that ran me about $.59 at Pete's at one point, but you can also pick up chickpeas cheap at Jewel (Essential Everyday are on price cut for $.79 as of the date on this post, and you can print $1.00/3 here), or Goya garbanzos run under $1.00 every day at Ultra Foods and you can use the $1.00/6 coupon here. Anywhere you choose to buy yours, this will be an affordable and easy gluten free dairy free snack.
Sweet & Spicy Oven Roasted Chickpeas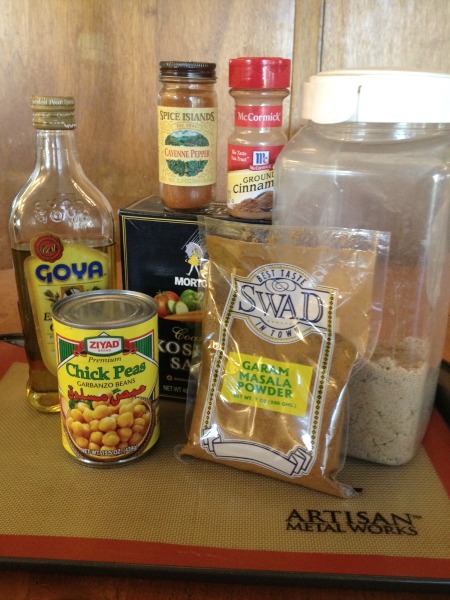 Ingredients
One can chickpeas (garbanzo beans)
1 Tbsp olive oil
1 tsp garam masala
1/4 tsp Kosher salt
1/4 tsp cinnamon
1/4 tsp cayenne pepper
2 tsp brown sugar
Directions
Drain and rinse chickpeas, then pat as dry as possible between paper towels. A number of the skins will slide off, so just discard those. In separate bowl, mix olive oil, spices, and brown sugar. Add chickpeas and toss until well coated.
Spread spiced chickpeas in single layer on a rimmed baking sheet lined with parchment paper or a silicone baking mat. Bake at 400 degrees for 25-30 minutes, stirring after 15 minutes, then turn off heat and leave in oven another 10-15 minutes so that they get crispier. Be sure to check them at 25 minutes so that they don't get a little overdone like mine did, lol! (Although they were still darn tasty…)
Mix it up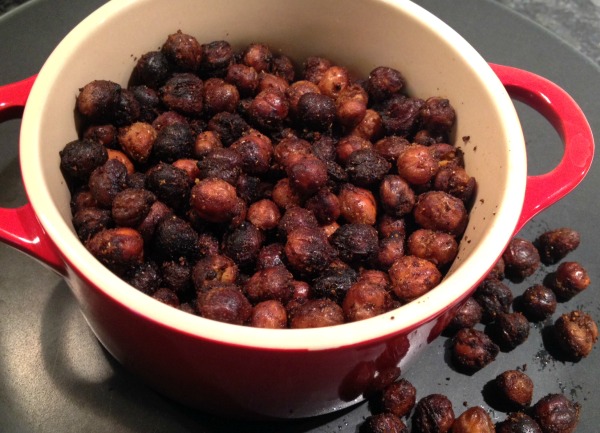 These addictive little crunchy nuggets came out nicely sweet & spicy, with an underlying nuttiness from the roasted chickpeas. If you're not a garam masala fan, though, spice them up any way you'd like — try chili powder and garlic salt, or if you're not dairy free perhaps try Parmesan and garlic powder… whatever works for your family's tastes. When my family tasted these, the kids and I devoured the whole batch within 15 minutes. I think I'll double the recipe next time!
Easy Print Version

Sweet & Spicy Oven Roasted Chickpeas
Author:
Rachel at MashupMom.com
Ingredients
One can chickpeas (garbanzo beans)
1 Tbsp olive oil
1 tsp garam masala
¼ tsp Kosher salt
¼ tsp cinnamon
¼ tsp cayenne pepper
2 tsp brown sugar
Instructions
Drain and rinse chickpeas, then pat as dry as possible between paper towels. A number of the skins will slide off, so just discard those.
In separate bowl, mix olive oil, spices, and brown sugar.
Add chickpeas and toss until well coated.
Spread spiced chickpeas in single layer on a rimmed baking sheet lined with parchment paper or a
silicone baking mat.
Bake at 400 degrees for 25-30 minutes, stirring after 15 minutes, then turn off heat and leave in oven another 10-15 minutes so that they get crispier.
Be sure to check them at 25 minutes so that they don't get a little overdone like mine did, lol! (Although they were still darn tasty...)