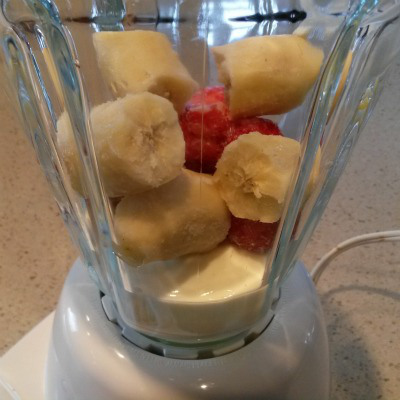 Welcome back to What to Eat Thursday 3/6/14. What To Eat Thursday features recipes around current grocery store sales in Chicago, which for the most part started yesterday 3/5 or today 3/6.
This week, a lot of places have strawberries on sale — so we are again going to pretend it is spring! The ads are again pretty slow this week, other than fruit, but we'll take that as a positive sign that we might actually escape the polar vortex relatively unscathed.
So over on Frugal Homemade, Trish concocted strawberry-banana smoothies…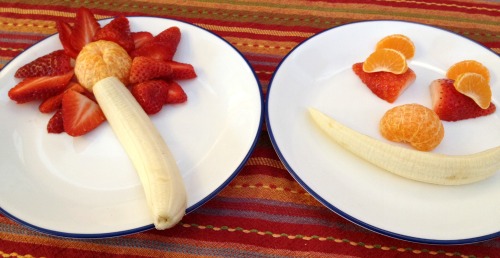 Me, I just made the kids a fruit face and a fruit flower for an after-school snack, with banana, strawberries, and clementines. I was feeling pretty good about this, until Trish sent me this link about a mom who "makes food that tells a story." Now, mine seem kind of lame, lol. Seriously, check her out!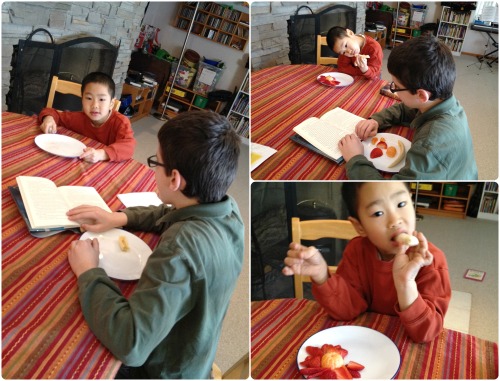 But then I realized: It made them smile, even the jaded 11 year old — and they both just ate a whole plate of fruit for a snack, so hey. Not everything you make has to be Pinterest-worthy.
So, where's this stuff on sale?
Bananas
Pete's Market: Costa Rica bananas, $.48/lb.
Clementines
Pete's Market: 3 lb clementines, $3.98. If halo, use $.50/1 in the 2/23 SS.
Tony's: 3 lb bag Cuties mandarins, $2.99.
Strawberries
Butera: Premium Strawberries 1 lb $.99 (Limit 2)
(Angelo) Caputo's: Driscoll's strawberries 1 lb, $1.99. Print $.50/1 here when you sign up, then earn coupons for doing surveys.
Jewel: Strawberries, $2.50.
Meijer: 1 lb strawberries, $1.00.
Pete's Market: Florida or Mexico 16 oz strawberries, $.98.
Tony's: Strawberries 1 lb, $1.50.
Ultra Foods: 1 lb Florida strawberries, $1.99.
Yogurt
ALDI: 32 oz Fit & Active plain or vanilla nonfat yogurt, $1.79.
Butera: Chobani Greek Yogurt $.99 (Use $.50 Chobani Greek Yogurt (Shopmium Deposit) to get one for only $.49!)
(Angelo) Caputo's: Stonyfield yogurt cups, $.50. Print $.50/3 here.
Food 4 Less: Dannon Activia Yogurt, $2. $1 off Dannon Activia yogurt, 4 pk. or (4) 5.3 oz cups, SS 3/02. FINAL COST: $1.
Jewel: Yoplait Greek, $1.00. $1.00/5 in the 1/5 SS3 or 2/3 SS. Print $1.00/5 here. Yoplait Greek yogurt cups (2/24/14 – 3/23/14). Buy any flavor Yoplait Greek 100 or Greek Blended yogurt cups. Buy 6-9 and get a $1.00 Catalina. Buy 10 or more and get a $1.50 Catalina. Or, Dannon Oikos or Greek light & fit, $1.00. Use $1.00/3 in the 1/19 or 1/26 SS.
Meijer: Activia 4 pack, $1.88. Use $1.00/1 in the 3/2 SS. Or, Dannon Oikos or Light & Fit Greek, $1.00. Use $1.00/3 in the 1/19 SS or 1/26 SS.
Pete's Market: Fage Greek yogurt cups, $1.00.
Schnucks: Muller or Chobani yogurt $2/5 Muller from 3/2 (use 2). To work this buy 11 – 1 will be free so $10. use 2 $2/5 making them $6 for 11 or $0.55 each.
Tony's: Fage Greek yogurt cups, $1.00.
Ultra Foods: Stonyfield organic blends, $.50. Print $.50/3 here.
Valli: Chobani Greek yogurt, $1.00.
What's your favorite way to use fresh fruit — or to get more fruit into your kids?

Please share in comments here, because variety is the spice of What To Eat Thursday!