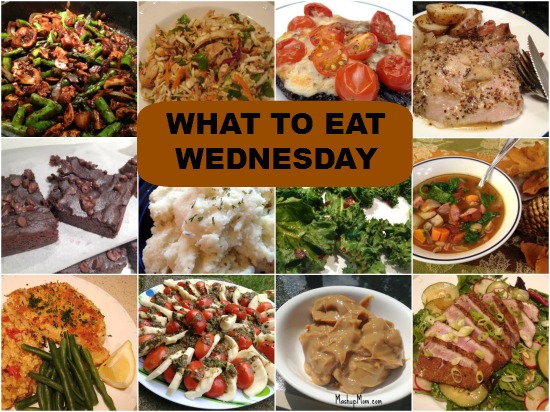 Welcome back to What To Eat Wednesday for 12/5/13. Yeah, it's Thursday again… We should really call this What to eat Thursday, but then it wouldn't be alliterative! Each week, Trish and I feature a couple of recipe ideas around current grocery store sales, and then  all of you are invited to share your own ideas in comments here. Most grocery sales started yesterday 12/4 or today 12/5.
Note: We're just listing which stores have some of the major ingredients for these recipes on sale, not saying to run around to every store to pick up an ingredient here, an ingredient there, because that's not frugal.

Combine what's on sale with what's already in your pantry, to feed your family frugally and deliciously.
What's up this week?
Chicken is on sale all over the place this week, so let's do that. First up, from The Frugal Homemade, Chicken and Spinach with Balsamic Tomato Sauce. Stack up the dish — and the savings! — with boneless skinless chicken breast, spinach, canned tomatoes, and some (optional) polenta.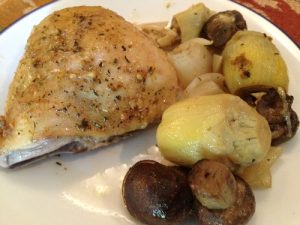 Next, Mustard Mushroom Artichoke Chicken Madness! Here prepared the tastiest way, with bone-in chicken thighs, canned artichoke hearts, and baby bella mushrooms. You can instead substitute bone-in chicken breast, if your significant other *coughMashupDad* prefers white meat, and/or regular white mushrooms (although it's tastier with the baby bella).
So where are these things on sale?
Artichoke hearts
Jewel: Reese quartered artichoke hearts cans, 2/$5.00. Print $.50/1 here (click "All You Exclusives" on the left").
Chicken
Jewel: Boneless skinless chicken breast value pack, $1.88/lb.
Meijer: Meijer boneless skinless chicken thighs, $1.99/lb.
Pete's Market: Bone-in chicken breast, $.99/lb. Bone-in chicken thighs, $.99/lb.
Tony's: Boneless chicken tenders jumbo pack, $1.99/lb. Boneless skinless chicken thighs jumbo pack, $1.99/lb.
Ultra Foods: Sanderson Farms split chicken breast family pack, $.98/lb.
Valli: Chicken leg quarters family pack, $.48/lb limit 3. Boneless skinless chicken thighs family pack, $1.69/lb.
Mushrooms
Meijer: Meijer organics whole white or mini bella mushrooms, 3/$5.00.
Onions
Butera: Yellow Onions 2 lb bag $.29 (Limit 1).
Valli: 3 lb Yellow onions, $.69.
Spinach
Angelo Caputo's: Spinach bunches, $.69 each.
Jewel: Fresh Express green & crisp salad or spinach, $2.00.
Meijer: Newstar spinach, 3/$5.00.
Tomatoes
Angelo Caputo's: Dei Fratelli 28 oz tomatoes, $.99.
Jewel: Cirio 13.76 oz Italian tomatoes, $.99. Hunt's 14-15 oz tomato sauce or tomatoes, $.80 when you buy ten participating mix/match items. 28 oz Dei Fratelli tomatoes, $1.50.
Meijer: Meijer Naturals tomatoes or diced with green chiles, $.79.
Pete's Market: 14.5-15 oz Red Gold tomatoes, $.99.
Valli: Dei Fratelli 28 oz tomatoes, $.99.