How to Make Homemade Lunchables: Don't pay full price for these things — and, get better quality!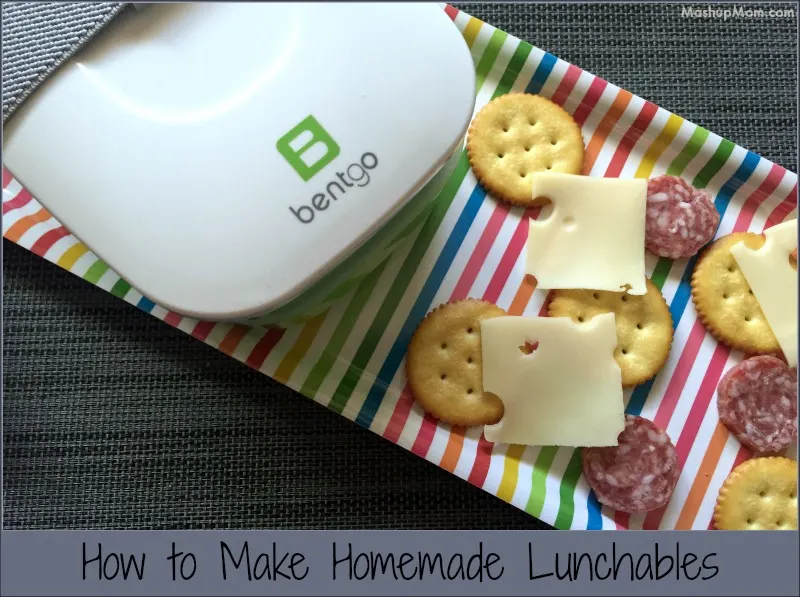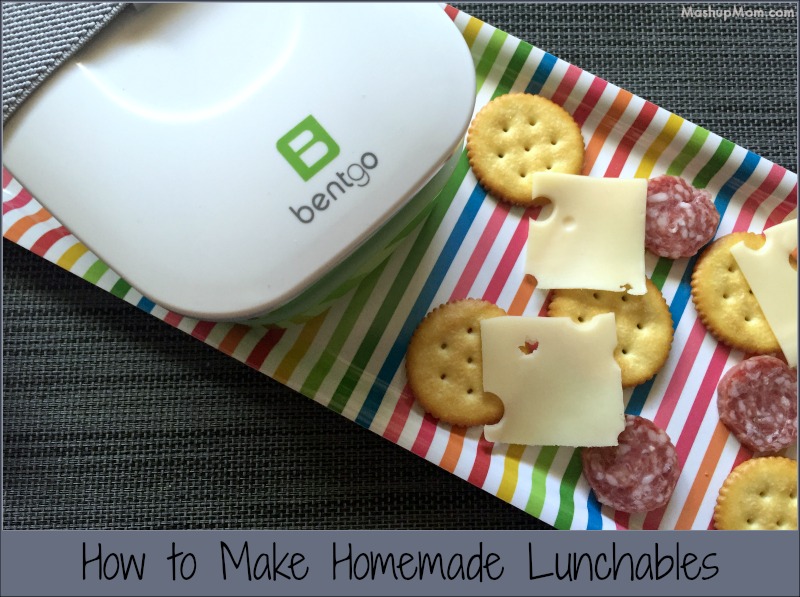 Recently one of my local grocery stores had basic Lunchables on sale five for $5.00, and Mr. 10 was begging me to buy them. For some reason he loves these things — I think it's the novelty, perhaps, because I generally refuse to pay for them. (And is it just me, or is the meat in them just so weird in texture?! 🙂 )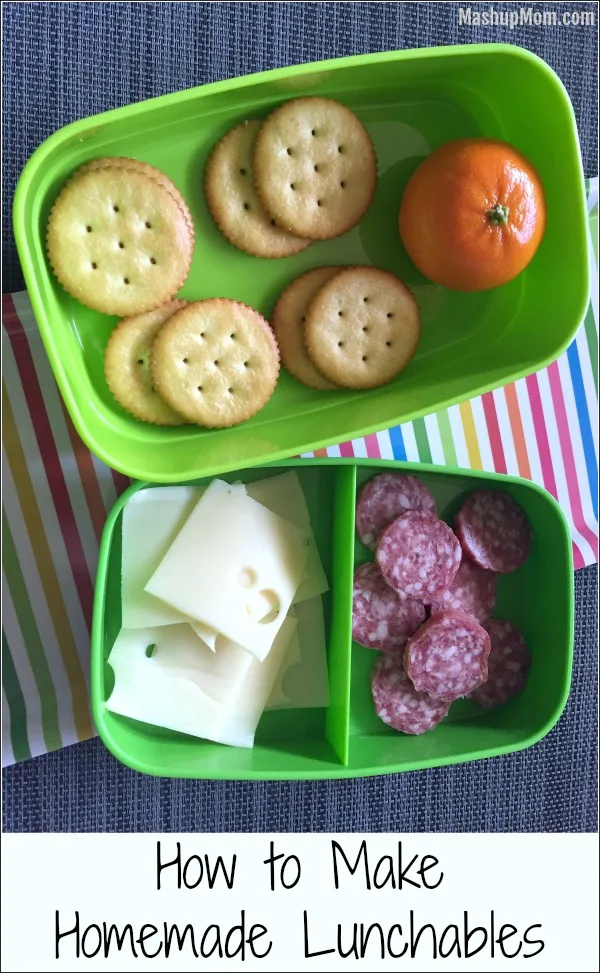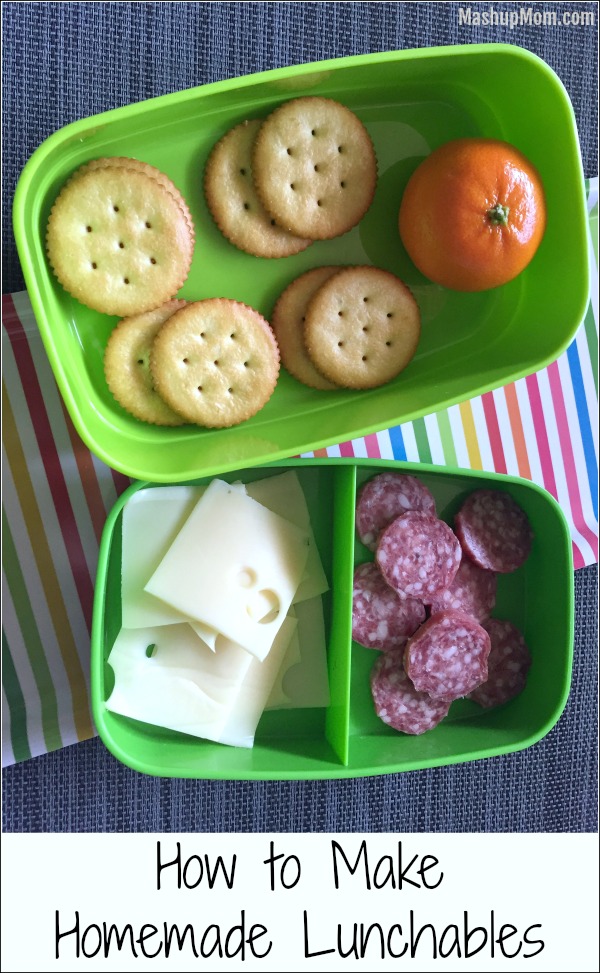 But what else does Mr. 10 love? Well, he really loves this bite size salami from ALDI, and he really loves putting together his own lunch combinations. Soooo… let's DIY some (slightly better quality) copycat Lunchables today, shall we?
So: What's better about Homemade Lunchables?
These DIY "Lunchables" contain real cheese (rather than "pasteurized cheese product") and better quality lunch meat. All of the ingredients I purchased at ALDI today ran me just slightly more per lunch than buying basic Lunchables on sale: $6.77 for enough to make six homemade Lunchables. (Other than the bag of mandarins, which, well — you really should throw fruit into a basic Lunchables lunch anyway!) And, I still have half a box of crackers and quite a few clementines left over for other purposes.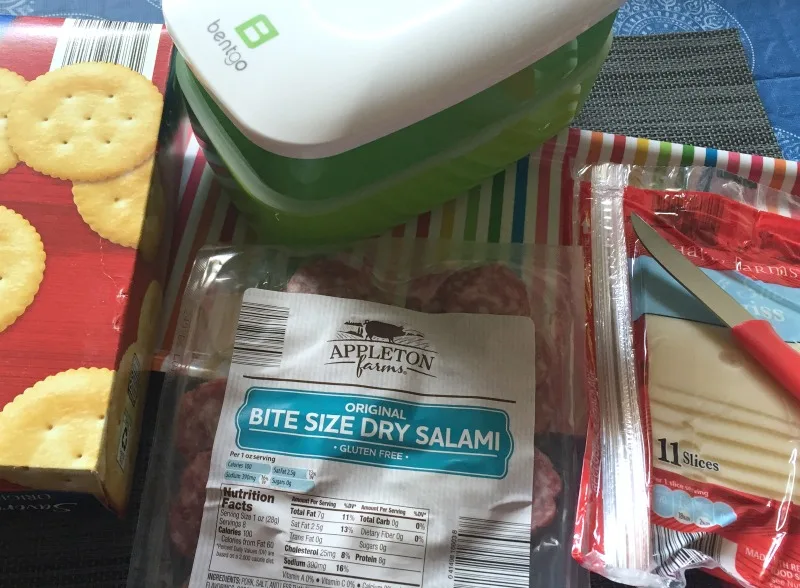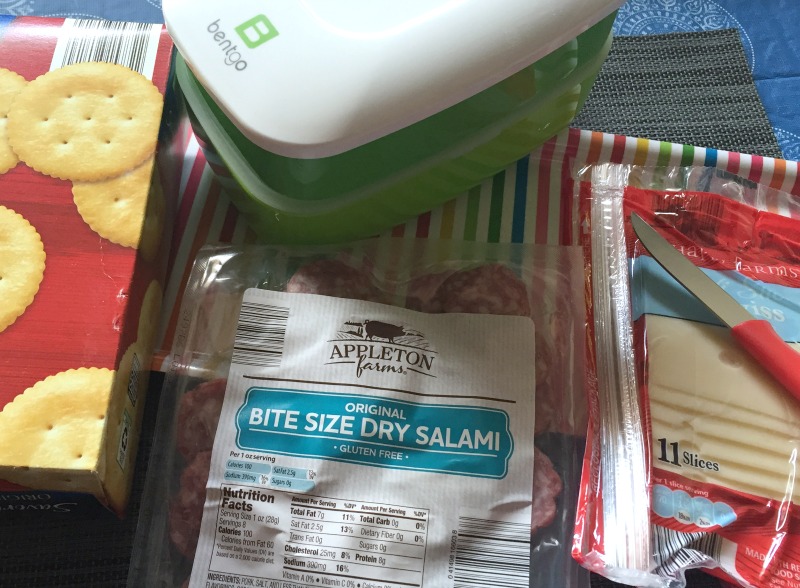 Homemade Lunchables ingredients
In order to make six of these DIY Lunchables, at ALDI today I picked up:
One box of Savoritz buttery round crackers, $1.39
One 8 oz package of Appleton Farms bite size salami, $3.49
One 8 oz package of Happy Farms sliced Swiss cheese, $1.89
One 3 lb bag of mandarins, $2.99
That came to $9.76 total, which works out to $1.67 per lunch (including fruit!) — with quite a few crackers and mandarins left over. If you'd like to just use those up or are making a week of Lunchables for two kids, you could add in a second pack of salami and second pack of cheese for another $5.38. This would give you sufficient ingredients to make twelve Lunchables total, dropping your cost to just $1.26 per lunch.
Homemade Lunchables containers
You'll also need a handy container to hold your copycat Lunchables. I tend to use either:
You can also simply use plastic sandwich and snack baggies to separate the ingredients inside your child's lunch bag; it's less cute (and less environmentally friendly), but just as efficient.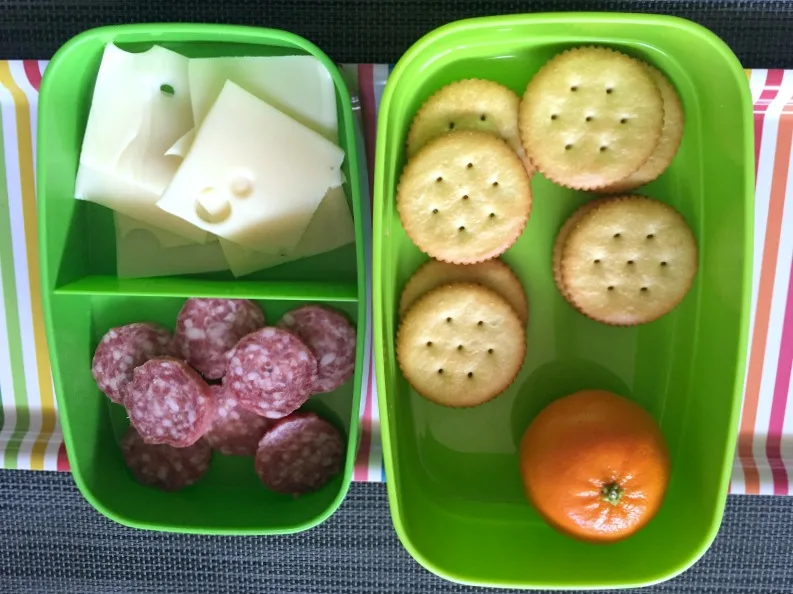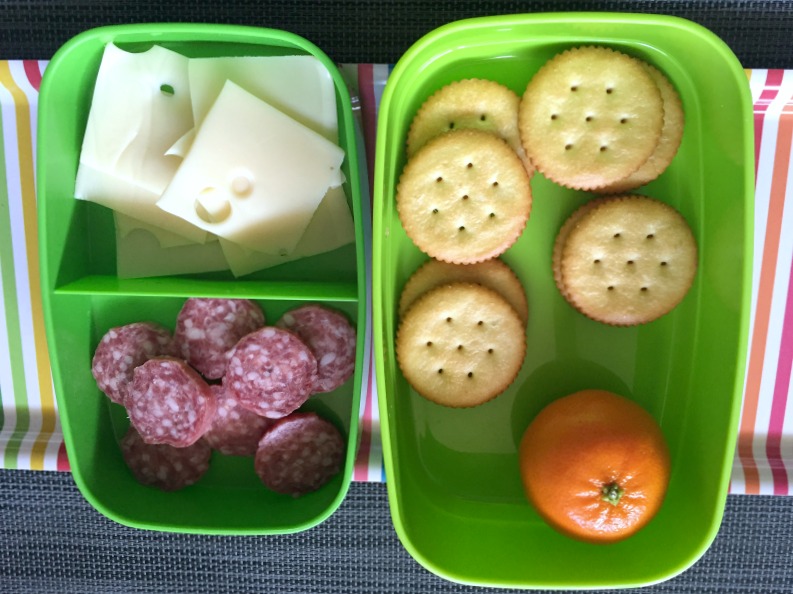 Assembling your Lunchables
Place eight buttery round crackers in one compartment of your lunch container. Cut your cheese to be cracker-sized (noting that you'll have 11 slices of cheese in an 8 oz pack, so you'll want to go slightly smaller than quarters here and some crackers will make do with two smaller slices rather than one larger one).
If using deli lunch meat or leftovers, also slice your meat cracker-sized. Just place the cheese and eight pieces of meat in separate compartments of your lunch container, add in a clementine or other fruit of your choice, and your homemade Lunchable is done.
Change up your DIY Lunchables
You can customize these homemade Lunchables for your own child's (or spouse's…) taste. Mr. 10 loves salami and Swiss; maybe your child would enjoy some quality deli roast beef and cheddar, or leftover thinly sliced turkey or ham with provolone. You could also easily make these gluten free by substituting your favorite GF cracker for the knockoff Ritz I used here.
Homemade Lunchables still aren't health food, of course…
Any way you slice it: Cheese, crackers, and salami is not what dieticians' dreams are made of. I do, however, feel a bit better about feeding Mr. 10 this homemade version than I do about picking up the pre-packaged variety — and he's clearly not eating homemade Lunchables every day! Here he still occasionally gets all the fun of assembling his own lunch, without having to resort to purchasing pre-packaged.
More Make it or Buy It Ideas
If you're looking for more "make it or buy it" ideas and recipes, read more here:
Anything else you'd like to see covered in these categories? Comment here!