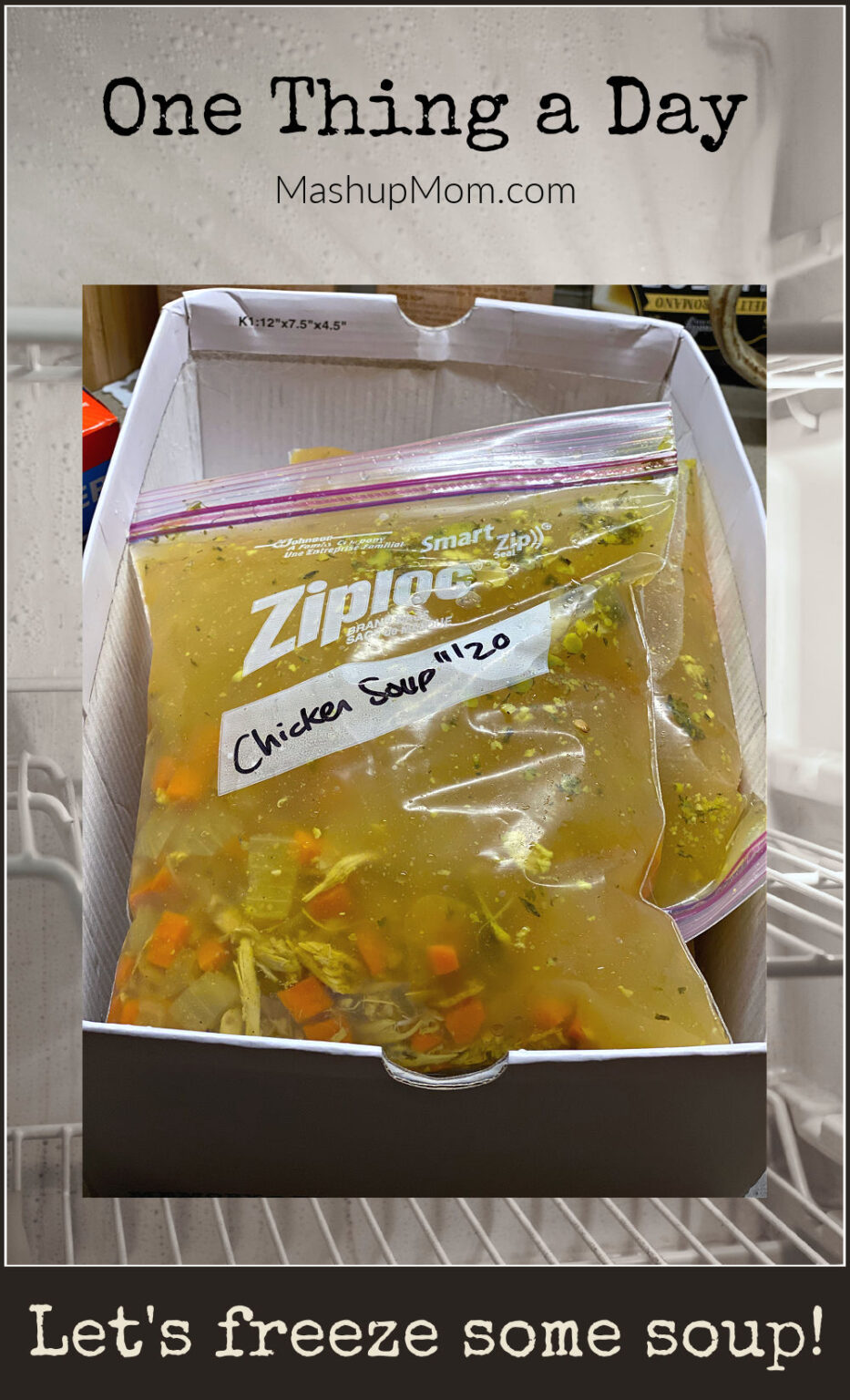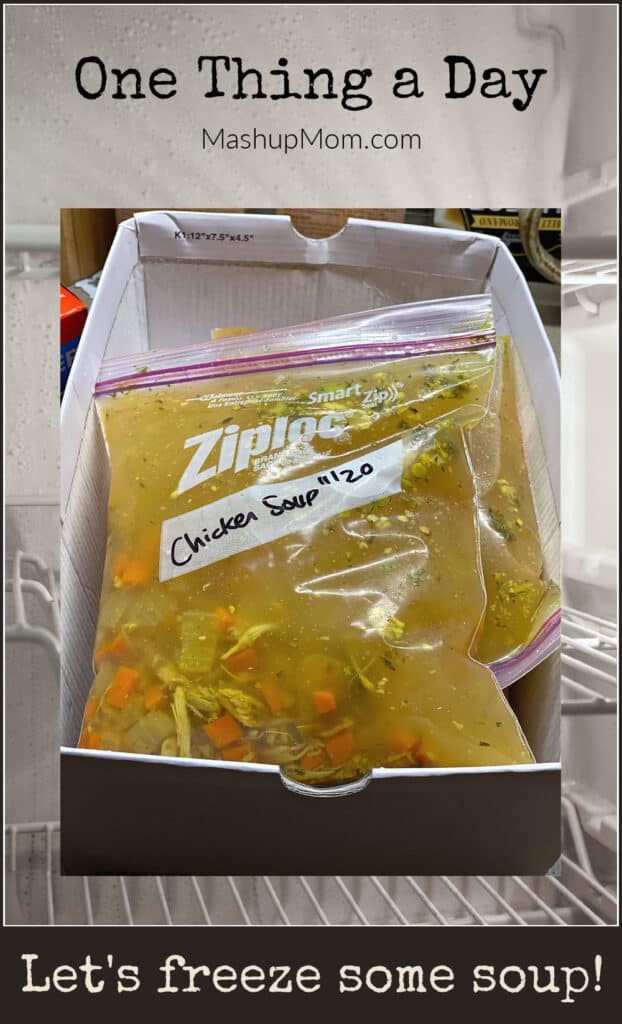 Welcome back to our irregular "one thing a day" series, the edition where we freeze up some soup! Yes, this is the series where we picture our future selves' happiness… when our current selves focus on accomplishing just one thing a day.
So, how's everyone doing with the one food-related thing a day idea?
In today's edition, let's comfort your future self in times of illness or stress by freezing up a batch of chicken soup today. Because when you're sick or stressed, and could use some homemade chicken soup, the last thing you want to do is cook it up yourself.
Homemade chicken soup freezes awesomely well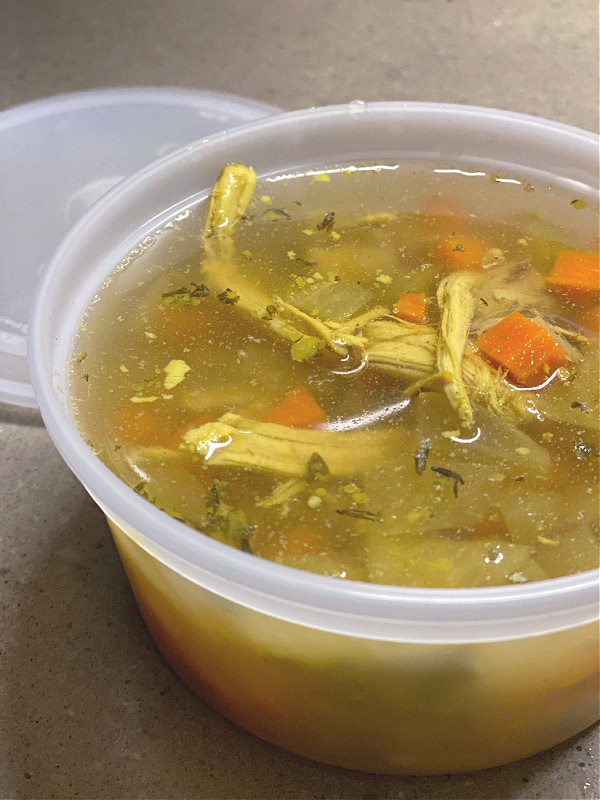 I'll admit: This time, it isn't an all-in-one, one thing a day, day. I made up a batch of awesomely fantastic homemade chicken soup the other day, then decided yesterday to portion out and freeze up the leftovers for future evenings. I do, though, sometimes cook up a big batch of Sunday soup and freeze it up just as soon as it cools.
And seriously — Look how little Middle School Guy was 4 1/2 years ago when I originally wrote up this recipe! One of these days I should really re-do it with better photos, but: Aww.
But, on our one thing a day: I froze up some of a big pot of homemade chicken soup in single serving freezer-safe containers, and then froze some bigger dinner-for-two portions for myself + Middle School Guy in quart sized freezer bags.
How to fill freezer bags with soup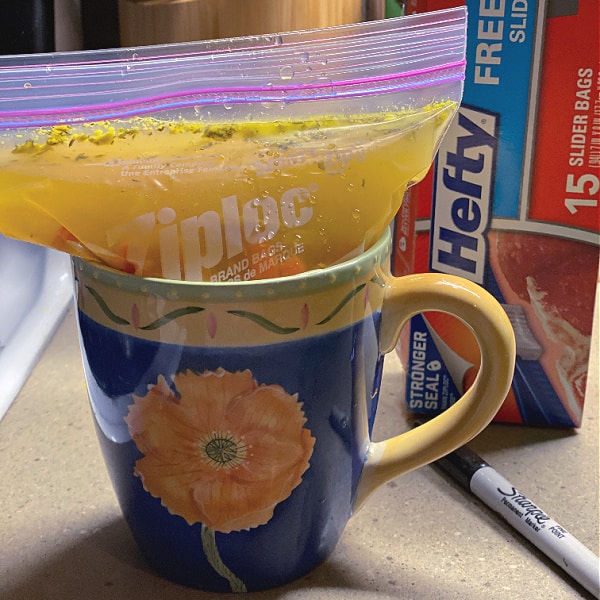 To make filling freezer bags easier, I just pop them into an oversized mug to hold them up and open. (They do make special bag holders that may hold the bags a little more securely, but I'm not sure I want to invest in another single use kitchen gadget…)
Label bags with Sharpie before filling them. Leave a little room at the top of each bag, then lift it up out of the mug slightly to seal it. If you don't, soup tends to sploosh out — and no one wants that. 🙂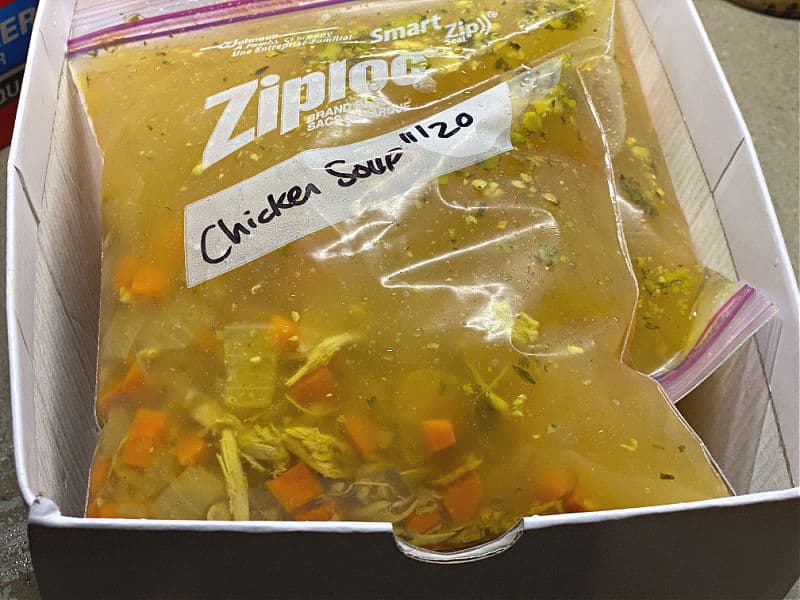 After filling my freezer bags, I just brought this whole shoebox of soup out to the freezer to help keep the bags organized and let them freeze flat. Once the soup is frozen, it's then easy to stand the bags up and keep them organized in the box — just make sure the bags are dry on the outside when you put them in the freezer, or they'll stick together.
What else do you like to freeze on the regular, either for meal prep or later meals?
What one thing will you do today?
One last question, while we're questioning: What one thing will you do today? Don't get me wrong, we all still have to eat (and those of us with kids and families still have to make sure that they eat).
When I say "one thing," I'm not saying, don't get dinner on the table. Instead, I'm saying: What's one bonus food-related task you can do today, that will make you happy (relieved, excited) to have done in the future.
What are some other examples of one thing a day? Well, how about:
What one thing will you do today?