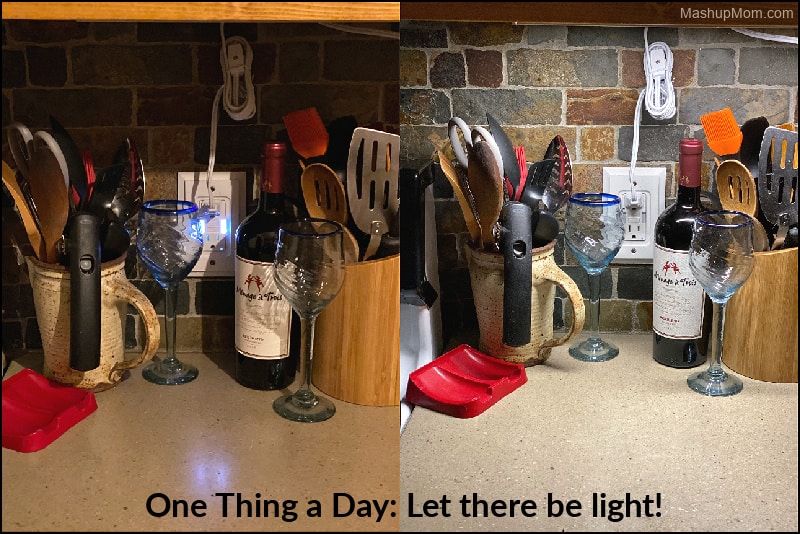 Welcome back to our irregular "one thing a day" series, the edition where we… light up the subject! Yes, this is the series where we picture our future selves' happiness when our current selves focus on accomplishing just one thing a day. So, how's everyone doing with the one food-related thing a day idea?
See also these earlier installments:
Now that I'm more settled in my new home, I'm so looking forward to getting back into a routine and making things easier for my future self. Step one: Kitchen lighting.
Form vs. function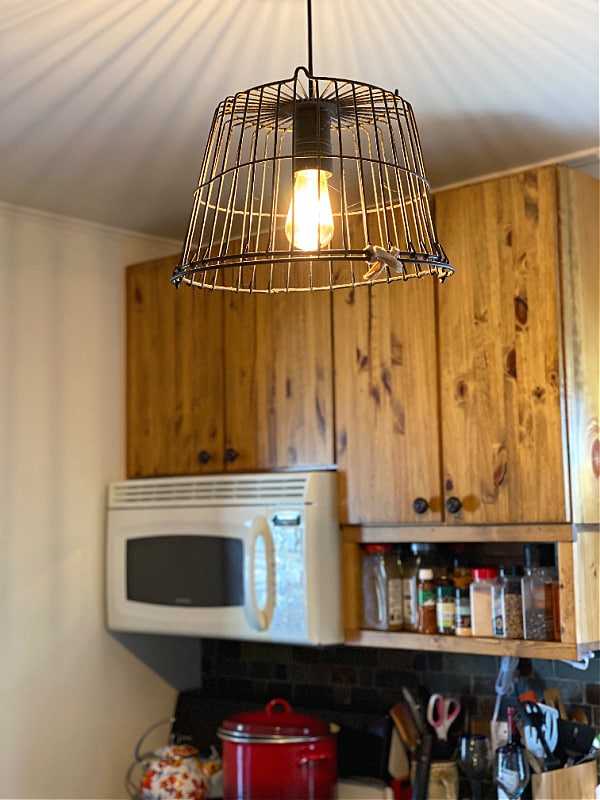 My new little kitchen is absolutely adorable, but you sometimes have to build in a bit of a balance between adorable, and usable. For instance: My most interesting overhead light fixture sports a single Edison bulb. It's cool. It fits the character of the kitchen and of the house. It casts the most interesting shadows on the ceiling.
But… an Edison bulb provides the. most. horrible. light. for. cooking. Not only is the light not especially bright, but it also gives everything a decidedly yellowish tinge. This isn't especially great when you're trying to see what you're working on, let alone for taking food photos.
During the day it's been fine, but: Winter is coming. After a few evenings spent squinting at my food and trying to see what I was doing on the kitchen counters, I started pondering solutions. I could swap out the Edison bulb for a regular LED bulb, but that would look weird. I could swap out the light fixture for a more functional one, but I really do like its character.
Under cabinet lights to the rescue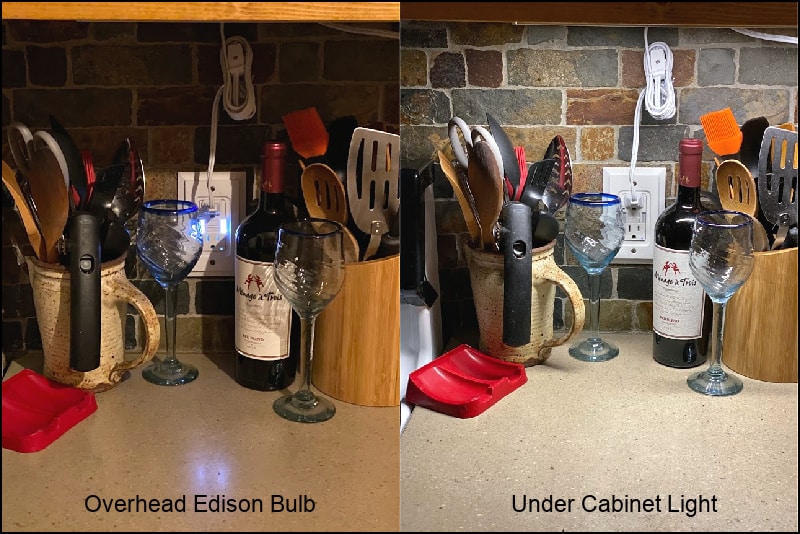 Under cabinet lighting it is! I went with two plug-in LED under cabinet lights, because I like the quality of the light, had easily-accessible outlets available, and wanted to make things easy. I also made sure to get ones with a switch on the light itself, for easy control.
You can see the difference in both the brightness and the quality of the light in the two side-by-side photos above: Taken 15 seconds apart; the only change being the flip of a switch. I have a small kitchen, so just two under cabinet lights did me nicely. You can get fancy with linkable ones, etc., but sometimes: Simple is where it's at.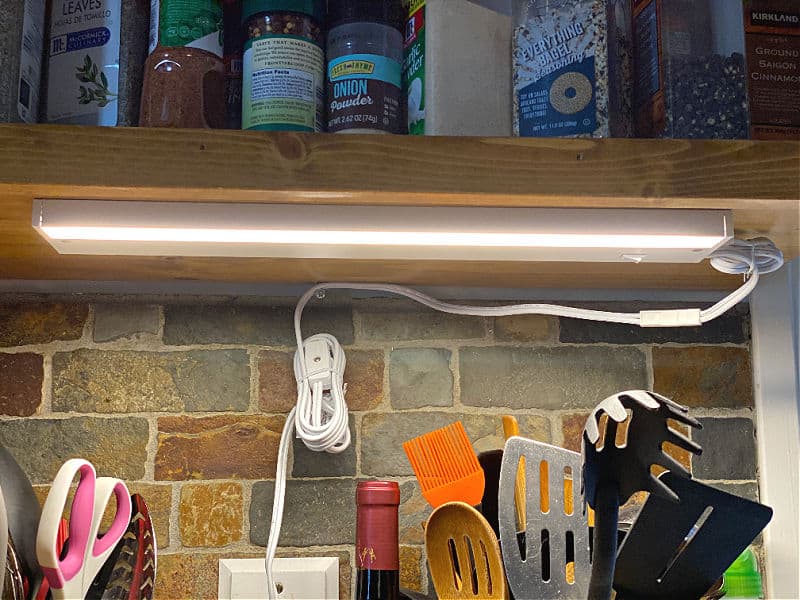 The lights I ended up with were easy to install (just two screws), and I'll get those cords tacked up soon so they're a little more aesthetic. My cupboards have lips on them, so you can't even see the slim lights unless you specifically peer under there.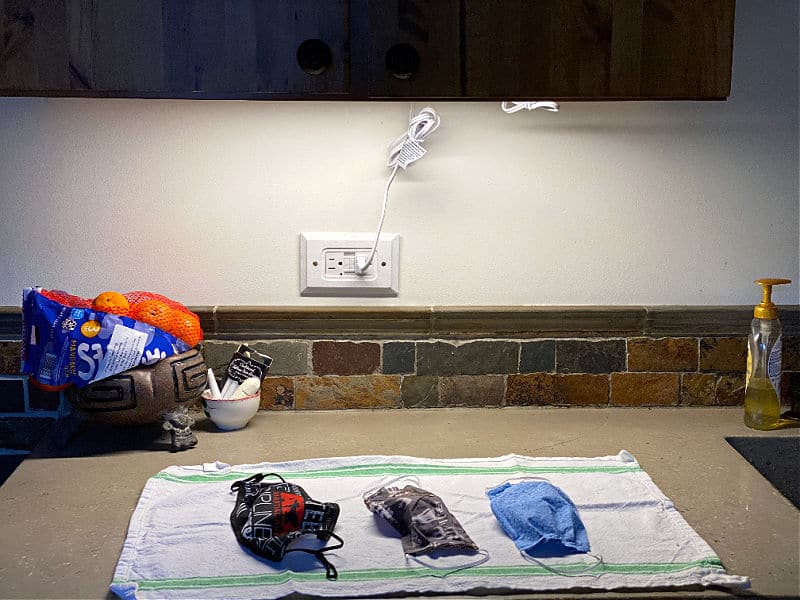 Here's how the light looks over the other counter — again, I need to get that cord tacked up so that it's a little more unobtrusive, but this is already such a huge improvement.
And yes: Last night I was using my kitchen to hand-wash face masks instead of for cooking, but it's the hub of the house, right? The taekwondo mask belongs to Middle School Guy, while the Star Wars and floral ones I picked up for myself on Etsy.
Let there be light!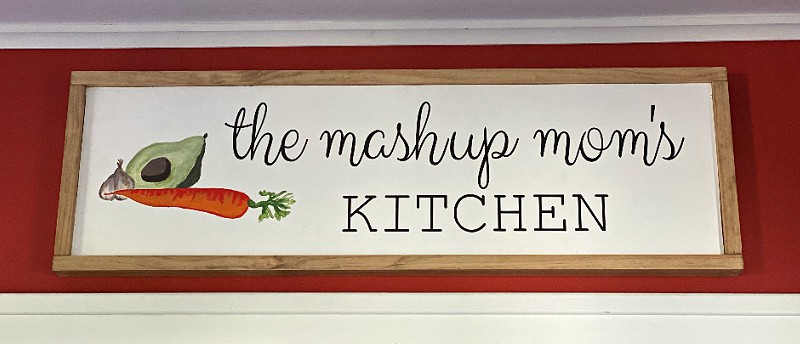 Just a minor investment in money and time, and I'm already soooo much happier with my new kitchen. It feels 100% more functional in the evening, now that I can actually see what I'm doing! What a concept, right? 🙂 Sometimes we live with less-than-functional situations for too long (when the solution can be just this simple), and I'm determined not to do so in my new home. Start as you mean to continue.
Oh and, a bonus thing of the day. While putting things up, I also got my brand-new sign up over the kitchen entryway! Check it out: This was a thank-you gift from my Realtor, and just so personalized and perfect.
What one thing will you do today?
One last question, while we're questioning: What one thing will you do today? Don't get me wrong, we all still have to eat (and those of us with kids and families still have to make sure that they eat).
When I say "one thing," I'm not saying, don't get dinner on the table. Instead, I'm saying: What's one bonus food-related task you can do today, that will make you happy (relieved, excited) to have done in the future.
Earlier installments in the "one thing a day" series:
What one thing will you do today?