What one thing will you do today to help out your future self? Today, I cleaned out the fridge, and the organization and cleanliness now make my little heart happy every time I open the door.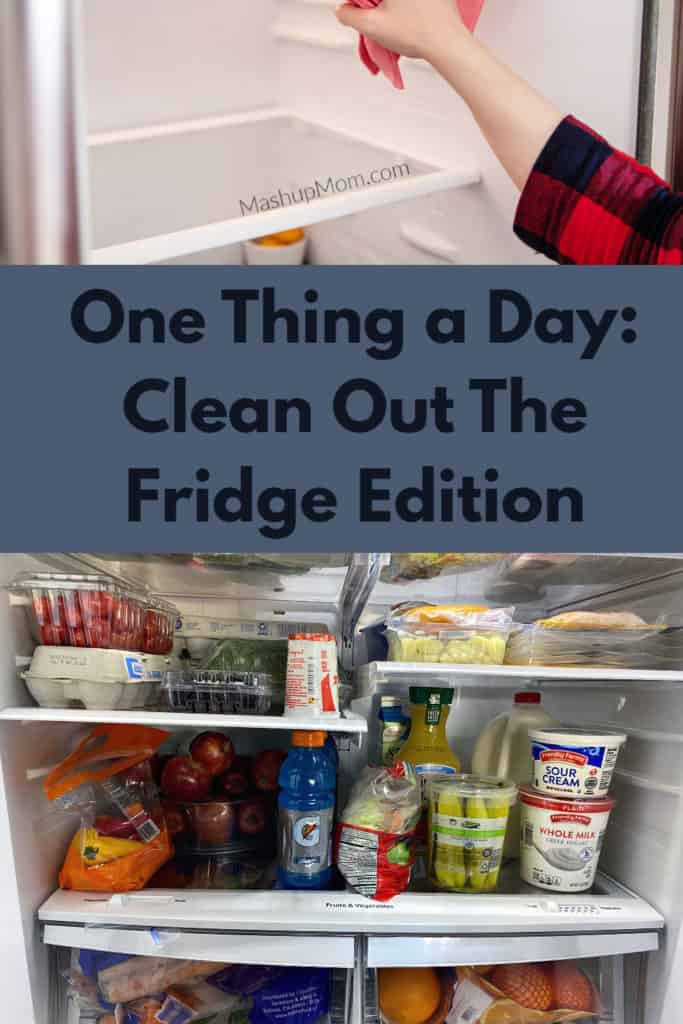 So, how's everyone doing with the one food-related thing a day idea?
Yesterday, I was actually going to make a recipe and post it for you guys. But when I started to go through the ingredients, I noticed just how cluttered and downright… bad… my fridge had gotten. So, I kind of pivoted and decided to tackle that first instead.
I'll cook today, I promise! 🙂
One Thing: I cleaned out my fridge yesterday
So instead of cooking yesterday, I took every single thing out of my fridge, tossed some old mystery condiments, wiped down every shelf and drawer, and did some organizing.
This whole process took longer than it should have, due in part to a mysterious, stubborn, and incredibly sticky (and aromatic) spot on the top shelf that turned out to be spilled Better Than Bouillon. Just for the record, I'd highly recommend that you never, ever spill Better Than Bouillon in your own fridge.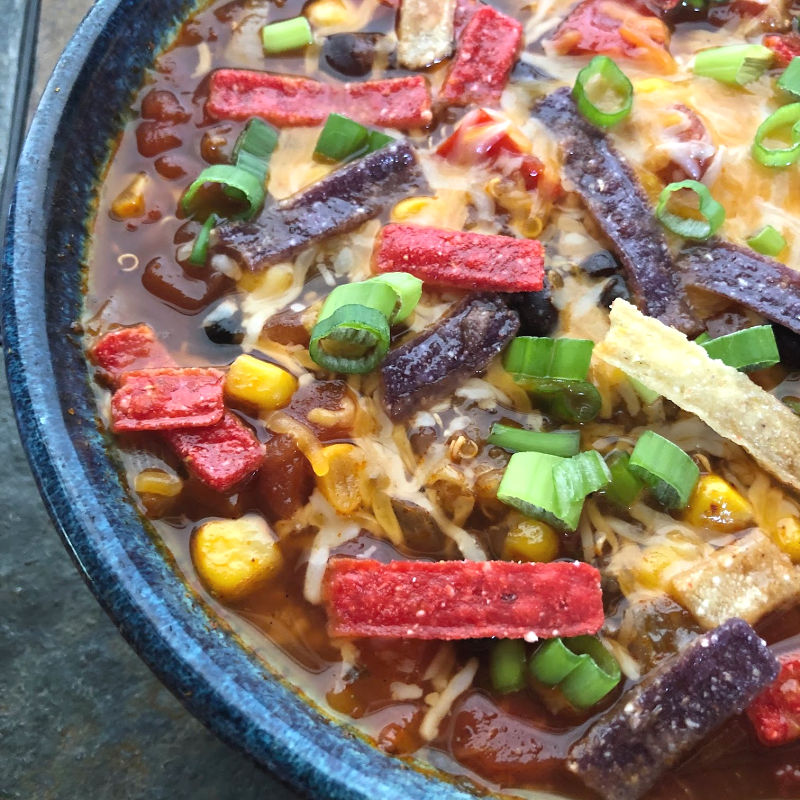 If you promise not to spill it, though, I do have an awesome vegetarian taco soup recipe for you that uses Better Than Bouillon…
It also took me much longer than it should have to remember that you can actually turn off the little door alarm, so that the fridge finally stopped yelling at me for leaving it open.
How'd I stock my fridge?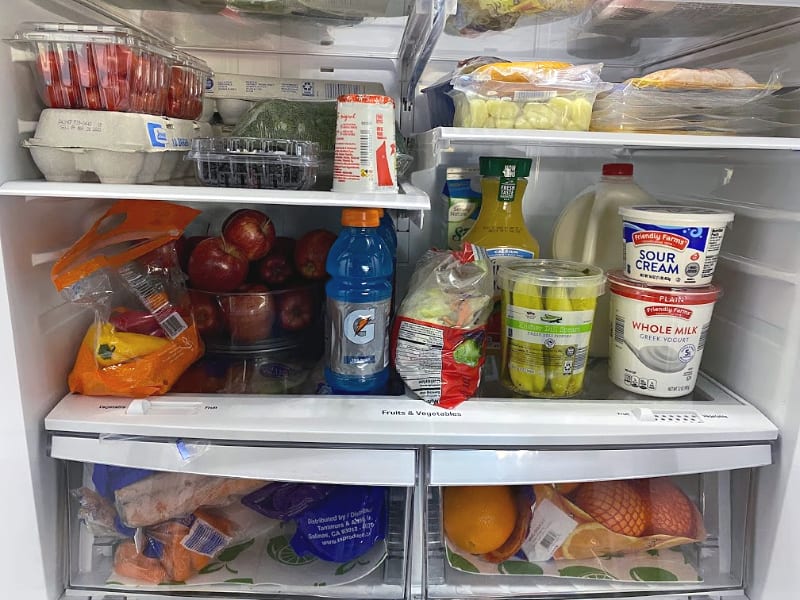 I do have a well-stocked fridge at the moment — Although I've been sick and self-isolating at home, Instacart came to the rescue. (Delivery windows have been days out every time I looked, so do plan ahead!)
It kind of hurts my little frugal heart to pay Instacart markups and fees, but I also can't go out to a store and potentially infect others. If you are using Instacart or a similar service right now, tip very well: This person is going out to shop so that you don't have to, and not earning much as a base from Instacart.
Produce-wise, I've tried to stock up on fruits & veggies with a longer shelf life, such as apples, oranges, and carrots — which we'll eat after the berries and tomatoes and mini bell peppers. My avocados are getting a little too ripe, so my next one thing should probably be to slice those up and freeze them for later.
As for the Gatorade, that's all Middle School Guy…
While we're on the topic: I was pretty well stocked up on pantry staples and household goods before this all began. I have, though, used Amazon subscribe & save to pick up things like cat food, cat litter, and cough medicine without leaving the house.
So many questions…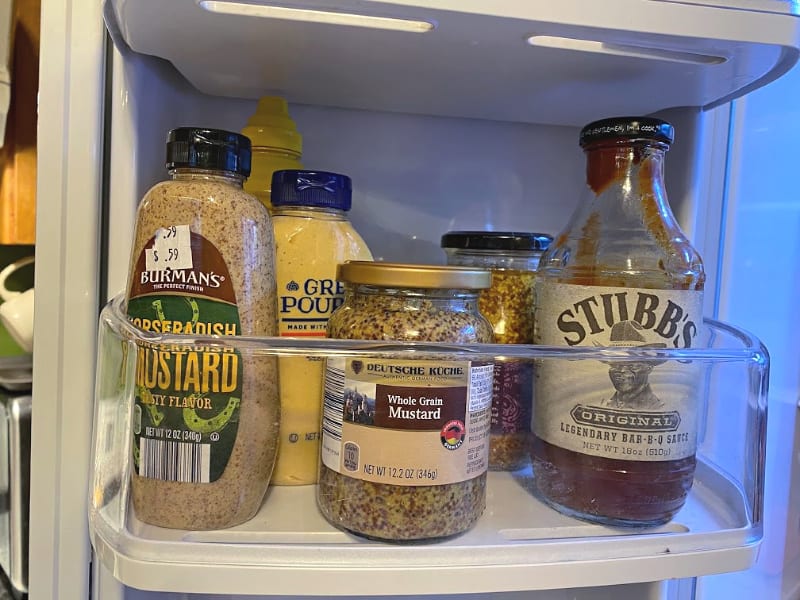 I'm so happy every time I open the fridge now and see everything well-organized and ready to go. (We won't discuss how many times a day that is, when you can't really leave the house…) One thing!
A good fridge clean out does tend to raise so many questions, like: Why do I have five different kinds of mustard? How long have those olives been open? When did I buy sour cream? And, of course: Why do I always wait so long to do this!?
What one thing will you do today?
One last question, while we're questioning: What one thing will you do today? Don't get me wrong, we all still have to eat (and those of us with kids and families still have to make sure that they eat).
When I say "one thing," I'm not saying, don't get dinner on the table. Instead, I'm saying: What's one bonus food-related task you can do today, that will make you happy (relieved, excited) to have done in the future.
More on this "one thing a day" idea: One thing a day, soup & banana bread edition.
What one thing will you do today?