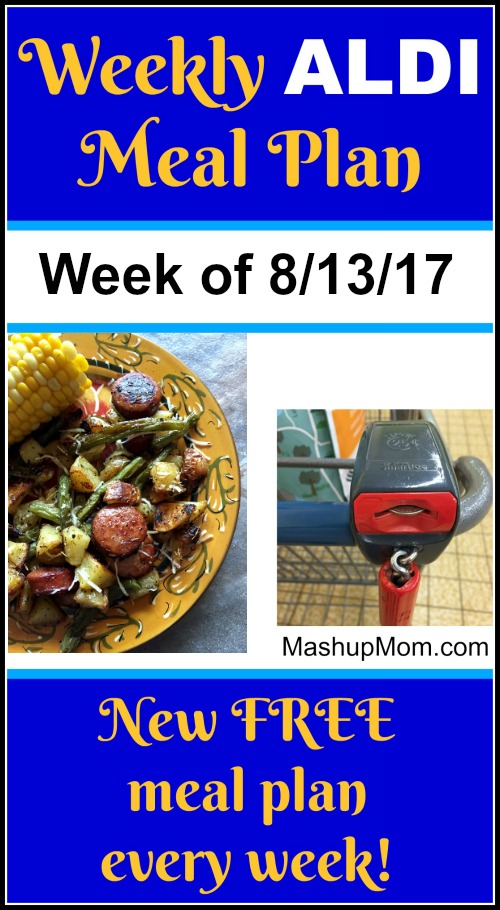 Here's your easy weekly ALDI meal plan for the week of 8/13/17: Pick up everything on the shopping list below, then start cooking on Sunday.
*** Subscribe to the weekly ALDI meal plans here ***
Did you catch this?
I often supplement my ALDI shopping with household and bulk grocery purchases on Amazon, so have put together several guides on how also to save there:
But back to this week's ALDI meal plan…
Let's get ready to make six complete dinners for a family of four, just $60.00 out the door! Hope you find the free ALDI meal plans useful.
ALDI meal planning week of 8/13/17 – 8/19/17
I'm assuming here that you already have pantry basics like cooking oil and spices. *** Read through the recipes before you shop to make sure you have the necessary pantry staples on hand. 
Six Easy Dinners from ALDI for $60.00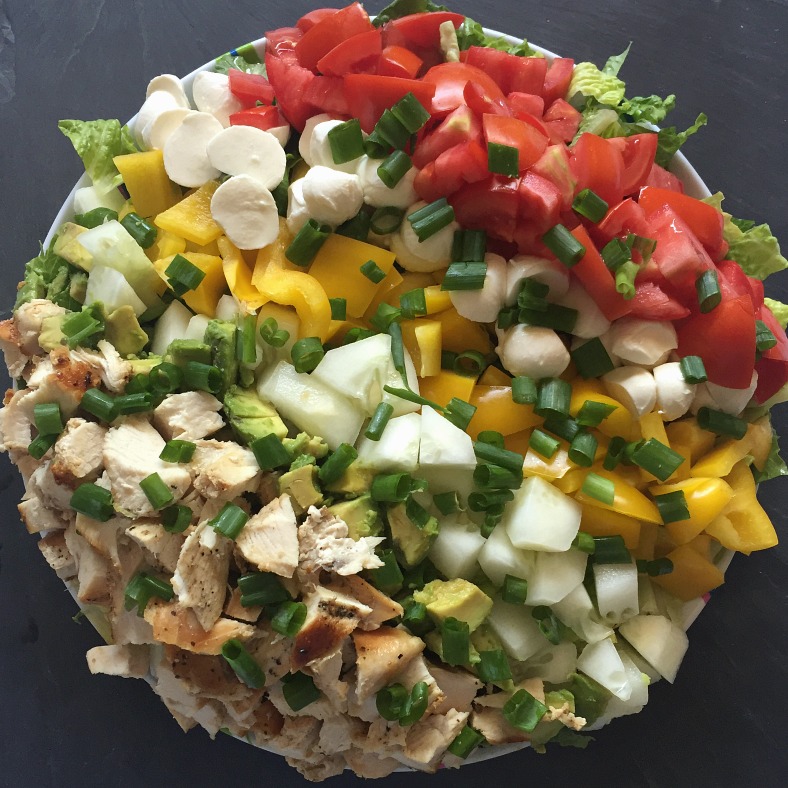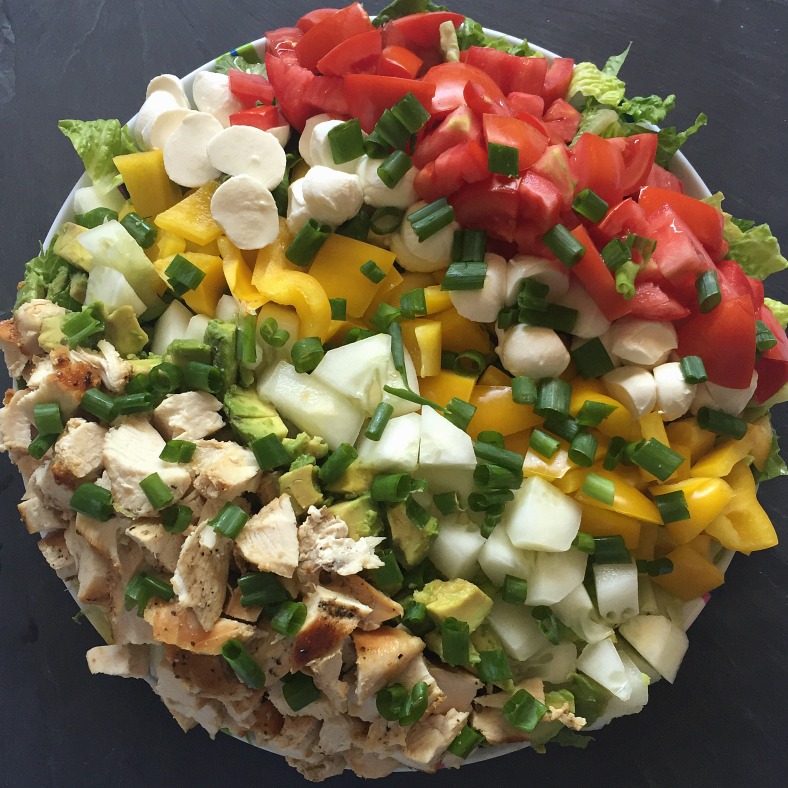 ALDI meal plan — Start cooking 8/13/17
Sunday: Sheet pan sausage, green bean, and potato dinner. Serve with cantaloupe and blueberries.
Monday: Chicken, avocado, & mozzarella chopped salad. Serve with grapes and skinny garlic bread — halve sandwich skinnys, spread with butter or margarine & sprinkle with garlic salt, then broil for a few minutes until browned (can be done in a toaster oven!).
Tuesday: Veggie burrito bowls with pan-roasted corn and peppers (use one red & one orange pepper; top with green onions and shredded cheddar). Serve with grapes & lime wedges.
Wednesday: Simple roast chicken and potatoes — use olive oil if you don't have grapeseed on hand; quarter potatoes if they're larger. Eat half of the chicken & shred and reserve half for Thurs. On the side: Skillet Parmesan green beans (use your last half a pound; adjust olive oil and Parmesan down a bit to match).
Thursday: Easy cheesy chicken and rice (substitute chipotle salsa for verde). On the side: Salad with the last of your baby spinach + your last romaine heart, topped with chopped tomato and balsamic vinaigrette.
Friday: Baked Parmesan crusted tilapia with cilantro-lime rice (thaw tilapia before proceeding — note that the recipe does use one pound of tilapia; her fillets are just larger). Double the recipe for rice, use shredded Parmesan, use vegetable broth instead of water to cook the rice for extra flavor, and season bread crumbs as desired). On the side: Strawberries.
Saturday: Leftovers, family pizza night (ALDI sells a nice big take-and-bake deli pizza), eat out, or date night.
ALDI shopping list — Shop through 8/12/17
Dairy & refrigerated
8 oz Priano fresh mozzarella balls in water, $2.99
5 oz Priano shredded Parmesan, $1.99
12 oz Happy Farms shredded sharp cheddar, $1.89
Grocery
SimplyNature organic aged balsamic vinaigrette, $1.99
L'Oven Fresh Sandwich Skinnys, $1.69
2 cans Dakota's Pride black beans, $1.18
1 can Happy Harvest corn, $.48
3 lbs Earthly Grains long grain white rice, $1.29
Casa Mamita organic chipotle-lime salsa, $2.19
Box SimplyNature organic vegetable broth, $1.79
Box Chef's Cupboard chicken broth, $1.39
Progresso bread crumbs, $1.49
Meat
1 lb boneless skinless chicken breast, $2.29
Parkview Polska kielbasa, $1.99
4 lb whole chicken, $3.80
16 oz tilapia (Sea Queen frozen), $3.39
Produce
3 avocados, $2.67
1 lb Roma tomatoes, $.89
3 pack multicolor bell peppers, $3.49
1 cucumber, $.25
3 pack romaine hearts, $1.99
Pack of green onions, $.89
2 lb red grapes, $1.58
1 lb green beans, $1.89
3 lb yellow onions, $1.99
3 heads garlic, $1.19
3 lbs yellow potatoes, $3.49
5 oz SimplyNature organic baby spinach, $2.49
1 lb limes, $1.29
Bunch cilantro, $.69
Cantaloupe, $1.19
Blueberries, $1.49
Strawberries, $1.29
---
That comes to $60.59.
Or, maybe less… 🙂 These meals will likely run you even less if you supplement this week's ALDI purchases with clearance meat you already have in your freezer, pantry staples you picked up on sale, produce you already have on hand, and/or sale produce from your local produce market. Let me know if you give it a try!
*** Download this week's shopping list in Word format so that you can edit and add in your own meal ideas, remove items you already have on hand, change regional pricing to match your own store, etc. *** The day(s) next to each item show which meals use each ingredient, so that you can easily see what to delete from the shopping list if you're skipping a night.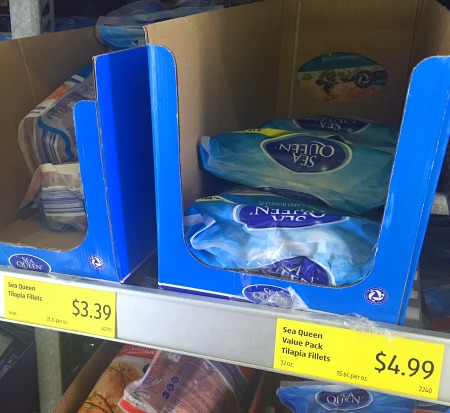 Note: This week's grocery list includes 16 oz Sea Queen tilapia, which lets us stay within budget for the week. The 32 oz value pack is clearly a much better buy per ounce — so if you have a little wiggle room, pick up the 32 oz pack instead, use half, and save half for later. (If your family does not do tilapia, you can instead pick a pound of salmon and substitute this honey cilantro lime salmon recipe with the same cilantro lime rice, but this again will blow out the $60 budget. It's all a trade-off. 😉 )
---
Things to know about the ALDI meal plans
A couple of notes
I try not to repeat main dish recipes more often than once a month, but you will see favorite easy recipes come up again in these weekly ALDI meal plans as the same meats and produce items come up again on sale. Part of the fun of meal planning lies in mixing old stand-bys with something new each week.
If one or more of these recipes isn't to your taste, or if you have other ingredients to use, adapt the recipes in this ALDI meal plan to your family's preferences — or just use the ideas here to supplement your own meal planning.
Ad markets and dates
This week's ALDI meal plan reflects prices from the current week's ad (running 8/6-8/12 in Sunday ad markets and 8/9-8/15 in Wednesday ad markets). Non-advertised prices were collected on 8/9/17 at my local store in the Chicago suburbs, but non-advertised prices and produce deals *may vary* by location & region. In either ad market, shop any time through Saturday and start cooking on Sunday 8/13/17.
Can't get enough ALDI savings?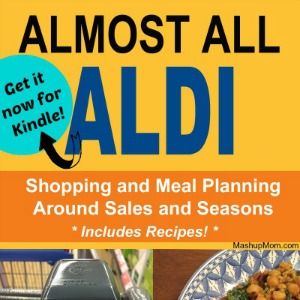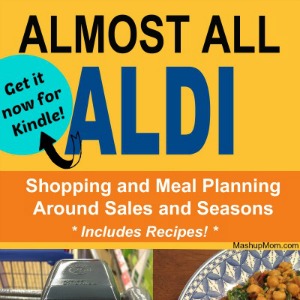 If you enjoy these ALDI meal plans and savings, you might also enjoy my eBook: Almost All ALDI: Shopping and Meal Planning Around Sales and Seasons.
Stay in the loop
Subscribe above to receive email messages about new ALDI meal plans — no spam, and I'll never sell your info; just get email notifications about new plans!
Happy ALDI shopping and cooking this week, everyone!