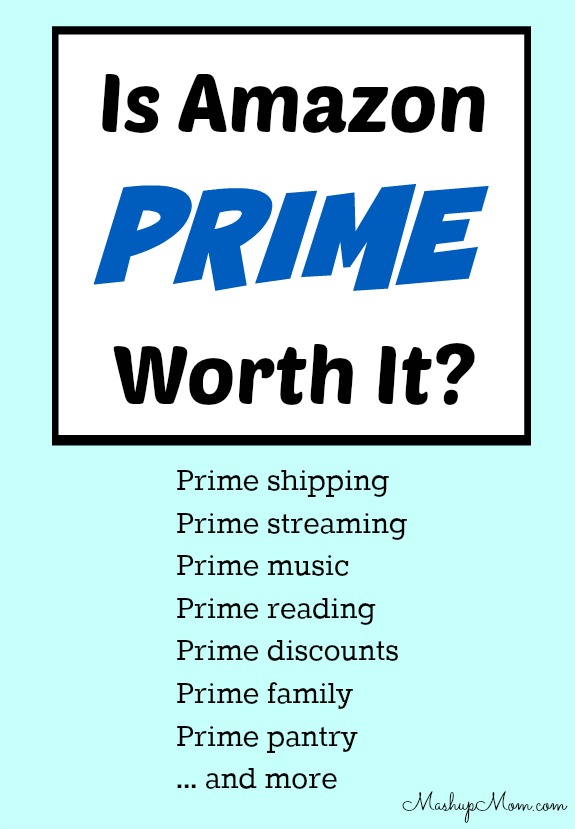 Is Amazon Prime worth it? This may be a trick question, since clearly I do think it's worth it — or I wouldn't pay for it! But since the question keeps coming up, let me tell you why I think Prime provides enough value for our family to be worth $99.00 a year. Prime's worth to you and your family will depend on how many of these Prime benefits you're likely to use.
Note: $99 a year is just $8.25 a month — so when you think about it that way, it really does help break down whether you'll be saving enough and/or using enough services that Amazon Prime is worth it for you.
So here's what you get with Prime, with notes on what our family tends to use the most. It's so much more than just the shipping benefits, and here's how to find & use all its different benefits.
But, let's get the obvious out of the way first: Free shipping on a lot of things
Prime gives you free two day shipping on most items shipped from / sold by Amazon. This is SO useful over the holidays! I did the bulk of my holiday shopping on Amazon again this year since they often had the best prices on items I wanted, and it's so nice not to have to worry about getting an order up to $49 for free shipping, then later inevitably remembering something small you should have thrown in.
Beyond the holidays, Prime shipping comes in handy all year long. On Saturday, for instance, I noticed our toaster oven liner was pretty much at the end of its useful lifespan and that things weren't cooking or toasting properly. I could have made a trip to Walmart (where I see online they're around $6.49) or to Target to look for one, but instead got it delivered to my house for that same $6.49, shipped — it showed up on my porch yesterday. This saved me gas, time, hassle, and possible impulse buys at the store.
This alone seems like such a small example, but these small savings in gas, time, and avoiding impulse buys (especially at Target!) really add up across the year — and can also be a blessing when you don't want to drag small kids out to the store or work long hours. As long as I'm sure what I'm getting is a decent price on Amazon, why not get it delivered for free and gain back the time I'd otherwise spend searching for it in a store? When you're searching for items on Amazon, you can easily filter to only show those available for Prime shipping just by checking the Amazon Prime box on the left-hand side of the screen (once you're browsing a category).
When you're not in need of faster shipping, also watch for these types of free credit offers at checkout. Amazon often offers credits on digital products or $5.99 Prime Pantry credit if you choose free no-rush shipping rather than two-day shipping, so if time is not an issue it can be worth accruing these in your account. Use them to pick up a free Kindle book or rent an instant video, or use that Pantry credit in conjunction with their regular free promos for free shipping when you buy select items. ($5.99 off just one Pantry order balances out almost 3/4 of what Prime cost you that month! More on Prime Pantry below…)
Free Prime Video Streaming
We cut the cord on DirecTV several years ago, and now watch everything on Netflix, Prime Video, or an over-the-air antenna. Since our Netflix went up to $9.99 a month in mid-2016, it's now more expensive than Prime — but although we do watch Netflix pretty much daily, streaming is all you get from them as opposed to the varied benefits you get with Prime.
Prime Video includes movies, shows, and original Prime series that you won't get on Netflix or elsewhere. Just a few shows and Amazon Originals we've watched with our Prime membership over the last year include:
Mozart in the Jungle
Orphan Black
Mockingjay
Transparent
Sherlock
The Vikings
Downton Abbey
… and much more. Between Prime and Netflix, we barely even bother to touch over-the-air TV any more — I think the last two things we watched were the ball drop in Times Square on New Year's Eve and the last presidential debate. We'll turn it on again for the Super Bowl….
Free Prime Music Streaming
Prime Music includes over two million songs in its on-demand, ad-free music streaming. I often listen to albums or look up favorite songs on Prime Music while I'm typing, and we can also stream it through our TV for background music.
Free Prime Reading
Prime Reading is a newer benefit that offers Prime members unlimited reading: Books, magazines, comics, Kindle singles, Audible narration, and more. It currently offers over 1000 things to read, and I'll be watching it to see how often they change things up and add new content.
Discounts and deals just for Prime Members
Amazon Family
I don't personally use this one because my kids are outside of the target age range, but if you have a little one in diapers Amazon Family will give you up to 20% off diaper subscriptions — and they regularly offer high value coupons to combine with subscribe & save for an even better deal. You'll also get regular baby-related coupons & deals, which can add up to some pretty significant savings. What new parent couldn't use a convenient source for cheap diapers?
Prime Day
The first Prime Day in 2015 was kind of anticlimactic, but the second Prime Day in 2016 was fantastic (I got my Instant Pot, for one!) — and 2017 was not bad at all. Definitely worth taking advantage of.
Sample Boxes
Amazon now has a sample boxes program for Prime members, where they offer a variety of sample boxes that come with an equivalent credit towards a future purchase of the brands included in each box.
Subscribe & Save discounts
If you have been following the subscribe & save deals in the Hot Deals Facebook group, you may have noticed that more of the better deals seem now to be reserved for Prime members only. If you are a subscribe & save fan (I am, and get a box almost every month…), the extra savings from Prime-only deals go a long way towards balancing out that monthly cost.
Amazon branded items just for Prime members
Amazon Elements baby wipes, its Buttoned Down line of men's dress shirts, its Wickedly Prime foods, and more are currently only available to Amazon Prime members.
Early Access to Lightning Deals
Prime members get early access to a number of lightning deals. The best deals often tend to sell out during the 30 minute Prime-exclusive window before they ever make it to the non-Prime general public, especially during the holidays.
Access to Prime Pantry
If you've been watching Amazon's offers over the past couple of years, you might have noticed that some of the deals that were traditionally available on subscribe & save have sneakily been moving over to Prime Pantry. Fill your Prime Pantry box with grocery and household items for a $5.99 flat rate shipping fee (contiguous U.S. only). Often these have coupons and promos associated with them, such as buy five select items, get free shipping on your entire order — which you can combine with the occasional no-rush shipping credit offers for some fantastic savings.
Unlimited Photo storage on Amazon Cloud
Prime members also benefit from free unlimited photo storage, and can share this service with up to five people so that you can collect and view photos together with other family members. If you're paying for cloud storage for photos elsewhere, you can drop that and move them to Prime Photos instead.
Shareable Prime benefits for family members
MashupDad and I have always had separate Amazon accounts — you don't want a shared cart or order history when you're buying secret gifts, lol. Some Amazon Prime benefits, including two day shipping, Prime Video, and Prime Music, are shareable with another adult household member. So I get free Prime shipping, he gets free Prime shipping, and it's all good.
Note: Prime Student members can only share Prime Twitch benefits (see below).
Savings for gamers
Prime members who are into gaming can score ad-free viewing on Twitch, free game content, and exclusive 20% off pre-order savings on physical video games. This past fall, for instance, Prime members could score pre-orders of Pokémon Sun or Pokémon Moon for $31.99 rather than their list price of $39.99 — and it was hard to find deals on either game later in the holiday season. Saving $8 on one pre-release video game pretty much evens out the cost of Prime for one month (while you're still benefiting from all the other Prime discounts and services).
Prime Now
I'm too far out in the suburbs to have access to Prime Now yet, but if you're in the city or a close-in suburb, throw in your ZIP code to see if you qualify. Prime Now offers free two hour delivery on select items to Prime members in select ZIP codes, with weekly ad savings and occasional coupon codes — and also offers free one hour restaurant delivery in select cities.
Free Audible Channels
Prime members receive free access to Audible Channels, which include exclusive original audio series, playlists, and Prime-exclusive audiobooks.
Saving on Prime
Amazon very rarely offers discount on Prime memberships, but does offer:
Prime Student. Students get a free six month trial, and then enjoy Prime at 50% off.
Prime EBT. Qualifying customers with an EBT card can purchase a Prime membership for $5.99 a month.
Otherwise, Amazon offers a sale on Prime memberships (new customers only) only about once a year.
So, is Amazon Prime worth it?
We don't even scratch the surface of using all of these available services. Here's what we use the most:
Free two-day shipping
Exclusive subscribe & save deals
Prime Video
Prime Music
Prime Pantry
Early Access Lightning Deals (particularly over the holidays)
That's a pretty good value for $8.25 a month.
What do you guys think?
Do you have Prime? What services do you tend to use — and did you know all of these options were available to you?