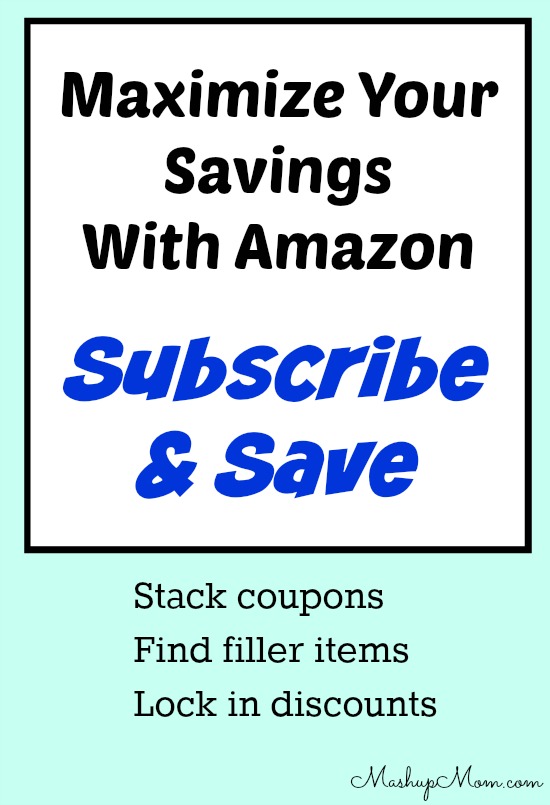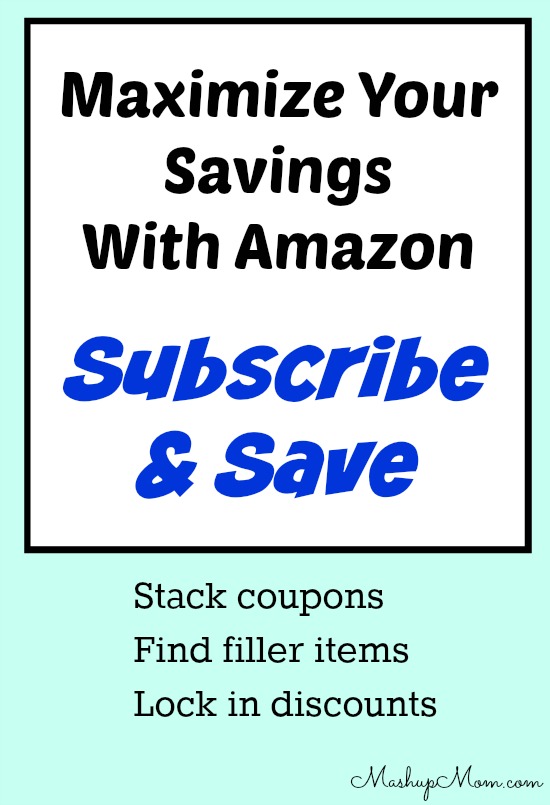 If you haven't yet tried Amazon subscribe & save, you've been missing out on some pretty nice savings — both money- and time-wise! (I love subscribe & save over here, and get a shipment from Amazon just about every month…) So here's a little rundown of how to use Amazon subscribe & save, and how to maximize your savings by stacking coupons with subscribe & save discounts and locking in good prices.
*** Important: Unless an item is listed as a "Prime only" item, you do NOT need an Amazon Prime membership to use subscribe & save — free shipping is included in the subscribe & save price! 
Note: The screenshots below are for illustrative purposes only and don't necessarily reflect current Amazon pricing or coupons, which are always subject to change.
How to Maximize Your Savings with Amazon Subscribe & Save
Here's your step-by-step guide to how to use Amazon Subscribe & Save to maximize your savings. To summarize, you're going to:
Lock in prices & skip subscriptions til you need them
Combine coupons with subscription savings
Use filler items to bump up your savings
I'll talk about how Subscribe & Save works and about each of these savings methods below.
How does Amazon Subscribe & Save work?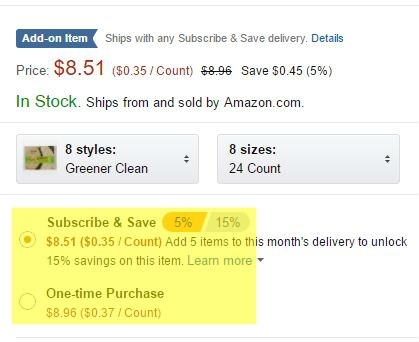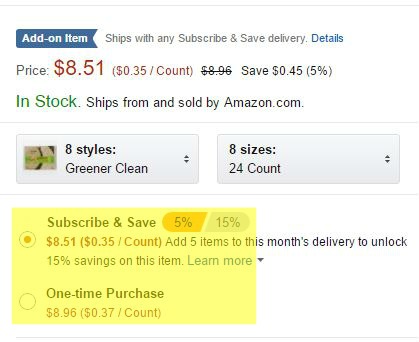 When you order an item on Amazon using subscribe & save, you're signing up for repeat deliveries of a product in exchange for a 5-15% off discount on Amazon's current price, as shown above. Rather than shipping immediately, any item you subscribe to is automatically added to your next monthly subscribe & save delivery order, which is scheduled for the same day each month (although you can skip a shipment or move items to a later month's shipment at any time). Subscribe & save orders always ship for free; you don't need to have Prime, and there is no minimum purchase threshold.
Most subscribe & save orders containing one to four items qualify for a 5% discount off the one-time purchase price, while most orders of five items or more qualify for a 15% off discount. You'll need to have five items scheduled in the same month's delivery in order to get the 15% off. Once you add the fifth item, the 15% discount automatically applies to all qualifying items scheduled for that month.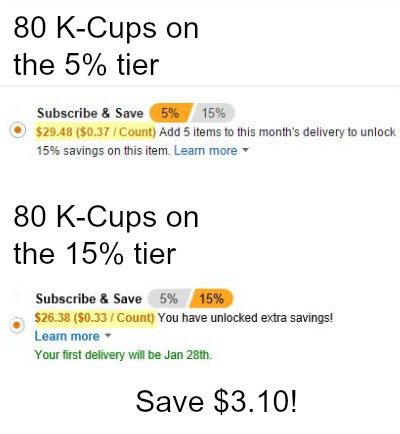 Example: Savings difference on the 15% off tier
It's generally worth making sure that you have at least five items in any subscribe & save shipment so that you get that 15% off almost everything. When you add in a cheap $1-$2 subscribe & save filler item to get up to five total items, you can sometimes save more than that $1-$2 on just one of the more expensive items in your order (as shown in the example above).
Your first shipment of any item will be locked in at the price at the time you ordered, while future shipments of an item will be charged at the current Amazon price. You'll receive an email about a week before your order is due to ship, however, and can make cancellations or adjustments at any time. Your credit card will not be charged until just before the items ship.
Combine Coupons with Subscribe & Save for Double the Savings
Now add a coupon!
Sometimes an item is just a good price with its subscribe & save discount — but sometimes, just as at your local grocery or drugstore, the real savings come in when you combine that sale price with a coupon! Amazon offers coupons that you can clip to your account, and these can stack with your subscribe & save discount to make for some great deals.
Let's go back to our K-Cups example, for instance. At the time I took the screenshot above, a one time purchase of this 80 ct box of K-Cups would run you $31.03. This drops to $29.48 on the 5% off subscribe & save tier, and to $26.38 on the 15% off subscribe & save tier. But looking a little further up the page, you can see there's also a $5.00 coupon to clip off the first delivery of this item. When you clip that $5.00 coupon to your account it will come off the subscribe & save price, making your 80 ct box of K-Cups just $21.38 shipped after the coupon on the 15% off subscribe & save tier — almost a $10 savings off of the one-time purchase price.
How to find Amazon subscribe & save coupons
Amazon subscribe & save coupons can be found in a number of places, so here's where to look for them.
Look on individual item pages for coupons


Always check to see if there is a coupon listed on the product page for any subscribe & save item. There are three places to look: 1) under the item's price in the upper right of the page, 2) under the subscribe & save price, or 3) in the middle of the page above the item's description. To add the coupon to your account, just click where it says "Clip XYZ Coupon," or check the box that says "Apply XYZ coupon."
If you're not logged in when you click to clip a coupon, a login screen will pop up — so then just log in to your account and click the coupon again to clip.
Browse all available coupons
Browse through all of the currently available subscribe & save coupons here. When you see a coupon you like, just click "Clip Coupon" to add it to your Amazon account. Then, either click the picture of the product or the product description line right above the "Clip Coupon" button to see all of the items that qualify for that coupon. Once you clip a coupon, it will remain in your account until you use the coupon or it expires. You need to clip the coupon before subscribing to the item, or it won't come off.
Amazon coupons are one-time use per account, but they often run similar offers and re-offer coupons, so you can check back in the next month or so to see if a coupon offer has reset so that you can clip it again. Amazon generally releases a new bigger batch of coupons at the beginning of every month, but also intermittently adds more coupons throughout the month, so it's worth continuing to check back for new offers.
Here's how to combine coupons with subscribe & save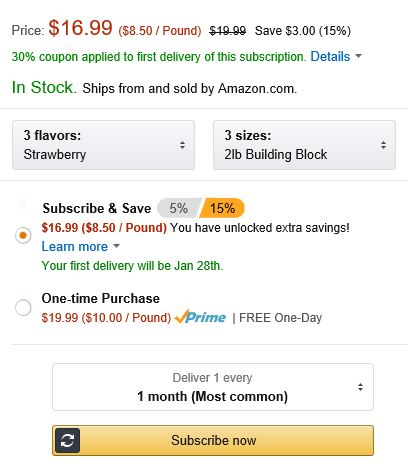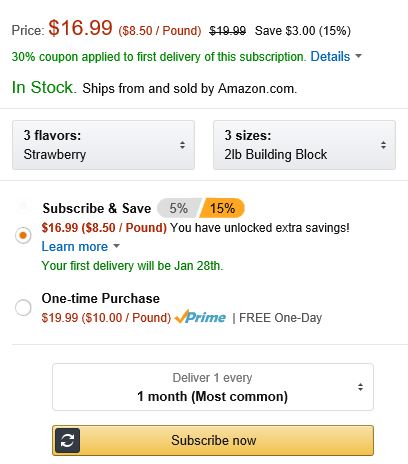 After you clip a coupon, as I did for this tub of EAS powder deal above, look under the item's price to make sure that coupon is clipped and applied to the item you want to purchase. Then, look over on the right-hand side of the screen for your purchase options. You'll want to check the radio button next to the subscribe & save option. Then, use the drop-down arrows to choose your delivery schedule (usually every 1 to 6 months), then click "Subscribe Now." Note that you won't see the coupon come off until the checkout screen.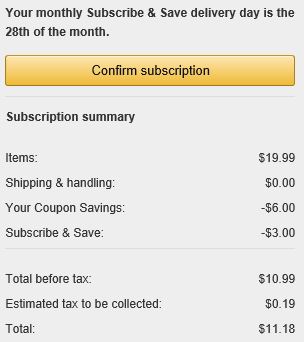 Once you click "Subscribe Now," you'll be taken to the checkout screen to confirm your purchase. This is where you will see both the coupon savings and subscription discount come off to give you the final price after stacking savings. When you click "Confirm subscription," that will subscribe you to that item and lock in your first shipment at that final price after coupon + subscribe & save.
How do Coupons stack with Subscribe & Save?
Dollar off coupons
The subscribe & save 5% or 15% off discount will come off the original price of the item, and then any $ or cents off coupons will come off that subscribe & save price. So again, as in this K-Cups example above, the $5.00 off coupon will come off the $26.38 subscribe & save discounted price for a final cost of $21.68.
Percent off coupons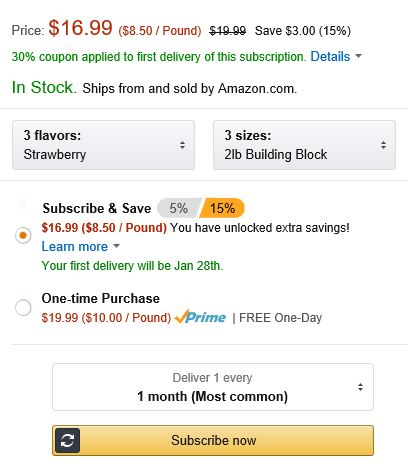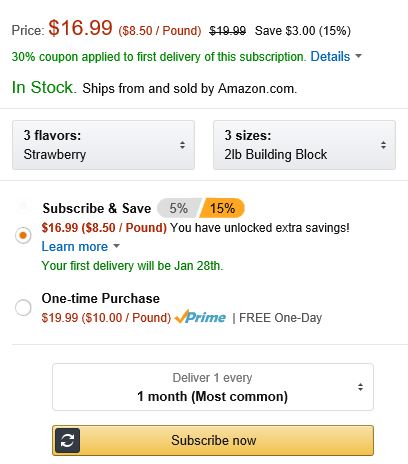 Percent off coupons stack with your subscribe & save discount to take a total percentage off the one-time price of the item. So again, as in this EAS powder example above: You're getting 30% off with the clipped coupon under the item's price at the top, and a 15% off subscribe & save discount for having five items.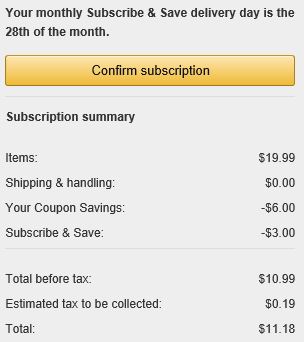 These stack together off the one-time item price, giving you 45% off the original price — which is how our EAS powder dropped all the way down to $10.99.
Some Subscribe & Save Offers are just for Prime Members
Some subscribe & save offers and coupons are reserved just for Amazon Prime members.
Diaper discounts


Amazon Prime members receive an Amazon Family discount of up to 20% off (rather than the normal 15%) on diaper subscriptions when they have 5+ subscriptions in a month — which, again, often stack with coupons for additional savings. Amazon also offers occasional extra subscribe & save family discounts & coupons for Prime members only on items like baby food and formula.
Other subscribe & save discounts and coupons
Amazon has started reserving more subscribe & save deals exclusively for Prime members. You'll see this indicated over on the right hand side of an item page, and if you're not a Prime member or not logged into your Prime account, you won't be able to purchase the item.
If you are a Prime member, you'll be able to purchase at the normal subscribe & save discount, and Amazon will let you know under the item price on the upper right that this is a Prime exclusive item (as one of the benefits of your Prime membership).
Things to Know about Coupons and Subscribe & Save
A few basic things to know about combining Amazon subscribe & save with Amazon coupons:
Coupons only come off your first subscribe &save shipment, not subsequent shipments of the same item.
Coupons are limit one per Amazon account.
Coupons expire and hit limits, just like printable coupons.
Coupons often reappear the next month, just like printable coupons.
Cancel Subscriptions at any time

You can cancel subscribe & save items at any time with no penalty (up until the items lock right before shipment and Amazon charges you for them). I often cancel right after the first shipment arrives, and use that as my reminder to cancel. You're not locked in to receiving these items forever! Just log in to your Amazon account at the top right of the screen, then click "Account & Lists" right under your name in the upper right.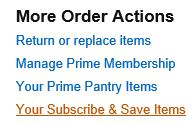 Under your account, look under "More Order Actions" on the right and choose "Your Subscribe & save Items." (If that's not showing on the screen, click "see more" and then select your subscribe & save items.)

This will show you your current list of subscribe & save items, with the current month's scheduled shipment listed first. On the left, just under the scheduled date, you have the option to change your monthly delivery day if you would like to receive your items sooner. On the right, you'll see a list of the items you're currently scheduled to receive in your next shipment.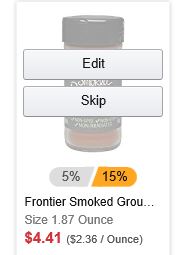 Hover over any item in your next shipment, and Amazon will pop up "Edit" and "Skip" buttons. If you click "Skip," it automatically moves the item to your next scheduled delivery month.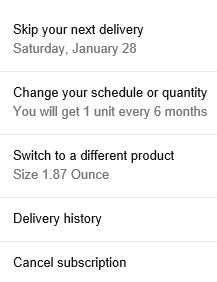 If you click "Edit," it pops up a screen with several options over on the right hand side, the last being "Cancel subscription."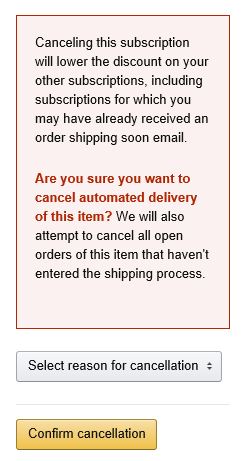 When you click cancel, it pops up another confirmation screen. Click "Confirm cancellation," and the item will be cancelled from this and all future shipments.
Lock in Prices, Skip Til You Need It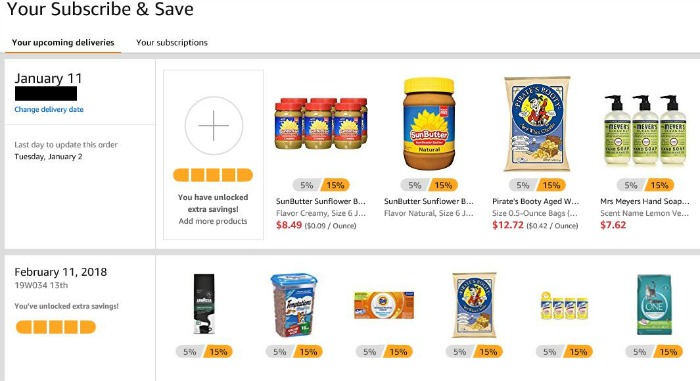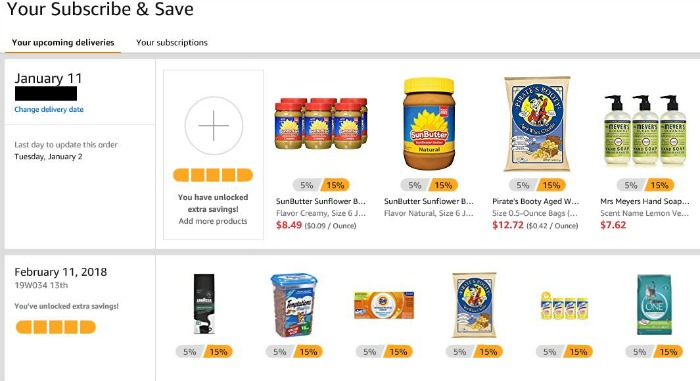 Skipping orders ahead really allows you to maximize your savings with Amazon Subscribe & Save. I generally have a ridiculous number of items in my subscribe & save, and here's why. What I do is subscribe to things we will at some point need in order to lock in the price when it's low, and then keep skipping items ahead a month until I actually need them.
So above, for instance: SunButter was ridiculously cheap at the time I subscribed, so I subscribed to two different varieties and locked in the price on both. I don't need twelve jars of SunButter at once, though, so will just skip one of my orders ahead to my February delivery — and then will keep skipping it a month ahead until I am close to running out, because the price will remain locked in til I'm ready.
It's Just That Easy
If you've been nervous about subscribe & save, give it a try — It's super easy to cancel, and always worth it for the extra discount + free shipping. And, always look to see if there is a coupon to combine with your subscribe & save discount for extra savings!
Questions? 
Please comment here with any questions!
More Amazon?