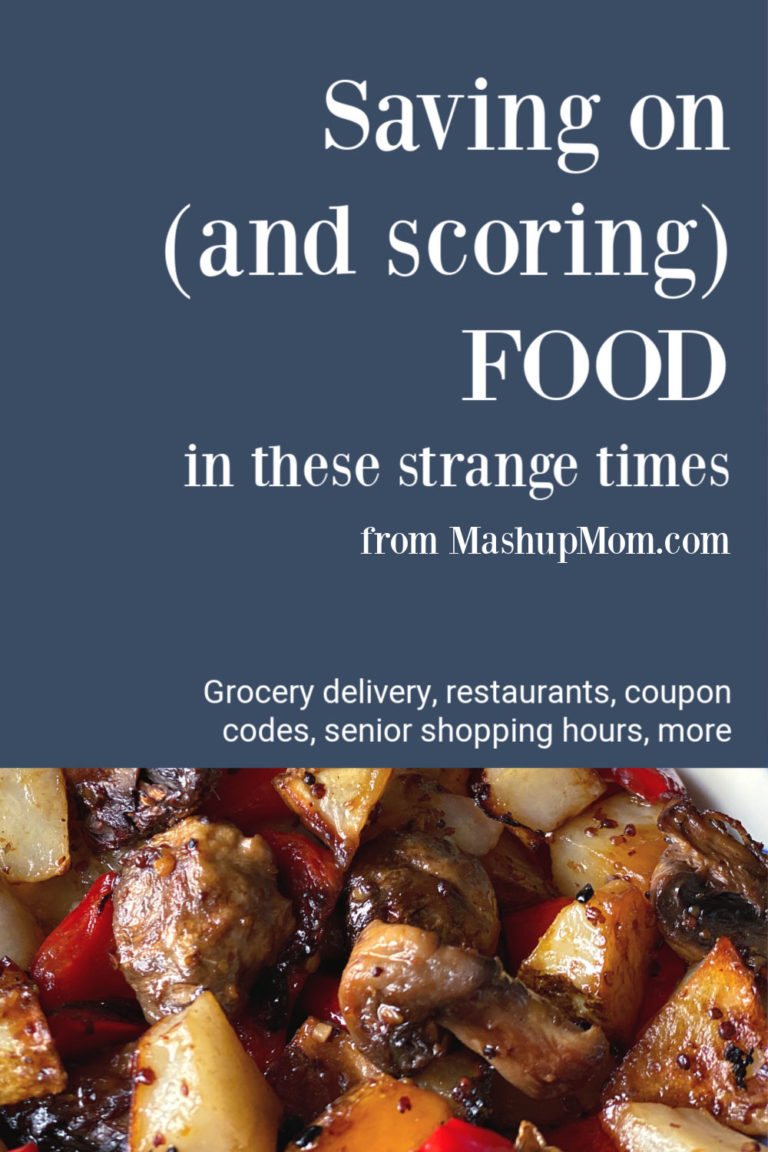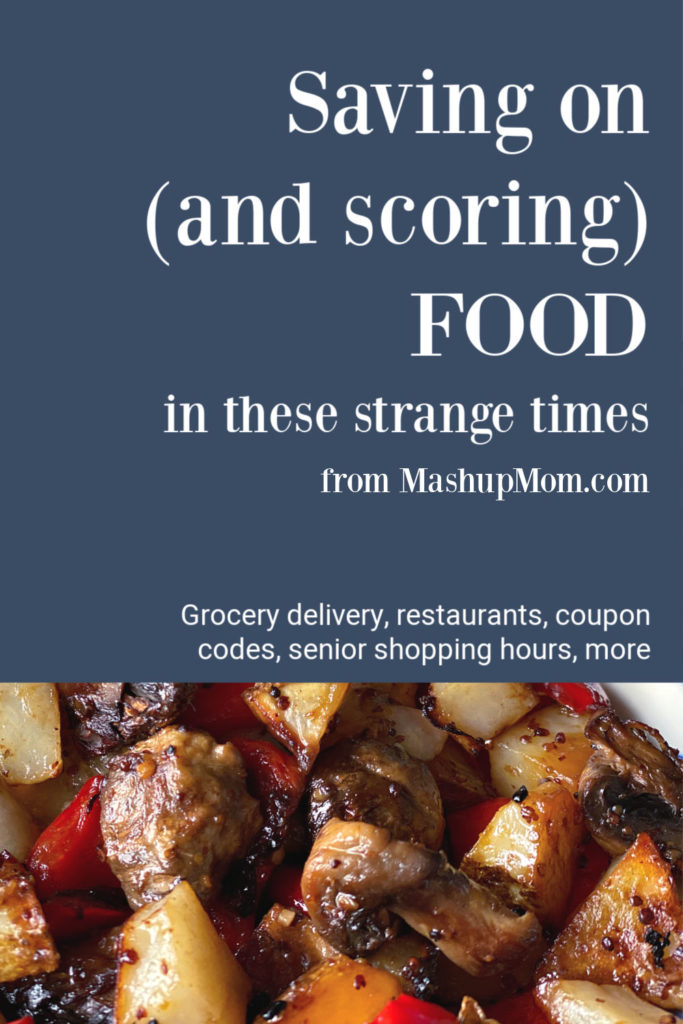 I decided it was time to break up the earlier resources for turbulent times post for easier navigation. All food-related resources and savings can now be found here.
On any of the offers that are listed below, check to make sure it is still current before ordering or purchasing; these may change at any time. I'll keep adding to this list as new resources pop up.
See also: Resources for turbulent times (non-food-related!).
Food safety
Is it safe to order carryout right now? How about to order food from a grocery delivery service?
Wherever you are shopping, do your best to limit trips.
Grocery delivery & pickup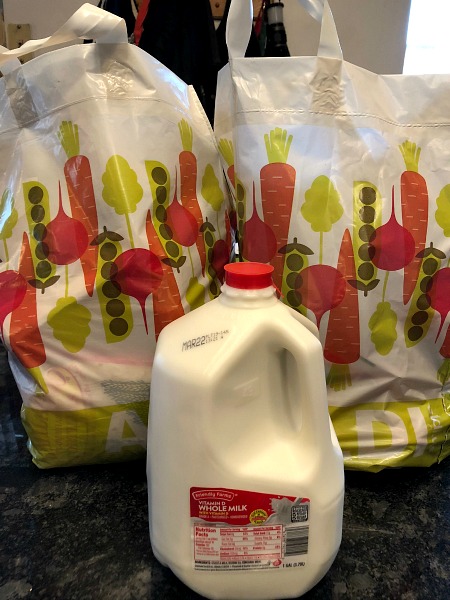 Here are a few online grocery delivery and pickup services to try when you can't get out to the store. Note that many of these are experiencing delivery delays due to demand, and that they can only deliver what is in stock.
If your local grocery store doesn't participate in something like Instacart or Shipt, check their page to see if they offer their own delivery service. And, on a related note: How grocery stores restock.
Other food delivery services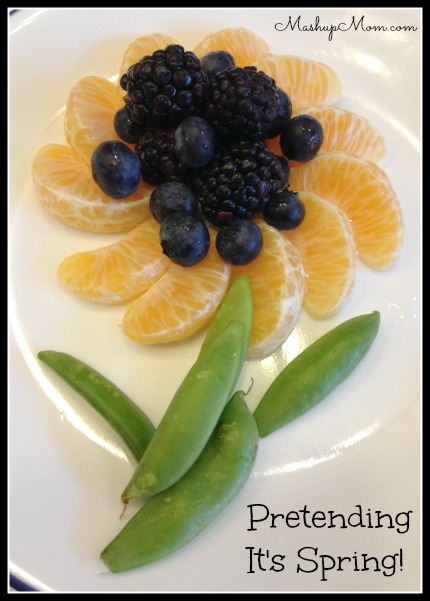 Here are a couple more options for getting food and ingredients delivered.
Also check local restaurants near you; some have started offering meal kits or ingredient delivery.
Grocery rebate
Expensify.org will reimburse families on SNAP benefits to purchase additional essential goods. Individuals will need to share a receipt (dated March 1st through present) that includes a summary of SNAP benefits used on the purchase. Expensify.org will reimburse you up to $50 for essential goods and groceries purchased on your SNAP card."
Stores that have senior shopping hours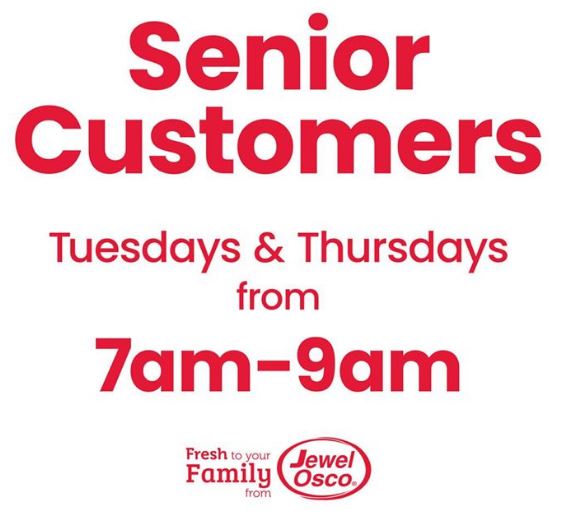 Check with your local store; hours may vary by region.
Albertsons: Tues & Thurs 7-9AM, seniors and vulnerable shoppers
ALDI: Tues and Thurs 8:30-9:30 AM for seniors, expectant mothers, and those with underlying health concerns
Berkot's: 7-8AM every day, seniors and immune compromised customers
Big Lots: The first hour of every day for seniors and those most vulnerable
Costco: 8AM-9AM Tues and Thurs, members 60 and older. Pharmacy will also be open, food court maintains normal schedule, does not apply to business centers.
Cub Foods: 6AM-7AM: Health care professionals, first responders, the elderly, high risk customers
Dollar Tree: First hour of business every day, seniors, those with pre-existing health conditions, and pregnant women
Dollar General: Seniors, the first shopping hour each day
Fresh Thyme: 6AM-8AM: M, W, F for seniors and those with underlying health conditions, and T, Th for first responders, law enforcement, and health care workers
Hannaford: 6AM-7AM Tu, Weds, Thurs for customers over 60 and those with compromised immune systems
Hy-Vee: 7AM-8AM every day: Ages 60+, expectant mothers, anyone with an underlying health condition that makes them more vulnerable to illness
Jewel: Tues & Thurs 7-9AM, seniors and vulnerable shoppers
Mariano's: Seniors and those with underlying health conditions can shop 6AM-8AM daily
Meijer: Tues and Thurs 7AM-8AM, seniors and those with health conditions
Price Chopper: 6AM-7AM every day, seniors
Publix: 7AM-8AM Tu-Weds, seniors age 65+
Sam's Club: 7Am-9AM Tues and Thurs, seniors and those with disabilities and compromised immune systems, includes pharmacy and optical centers
Stop & Shop: 6AM-7:30 AM daily, seniors age 60+
Target: First hour of shopping every Weds is reserved for those over 65+, pregnant women, and those defined by the CDC as vulnerable or at risk
Tony's: 7AM-9AM Tu, Th: senior shopping hours
Valli: Tues 6AM-8AM, seniors 62+
Walgreens: 8-9AM every Tuesday, plus 30% off select regular price items on Tuesdays for seniors
Walmart: 6AM-7AM daily, seniors 60+
Whole Foods: 60+ year old shoppers can enter stores one hour before they open to the general public
Woodman's: Weds. 6AM-8AM for seniors and other vulnerable individuals
Restaurant delivery + carryout
Check out this Budweiser pay it forward $5 rebate. Spend $5+ on carryout or delivery food, get a $5 rebate. Limit four per household ($20 total) with offer code AB-2040. No beer purchase required. 3/18/20-5/1/20, submit by 5/15/20.
Offer valid to residents of AL, AK, AR, CA, CO, CT, DE, FL, HI, ID, IL, IA, KS, KY, ME, MD, MI, MO, MT, NC, ND, NE, NH, NJ, NY, OK, PA, RI, SC, TN, UT, VA, VT, WA, WI, WV, and WY who are 21+.
Restaurant delivery services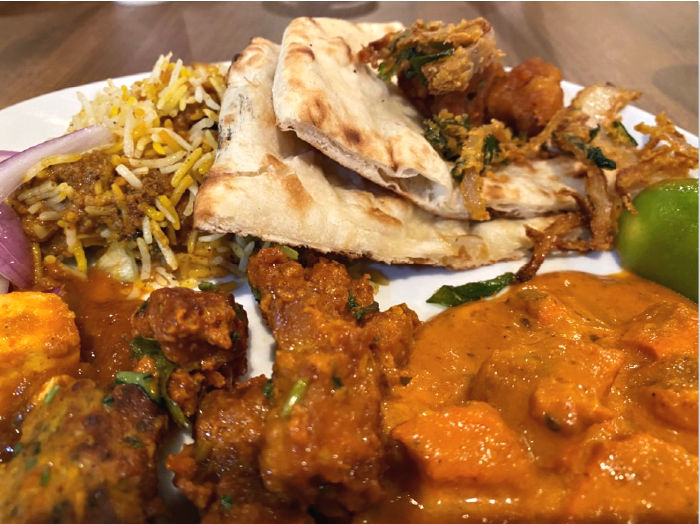 Most restaurant delivery services and restaurants now offer contactless delivery, where they'll just drop food on your porch, ring the bell, and leave. Add this request in notes on your order, if it is not specified.
Note: Prices may be higher through a grocery delivery service than directly through the restaurant, and there may also be added fees. Please be sure to tip your driver!
Individual restaurants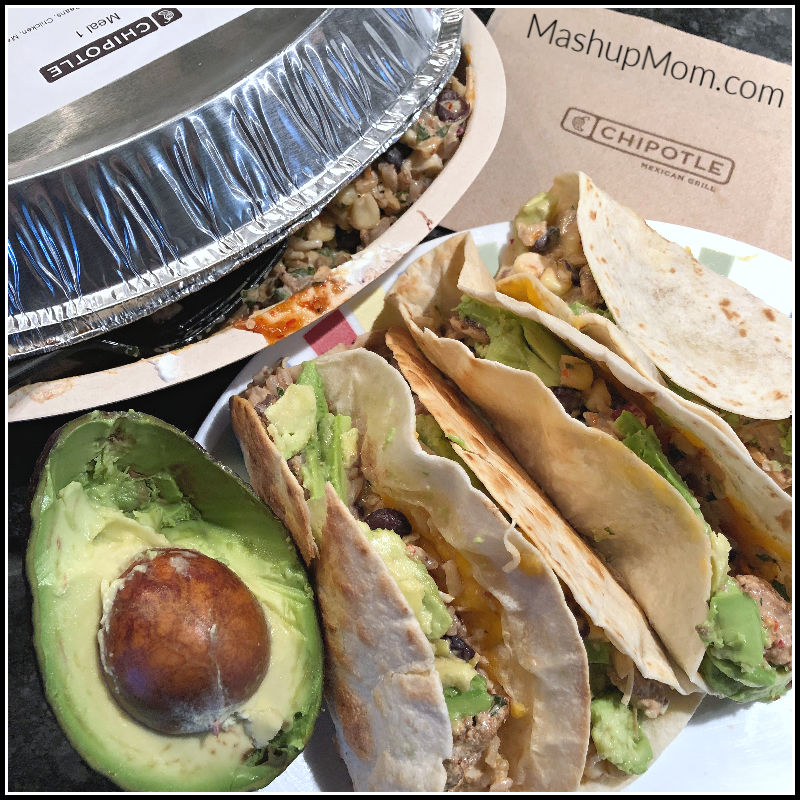 You can always check to see whether a restaurant's delivery offers or coupon codes on its own site will make it cheaper than starting with a third party service — even if that order eventually ends up getting delivered by one of those services. Chipotle, for example, uses DoorDash to fulfill its deliveries — but waives delivery fees (at the moment) if you order directly through the Chipotle site.
Meal delivery kits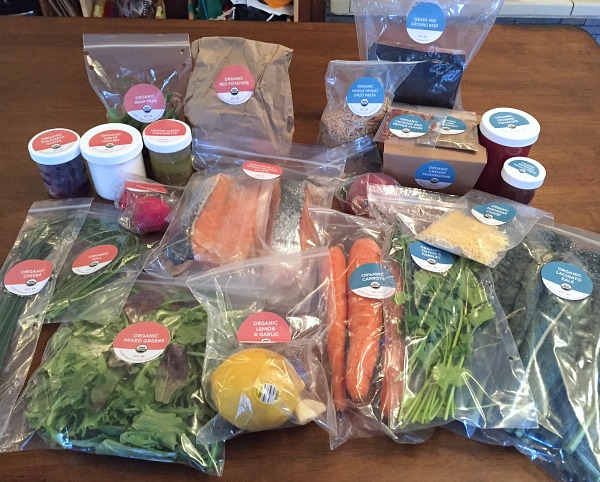 While generally more expensive, these might be a useful option when your local stores are lower on stock, for a change of pace, or to gift to a family member or friend. Several are also on Groupon at the moment, so you can try them out at a discount.
These meal kits can also help you get started cooking at home.
Online cooking classes / recipe videos
Recipe videos, of course, abound. But here are some online cooking classes and recipe video channels I appreciate at the moment.
What are some of your favorites?
More useful food-related resources
Here are a couple more useful food-related resources for turbulent times:
Have any pertinent resources or links to add? Please comment on this post. This is not a comprehensive list by any means, but I hope that you'll find these resources useful! I'll continue adding new links as time permits.
Please do not post political arguments in comments; these will be deleted.
See also: Resources for turbulent times (part 2).