Dinner for four, under $10? Chipotle + ALDI makes everyone happy!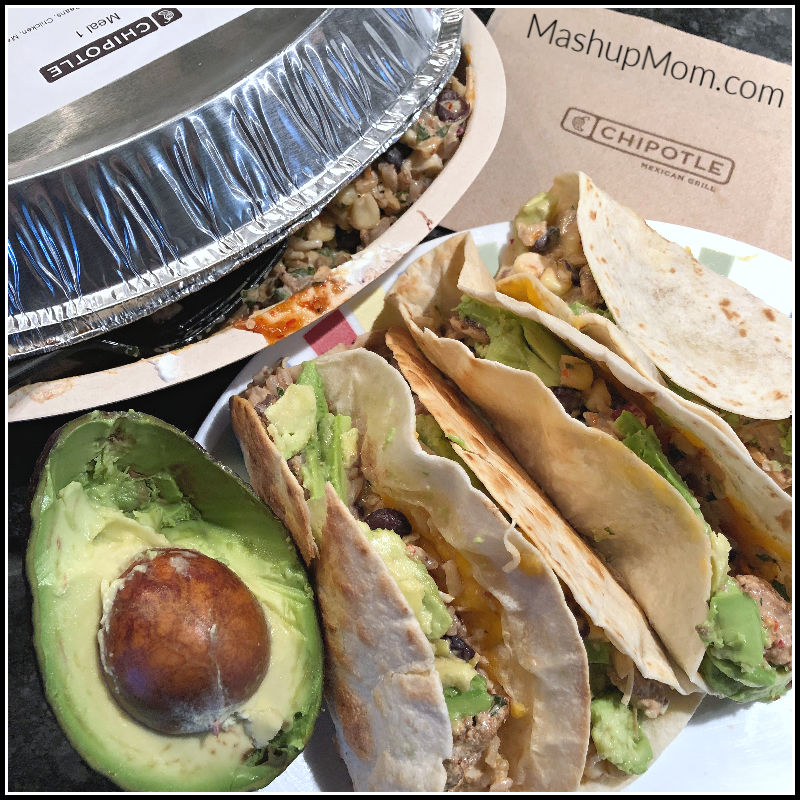 Just for funsies today: Does anyone else do this? I recently picked up Chipotle, because I had a free chips & guac birthday reward and that sounded darn tasty.
Do be sure to join their rewards program if you ever succumb to the allure of their burritos, by the way. Even if you don't Chipotle often, you'll get an offer for free chips & guac after your first member purchase, random "guac mode" throughout the year, and another on your birthday, if nothing else.
Turn one Chipotle Burrito Bowl into dinner for four!
On this Chipotle order, I ordered online to avoid the lines and picked up a chicken burrito bowl with most of the free add-ons tacked on. (Throw on the beans and rice and corn salsa and regular salsa and sour cream and… whatever your Chipotle-loving heart desires! But skip the guacamole; we're not paying $2.80 for a skimpy spoonful today.)
In my neck of the woods (as of April 2019) this Chipotle burrito bowl came to $7.45 after tax. If you think about it, this is actually a lot to pay for one person — but, it's actually a lot of food for one person, right? Let's run with that thought.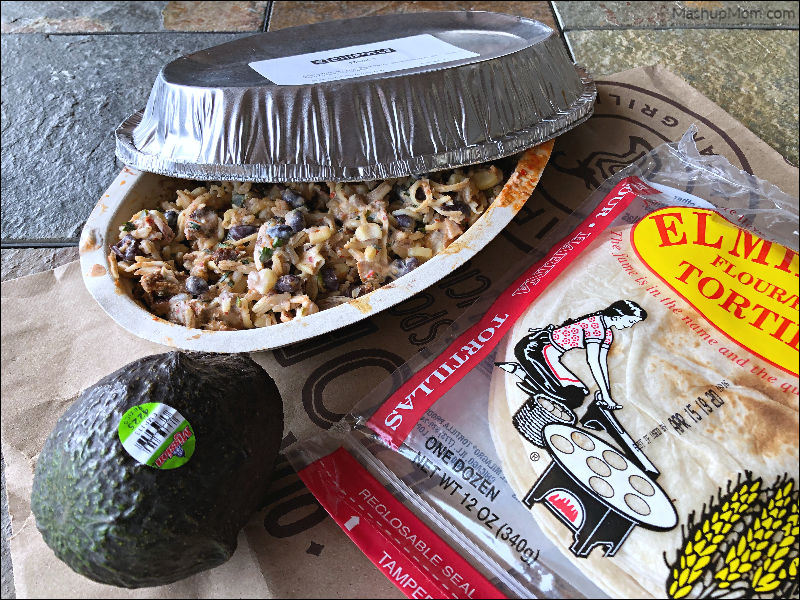 Here's a little known fact: If you take a jam-packed chicken burrito bowl from Chipotle, mix it up, and add in a sliced avocado, everything divides up perfectly to fill 12 medium sized flour tortillas.
Bonus! If you're ordering online, you can add one of the big Chipotle tortillas on the side of your bowl, to stretch things even further. These are now $.25 apiece, but you can add up to three of them per bowl — and, they are delicious. 🙂
Turn one Chipotle burrito bowl into dinner for four
Here's how to stretch your Chipotle burrito bowl to feed four, with a little help from ALDI.
Use a skillet to warm up and slightly brown your tortillas.
Optional: Add a little shredded cheese (I did!) if you like it melted right on to the tortillas.
While the tortillas are browning, slice up an avocado and stir up your burrito bowl
Fill the warmed tortillas with the burrito bowl + avocado slices to make 12 smaller tacos.
Give everyone in the family three Chipotle + ALDI burrito tacos, for an easy dinner for four.
At my ALDI this pack of El Milagro tortillas runs $.98, and the avocado was $.89. $7.45 + $.98 + $.89 = $9.32. Boom! dinner for four under $10. Kick things up another notch when you choose to throw some extra cheese on your tortillas (I generally do), and to serve whatever fruit is on sale this week on the side.
Chipotle + ALDI ftw
Hope you enjoy today's fun little Chipotle dinner hack for ALDI shoppers. It's perfect for nights when you don't really feel like cooking, want the taste of genuine Chipotle, and think you can just manage to heat up tortillas. 😉
Win-win for the whole family!