I received this product for free from Moms Meet (momsmeet.com), May Media Group LLC, who received it directly from the manufacturer. As a Moms Meet blogger, I agree to use this product and post my honest opinion on my blog. The opinions posted are my own.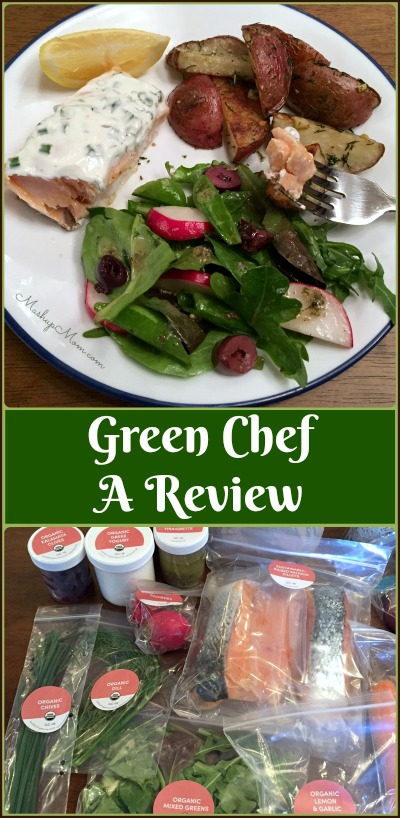 I've been so curious about meal kit delivery services, so was excited to have the opportunity recently to try out Green Chef. Green Chef is a USDA-certified organic meal kit delivery service that ships you pre-measured and partially prepped ingredients to cook your own dinners at home. Their site says that about 95% of the ingredients they send are certified organic, while a few ingredients (such as the salmon shown here, since there is no such thing as organic salmon) are sustainably sourced. So, let me tell you about my experience with Green Chef — and if you're intrigued, new customers can get $50 off their first box right now!
Here's my box!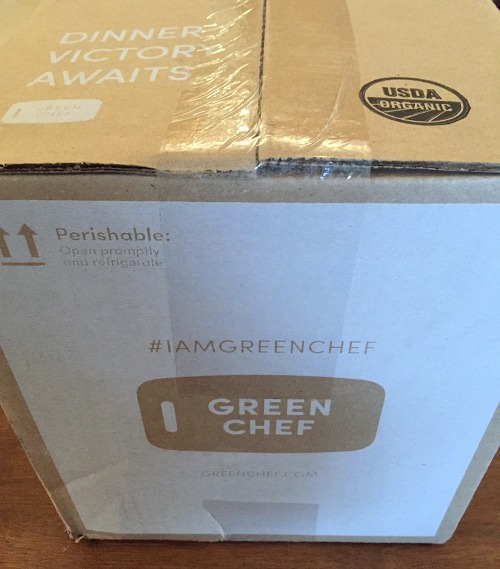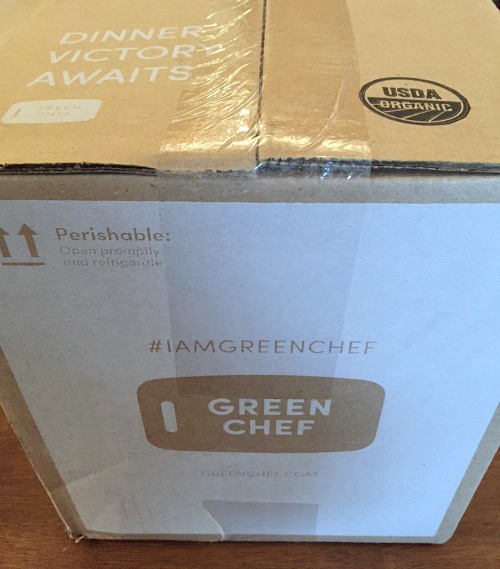 While Green Chef offers multiple plans for two or four people (ranging from carnivore to Paleo to vegetarian to gluten free and more), I received a kit to try out that contained the ingredients for two carnivore family plan dinners, each of which is intended to serve a family of four.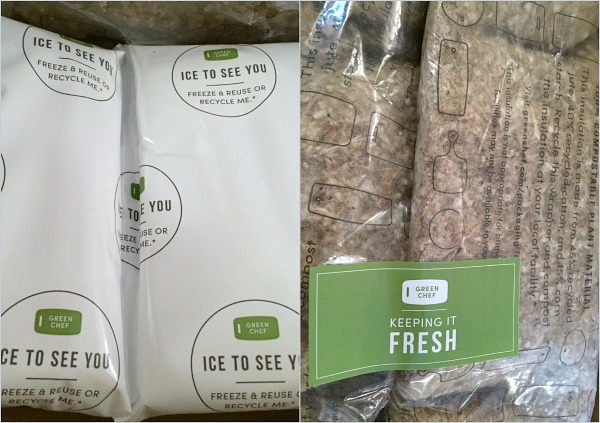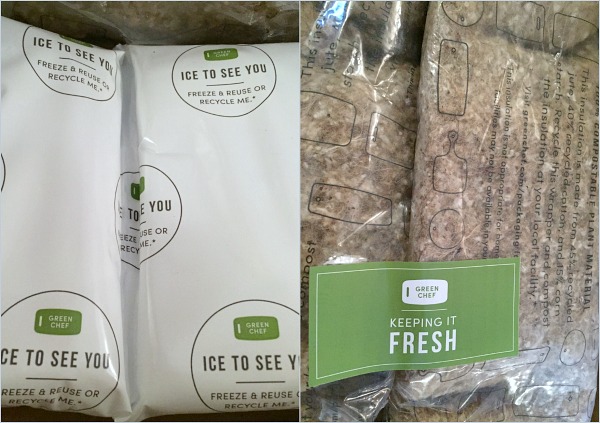 Everything was packaged beautifully in one box with recyclable, reusable, compostable materials — although if you're eating organic for environmental reasons you'll want to consider the large amount of individual plastic bag packaging for the produce and meat items, pictured below. (I'm not sure how you'd get around that with a meal kit delivery service, but it's worth noting.) The box contained two of these large ice packs plus the insulation all around, so should keep nicely for a bit after delivery if you're not home when the box arrives; just open the box and refrigerate the contents as soon as possible.
So, what'd I get?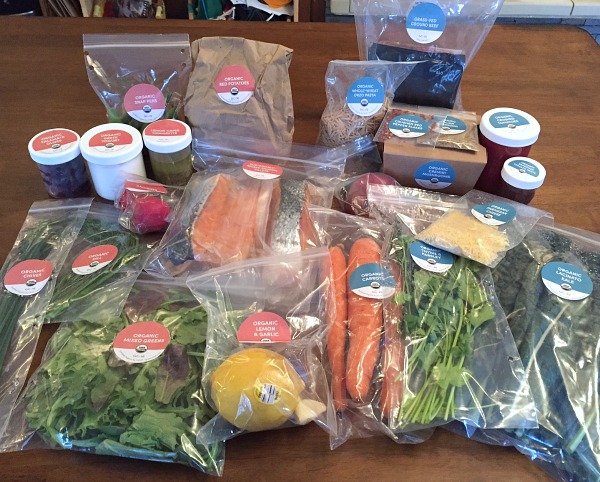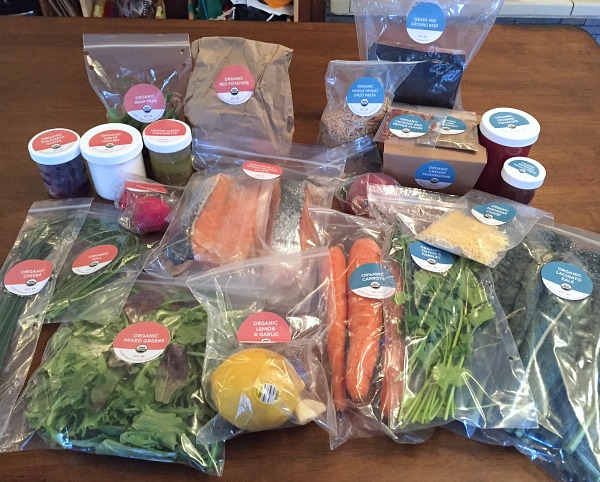 This one box contained everything necessary for two complete family meals, and the only ingredients I had to provide myself were salt, pepper, and cooking oil. Note that all of the ingredients are nicely color coded and labeled with their contents, so it's easy to see at a glance which ingredients are for each meal and to separate those out for easy meal prep. These labels might also be useful if you happen to be unfamiliar with an ingredient (if, say, you never cooked with Lacinato kale before, it's clearly identified here for you).
Every ingredient here was beautifully fresh and of good quality, and I was surprised at how well the produce traveled. I'd suggest that if you are planning on ordering one of these kits that you plan on making the dinners sooner rather than later, though, because ingredients like salad greens, kale, and fresh herbs will be best when consumed more quickly.
Each set of dinner ingredients was accompanied by a full page color-coded recipe sheet that showed how long the meal would take to cook, special notes (such as that my salmon dinner here is gluten free), food allergen notes, and the number of calories per serving. Large clear step-by-step photos and instructions on the back of each recipe walk you through completing the entire dinner, and all of the recipes from your boxes are then stored in your order history so that you can make them again in the future. I found the instructions to be exceptionally clear, and Green Chef took care to avoid potentially unfamiliar terms. Oddly, however, recipes did not include exact amounts, so they'd be more difficult than necessary to replicate yourself in the future.
So, what did I make here?
While the contents of each week's box will differ, mine contained the ingredients to make:
Lemon-Chive Salmon with dill-roasted red potatoes and mixed green salad, and
Italian Meatballs & Orzo with creminis, Lacinato kale, tomato sauce, and fresh herbs.
I cooked up the salmon and its associated side dishes first, and it was outstanding! The recipe card suggested that the meal would take 40 minutes prep + cook time, which was pretty much spot on. The flavors in the salad, potatoes, and salmon complemented each other nicely (and the salmon itself was super moist and flavorful), while the lemon-chive yogurt topping really made the flavors pop — so I'm keeping that recipe idea in mind when making salmon again in the future.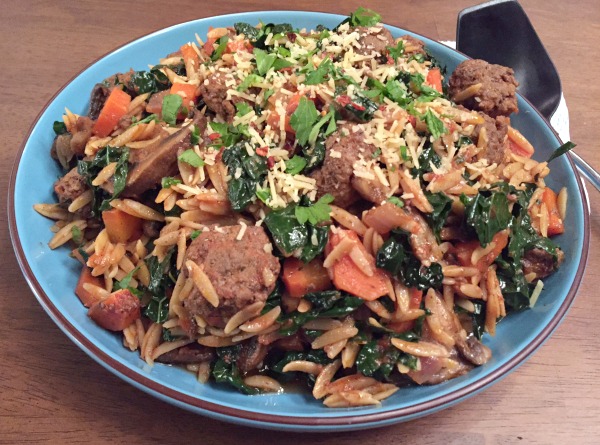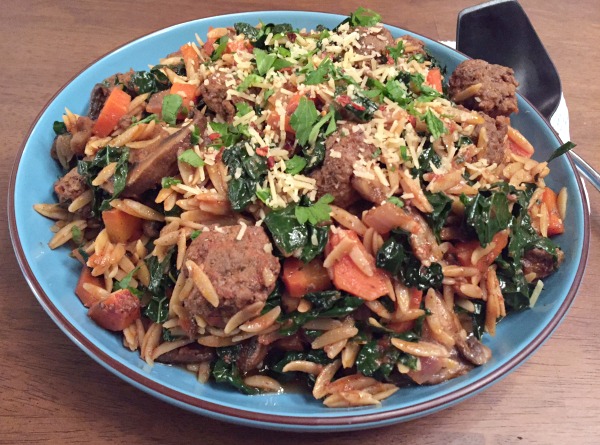 Next, I made the Green Chef recipe for Italian Meatballs & Orzo, complete with grass fed ground beef and organic veggies. While the instructions said this meal would take about 40 minutes to complete, it actually took me closer to an hour — on my stove things took a little longer to cook, and I'm a slow chopper. 🙂 This one was good (and pretty!) but not necessarily something I'd make again. High School Guy, however, was a big fan, while Mr. 9 preferred the salmon and is excited that there's some left over for him to enjoy again tonight.
So, what's the verdict?
Green Chef delivered beautifully here on quality, freshness, and ease of use — and offers an easy way to get balanced, organic, and sustainably sourced meals right to your door while still allowing you the satisfaction of cooking for your own family. They offer flexible delivery days, the ability to skip weeks, and multiple menu options to fit various diets and lifestyles, and the meals were a good size (we ended up with leftovers on both).
I can't comment on the Green Chef customer service experience since I received my review box directly, but will note that if you think you'll want to skip a week you should do so far in advance, because deliveries lock seven days before your next scheduled delivery date. When you try the service for the first time, you might want to immediately skip the second week when placing your first order so that you have the time to evaluate the service, the quality, and how Green Chef will work for you: With a seven day cancellation requirement, your second week's delivery will lock before you have the chance to cook the meals in your first box.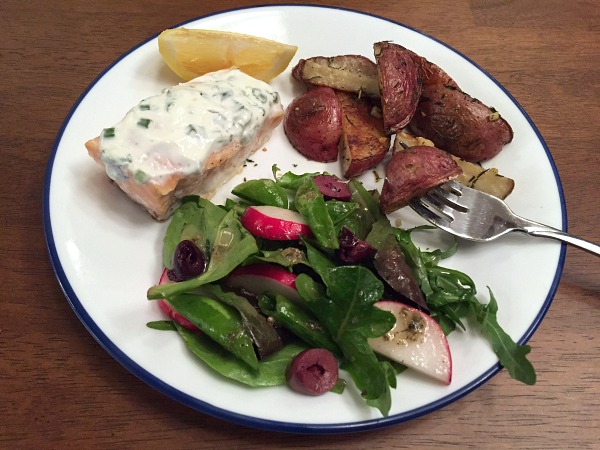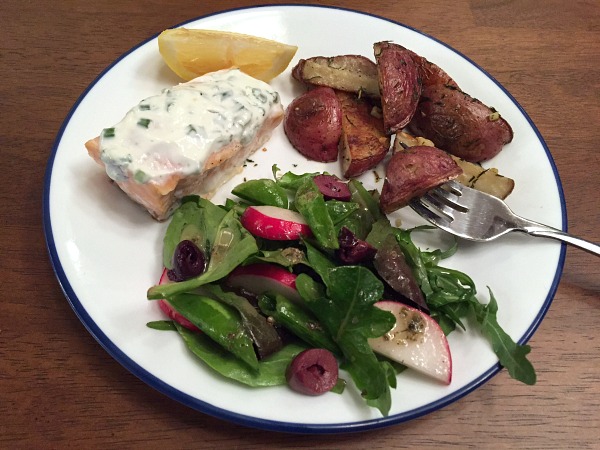 You do, however, pay for the convenience as well as the additional cost of the organic and sustainable ingredients. Note that the meal pricing on their site is per person (which is confusing terminology that I'd like to see clarified), and that there is a flat $9 weekly shipping fee in addition to the per person charge. When compared to the cost of a comparable restaurant meal (where you'd be unlikely to get the same quality of organic ingredients), though, Green Chef seems like a more viable alternative.
For my family it would be hard to justify the cost since I work from home with a flexible schedule, but I could see Green Chef being a great option for families where both parents work outside the home full time, or for busy couples who both work out of the house yet want to relax over a fresh home cooked weeknight meal. Green Chef also offers the opportunity to try different foods and recipes you might not otherwise consider, letting you expand your cooking repertoire.
For more on Green Chef
Visit the Green Chef website and Facebook page — which is a good place to see other customers' dinner photos, too. And remember: You'll get $50 off your first order with their current new customer offer!