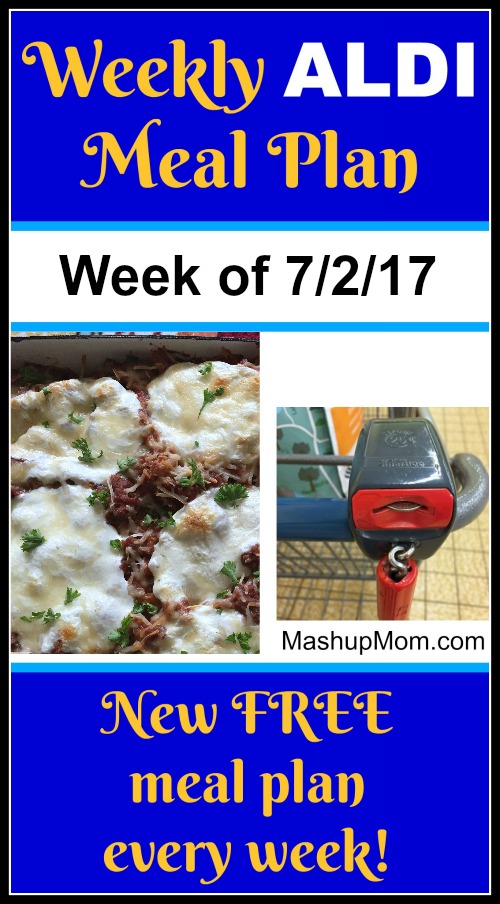 Here's your easy weekly ALDI meal plan for the week of 7/2/17: Pick up everything on the shopping list below, then start cooking on Sunday.
*** Subscribe to the weekly ALDI meal plans here ***
So let's get ready to make six complete dinners for a family of four, just $60.00 out the door! Hope you find these free ALDI meal plans useful. 🙂
Did you catch this one?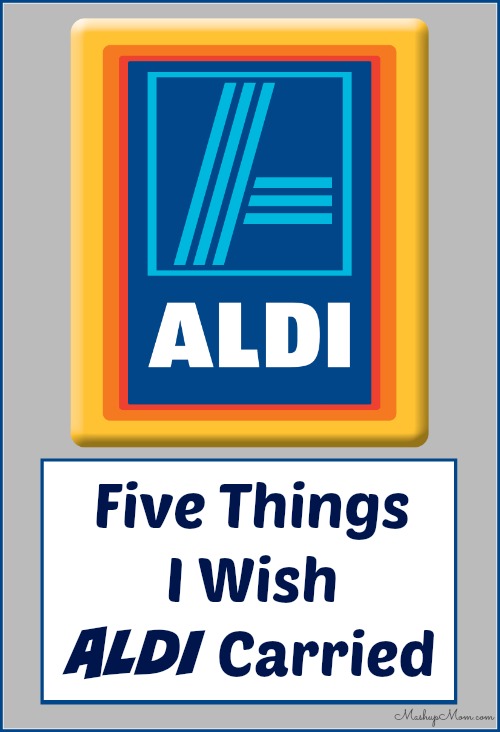 Here are five things I wish ALDI carried regularly (but they don't!). What's on your list?
ALDI meal planning week of 7/2/17 – 7/8/17
I'm assuming here that you already have pantry basics like cooking oil and spices. *** Read through the recipes before you shop to make sure you have the necessary pantry staples on hand. 
Six Easy Dinners from ALDI for $60.00
ALDI meal plan — Start cooking 7/2/17
Note: ALDI has a 5 lb pack of ground beef on sale this week, which we're using to make three different meals. You might want to portion it out and freeze after opening, then thaw out each portion the morning you're going to use.
Sunday: Easy penne pasta bake (use 1.5 lbs ground beef; eat half the pasta and reserve half for Wednesday's dinner). Serve with sliced cantaloupe and steamed broccoli (topped with a little garlic salt, to taste).
Monday: Roasted veggie paninis with Parmesan & provolone (note: If you don't have balsamic vinegar handy, just leave out). Serve these with strawberries and potato chips.
Tuesday: Happy Independence Day! Let's enjoy burgers topped with shredded cheddar, caramelized onions, & mushrooms (use 2 lbs ground beef; grill instead of pan fry for your holiday BBQ). Serve with 4 ears corn on the cob, watermelon, and grilled red potatoes.
Wednesday: Leftover penne pasta bake and leftover watermelon, because you're not going to want to cook the day after the 4th.
Thursday: Easy sheet pan smoked sausage & veggies. (Substitute kielbasa for smoked sausage links; chop up your last bell pepper and add it in as well. No Old Bay seasoning on hand? Substitute 1.5 tsp seasoned salt plus 1/4 tsp black pepper, 1 tsp paprika, 1/4 tsp powdered mustard, and 1/4 tsp crushed red pepper.) Side: Strawberries, and saute up your last couple of zucchini plus two Roma tomatoes (roughly chop tomatoes and cut zucchini lengthwise, then slice into smaller slices crosswise, season with salt, pepper, & oregano to taste, and saute veggies with 1 tsp minced garlic in a little olive oil over medium-high heat for 5-6 minutes, stirring frequently).
Friday: Black bean, beef, and corn taco nachos (use the last 1.5 lbs ground beef; it will cook down since it's 73%). Top with diced avocado & tomato. Side: Southwest chopped salad kit.
Saturday: Leftovers, family pizza night (ALDI sells a nice big take-and-bake deli pizza), eat out, or date night.
ALDI shopping list — Shop through 7/1/17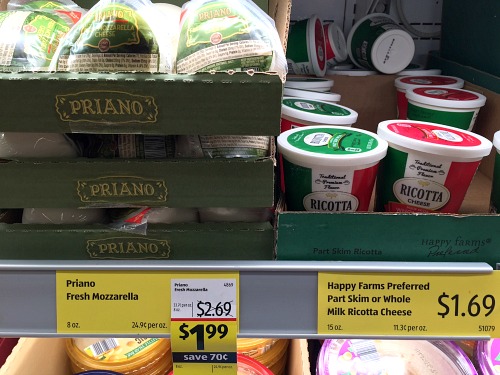 Dairy & refrigerated
15 oz tub Happy Farms Preferred ricotta, $1.69
5 oz Priano shredded Parmesan, $1.99
8 oz Priano fresh mozzarella ball, $1.99
8 oz Happy Farms provolone, $1.79
16 oz Happy Farms shredded cheddar, $2.99
Grocery
16 oz box Reggano penne pasta, $.99
8 oz jar minced garlic in water, $1.59
24 oz jar Priano marinara, $1.89
6 pack Specially Selected ciabatta rolls, $2.69
L'Oven Fresh hamburger buns, $.85
Clancy's white rounds tortilla chips, $1.19
1 can Happy Harvest corn, $.49
1 can Dakota's Pride black beans, $.59
Clancy's potato chips, $1.09
Casa Mamita taco seasoning, $.35
Meat & seafood
5 lb pack 73% lean ground beef, $8.95
14 oz Parkview Polska kielbasa, $1.99
Produce
3 lbs yellow onions, $1.69
2 pack portobello mushroom caps, $1.99
3 pack multicolored bell peppers, $3.29
24 oz zucchini, $1.49
6 ears corn, $1.20
Seedless watermelon, $2.99
2 lb strawberries, $1.98
Cantaloupe, $.99
16 oz broccoli crowns, $1.49
8 oz mushrooms, $1.29
5 lb red potatoes, $2.99
8 oz baby bella mushrooms, $1.49
1 avocado, $1.19
16 oz Roma tomatoes, $.89
Little Salad Bar Southwest chopped salad kit, $2.49
---
That comes to $60.56.
Or, maybe less… 🙂 These meals will likely run you even less if you supplement this week's ALDI purchases with clearance meat you already have in your freezer, pantry staples you picked up on sale, produce you already have on hand, and/or sale produce from your local produce market. Let me know if you give it a try!
*** New: Download this week's shopping list in Word format so that you can edit and add in your own meal ideas, remove items you already have on hand, change regional pricing to match your own store, etc. 
Things to know about the ALDI meal plans
A couple of notes
I try not to repeat main dish recipes more often than once a month, but you will see favorite easy recipes come up again in these weekly ALDI meal plans as the same meats and produce items come up again on sale. Part of the fun of meal planning lies in mixing old stand-bys with something new each week.
If one or more of these recipes isn't to your taste, or if you have other ingredients to use, adapt the recipes in this ALDI meal plan to your family's preferences — or just use the ideas here to supplement your own meal planning.
Ad markets and dates
This week's ALDI meal plan reflects prices from the current week's ad (running 6/25-7/1 in Sunday ad markets and 6/28-7/4 in Wednesday ad markets). Non-advertised prices were collected on 6/28/17 at my local store in the Chicago suburbs, but non-advertised prices and produce deals *may vary* by location & region. In either ad market, shop any time through Saturday and start cooking on Sunday 7/2/17.
Can't get enough ALDI savings?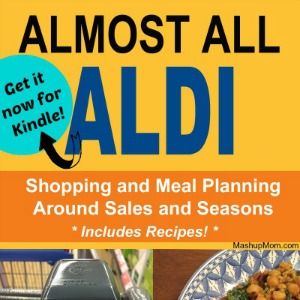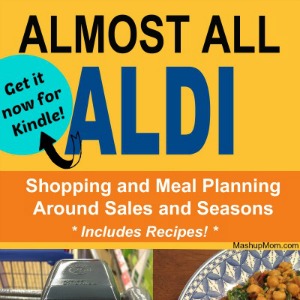 If you enjoy these ALDI meal plans and savings, you might also enjoy my eBook: Almost All ALDI: Shopping and Meal Planning Around Sales and Seasons.
Stay in the loop
Subscribe above to receive email messages about new ALDI meal plans — no spam, and I'll never sell your info; just get email notifications about new plans!
Happy ALDI shopping and cooking this week, everyone!