Carrot Stir Fry with Green Onions: A simple side dish that complements heartier stir fries to help create a balanced and filling meal. Sweet and savory stir-fried carrots are sure to please!
Let's enjoy our carrots another way, today: A little sweet, a little spicy, and a little irresistible, Carrot Stir Fry with Green Onions ticks every box you'd wish in a simply delicious side. (Just a little) sugar & spice, & everything nice, that's what these stir-fried carrots are made of.
And carrot stir fry makes such a juicy little veggie side dish to go along with a meatier and/or heartier stir fry, too. I enjoyed mine along with cooked rice and the leftover remnants of this chicken broccoli mushroom stir fry from the other day. You know how cooked chicken sometimes tends to dry out a little after reheating? Well, adding this fresh new side of stir-fried carrots brightened everything back up nicely, and helped balance that out.
The green onions here play nicely off the sweetness of the carrots (and also add a much-needed pop of color). Who knew how well these two veggies go together — Just about as well as the sweet & savory flavors of the seasonings! So let's get carrot cooking, shall we?
Carrot Stir Fry with Green Onions
Ingredients
1 Tbsp canola oil
1 Tbsp butter
1 tsp sesame oil (optional, but recommended)
4 medium carrots, peeled and cut into matchsticks
6 green onions, chopped
1 tsp minced garlic (about 2 small cloves)
2 Tbsp soy sauce
1 tsp packed brown sugar
1/2 tsp ground ginger
1/4 tsp crushed red pepper
Directions
Peel carrots and cut them into matchsticks.
Heat the oils and butter in a large skillet over high heat while you chop the green onions. Add the carrots to the skillet and cook for 3 minutes, stirring occasionally.
When the carrots start to get tender, stir in the chopped green onions and garlic and continue to stir fry over high heat for another 2 minutes.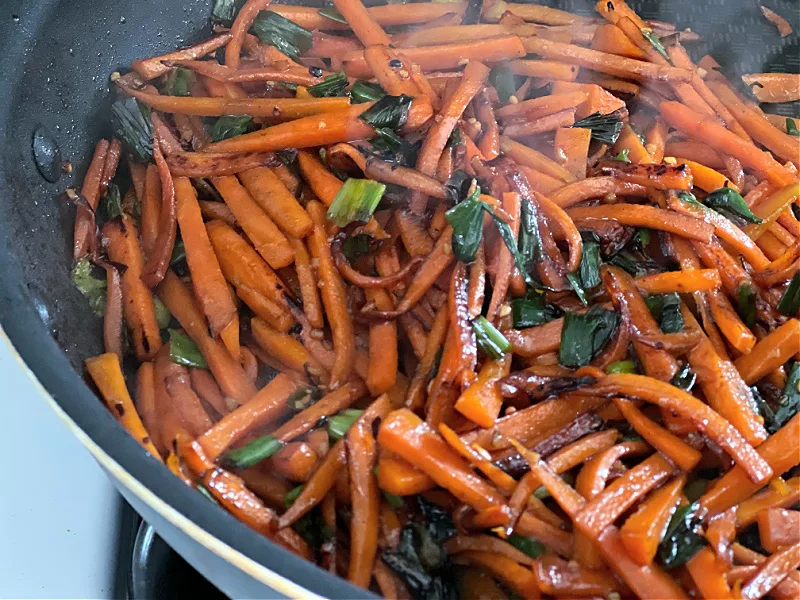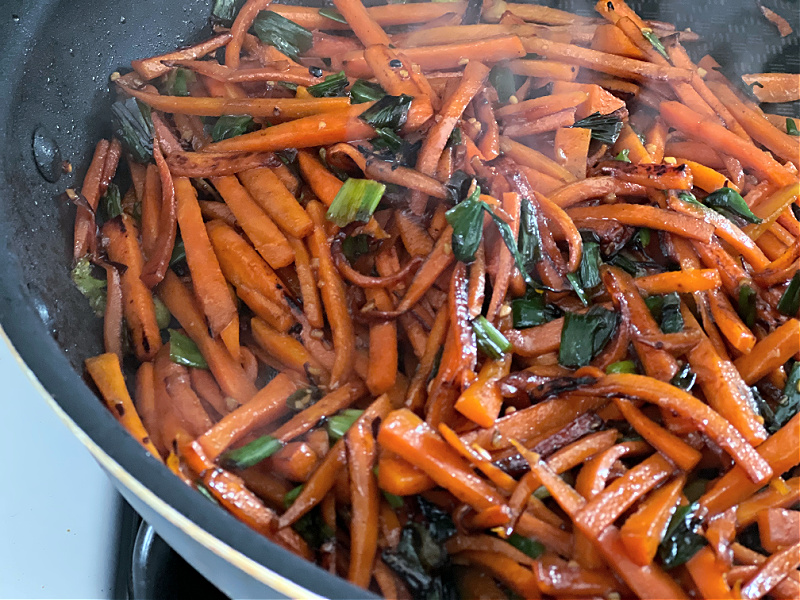 Stir in the soy sauce, brown sugar, and spices. Cook and stir for another minute or so, then serve. You want the carrots to be browned and tender, but not soggy: They're done when they look like the piping hot pan-full pictured above.
Note: If you're a slow carrot chopper like me, you can make this one a super quick recipe by using pre-shredded bagged carrots. 🙂
That's a savory little veggie side dish
These little matchstick carrots stir fry up so quickly, making this a fast side for a weeknight stir fry dinner. This is also a nicely different way to use up the end of a bag of carrots, which is what I did here.
Feel less orange and more green today? These garlic green beans with soy sauce also make a great stir-fried veggie side.
Carrot Stir Fry with Green Onions, printable recipe
Recipes in the real world
Be sure not to miss the free weekly ALDI meal plans, which show you how to use these easy family recipes to meal plan affordably and realistically for your family. Or, find more recipe ideas with the Recipe Search!