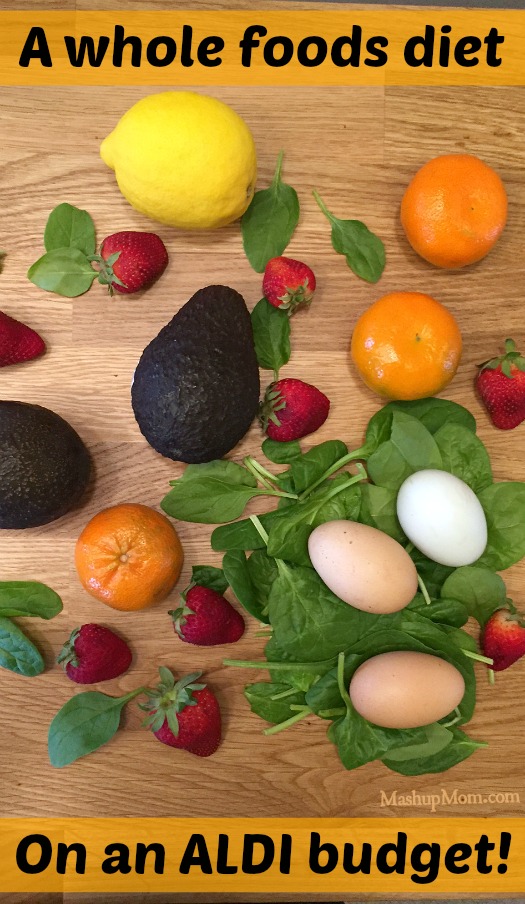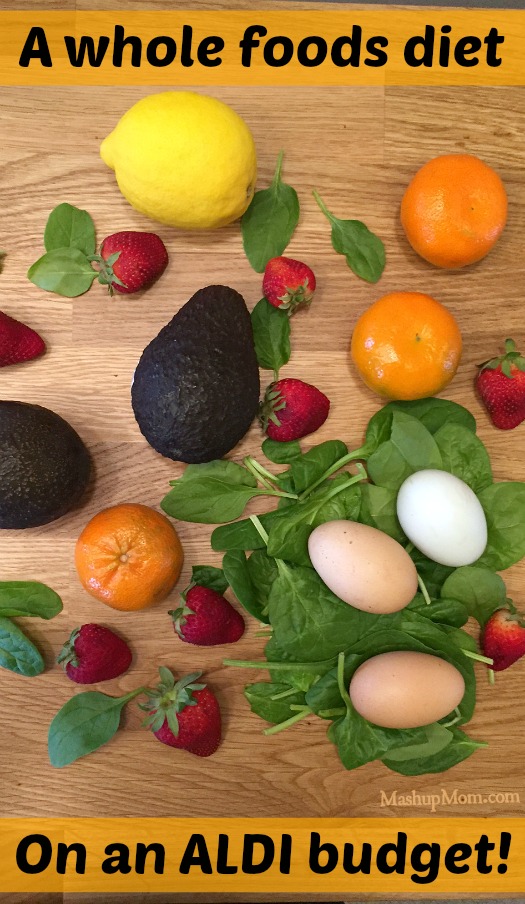 Let's talk today about eating a whole foods diet on an ALDI budget and how to save on real foods! Note, though, that "whole foods" isn't capitalized in the title above: They're very clever to have capitalized (in all senses of the term), but I'm not talking Whole Foods at the moment.
Those of you who have been around for a few years know that my shopping and cooking and eating patterns have changed dramatically since Mashup Mom first launched back in 2009. At the time of this original post in 2017, I'd lost 13 pounds (and felt much better!) by cutting most refined sugar and processed foods out of my diet — but have visited capital-W Whole Foods only during their moving sale in January. 😉 So, I thought it might be fun to try to lay out my current thoughts on fitting a lower-case-w whole foods diet into a reasonable budget.
Follow the 80/20 rule to save on real food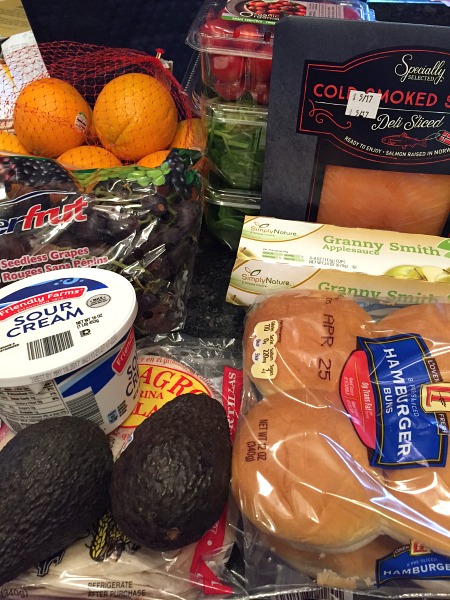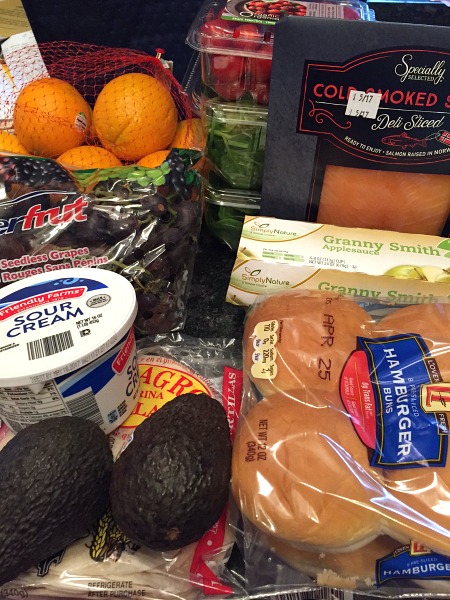 You guys know this one? The 80/20 rule (also known as the Pareto principle) basically states that, in many cases, about 80% of the effects (or outputs, or value) come from 20% of the causes (or inputs, or activities). You'll see the 80/20 rule pop up in articles on everything from time management to entrepreneurship to happiness to productivity, but here it works as a reasonable rule of thumb for shopping and eating well.
Here's my own 80/20 rule of thumb: Focus on eating and purchasing whole, unprocessed foods 80% of the time — but the other 20% of the time, realize that life happens and that all of us are busy (and have our little vices). Most of my shopping trips now look something like yesterday's ALDI visit (pictured above). Could I make my own, less processed hamburger buns? Technically, yes. Does that fit into my life right now? Realistically, no. Could I make my own applesauce? Of course I could — I have, and I will again — but this week the unsweetened cups fit conveniently into my schedule, and I'm OK with that.
So… in my own 80/20 interpretation of balancing out nourishing/healthy foods vs. convenient/less nutrient-dense foods: I'm not eating desserts or granola bars or sugary yogurt, but I am snacking on tortilla chips and salsa. I'm not eating McDonald's or Taco Bell, but I'm occasionally eating Chipotle. I'm not eating donuts, but may sometimes enjoy a homemade sandwich on an ALDI hamburger bun.
Save on real foods when you shop around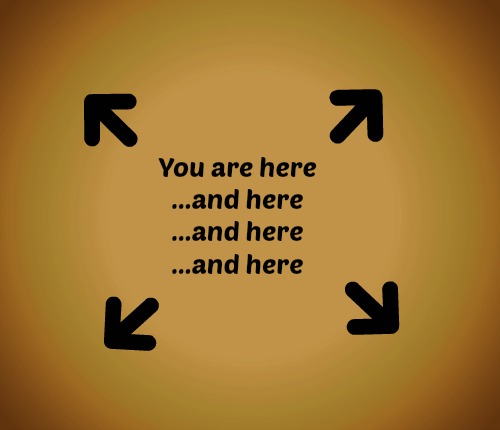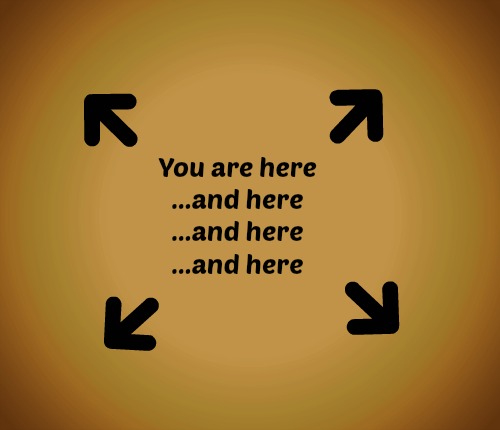 Shop around — again, in all senses of the term. 😉 Stick to the perimeter of the grocery store for the majority (say… 80%?) of your purchases, but also branch out into different stores for different purposes. The outside aisles of the store are where you'll tend to find your produce, meat, and dairy items, while the inside aisles of the store are more often devoted to processed foods. (Except at ALDI, where they put all the snack products in that first aisle when you come in.)
Do shop at ALDI, however! I focus the weekly meal plans here on ALDI for the simple reason that they've become my go-to store for consistently decent prices on the basics — and they've stepped up their game over the last few years to become a competitive destination for real foods. But, there's a reason that we're almost all ALDI around here, rather than "all ALDI, all the time."
If you're in the Chicago area like me, we really have an embarrassment of riches to choose from in terms of grocery stores. And if you're a reformed couponer like me, you can take the skills you honed over years of cherry-picking coupon deals and turn them towards cherry-picking lower-case-w whole foods for your family.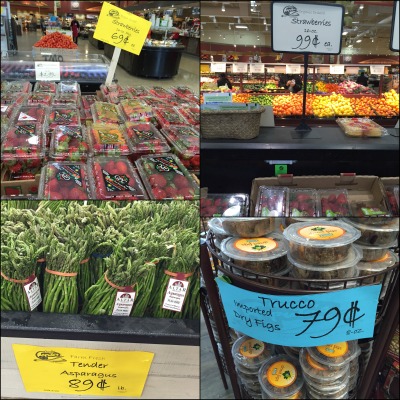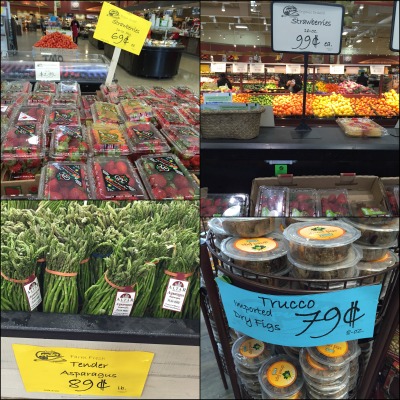 I do shop at ALDI every week, but I also shop at Caputo's and Pete's Market for a bigger variety of cheap fresh produce, I stop at Jewel occasionally for their meat and dairy deals, and I hit Costco every 4-6 weeks. I mix it up each week depending on what's in season, what's on sale, what stores I happen to be driving by on my various errands, and what products we need. Just as with couponing, you'll save the most on real foods when you're willing to spread your shopping trips out beyond just one store.
Savings are fungible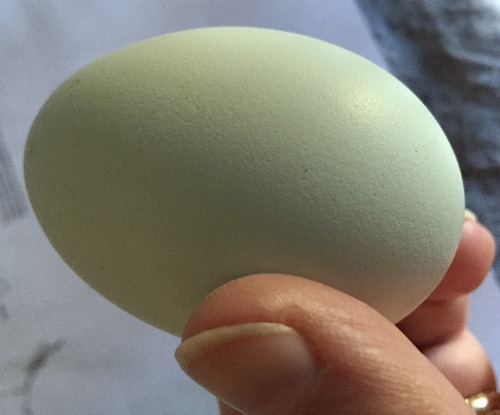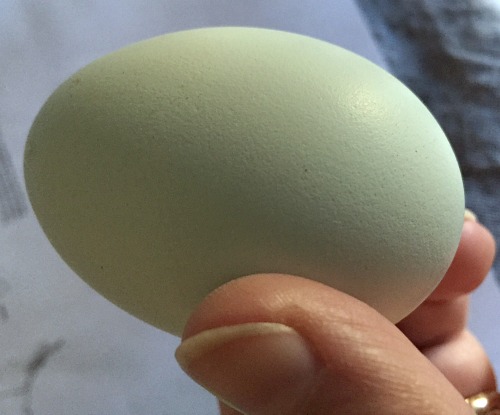 It's true: Not only are there fewer food coupons in circulation than coupons for non-food items, the proportion of coupons for "real foods" is vanishingly small. That being said, you can still save on produce, meat, and more with coupons plus cash back apps — I often get cash back on produce and more.
Keep an eye out for coupons in grocery store flyers as well as for tearpads and peelies on real food products.
Money is fungible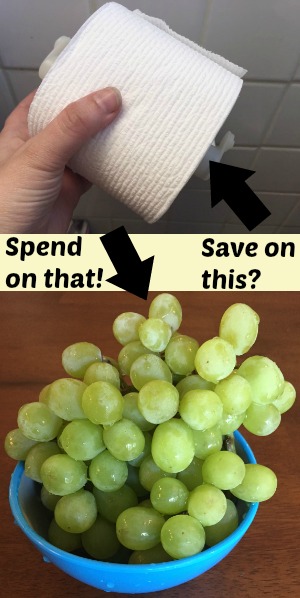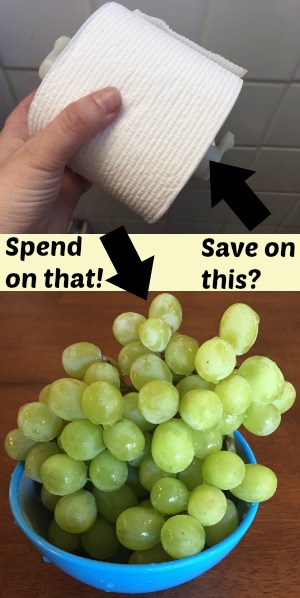 Not only that, money is fungible — meaning that the savings you realize in one area can be applied to another area of your budget. So, if you coupon and save the heck out of things like toilet paper, deodorant, and cat food, you can shift some of the funds you otherwise would have spent on those products over to bulk up your food budget.
Speaking of shopping around, let's talk organic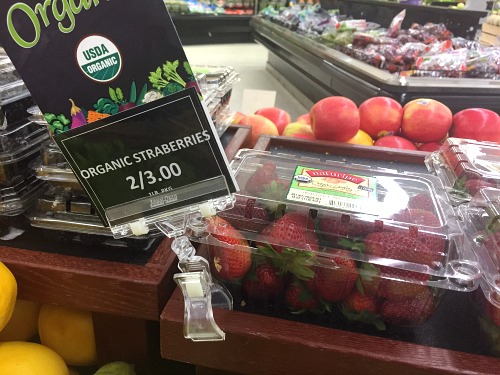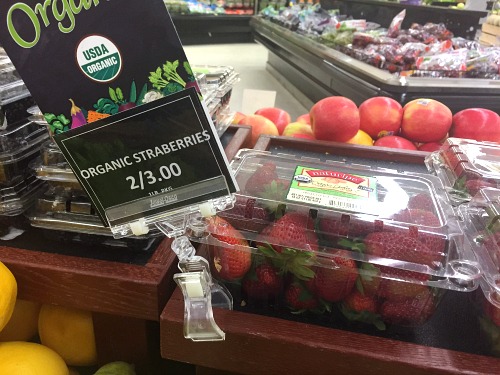 Going back to this week's random ALDI trip: The spinach and tomatoes I picked up are organic, while the avocados, oranges, and grapes are not. While I'll choose organic produce over conventional when the organic variety is affordable (or sometimes for quality purposes on foods like strawberries), it's much more important to me to keep a colorful variety of produce on hand for myself and the kids. I've been reading some interesting articles on the methodology of the popular "dirty dozen" list, and plan to hit the farmer's market more often this summer and work on eating more locally grown and in season produce rather than focusing solely on organic vs. conventional.
If you can't afford to eat organic produce all the time, it's much more important to eat a nice variety of produce. Try to focus on variety, planning your meals around fruits and veggies that are affordable and on sale or in season, and feeding your family real foods, and you're… 80% of the way there. 😉
But what about meat and dairy?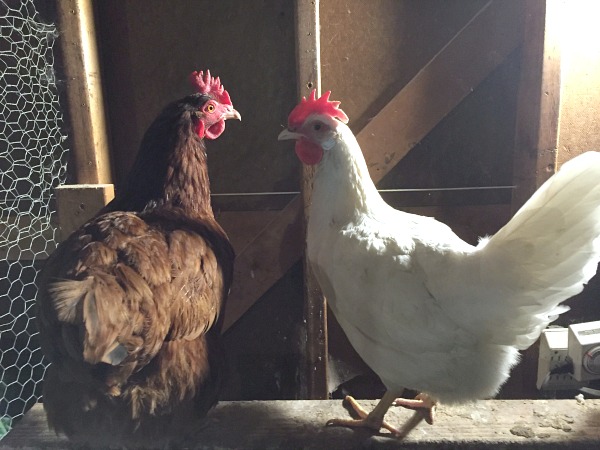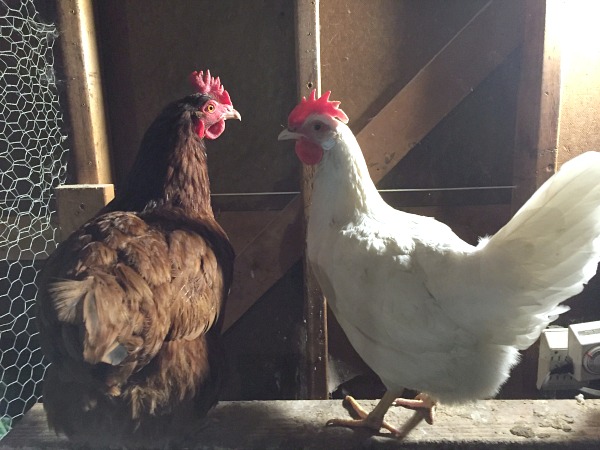 That's a harder one, as I watch our backyard chickens and read and think more about how animals are raised and treated. We do have our farm fresh eggs now 🙂 — and I've been eating more wild-caught seafood as well as starting small by going meatless a couple of nights a week. Which, by the way, also fits well into healthier eating on a budget — because meals tend to get much more affordable once you remove the meat piece from the equation.
Note: The backyard chickens are no more — a lot of things have changed since 2017 when this post was initially published!
Eat at home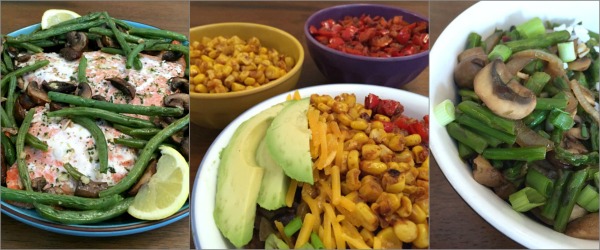 It's no secret that I like to cook, although it was actually a pretty well-kept secret to me until a few years ago! I never learned how growing up, and never realized how much I really do enjoy it. I am, however, inherently lazy (and busy), and also love it when someone else cooks for me. So when I sat down a while back and looked at what we were really spending on takeout and convenience foods, I was a little appalled.
Even though I've shifted more of my budget towards produce and other whole foods, I'm not spending more overall because I've reduced the amount we eat out and spend on processed foods — and I've reduced the amount of food we waste by consciously cooking around what we have in the house, planning meals to use up leftovers, making things like vegetable broth and salad dressing from scratch, and meal planning more effectively. (Up next, I am going to get around to making my own yogurt and cooking up beans from dry rather than using canned!)
Bonus: since the real foods I'm making keep us more satisfied, we seem to be snacking and consuming less.
What are your best tips for saving on whole foods?
I'd love to hear your ideas how how to save on whole foods as well! And if you enjoyed this post, please share it with your friends on Facebook — I'd love to hear more viewpoints on this ongoing conversation. 🙂