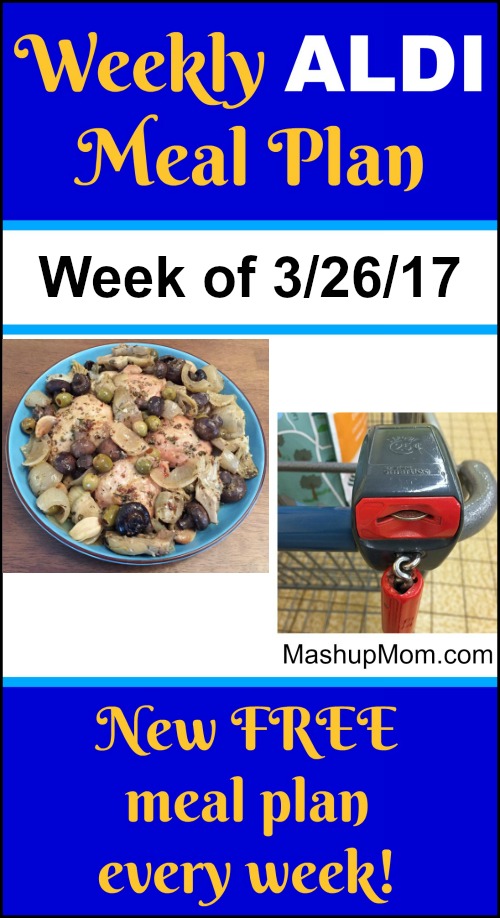 Here's your easy weekly ALDI meal plan for the week of 3/26/17: Pick up everything on the shopping list below, then start cooking on Sunday! Hope you find it useful.
Note: Main dish recipes in these plans don't repeat often, but you will see favorite easy recipes come up again on these weekly ALDI meal plans as the same meats and produce items come up again on sale. Part of the fun of meal planning is mixing old stand-bys with something new each week! 🙂
ALDI meal planning week of 3/26/17 – 4/1/17
Six complete dinners for a family of four for $60.00
Prices here are collected from this week's ad and my local store in the Chicago suburbs, but may vary by location & region. I'm assuming here that you already have pantry basics like olive oil, mustard, and spices. Read through the recipes before you shop to make sure you have the necessary pantry staples on hand.
Six Easy Dinners from ALDI for $60.00
Sunday: Slow cooker chicken with artichokes & olives (use half of the chicken thighs). Serve over cooked rice with sliced cantaloupe on the side.
Monday: Creamy tomato hummus soup + grilled cheese sandwiches (use half the loaf of sourdough). Sides: Apples & bananas.
Tuesday: Sheet pan chicken thighs with green beans & red potatoes — halve recipe & use other half of the chicken thighs — might need to reduce cooking time slightly to compensate. Side: Roasted baby carrots (toss one bag of baby carrots with a little olive oil, sea salt, pepper and roast in separate dish for about 25 minutes or until tender — put in oven about 10 minutes after you start the chicken).
Wednesday: Stuffed peppers (use multi-colored rather than green peppers & top with shredded cheddar for the last 10 minutes of baking), served with any leftover tomato soup and bananas. Also chop half the broccoli into florets and oven roast with a little olive oil, garlic, and seasonings to taste, then top with a little fresh squeezed lemon juice after removing from oven.
Thursday: Spice dry rub oven baked chicken wings (play with the spice mix for your own taste preferences). Sides: Oven roast some red potatoes with olive oil, salt, pepper, rosemary, & garlic to taste, plus iceberg wedges topped with blue cheese, diced onion, a few diced grape tomatoes, fresh ground black pepper, and bacon bits. (Set out additional dressing to dip wings.)
Friday: Salad Bar with shrimp — "create your own salad" night with choice of dressings. Quick saute shrimp in butter or olive oil with a little minced garlic and lemon juice until just pink, then remove from heat and drain. Set out with spinach, salad, any leftover iceberg lettuce, baby carrots, grape tomatoes, drained and rinsed beans, the rest of the olives, sliced onion, broccoli florets, and bacon bits (omit if you're eating meatless for Lent). On the side: Sourdough toast with the rest of the cream cheese, plus sliced apples and saute the other half of the bag of green beans with a little garlic, olive oil, salt, & pepper to taste
Saturday: Leftovers, family pizza night, eat out, or date night!
Shopping list
Dairy & refrigerated
Little Salad Bar 10 oz roasted red pepper hummus, $1.99
Friendly Farms brick cream cheese, $.85
Friendly Farms brick cheddar, $1.89
Grocery
12 oz Tuscan Garden marinated artichokes, $2.69
Tuscan Gardens pimiento stuffed manzanilla olives, $1.19
Chef's Cupboard 32 oz vegetable broth, $1.39
28 oz can Happy Harvest crushed tomatoes, $.95
Specially Selected sourdough square, $2.99
3 lbs Earthly Gardens rice, $1.29
2 eight oz cans tomato sauce, $.50
SimplyNature organic black beans, $.89
Dakota's Pride garbanzo beans, $.59
Tuscan Garden dressing of choice, $1.29
Tuscan Garden blue cheese, $1.29
Tuscan Garden bacon bits, $1.29
Meat & seafood
4 lbs chicken thighs (at least 8 thighs), $2.76
16 oz frozen chub 85/15 ground beef, $2.69
12 oz frozen Sea Queen medium easy peel raw shrimp, $4.49
2 lbs fresh chicken wings, $3.98
Produce
1 lb green beans, $.89
5 lb red potatoes, $2.29
3 heads garlic, $.99
8 oz baby bella mushrooms, $1.49
1 lb organic lemons, $1.79
3 lb yellow onions, $1.49
3 lbs Pink Lady apples, $1.99
Cantaloupe, $1.29
Two bags 16 oz organic baby carrots, $1.58
2 three packs multi-colored bell peppers, $2.98
Pint organic grape tomatoes, $1.69
8 oz spinach, $1.79
Bag salad, $1.99
Head lettuce, $.99
1 lb broccoli crowns, $1.59
2 lbs bananas, $.76
---
That comes to $60.59.
You can adapt this ALDI meal plan
If one or more of these recipes aren't to your taste or if you have other ingredients to use up, just adapt this ALDI meal plan to your own family's preferences or use these ideas to supplement your own meal planning for the week. These meals will likely run you even less if you supplement this week's ALDI purchases with clearance meat you already have in your freezer, produce you have on hand, and/or sale produce from your local produce market.
Let me know if you give it a try!
Subscribe above to receive a weekly email message about new ALDI meal plans — no spam, just one email a week with the new plan! 🙂
Browse all of the weekly ALDI meal plans here *** note: prices may have changed since originally posted.