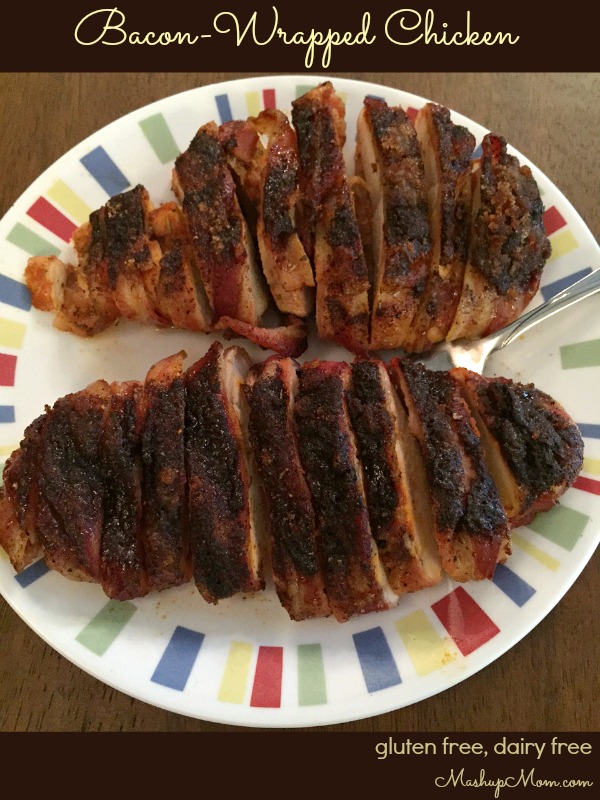 Welcome to the June 21st edition of Sunday Scratchups, your weekly recipe from scratch around grocery store matchups, coupons, and sales. Our next mystery sale ingredient is bacon — which this week was $.99 for 12 oz store brand at Ultra Foods with in-ad coupon, $.54 for 6 oz turkey bacon at Walgreens after printable coupon, $1.49 at Valli with in-ad coupon, and $1.99 at Butera. Boneless skinless chicken breast has also been on sale for the last couple of weeks, but here I just thawed out a pack from the last Zaycon chicken event.
So I had chicken, I had bacon, and I started with this recipe from Divas Can Cook to cook up some Bacon-Wrapped Chicken (but greatly reduced the brown sugar, among other things). So good! Nice and juicy, sweet and savory, with just the right amount of kick.
Note: Although this recipe is naturally gluten and dairy free, make sure the bacon you use is gluten free if necessary.
Bacon-Wrapped Chicken — An Easy Weeknight Recipe

Ingredients
1.5-2 lbs boneless skinless chicken breast
12 oz uncooked bacon
1/2 tsp Kosher salt
1 tsp paprika
1 tsp Italian seasoning
2 tsp garlic powder
1 Tbsp chili powder
1.5 Tbsp brown sugar, packed
fresh ground black pepper, to taste
Directions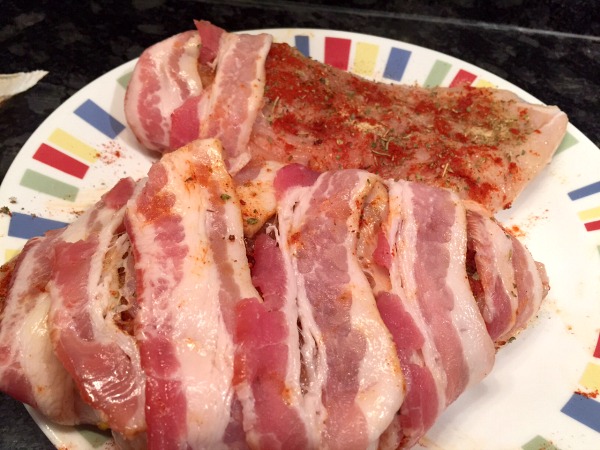 Spray roasting pan and its rack with cooking spray. Season both sides of chicken breasts with salt, paprika, Italian seasoning, and garlic powder. Wrap uncooked bacon slices around seasoned breasts, overlapping until completely covered — I had 1.75 lbs of chicken, and 12 oz of bacon worked well to cover both pieces. Season just the tops of the bacon wrapped breasts with chili powder, press brown sugar into the top of each, and add black pepper to taste.
Bake on rack in roasting pan at 425 degrees for 50 minutes or until chicken reaches an internal temperature of 165 degrees. Slice and serve hot. (Use an electric knife if you have one; it's easier to make nice even slices through the bacon.)
Note: The Zaycon chicken breasts were large and took a while to cook through — reduce the cooking time accordingly if your chicken is thinner.
That's a keeper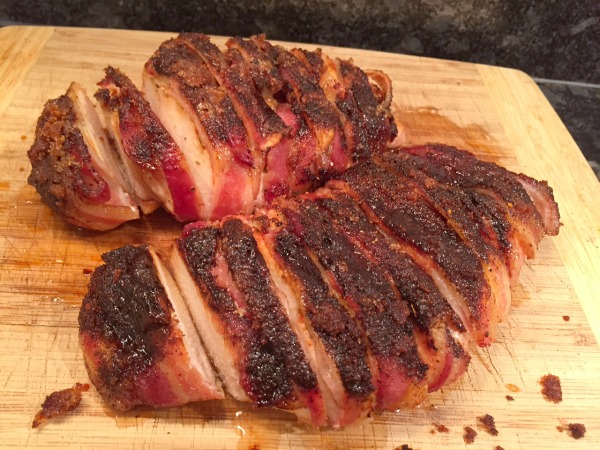 Everyone liked this one — but that's not a surprise, right? How can you go wrong with bacon? Seriously, though: There's just enough brown sugar here to caramelize and harmonize with the chili powder for a savory-sweet topping, the chicken stays nice and juicy inside its bacon mummy wrappings, and the spices work together with the bacon to give the meat just that little extra oomph.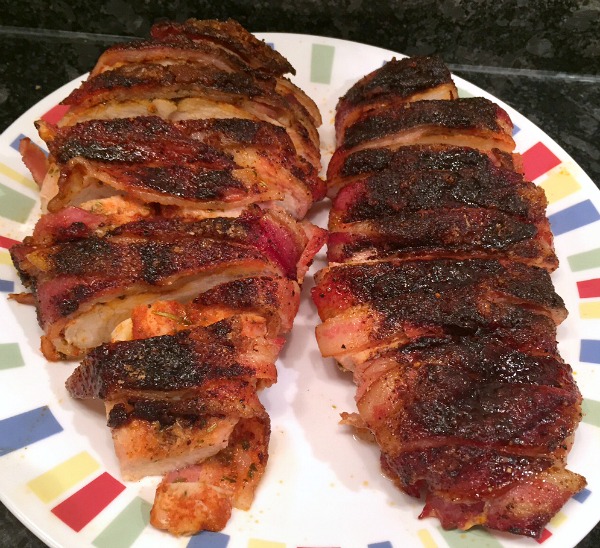 Served with salad, garlic bread ($.99 for pre-made at Fresh Thyme!), and an onion dish I'll tell you about later, Bacon-Wrapped Chicken happily fed our family of four with just enough left over for lunch for one the next day. Yes… that "one" would be me. 🙂
Easy print version

Bacon-Wrapped Chicken
Author: Rachel at MashupMom.com
Recipe type: dinner
Ingredients
1.5-2 lbs boneless skinless chicken breast
12 oz uncooked bacon
½ tsp Kosher salt
1 tsp paprika
1 tsp Italian seasoning
2 tsp garlic powder
1 Tbsp chili powder
1.5 Tbsp brown sugar, packed
fresh ground black pepper, to taste
Instructions
Spray roasting pan and its rack with cooking spray.
Season both sides of chicken breasts with salt, paprika, Italian seasoning, and garlic powder.
Wrap uncooked bacon slices around seasoned breasts, overlapping until completely covered -- I had 1.75 lbs of chicken, and 12 oz of bacon worked well to cover both pieces.
Season just the tops of the bacon wrapped breasts with chili powder, press brown sugar into the top of each, and add black pepper to taste.
Bake on rack in roasting pan at 425 degrees for 50 minutes or until chicken reaches an internal temperature of 165 degrees. (Note: The Zaycon chicken breasts were large and took a while to cook through -- reduce the cooking time accordingly if your chicken is thinner.)
Slice and serve hot. (Use an electric knife if you have one; it's easier to make nice even slices through the bacon.)