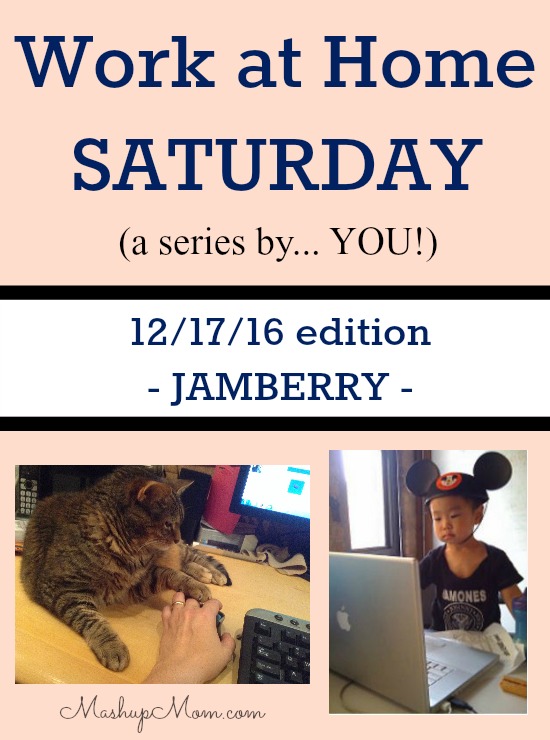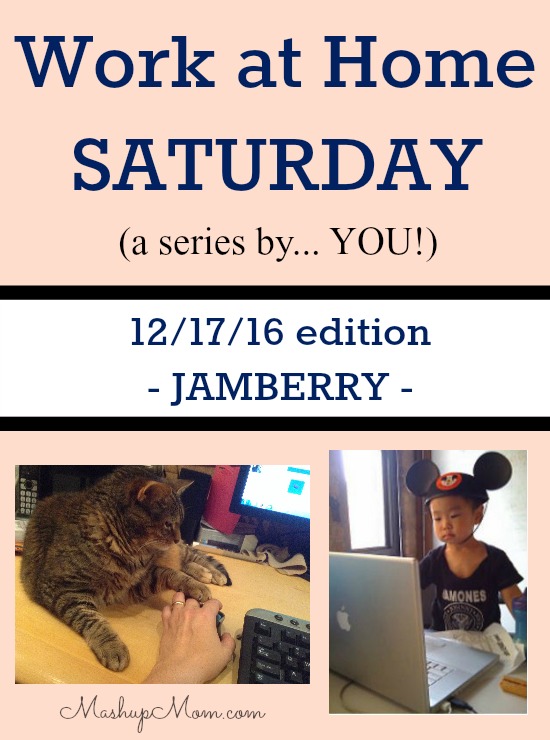 Welcome to Work at Home Saturday, where you share your stories of working at home and ways to bring in income on the side! Help each other out by sharing ideas and experiences, and you can always share your own story for possible feature on Mashup Mom here.
This week, Elizabeth Anuskiewicz shares her Jamberry story with us!
Jamberry
I work for a DS [direct sales] company called Jamberry. This is a company that started about 6 years ago, and their first product was nail wraps that you apply at home. They have since grown to include a full professional nail and hand care line,  including beautiful nail lacquers and gel enamel. I have online parties, in home parties, and regular customers, and love that I can advertise my business on my hands! Everyone sees my nails — and when people compliment them, I can hand them my business card with a sample attached! I always keep business cards attached to samples in my purse to hand out to the lady in the grocery store who likes my nails, and there are not many businesses that can do that.
Anyone who is interested can easily request a party from me. They simply go to my website to enter  their name, email and a  possible date they  would like to host:
If they want to have an in home party, they select a time and invite their friends, and I show up to their  house for a night of fun, live demos, and shopping!
If they select a online party, Jamberry is very supportive and has Facebook rooms to get graphics and all the info you need to be a success.
You will work closely with a Jamberry sponsor who will show you everything you need to get your business started! Once the party is over, you can join my VIP Facebook group for fun, or my Facebook business page to stay connected and see when new products come out.
Why did you choose Jamberry?
I was spending $140 a month at my local nail salon. Every two weeks I was getting a no chip manicure and a pedicure at about $60, plus tip. But then I came across this product — and have not been back to a salon since! Even if I only sold to myself, the monthly savings are AMAZING. Now I save at least $120 a month just from not going to the salon, which is huge! I make anywhere from $200-$400 a month plus free product, and I work as much as I want.
I love this product! Jamberry's nail wraps are great for people that can't paint their own nails. They also have a full professional line of hand and nail care items. The lacquers are free of the top 5 toxins found in other store brand polish, and I don't have to worry about the cleanliness or sanitation of a nail salon. I have met so many great people, and have improved my computer skills just by this business.
How did you get started?
A friend of mine had a online party. I had never heard of this product, but they offered a free sample and became hooked! I started in May of 2015. To start your own business, it's only $99, which includes your own website and $180 of product. I thought: OK… I will use the product anyway. The one thing I was nervous about was that I had never sold anything before, and I did not want to be obligated if I didn't like it. I found out there weren't ANY obligations! I would get paid no matter what I sold and also get a one year discount, so why not give it a shot.
They way I got started was that I hosted my own launch party. I announced to my family and friends that I was starting my own business and held a online Facebook party that I created in a room. During my party, I asked who would help me with my business by hosting their own online or in home demo party.  This is how you branch out beyond your friends, because every  party following, those guests can book. Your first launch party goal is $300 in sales, and for one party of $300 you would make 33% commission — so $99!
You would also earn FREE product from a launch party. plus the money you save from a salon visit! I did not start off making $200 my first month, but you certainly can! Their are many rewards, and bonuses you can earn outside of 30% on any sale — depending on how much you put into it.
What's your favorite part of the business? 
It's fun! It gets my creative side going. I have also met some of the most wonderful women who are very supportive and share their ideas. Of course there are also all the freebies I earn — I save so much money from not having to go to the salon.
My least favorite part, though, is trying to convince people to try these amazing nail wraps.
How much time do you put into your business?
It depends on the month. Some months more than others, but I would say I spend on average 30- 60 minutes a day. The exact time depends on how many parties I have going on. In the beginning, though, I spent a good hour a day just learning the product, training, and getting started. There is a free posting site allowing you to post to a online party while you work another job.
What advice would you have for others looking to get started?
Get a good sponsor who is supportive! Someone that will show you the ropes and get you on your way. I love teaching others how to work their business.
Share your own story…
Thanks so much to Elizabeth for sharing her Jamberry story!