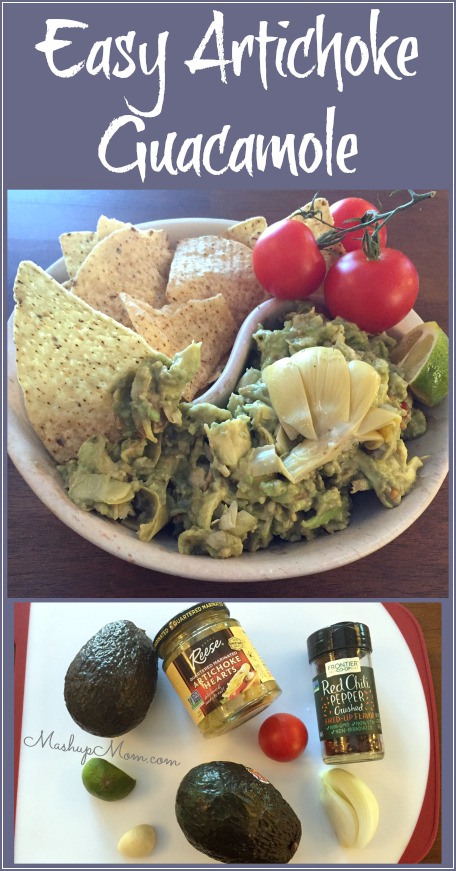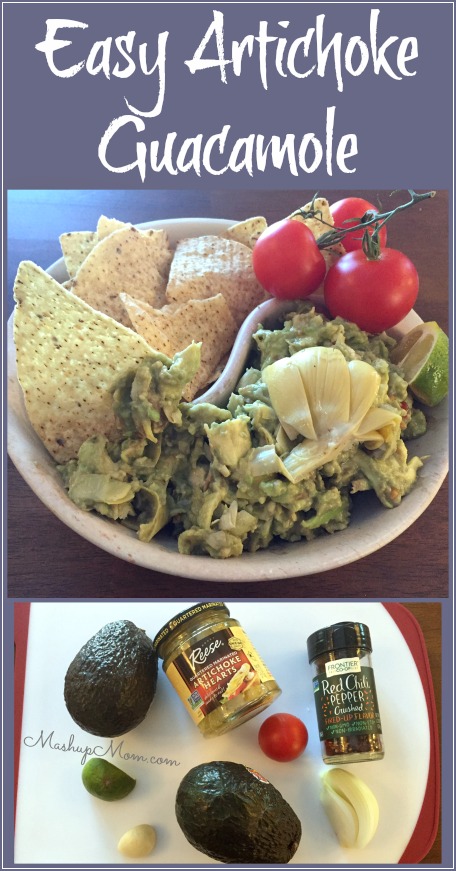 Welcome to the December 18, 2016 edition of Sunday Scratchups: Your weekly recipe from scratch around grocery store matchups, coupons, and sales. Up this week: Easy Artichoke Guacamole. Love avocados? Love artichokes? Take your joint adoration to its natural conclusion in this tasty mashup.
This week I picked up these cheap artichokes on this holiday sale at Jewel with an old coupon, and avocados were finally back down to $.59 each at ALDI. Well, every time either of these things are on sale I need to pick some up — and then there they both were, in my house, looking at me… all that and… a bag of chips. 😉 Hence, Easy Artichoke Guacamole was born!
Easy Artichoke Guacamole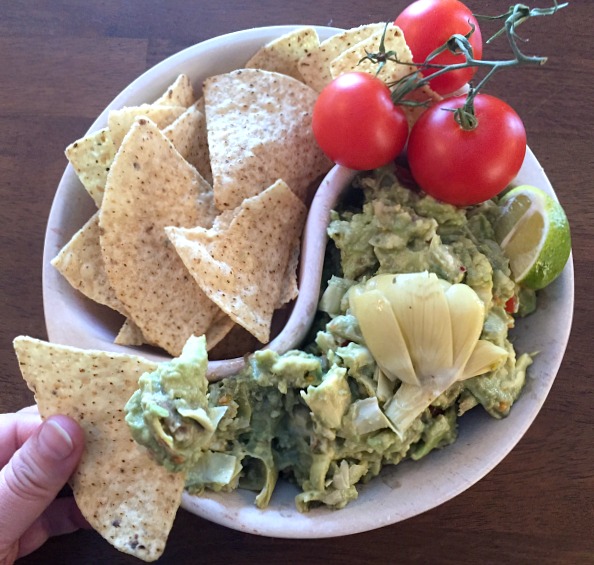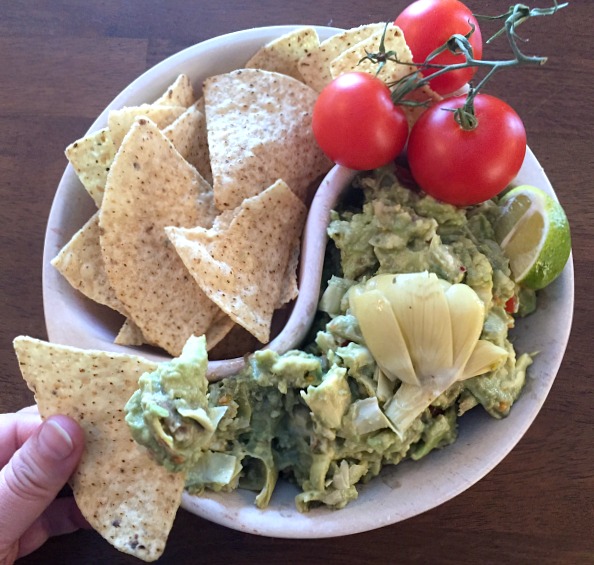 Ingredients
2 large ripe avocados
7.5 oz jar of marinated artichoke hearts, well drained and chopped
One large garlic clove, chopped (or about 1 tsp minced)
Juice from 1/4 of a small lime
1-2 small tomatoes (I had these little on-the-vine Campari), chopped
One small wedge of onion, chopped
Crushed red pepper, to taste
Directions

Cut your avocados and scoop the flesh into a large bowl. Mash, then stir in all other ingredients. Serve with tortilla chips!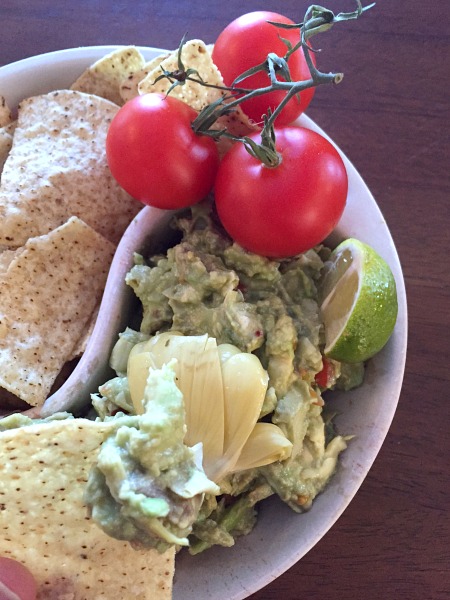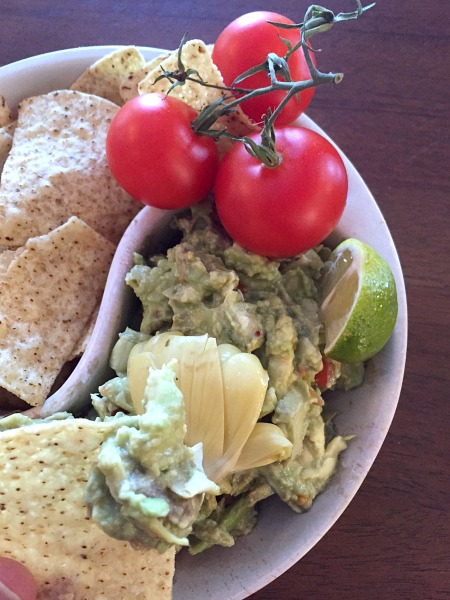 (Or, you know, just a spoon…)
Kick your guacamole up a notch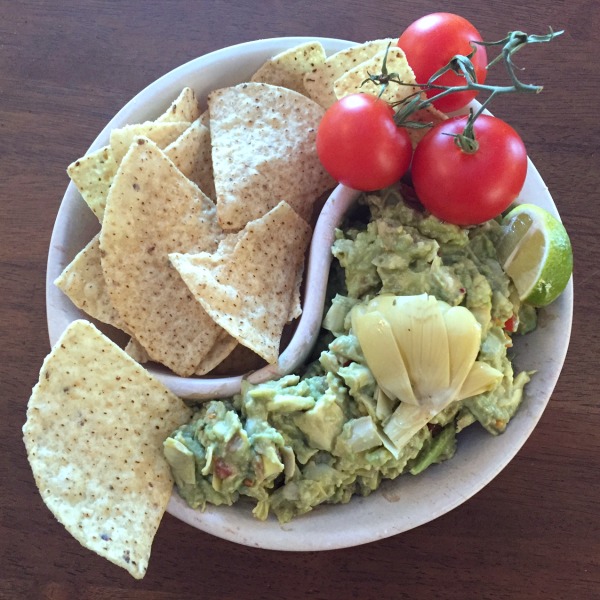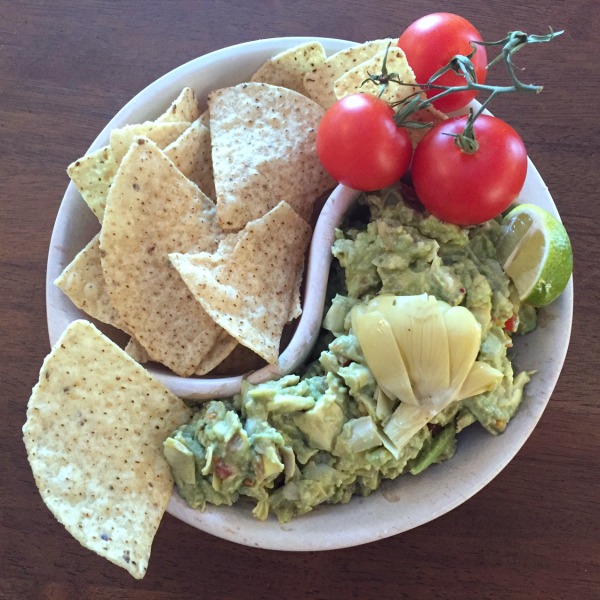 The artichokes really added a nice flavor to the finished guacamole, and are a great easy mix-in when you want to jazz up your regular guacamole recipe. You can control the heat very easily by just adding more or less red pepper, but note that I didn't add salt here — you don't need it, since the artichokes are already pretty salty from the marinade. This whole batch disappeared in no time, so: Darn. I guess I'll have to make some more!
Easy Artichoke Guacamole, printable recipe
Easy Artichoke Guacamole
Ingredients
2

large ripe avocados

7.5

oz

jar of marinated artichoke hearts

well drained and chopped

One large garlic clove

chopped (or about 1 tsp minced)

Juice from 1/4 of a small lime

1-2

small tomatoes

chopped

One small wedge of onion

chopped

Crushed red pepper

to taste
Instructions
Cut your avocados and scoop the flesh into a large bowl.

Mash, then stir in all other ingredients.

Serve with tortilla chips! (Or, you know, just a spoon...)