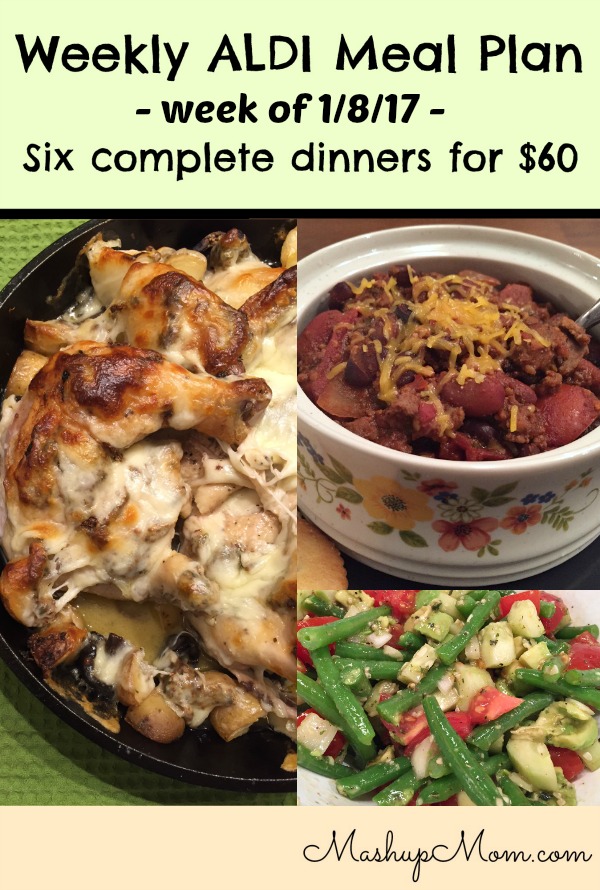 Here's your easy weekly ALDI meal plan for the week of 1/8/17: Pick up everything on the shopping list below, then start cooking on Sunday! Hope you find it useful.
Note: I try not to repeat the same recipe here more often than once a month, but you will see favorite easy recipes come up again on these weekly ALDI meal plans as the same meats and produce items come up on sale again. 🙂
ALDI meal plan week of 1/8/17 – 1/14/17
Six complete dinners for a family of four for $60.00
Note: Prices are collected from this week's ad and my local store, but may vary somewhat by location. I'm assuming here that you already have pantry basics like olive oil and spices on hand.
Six Easy Dinners from ALDI for $60.00
Sunday: Slow Cooker BBQ chicken drumsticks. (Slice an onion and place in bottom of Crock Pot. Place drumsticks on top, pour in a bottle of BBQ sauce, and cook on low for 5-6 hours.) Serve with pesto Parmesan rice & iceberg wedge salad with peppercorn ranch dressing + bacon bits (reserve part of the lettuce and shred leftover chicken, both for Tuesday.)
Monday: Quick & easy veggie stir fry with mushrooms, onion, half the broccoli, sliced bell pepper, and half the green beans — Heat oil in large pan or wok on medium high until shimmering, add a little minced garlic and cook briefly, then add sliced onion & broccoli florets & stir. Cook for a couple of minutes and add sliced mushrooms, cook another minute, then add green beans & sliced pepper and stir fry til crisp tender. Season with soy sauce, a little powdered ginger, and crushed red pepper to taste. Serve over cooked rice, with pineapple & oranges on the side.
Tuesday: BBQ Chicken tacos: Reheat shredded chicken from Monday, heat corn tortillas, and fill with chicken, black beans, shredded cheese, diced onion, one chopped avocado, sour cream, and shredded iceberg lettuce. Side: Easy spring salad.
Wednesday: Easy Instant Pot chili with canned beans (substitute ground turkey for beef, and make on stovetop if you don't have an IP). Serve topped with shredded cheese & sour cream, if desired. Side: Tortilla chips and sauteed spinach (add a little minced garlic, lemon juice, bacon bits, & crushed red pepper for flavor).
Thursday: Chili potatoes — Bake potatoes and serve topped with leftover chili, shredded cheddar, & sour cream. Side: The other half of the cucumber & broccoli florets with ranch for dipping, plus oranges.
 Friday: One pot mozzarella chicken dinner (cut up whole chicken and substitute in russet potatoes and white mushrooms). Side: Organic mixed greens salad with peppercorn ranch dressing, chopped tomatoes, shredded Parmesan, and bacon bits.
Saturday: Leftovers — or date night!
Shopping list
Dairy & refrigerated
12 oz Friendly Farms mild shredded cheddar, $2.49
8 oz Priano mozzarella, $2.69
Friendly Farms sour cream, $1.19
Priano shredded Parmesan, $1.99
Grocery
3 cans SimplyNature organic black beans, $2.37
1 can SimplyNature organic kidney beans, $.79
El Milagro corn tortillas, $.33
SimplyNature organic peppercorn ranch dressing, $1.99
Tuscan Garden bacon bits, $1.29
2 cans fire roasted diced tomatoes, $1.78
6 oz can Happy Harvest tomato paste, $.39
Bag Clancy's restaurant style tortilla chips, $1.29
Bottle Burman's BBQ sauce, $.99
Low sodium soy sauce, $1.29
3 lb Earthly Grains long grain white rice, $1.49
Priano pesto, $1.69
Can Chef's Cupboard chicken broth, $.59
Meat & seafood
5 lb fresh chicken drumsticks, $3.45
19.2 oz Fit &Active ground turkey, $3.29
3.5 lb NeverAny antibiotic free whole chicken, $5.21
Produce
5 oz SimplyNature organic spinach, $1.99
5 oz SimplyNature organic mixed greens, $1.99
3 lb yellow onions, $1.69
Head iceberg lettuce, $.99
16 oz Roma tomatoes, $1.09
Cucumber, $.49
1 lb green beans, $1.99
2 avocados, $.98
5 lb baking potatoes, $1.49
3 heads garlic, $.99
8 oz jalapeños, $.59
Whole pineapple, $1.39
2 packs mushrooms, $2.58
2 lb lemons, $2.49
4 lb navel oranges, $1.89
16 oz broccoli crowns, $1.29
One red bell pepper, $.79
---
That comes to $60.01.
You can adapt this ALDI meal plan
Adapt this ALDI meal plan to your own family's preferences or just use it for ideas to add to your own meal planning for the week. These meals will likely run you even less if you supplement this week's ALDI purchases with clearance meat you already have in your freezer, produce you have on hand, and/or sale produce from your local produce market. Let me know if you give it a try!
Browse all the weekly ALDI meal plans here, noting that some prices may have changed since originally posted.