How about a big pot of naturally gluten free Slow Cooker Chipotle Chicken Chili? Jam-packed with flavor and (slightly) spicy comfort, it won't heat up your kitchen on a warmer (yet gloomy) summer day — but is also the perfect comfort food for a chilly day!
Welcome back to Sunday Scratchups, your weekly recipe from scratch around grocery sales and affordable ingredients. I've been all over the comfort food slow cooker meals lately, because we've had a little run of rainy summer days here in the Chicago area. Here's one easy option that takes just 20 minutes to throw together in your Crock-Pot, then about six hours of hands-off cooking time to slowly simmer to perfection. Then, just shred the chicken and serve!
This Simple Slow Cooker Chipotle Chicken Chili recipe is jam-packed with flavor and (slightly) spicy comfort, but it won't heat up your kitchen on one of these warmer (yet gloomy) summer days. And, by the way? It's also great on a gloomy, cold winter's day, too.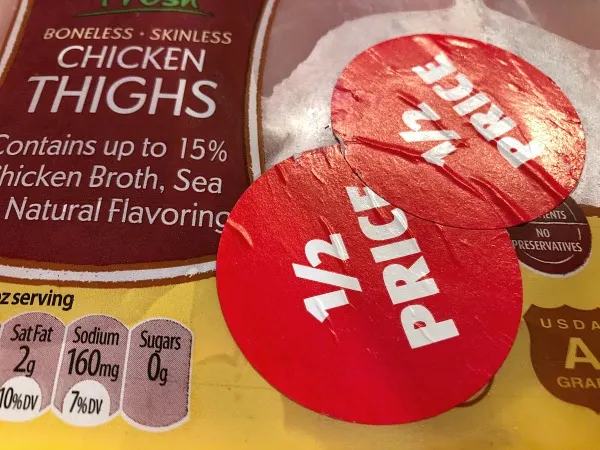 Today's recipe was inspired by a little pack of clearance chicken thighs from my freezer and some leftover chipotle peppers languishing in the back of my fridge, but is an affordable option in general — you just need to add 1.5 lbs of chicken to some basic pantry staples in order to create a big pot of comforting chili goodness.
Simple Slow Cooker Chipotle Chicken Chili
Ingredients
1.5 lbs boneless skinless chicken thighs or breast, trimmed
1 tsp cumin
1 tsp oregano
1 Tbsp chili powder
Sea salt, to taste
Black pepper, to taste
1 Tbsp minced garlic (about 6 cloves)
1 medium yellow onion, chopped
1 can fire roasted diced tomatoes
2-4 chipotles in adobo, chopped (see Note)
1 Tbsp sauce from chipotles in adobo
1 can Great Northern beans, rinsed and drained
1 can kidney beans, rinsed and drained
1 can corn, drained
2 cups chicken broth
1 bay leaf
Directions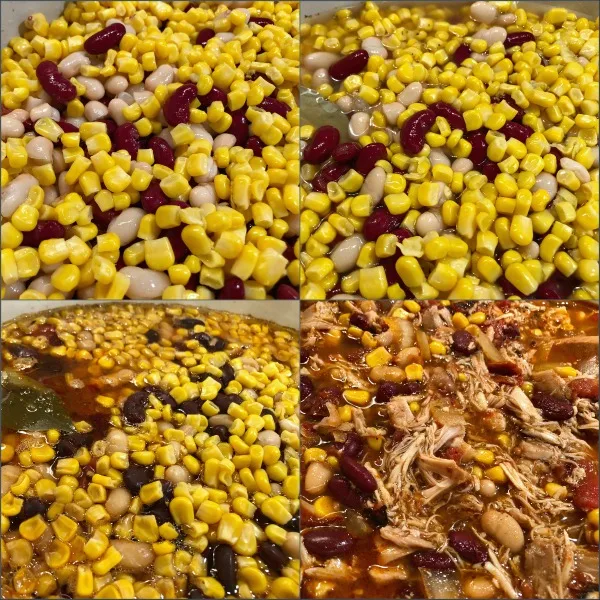 Place the trimmed chicken in the bottom of your slow cooker and season it with spices, sea salt, and pepper. Top chicken evenly with the minced garlic, then add the onion, tomatoes, chipotles and chipotle sauce, beans, and corn (spreading these out evenly across the top as you go).
Pour in the chicken broth and add the bay leaf, then cook on low for six hours.
Remove the bay leaf and discard, then remove the chicken from the slow cooker and shred. Stir the shredded chicken back into the Crock-Pot, then serve your chipotle chicken chili with your favorite chili toppings.
Note: I used four chipotles in adobo to give my chili a nice underlying kick, because I like some heat in mine. If you are more sensitive to spice, you might wish to cut back to two peppers. Also: I always like to use my little food chopper for garlic and chipotles in order to speed up the chopping process.
Is it a Chili, or is it a Stew?

Chili or stew: It's up to you, really! But whatever you want to call it, this simple slow cooker chipotle chicken recipe is darn tasty: The sweetness of the corn plays off the smoky heat of the chipotle peppers, and the chicken and beans make this a hearty one-pot meal that pairs well with anything from baked potatoes to cornbread.
Chipotle chicken chili is naturally gluten free.
Simple Slow Cooker Chipotle Chicken Chili, printable recipe
Recipes in the real world
Be sure not to miss the free ALDI meal plans, which show you how to use these easy family recipes to meal plan affordably and realistically for your family. Or, find more recipe ideas with the Recipe Search!