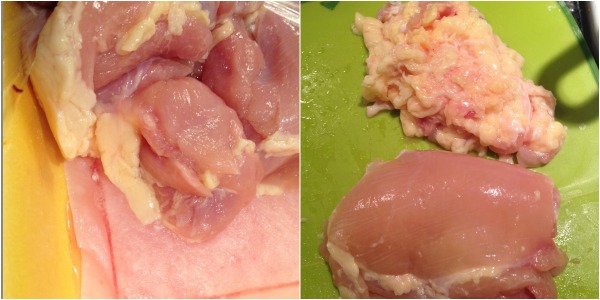 This week ALDI had Tyson brand boneless skinless chicken thighs on sale for $1.49/lb as their Wed. meat special buy. This sounded like a great price, so I picked up a 2 pound package that looked nice.
When I got it home and went to cook dinner, though, look what I found folded under every single piece of chicken. On the top right, the pile of fat and skin I trimmed off of a two pound pack, which ended up about the same size as one of the chicken thighs. The meat diaper was also completely soaked and the packaging was pretty heavy — I don't have a food scale, but I'm going to say this two pound package turned out to be more like 1.5 lbs of usable meat after discarding the fat, skin, and liquid.
Not what I expect from Tyson, and not really the time saver I'd wanted when purchasing boneless skinless. Did you guys buy the Wed. meat special buy this week? Did I just get a bum pack, or are yours like this too?