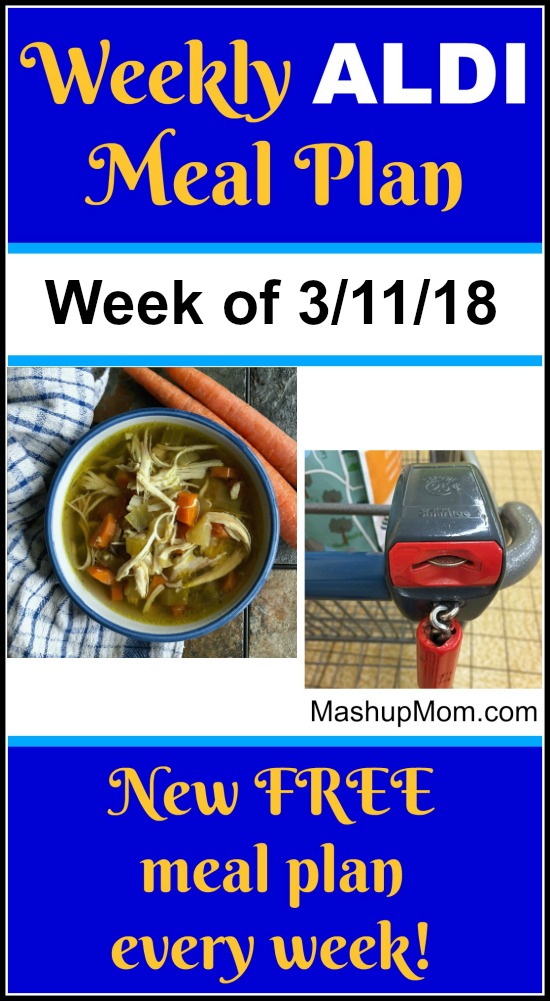 Here's your easy weekly ALDI meal plan for the week of 3/11/18: Pick up everything on the shopping list below, then start cooking on Sunday!
*** Subscribe to the weekly ALDI meal plans here ***
Let's get ready to make six complete dinners for a family of four, just $60.00 out the door! Hope you find the free ALDI meal plans useful.
ALDI meal planning week of 3/11/18 – 3/17/18
I'm assuming here that you already have pantry basics like cooking oil, condiments, and spices. 🙂 *** Read through the recipes before you shop to make sure you have the necessary pantry staples on hand.
Six Easy Dinners from ALDI for $60.00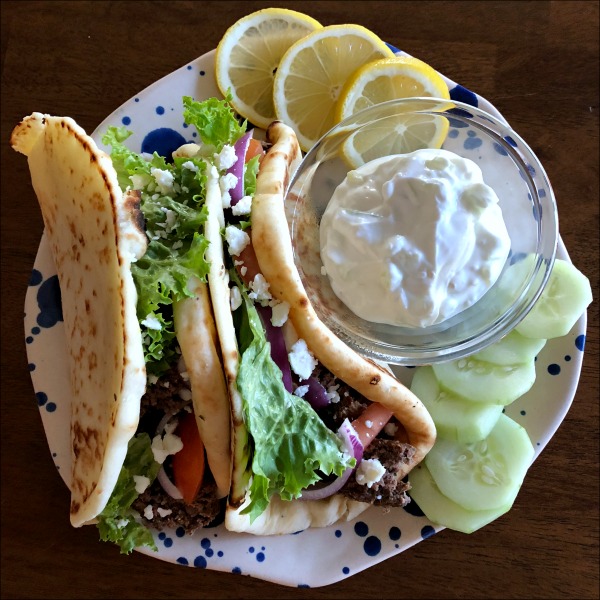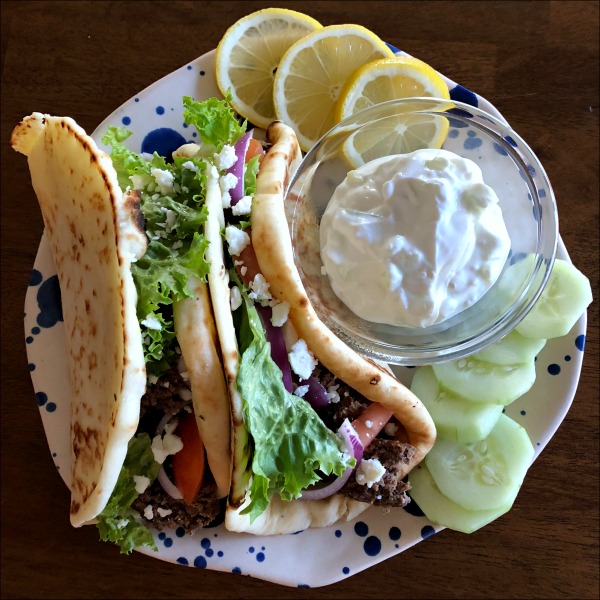 Note: The most affordable non-regional meat on sale this week is a huge 5 lb pack of ground beef; hence all the beef recipes and slightly higher percentage of spending on meat this week — and you'll still end up with some left over for the freezer!
You could also freeze more of the pack for later and substitute another favorite meal on one of the nights, if it's too much beef in one week for your family — and/or add a little extra pound-wise to the recipes, if you like, since it's the 73% lean, and you'll lose some weight from the fat that cooks off. Just drain it well, and you're all good. 🙂
ALDI meal plan — Start cooking 3/11/18
Sunday: Taco pasta (use rotini; substitute Greek yogurt for the sour cream; and use either the 10 oz can diced tomatoes w/ chilies in this week's shopping list or a 14.5 oz can of plain diced tomatoes, since ALDI doesn't carry 14 oz diced w/ chilies). Serve with two sliced avocados topped with a little lemon juice & salt, plus mandarins and garlic bread made with the Italian bread loaf.
Monday: Ground beef gyros (omit feta). Serve with sliced cucumber, lemon wedges, two sliced hard boiled eggs, and strawberries.
Tuesday: Cheeseburger frittata (omit milk if you don't have any on hand, or throw in a Tbsp or two of Greek yogurt instead, for the creaminess). Serve with a side salad made with the leftover lettuce and tomato from Monday's recipe, topped w/ chopped carrots & celery.
Wednesday: Awesomely fantastic slow cooker chicken soup (reserve 1 cup shredded chicken for tomorrow and return the rest to the soup). Serve with mandarins and toasted English muffins.
Thursday: Baked chicken avocado taquitos (substitute lemon for lime juice, and chipotle-lime salsa for verde) and a cup of leftover chicken soup, with additional salsa and sliced cantaloupe on the side.
Friday: Baked yogurt-topped salmon with broccoli. (Season salmon with sea salt & pepper. Cut broccoli into florets and toss in a bowl with a little olive oil, sea salt, & minced garlic, to taste. Mix one cup of Greek yogurt with the zest of one lemon, 1 tsp lemon juice, and a little dried dill and spread about half on top of the salmon. Add (skin-side down) salmon to a parchment-paper lined rimmed baking sheet, lay out broccoli in a single layer on a separate baking sheet (no need for parchment there), and bake both pans at 400 degrees for 10-12 minutes (depending on thickness), until salmon is cooked through and flakes easily with a fork. Remove salmon from the oven, stir broccoli and return the broccoli only to the oven for another 5-10 minutes or until tender.) Squeeze a little lemon juice onto the roasted broccoli and serve fish with the rest of the yogurt dip, lemon wedges, and roasted broccoli.
Saturday: Leftovers, family pizza night (ALDI sells a nice big take-and-bake pizza), eat out, or date night.
ALDI shopping list — Shop through 3/10/18
Dairy & refrigerated
Dozen Goldhen eggs, $.78
8 oz Happy Farms cream cheese, $1.29
32 oz Friendly Farms whole milk Greek yogurt, $3.69
8 oz block Happy Farms cheddar, $1.79
Grocery
Specially Selected naan, $3.49
Specially Selected Italian bread, $1.69
L'Oven Fresh English muffins, $.99
12 oz Reggano tri-colored rotini, $.79
Casa Mamita organic chipotle-lime salsa, $2.29
1 packet Casa Mamita taco seasoning, $.35
El Milagro flour tortillas, $.89
10 oz Casa Mamita diced tomatoes with green chilies, $.59
Meat
5 lb pack 73% lean ground beef, $9.95
1 lb fresh salmon, $7.89
4.5 lb whole chicken, $4.26
Produce
2 lbs lemons, $2.29
3 lbs mandarins, $2.69
Cantaloupe, $1.19
Head green leaf lettuce, $1.29
2 lbs carrots, $1.09
16 oz broccoli crowns, $1.59
Bunch cilantro, $.69
One cucumber, $.59
Strawberries, $.99
3 heads garlic, $1.19
3 lbs yellow onions, $1.69
Celery, $1.29
16 oz beefsteak tomatoes, $1.19
3 avocados, $2.07
---
That comes to $60.57.
Or, maybe less… 🙂 These meals will likely run you even less if you supplement this week's ALDI purchases with clearance meat you already have in your freezer, pantry staples you picked up on sale, produce you already have on hand, and/or sale produce from your local produce market. Let me know if you give it a try!
*** Download this week's shopping list in Word format so that you can edit and add in your own meal ideas, remove items you already have on hand, change regional pricing to match your own store, etc. *** The day(s) next to each item show which meals use each ingredient, so that you can easily see what to delete from the shopping list if you're skipping a night.
---
Things to know about the ALDI meal plans
A couple of notes
I try not to repeat main dish recipes more often than once a month, but you will see favorite easy recipes come up again in these weekly ALDI meal plans as the same meats and produce items come up again on sale. Part of the fun of meal planning lies in mixing old stand-bys with something new each week.
If one or more of these recipes isn't to your taste, or if you have other ingredients to use, you can adapt the recipes in this ALDI meal plan to your family's preferences — or just use the ideas here to supplement your own meal planning. See: Pantry staples to stock up on and how to modify a meal plan for your family.
** Ad markets and dates
This week's ALDI meal plan reflects prices from the current week's ad (running 3/4-3/10 in Sunday ad markets, and 3/7-3/13 in Wednesday ad markets). Non-advertised prices were collected on 3/7/18 at my local store in the Chicago suburbs, but non-advertised prices and produce deals *may vary* by location & region. In either ad market, shop any time through Saturday and start cooking on Sunday 3/11/18.
Stay in the ALDI meal planning loop
Subscribe above to receive email messages about new ALDI meal plans — no spam, and I'll never sell your info; just get email notifications about new plans!
Happy ALDI shopping and cooking this week, everyone!
Useful resources for meal planning + ALDI shopping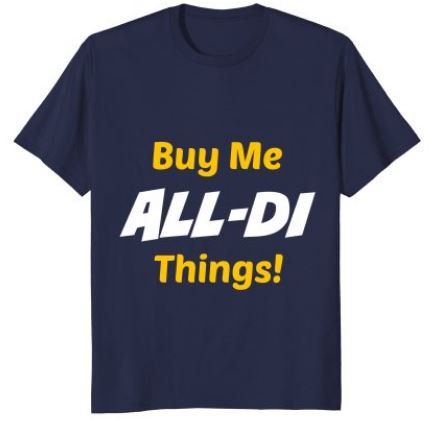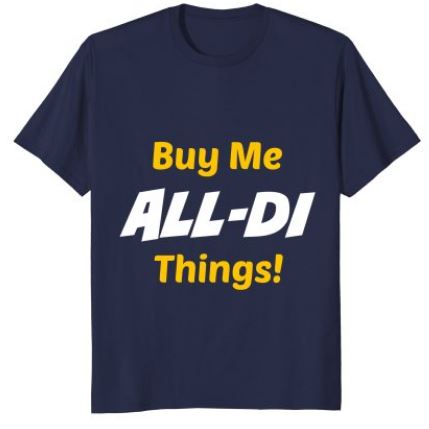 Before we get started this week, here are a few resources to help you out with your meal planning and ALDI shopping:
You can also access your current regional ALDI ad here.