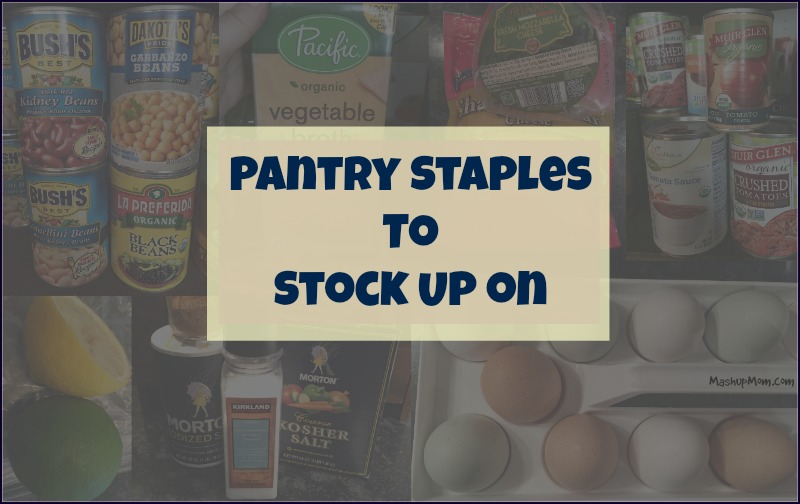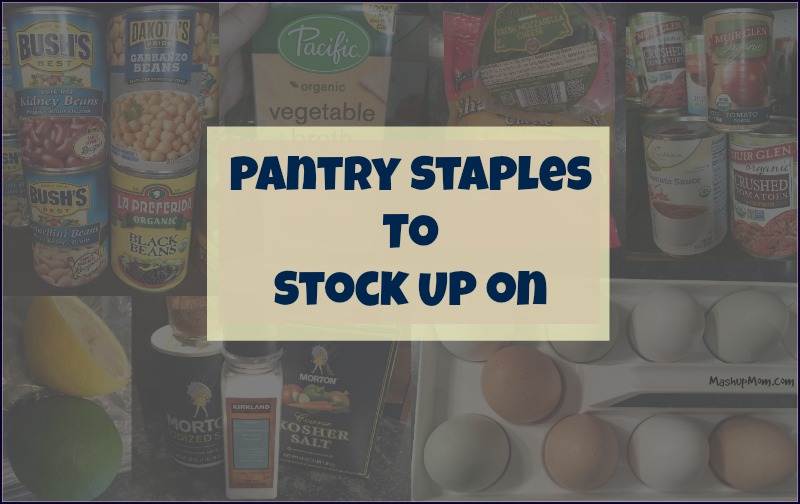 Some of you who follow the weekly ALDI meal plans have been asking which pantry staples are best to stock up on, so here's my first stab at a list. Your family's cupboards of course might differ from mine due to anything from food allergies to personal preferences, though, so take these recommendations with a grain of salt. Which, of course… is on the list 😉 .
(Note also that these are pantry staples for meals, not for baking, which would require a whole other set of basics!) Don't panic: You don't have to pick up all of these things at once, but just start building up your pantry as you run across sales or have a little extra room in your grocery budget in any given week, so that you start to have the building blocks for so many family recipes.
Let's start with salt, shall we?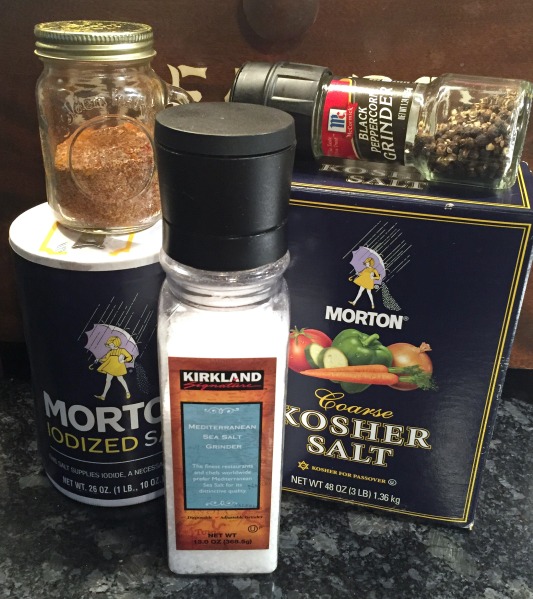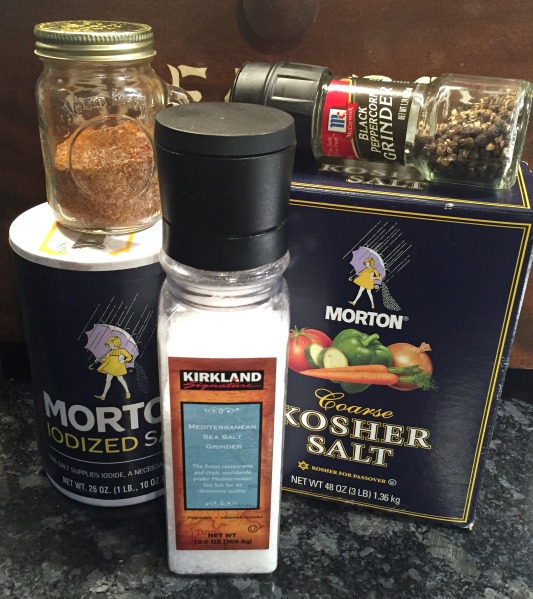 Talk about your most basic pantry staples: You're of course going to want to start with salt and black pepper. (I actually prefer non-iodized salt, but grabbed this one by accident…)
At a minimum, pick up table salt and a black peppercorn grinder — these McCormick ones go on sale often, or ALDI's is quite affordable.
Next up, what's really nice to have (and really inexpensive if you keep your eye out) is one big container of basic sea salt. I picked up this sea salt grinder at Costco and it has lasted approximately forever, but you can also pay more for one on Amazon if you're not a Costco member.
Kosher salt is great for marinades, rubs, and more — and again, with basic family use one box lasts quite a long time.
Why so many types of salt? Salt is super important: It works to enhance other flavors, and you'll want different kinds for different recipes. Seasoned salt, for instance, makes a batch of sheet pan chicken thighs come alive, while Kosher salt works well in recipes like slow cooker salsa pork.
If you give a mouse some salt…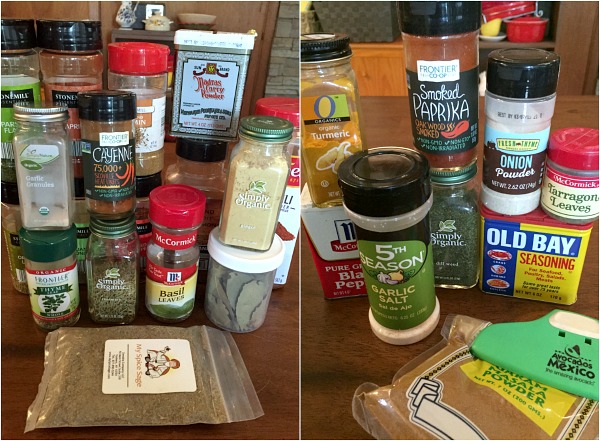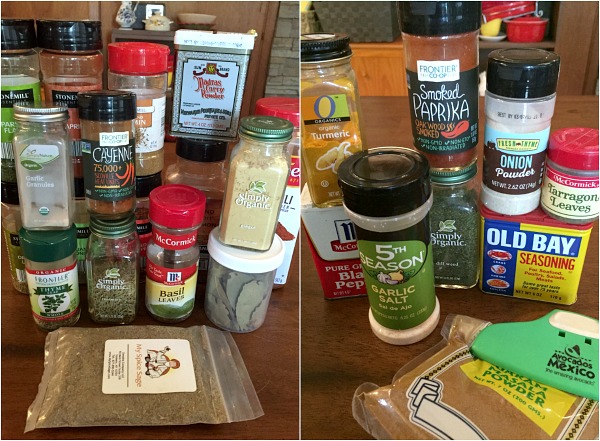 … she's going to want some other seasonings to go with it. I've tried to divide these roughly into spices you should have, and spices that are nice to have, but it's really a fine line. I put smoked paprika, for instance, in the "nice to have" pile since you can generally substitute regular paprika in recipes, but I personally use it all the time and would highly recommend. (Plus, I'm kind of a spice addict — There are a lot more in my cupboard that aren't even pictured here!)
Basic spices you should have on hand
Basil
Bay leaves
Cayenne
Chili powder
Cinnamon
Cumin
Curry powder
Garlic powder
Ginger
Italian seasoning
Oregano
Paprika
Parsley
Red pepper (crushed)
Rosemary
Sage
Thyme
Spices you might like to have on hand
Dill
Ground black pepper (in addition to the grinder discussed above; useful in making your own seasoned salt and other recipes that call for quite a bit)
Garam masala
Garlic salt (make your own from garlic powder & salt in a pinch)
Old Bay seasoning
Onion powder
Smoked paprika (it's so good, guys…)
Tarragon
Turmeric
Where can you find affordable spices?
I buy spices all over the place (and some of the bottles pictured here have been refilled from bulk), but here are a few options:
ALDI has affordable basic spices — $1.19 for conventional and $1.99 for organic, in my area.
Buy in bulk from stores like Fresh Thyme, especially when they run sales.
Look in the ethnic sections of your local produce stores for more affordable versions of spices that can be quite overpriced in the regular grocery store spice section.
Buy online at places like My Spice Sage or pick some up on Amazon. (I like to throw spices into subscribe & save orders when I need a small filler, or they sometimes have good prices on bulk bags.)
Look for coupons around the holidays. McCormick, for instance, often issues high value coupons around Thanksgiving — right around the time stores are putting spices on sale for holiday baking & meals.
Also keep an eye out on clearance shelves, because it's always fun to find new seasonings to add to your repertoire.
Add more flavor with garlic and onions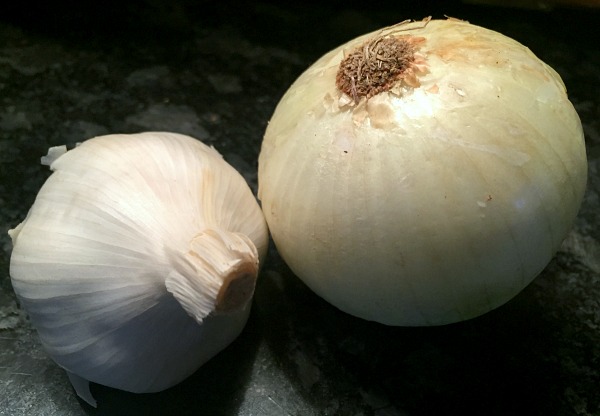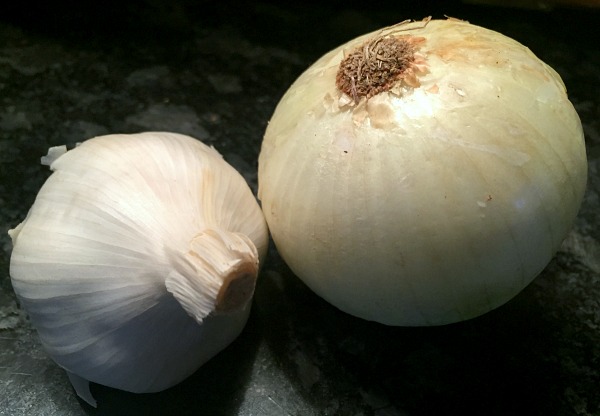 You will always find fresh garlic and onions in my house, because these are the basic building blocks of so many recipes from soup to chili to tacos to chicken. Think about how great your house smells just from sauteing a little garlic and onion on the stove, right? Understand equivalents when it comes to garlic, too: If you don't like to chop, get a jar of minced garlic and know that 1/2 a tsp of minced garlic = approximately one clove fresh.
You'll need something to saute those in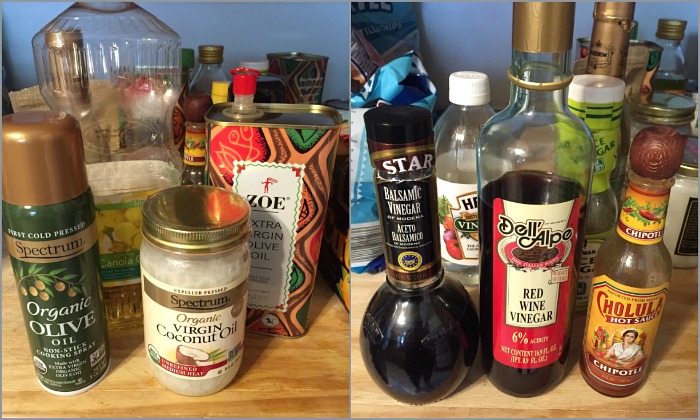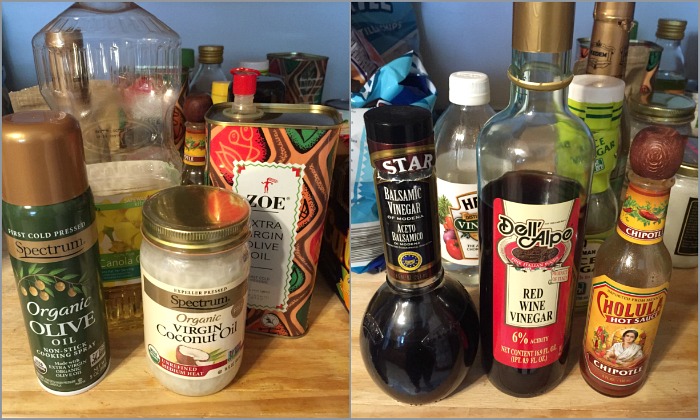 Every pantry also needs oil and vinegar. At the most basic, pick up:
Cooking spray. (Don't like spray? Use oil or butter to grease your pans instead, or invest in cooking oil spray bottles.)
A good basic all purpose olive oil. I really like Zoe brand tins, which I pick up on Amazon subscribe & save when they go on sale, but Costco's Kirkland brand is also highly rated — and ALDI's is very affordable.
Balsamic vinegar. Use this in everything from marinades to salad dressings.
Butter.
Once you're set on those, also invest in a bottle of vegetable or canola oil and a good hot sauce (I like Cholula Chipotle). And what else is nice to have? Some other things you can pick up over time as you see sales or have wiggle room in your budget include coconut oil, red wine vinegar, white vinegar, apple cider vinegar, rice vinegar, sesame oil…
While we're talking about vinegar, on the acidic side of things you'll also want to keep fresh lemons and limes on hand for marinades, salsas, and brightening up various foods. Although these are fresh produce items, they keep for a long time and a little juice often goes a long way — get a few when you see them on sale and they'll likely last you until the next price drop.
Look: you already have pantry recipes just with what we have so far
For instance: Olive oil + balsamic vinegar + garlic + oregano + sea salt + pepper = basic balsamic vinaigrette. Riff on this with the spices and proportions you prefer, and save money (plus sugar and additives) over buying bottled salad dressing.
Garlic & Onions + Carrots & Celery = Soup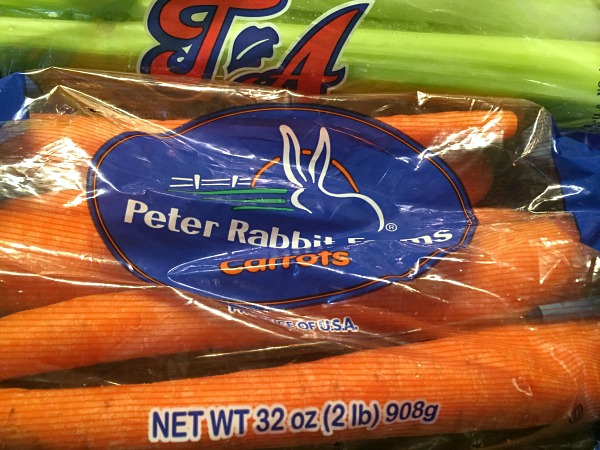 While we're talking about produce staples, let's take it up another notch. You'll also always find carrots & celery in my house, because garlic & onion + carrots & celery = the basis for about any soup you might want to make, from chicken soup to smoked sausage & spinach soup.
You'll also want broth, tomatoes, and beans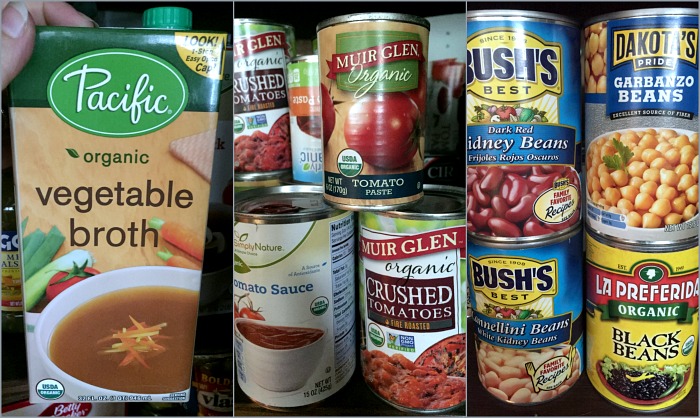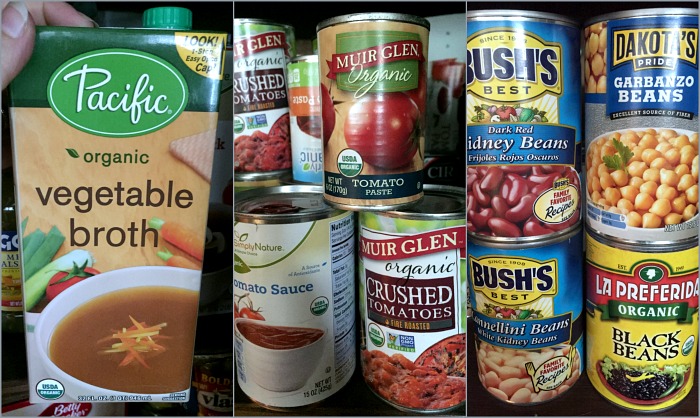 And then while we're talking about soup, every pantry should have:
Boxed broth. Start with chicken and/or vegetable; beef is nice to have sometimes, but not necessary. I like to save money and bump up the flavor by making my own, as in this easy veggie broth from scraps, but boxed is useful to have on hand in a pinch.
Canned tomatoes. Optimally you'll stock a bit of paste, sauce, crushed, and diced — and I adore the flavor you get from fire roasted. (If you get a lot of garden tomatoes, try making your own fire roasted tomatoes for freezing, too!)
Canned beans. Stock at least kidney beans, some kind of white bean (cannellini, Great Northern), and black beans. If you prefer to cook up your own from dried, though, store up some bags of dried beans instead.
You can see how the pantry math really starts to work in your favor here when thinking about meals you can make out of what you have on hand:
Garlic & onion + kidney beans + chili powder + tomatoes = basic chili — which you can then build upon by adding meat, additional spices, jalapeños, and more.
Garlic & onion + carrots & celery + broth + white beans + thyme = basic soup — which you can then build upon by adding chicken, additional spices, veggies, and more.
Start to think of your pantry staples as the bases of various meals, which you can build upon in endless variations with the fresh produce and meat items you find on sale in any given week.
Now let's get really crazy
Add dairy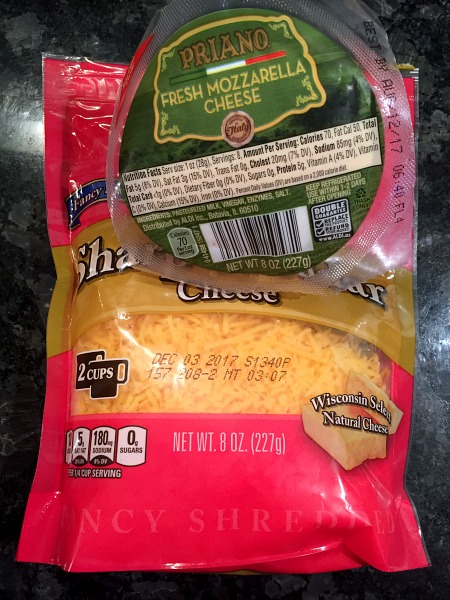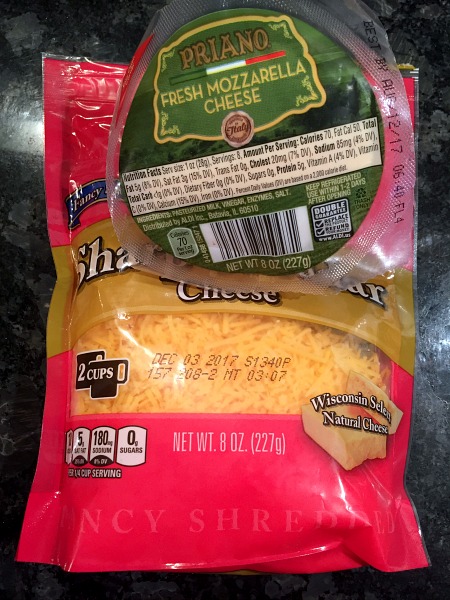 Low carb MashupDad insists we always have various types of cheese in the house, but I'm on board with that, because: Cheese.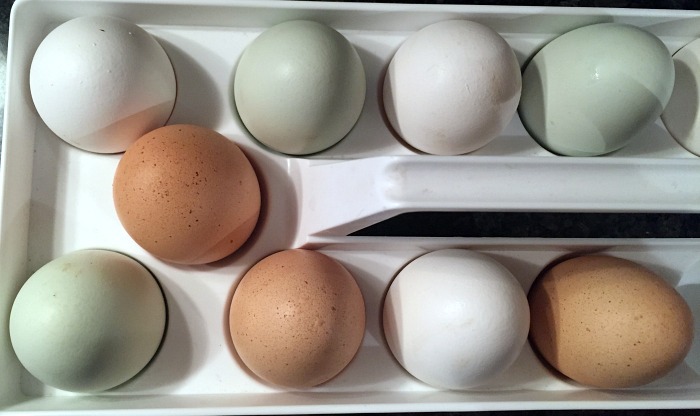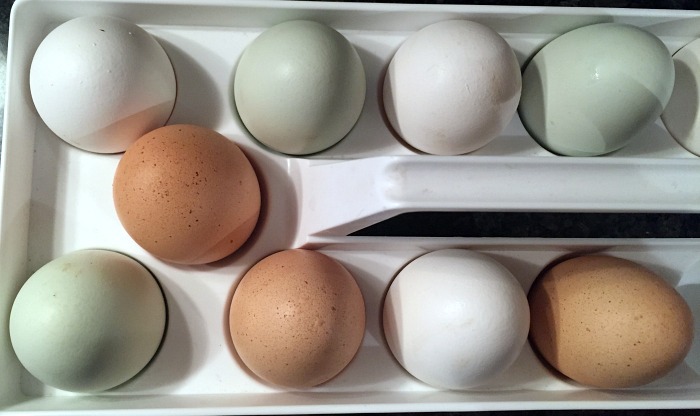 What goes with cheese? Well yeah… eggs. We get ours from our backyard chickens, but eggs are generally affordable and serve as the basis of multiple quick meal options.
Add carbs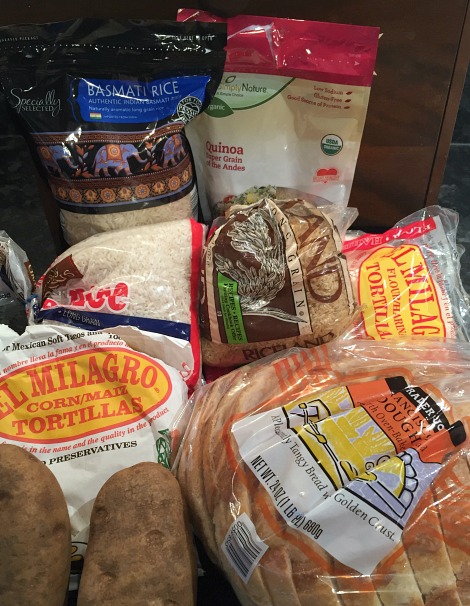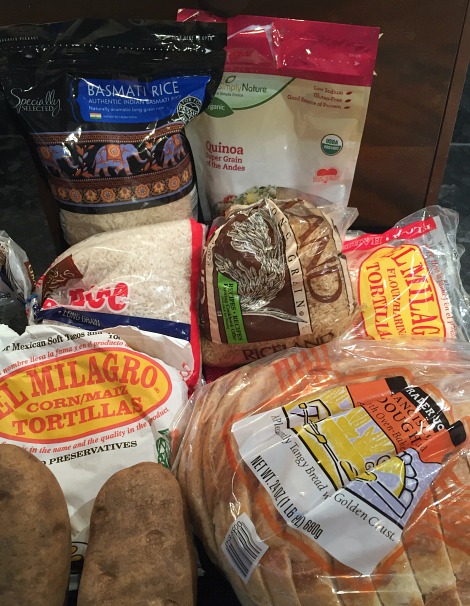 Pick your favorite carbs and try to have a couple of options on hand at all times as the basic building blocks for meals. Like…
Bread
Pasta
Potatoes
Quinoa
Rice
Tortillas
Once you add eggs, cheese, and carbs to your pantry staples, you all of a sudden have infinite variations on pantry math available to you. Then you can just add in meat, produce, and additional seasonings to provide an additional pop of flavor — or to transform your staples into another meal entirely.
Cheese + tortillas + beans = quesadillas or burritos.
Eggs + cheese + butter + bread = breakfast sandwiches, or omelets & toast.
Cheese + bread + butter = grilled cheese sandwiches.
Potatoes + beans + tomatoes + garlic + onions + chili powder = chili potatoes.
Tomatoes + beans + rice = black beans & rice.
Have a little soy sauce handy (see below)? Soy sauce + rice + eggs + garlic + onions + carrots = fried rice; sesame oil takes it up a notch.
Pasta + cheese + tomatoes + spices + bread + butter + garlic powder + salt = spaghetti & garlic bread.
We could keep going here, but you get the idea. 😉
What else do I really like to have on hand?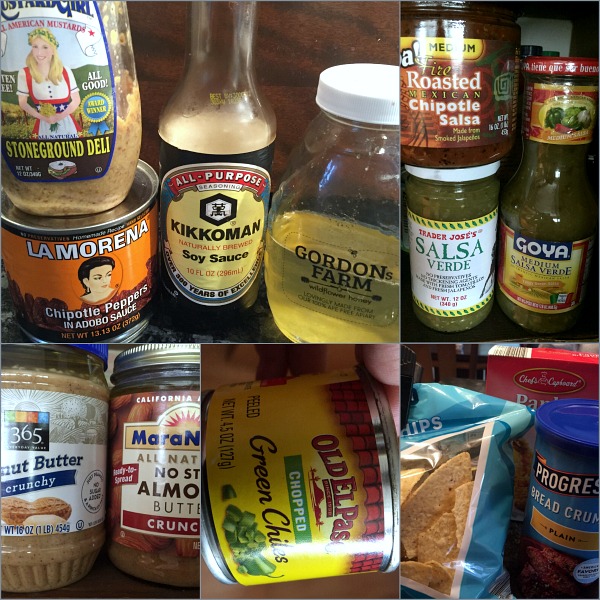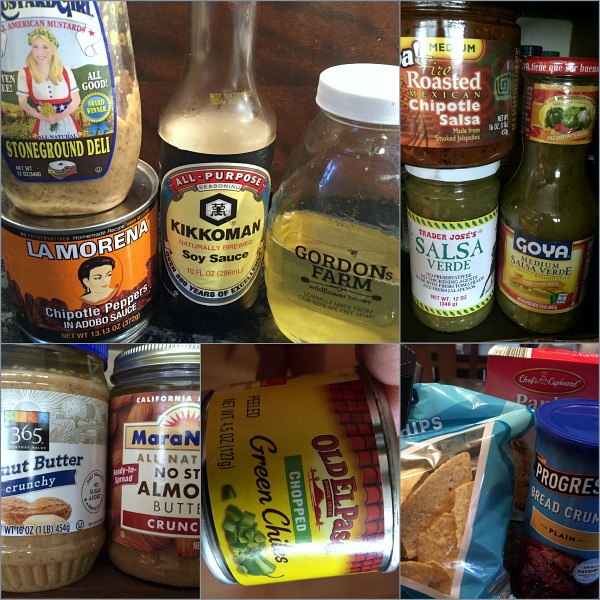 Here are some other pantry ideas that go a little beyond "essential," but are great to have on hand to expand your options and range of flavors:
Bread crumbs, tortilla chips. Whether you prefer regular bread crumbs, panko, or tortilla chips, you want the option to bread chicken or fish or to top casseroles, adding crunch and flavor to your recipes.
Chili garlic sauce. Because, yum: If you like spicy, this is great in stir fries & marinades.
Cocoa powder (unsweetened). Good for balancing out chili. I make a lot of chili…
Honey. Add a little to marinades, dressings, and stir-fries to help balance out the spice.
Mustard, ketchup, BBQ sauce, mayo. For condiments and marinades; dijon or coarse ground mustard is also a great emulsifier in homemade salad dressings.
Nut butters: Buy or make your own (handy guides to making sunflower seed butter and peanut butter) for toast, sandwiches, marinades, dips, and more.
Salsa. Make burrito bowls or salsa chicken, and much more.
Soy sauce. For stir fries, marinades, and fried rice.
Sriracha. To add a pop of spice and flavor to stir fries and marinades.
Wine. Beyond the obvious: For marinades, pot roasts, deglazing pans, and more.
Worcestershire sauce. Because you don't have to spell it to use it in marinades.
(I'd better stop now, because this is all just making me hungry!)
Stock up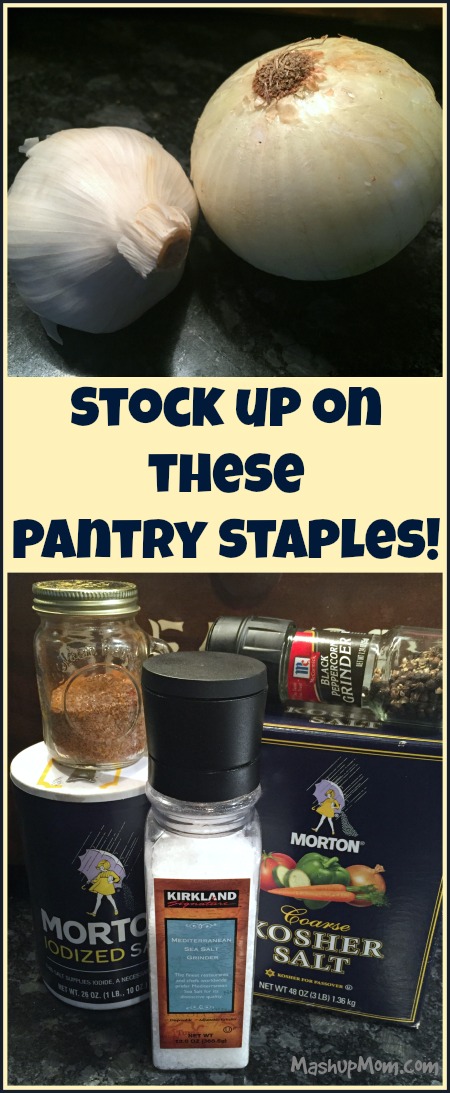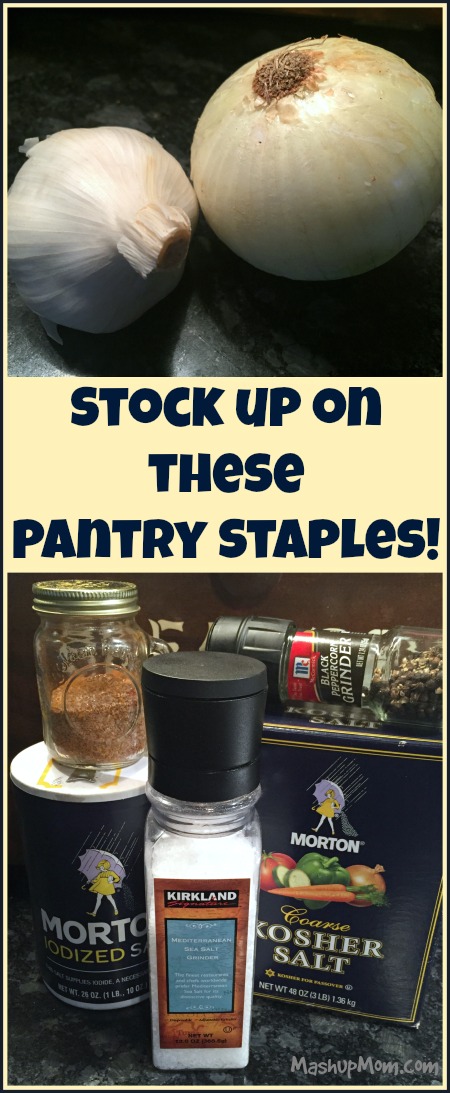 Once you're stocked up on basic pantry staples, the rest is… gravy. (Although gravy is not one of my staples…) Would your essential pantry picks differ from mine? I'd love to hear your comments!