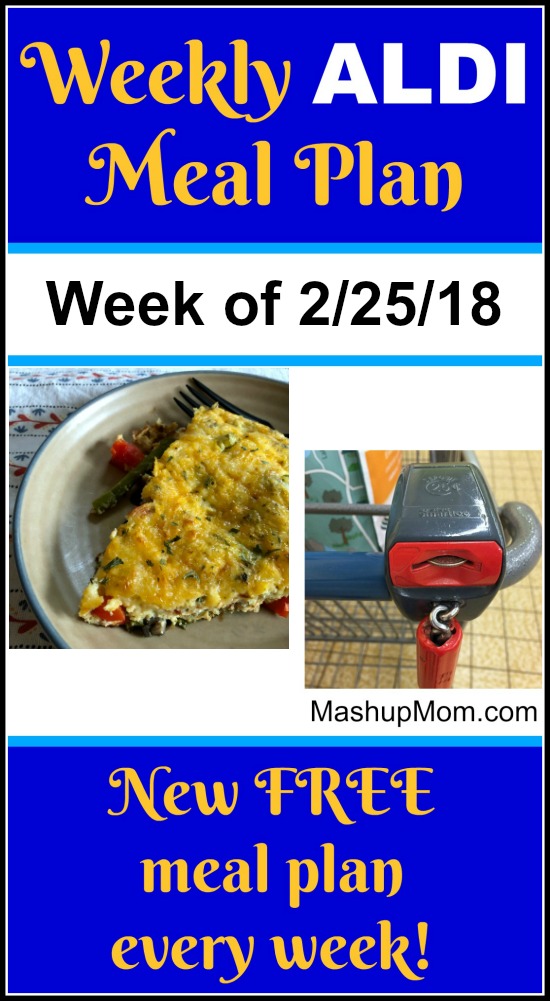 Here's your easy weekly ALDI meal plan for the week of 2/25/18: Pick up everything on the shopping list below, then start cooking on Sunday!
*** Subscribe to the weekly ALDI meal plans here ***
You need a new ALDI-Themed T-Shirt in your life!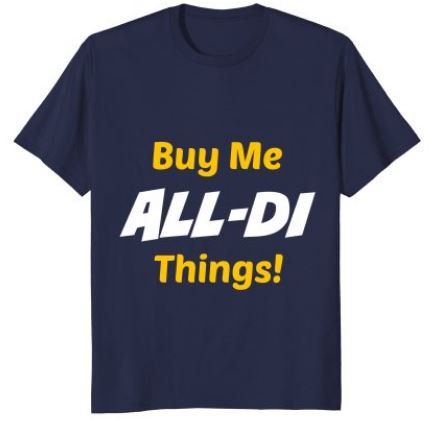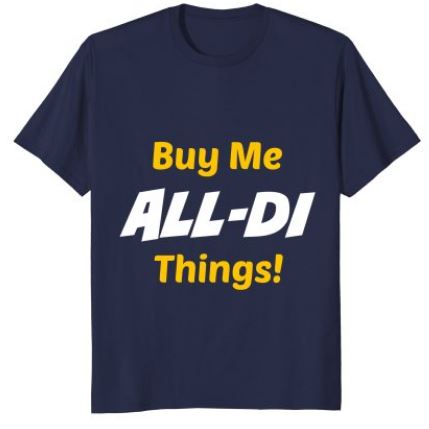 How fun are these brand new ALDI themed t-shirts I have for you guys? Check out my just-launched Amazon storefront, browse several new tees that show our mutual ALDI love, and check back later for new additions. 🙂
But back to this week's ALDI meal plan…
Let's get ready to make six complete dinners for a family of four, just $60.00 out the door! Hope you find the free ALDI meal plans useful.
ALDI meal planning week of 2/25/18 – 3/3/18
I'm assuming here that you already have pantry basics like cooking oil, condiments, and spices. 🙂 *** Read through the recipes before you shop to make sure you have the necessary pantry staples on hand. 
Six Easy Dinners from ALDI for $60.00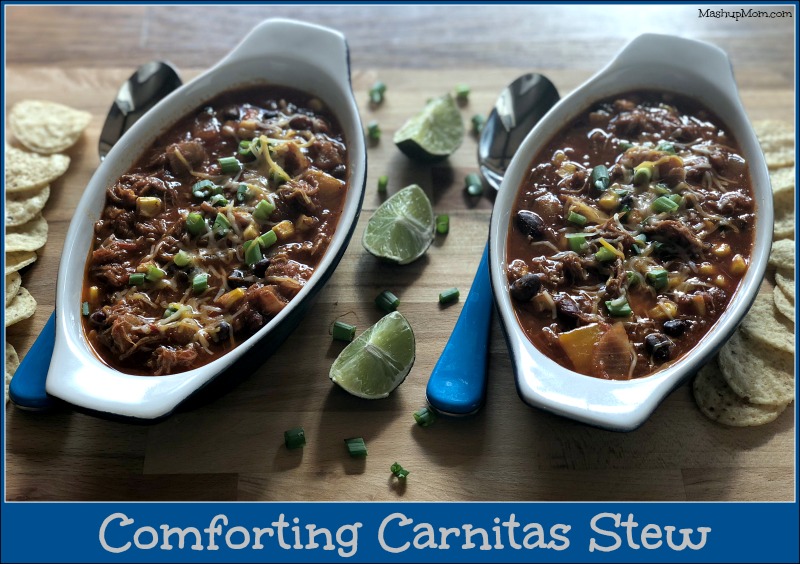 ALDI meal plan — Start cooking 2/25/18
Sunday: Sour cream noodle bake (substitute ricotta for the cottage cheese). Make quick garlic toast with some of the sourdough to go with, plus grapes.
Monday: Pesto chicken and veggies with egg noodles. (Cook noodles according to package directions and drain. Chop 1 lb chicken into bite-sized pieces, season with sea salt & pepper, and saute in 1 Tbsp olive oil over medium-high heat 3-4 minutes a side or until cooked through, then dump the cooked chicken into the pot with the drained egg noodles. Add another Tbsp olive oil to the pan you used for the chicken, then saute 2 cloves garlic, minced, half an onion, sliced, one orange bell pepper, roughly chopped, 8 oz asparagus, woody ends discarded and cut into thirds, and 4 oz mushrooms, sliced, all until crisp tender. Stir the sauteed veggies into the pot of chicken & noodles, then stir in enough prepared pesto to coat (about 1/2 a cup, or to taste). If needed, turn heat to medium low under the pot and heat a little longer until noodles and chicken are again warmed through. Serve with garden salad.
Tuesday: Slow cooker pork carnitas. Serve on corn tortillas with avocado, sour cream, & shredded cheddar, plus mandarins on the side.
Wednesday: Comforting carnitas stew (use the yellow bell pepper, and top with shredded cheddar, chopped green onion, and sour cream). Serve with tortilla chips and grapes.
Thursday: Leftover carnitas naan pizza. Serve with mandarins.
Friday: Italian veggie ricotta frittata. Serve with sourdough toast.
Saturday: Leftovers, family pizza night (ALDI sells a nice big take-and-bake pizza), eat out, or date night.
ALDI shopping list — Shop through 2/24/18
Note: I'm down with the stomach flu today, so non-advertised prices here represent the most recent prices I have, as I'm unable to go to the store in person. Excuse me if this meal plan is a little more hurried than usual, since I can't look at food any longer right now. 🙁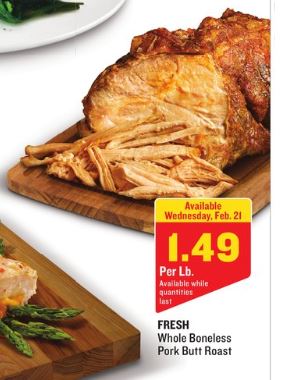 Dairy & refrigerated
Dozen Goldhen large eggs, $.99
16 oz Friendly Farms sour cream, $1.19
12 oz Happy Farms shredded sharp cheddar, $2.69
15 oz Happy Farms Preferred ricotta, $1.69
8 oz Priano mozzarella ball, $2.69
Grocery
Specially Selected naan, $3.49
Specially selected sourdough square, $2.89
Clancy's restaurant style tortilla chips, $1.29
16 oz Reggano wide egg noodles, $1.19
Priano basil pesto, $1.69
32 oz SimplyNature organic beef broth, $1.89
Two 8 oz cans Happy Harvest tomato sauce, $.58
6 oz Happy Harvest tomato paste, $.39
28 oz can Happy Harvest crushed tomatoes, $.95
Can Happy Harvest corn, $.49
SimplyNature organic black beans, $.89
Can Dakota's Pride kidney or pinto beans, $.69
El Milagro corn tortillas, $.33
7 oz can Pueblo Lindo chipotles in adobo, $.99
Meat
1.25 lbs 80/20 ground beef, $2.99
1 lb boneless skinless chicken breast, $2.29
5 lb whole boneless pork butt, $7.45
Produce
16 oz limes, $1.99
3 lb mandarins, $2.49
5 oz SimplyNature organic baby spinach, $2.49
Little Salad bar garden salad, $.89
8 oz mushrooms, $1.49
1.5 lbs red grapes, $1.49
3 pack multicolored bell peppers, $1.99
16 oz asparagus, $2.69
Bunch green onions, $.89
3 lbs yellow onions, $1.69
3 heads garlic, $1.19
1 avocado, $.59
---
That comes to $59.61.
Or, maybe less… 🙂 These meals will likely run you even less if you supplement this week's ALDI purchases with clearance meat you already have in your freezer, pantry staples you picked up on sale, produce you already have on hand, and/or sale produce from your local produce market. Let me know if you give it a try!
*** Download this week's shopping list in Word format so that you can edit and add in your own meal ideas, remove items you already have on hand, change regional pricing to match your own store, etc. *** The day(s) next to each item show which meals use each ingredient, so that you can easily see what to delete from the shopping list if you're skipping a night.
---
Things to know about the ALDI meal plans
A couple of notes
I try not to repeat main dish recipes more often than once a month, but you will see favorite easy recipes come up again in these weekly ALDI meal plans as the same meats and produce items come up again on sale. Part of the fun of meal planning lies in mixing old stand-bys with something new each week.
If one or more of these recipes isn't to your taste, or if you have other ingredients to use, you can adapt the recipes in this ALDI meal plan to your family's preferences — or just use the ideas here to supplement your own meal planning. See: Pantry staples to stock up on and how to modify a meal plan for your family.
Ad markets and dates
This week's ALDI meal plan reflects prices from the current week's ad (running 2/18-2/24 in Sunday ad markets, and 2/21-2/27 in Wednesday ad markets). Non-advertised prices were collected on 2/21/18 at my local store in the Chicago suburbs, but non-advertised prices and produce deals *may vary* by location & region. In either ad market, shop any time through Saturday and start cooking on Sunday 2/25/18.
Stay in the ALDI meal planning loop
Subscribe above to receive email messages about new ALDI meal plans — no spam, and I'll never sell your info; just get email notifications about new plans!
Happy ALDI shopping and cooking this week, everyone!
Useful resources for meal planning + ALDI shopping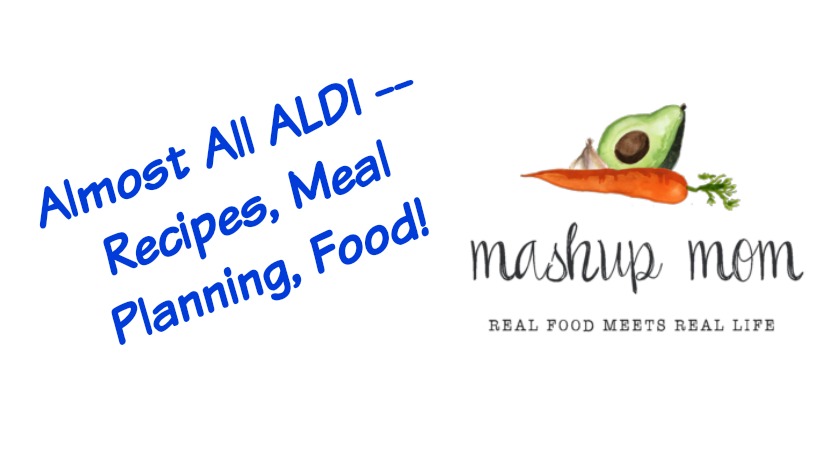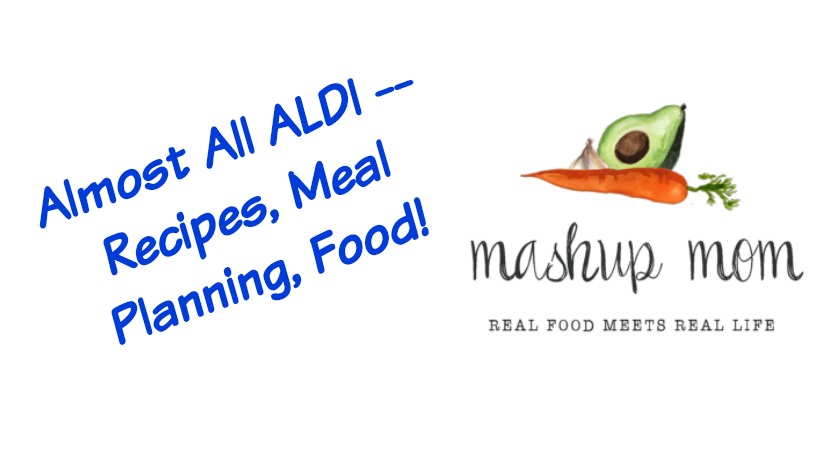 Before we get started this week, here are a few resources to help you out with your meal planning and ALDI shopping:
You can also access your current regional ALDI ad here.