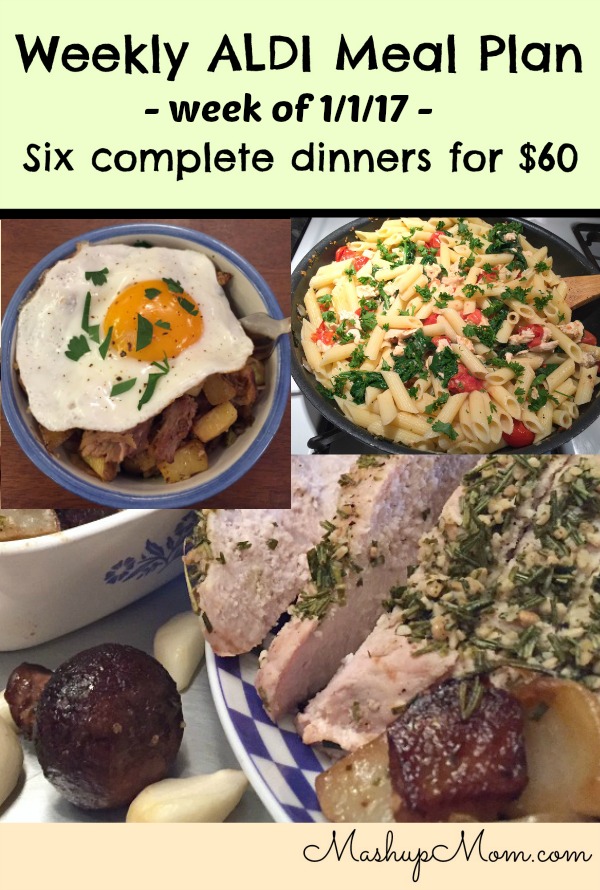 Here's your easy weekly ALDI meal plan for the week of 1/1/17: Pick up everything on the shopping list below, then start cooking on Sunday! Hope you find it useful. ALDI will be closed on New Year's Day.
Note: I try not to repeat the same recipe here more than once a month, but you will see favorite easy recipes come up again on these weekly ALDI meal plans as the same meats and produce items come up on sale again. 🙂
(It seems like a lot of pork this week, but this is how you use up half a pork loin, lol. I've tried to vary up the recipes, and in some it's a supporting ingredient rather than the star — as always, you could freeze half for later and substitute another recipe of your choice or something you froze from an earlier week if it's not your style. 3 lbs Jennie-O ground turkey is $5.99 this week if you'd prefer to go that way with Taco Tuesday, for instance.)
ALDI meal plan week of 1/1/17 – 1/7/17
Six complete dinners for a family of four for $60.00
Note: Prices are collected from this week's ad and my local store, but may vary by location. I'm assuming here that you already have pantry basics like olive oil and spices on hand.
Six Easy Dinners from ALDI for $60.00
Sunday: Garlic rosemary pork roast & potatoes — use one half of the pork loin. Sides: Chopped kale salad topped with chopped celery, dried cranberries, one diced avocado, and blue cheese crumbles, with ranch dressing.
Monday: Spinach & tomato penne pasta. (Use regular pasta, assuming you're not gluten free, and: Substitute broccoli florets for chicken for meatless Monday (throw in with the boiling pasta for the last couple minutes of cooking time) + dried herbs for fresh. If you don't have half & half, substitute a little milk & butter.) Side: Garlic French bread.
Tuesday: Slow cooker pork tacos. (Use other half of pork loin — brown, place in Crock-Pot, pour chicken broth & salsa over, cook on low for 5-6 hours, and shred. Add a little chili powder, cumin, and garlic if you want to jazz it up more.) Serve on tortillas with sour cream, diced tomatoes, and sliced avocados with a little lime juice and salt. Side: Clementines and refried black beans (just reduce other ingredients a little to taste and use one drained can of black beans).
Wednesday: Cuban pork sandwiches. (Slice leftover pork from Sunday thinly and place in hamburger buns with ham, Swiss, sliced pickles, and mustard. Lightly butter top and bottom of sandwich and cook in skillet or grill pan as you would grilled cheese, pressing down with spatula to flatten.) Sides: Sauteed baby carrots and oven roasted potatoes.
Thursday: Hash with the leftover shredded pork from Tuesday and potatoes from Wednesday. Sides: Pineapple slices and sauteed green beans.
 Friday: Dry rub baked hot wings (I've made this  recipe several times and they're good! — I'll mix up the spices a little, but the same basic recipe), topped with blue cheese crumbles if desired. Sides: Baby carrots & celery sticks with ranch dressing (for dipping), clementines, and green pea crisps.
Saturday: Leftovers — or date night!
Shopping list
Dairy & refrigerated
Friendly Farms sour cream, $.99
Sliced Swiss cheese, $1.99
Priano shredded Parmesan, $1.99
Dozen eggs, $.98
Happy Farms Preferred blue cheese crumbles, $1.99
Grocery
Tuscan Garden ranch dressing, $1.29
Southern Grove dried cranberries, $1.59
Casa Mamita chipotle lime organic salsa, $2.29
Can chicken broth, $.59
El Milagro corn tortillas, $.33
L'Oven Fresh hamburger buns, $.85
Great Gherkins Kosher dill sandwich slices, $1.29
Specially Selected French bread, $1.69
SimplyNature organic black beans, $.79
SimplyNature organic whole wheat penne pasta, $1.29
SimplyNature green pea crisps, $1.39
Meat & seafood
2 lbs fresh chicken wings, $3.98
4 lb fresh half pork loin, $7.16
Never Any uncured Black Forest ham, $3.29
Produce
2 bags baby carrots, $.98
Celery, $1.19
8 oz whole mushrooms, $1.29
5 lb baking potatoes, $1.49
One bell pepper, $.79
3 heads garlic, $.99
3 lb yellow onions, $1.69
SimplyNature organic kale, $2.49
Bag spinach, $1.79
3 avocados, $1.77
Roma tomatoes, $1.09
Grape tomatoes, $1.99
Lime, $.20
Pineapple, $1.39
16 oz broccoli crowns, $1.29
16 oz green beans, $1.49
3 lb Cuties clementines, $2.49
---
That comes to $60.17.
You can adapt this ALDI meal plan
Adapt this ALDI meal plan to your own family's preferences or use it to supplement your own meal planning for the week. These meals will likely run you even less if you supplement this week's ALDI purchases with clearance meat you already have in your freezer, produce you have on hand, and/or sale produce from your local produce market. Let me know if you give it a try!
Browse all the weekly ALDI meal plans here, noting that some prices may have changed since originally posted.