This review has been sponsored by Restaurant.com as part of its Review Crew program. I am a Restaurant.com sponsored blogger. All opinions in this post, however, are my own.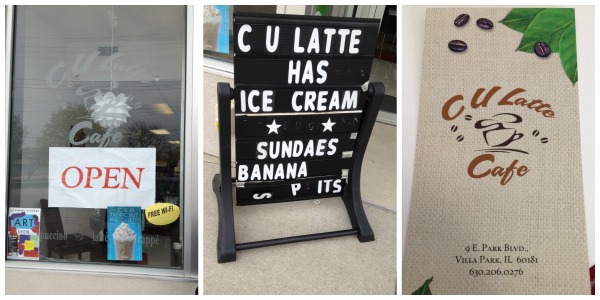 Trish and I recently stopped by the C U Latte Cafe in Villa Park, to check it out with a handy Restaurant.com gift certificate, have some coffee, and catch up — without actually going shopping for a change. 🙂
You have to like a cafe with a sense of humor, right?!
Minor quibble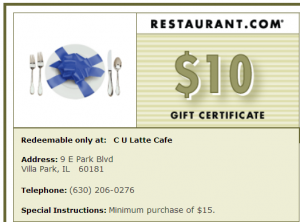 Oddly, the only available Restaurant.com certificate denomination for C U Latte Cafe was $10.00 with a minimum required purchase of $15, while some of the family restaurants we've been to (where you'd likely be spending more) only have $5 options. They were very pleasant about redeeming the certificate and suggesting options to get up to $15, but I'd really like to see a $5 certificate option for a coffee shop, especially one with a somewhat limited menu — it was hard for two of us to hit the $15 minimum spend, so we each ended up with muffins to take home to the kids for later.
The decor (and location!)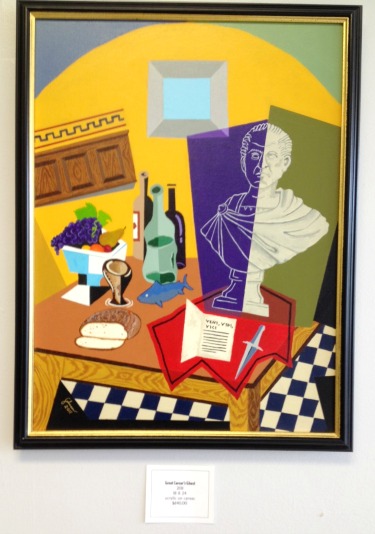 Located right off the Prairie Path in Villa Park, you could tell that C U Latte has put some real effort into becoming a community hub. Their walls featured art by local artists and a full-up community bulletin board, while they've recently added ice cream to the menu to attract Prairie Path walkers with kids, and had chips and other handy snacks to grab up by the register.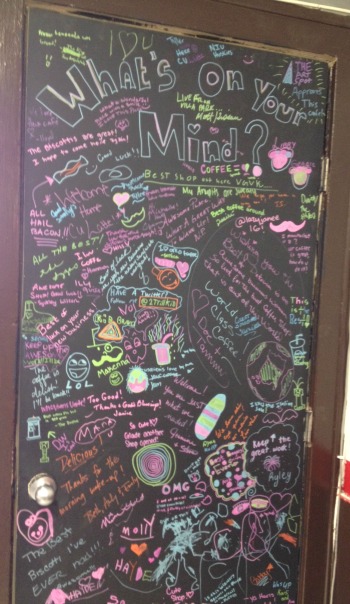 The barista offered us markers to sign their fun art door, too!
The food (and drinks!)
To hit that $15 minimum, Trish and I both ordered large coffee drinks. To accompany these, we were also each going to order the breakfast sandwiches listed on the C U Latte menu… but they didn't "have them today," nor did they have several other menu items we tried for.

So, Trish ended up with the very last bagel in the place at 9:30 on a weekday morning (over-toasted and slightly doughy), I ordered a couple of oatmeal raisin cookies (fairly stale — I think they'd been sitting in the open case for a day or two), and we each got a banana nut muffin to bring home (all right, in a generic grocery store bakery rather than cafe type of way). I really, really wanted to enjoy their food more than I did, because I very much like the idea of C U Latte Cafe, as well as their location and their ambiance. I do hope that they step it up in that area.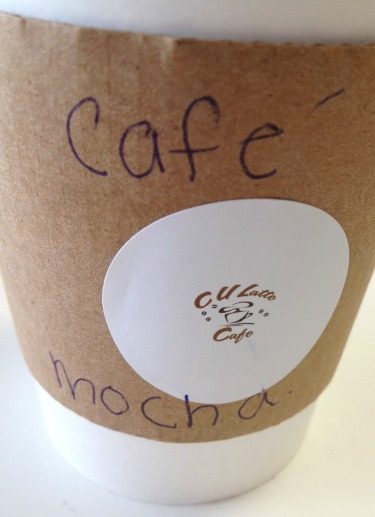 Their coffee on the other hand was quite good! I enjoyed my very large cafe mocha, while Trish had an Americano. C U Latte uses I Have a Bean coffee from the Second Chance Coffee Company in Wheaton, IL, which is pleasantly robust without being bitter. Next time I'll pick up a regular coffee so that I can savor the taste of their quality beans even more, and I highly recommend their coffee drinks.
The service (and ambiance!)

A sign in the C U Latte window boasted free wi-fi. One table had a chess game set up, while a cozy reading nook sported comfy couches, reading material, and a little fake fireplace (turned off now because spring has finally sprung here).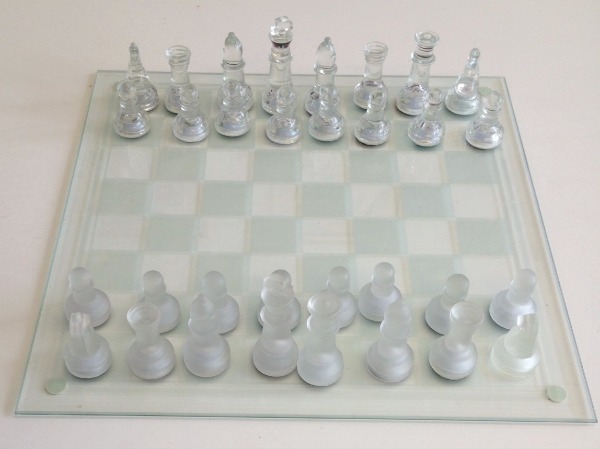 The games and books offer an excuse to linger, while the service was both pleasant and prompt. Overall, C U Latte was a pleasant place to pop in for a drink — but I'd like to see the food quality dialed up a notch, and the music volume dialed down.
About Restaurant.com
The only thing better than going out for a great meal, is getting a great deal. Restaurant.com has been filling tables since 1999 and is the destination for dining whether you like to plan ahead or find a meal on the go. Restaurant.com helps diners discover the perfect dining experience and boasts nearly 50,000 dining deals available every day, even on the weekends! And, the deals are easy to use – present the certificate to the server on a mobile device, or print out a copy, and voilà – the savings will be deducted from your final bill. Bon Appétit!