I received a gift card to purchase a Michael Angelo's Natural Meal for purposes of this review. All opinions here, however, are my own.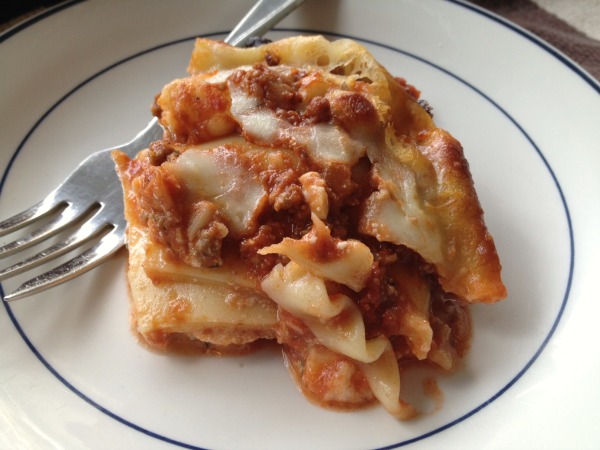 Michael Angelo's recently introduced five new sizes of 100% Natural Meals (available at Walmart): Lasagna with Meat Sauce, Baked Ziti with Meatballs, and Eggplant Parmesan in 44-48 oz family and party sized portions — and you can currently sign up for their email list to grab a $1.00 coupon on their website!
I'm pleased to have the opportunity to test out and tell you about Michael Angelo's Lasagna with Meat sauce, with the assistance of my able helper Mr. 7 here. This is hands down his new favorite food — "Like Garfield!" He put away an inordinate amount of this lasagna, and the first thing out of his mouth when he woke up this morning was: "Is there more lasagna? Can I have it for dinner? Don't eat it all, MOM!"
(Don't worry, he'll get his leftovers tonight!)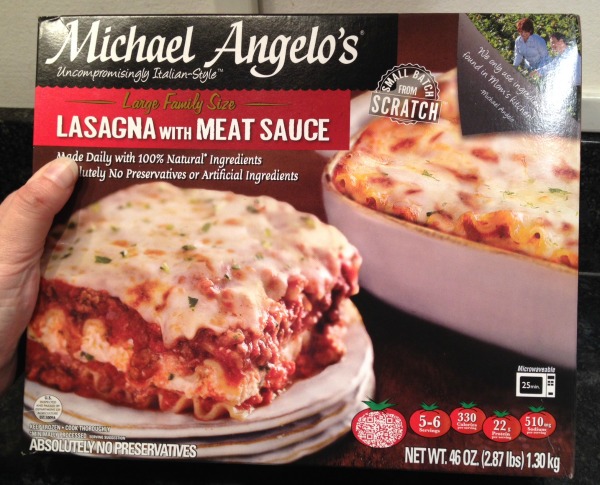 Being 7, he of course worries less about what's in his food than I do, he just knows that it tastes good. Luckily, we're both happy with Michael Angelo's Lasagna with Meat Sauce, because everything here is a real, recognizable ingredient. Michael Angelo's, which is owned and operated by a third-generation Italian-American family, contains no artificial colors, flavors, fillers, or chemical preservatives. Their motto is: "If you can't find it in Mom's kitchen, we won't use it in our food."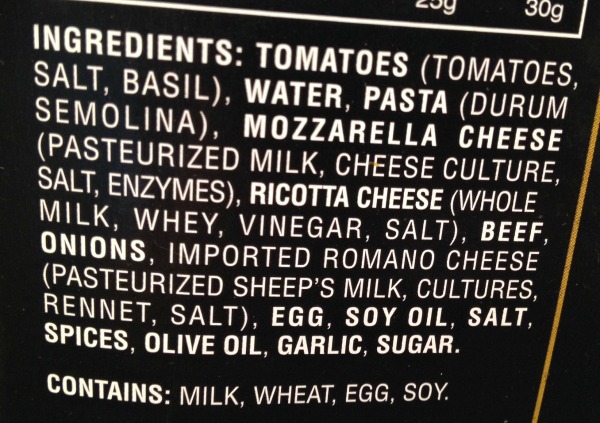 Here's the ingredient list for Michael Angelo's Lasagna With Meat Sauce — and yes, those are all things I might cook with. 🙂 Even though these are frozen entrees, they're cooked in small batches from fresh quality ingredients, immediately flash frozen, and shipped to stores within 36 hours (eliminating the need for a warehouse, and getting the meals on grocers' shelves within days). Read more about their ingredients and process here — including a video on the Parmegiano Reggiano cheese they use from a small family run farm in Italy, as well as their grade A vine ripened Roma tomatoes and heirloom garlic.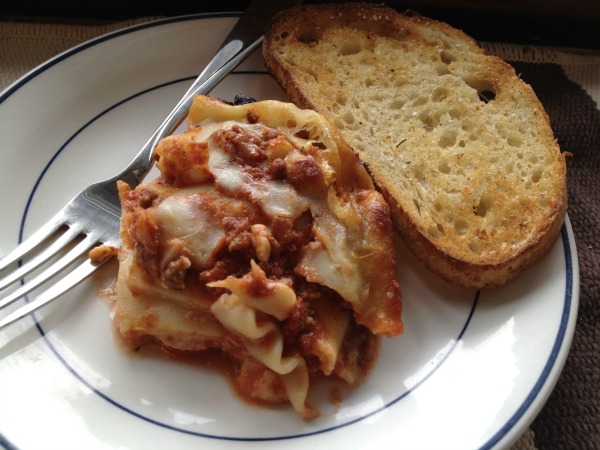 Just add some garlic bread and a green salad, and you have yourself a fresh tasting family sized meal. Mr. 7 isn't the only fan, here — This was darn tasty lasagna, and I'm going to sneak some of the leftovers for lunch. (No one tell him!)
Use the store locator at the top of the Michael Angelo's website to find their meals at a retailer near you.