I'm off to do a couponing program in Palos Park. So, while I'm gone (or even when I'm back, cause we're not sticklers around here), tonight's discussion topic is: If I were to think about redesigning Mashup Mom, what might make the site easier for you to use? Anything you find confusing, clunky, hard to find, wish were different? Comment here!
If you've noticed it's been quieter around here today than usual — looks like I picked up the stomach bug that's going around. Yes, I can't even sit in front of a computer effectively right now. :-/ So hopefully it's a 24 hour thing, and I'll try to get back into the swing tonight!
While here in Washington, we were looking through old family photos. So I thought I'd share this one with you myself, before any of my family members (*coughbrothers*) tried to blackmail me with it. I remember really, really, really wanting this dress. I'm no longer sure why, although I'm not sure it's the worst part of this photo. The 80s were a very long time ago…
Here's the local newspaper story on my dad, which I'm sharing, because he was such a great guy and will be missed.
I'm still in Washington for the rest of the week, so posting will remain lighter than usual while I'm gone. Thank you to everyone for your kind thoughts, prayers, and words — it means a lot.
I'm "stickying" this post to the front page for a couple of days so people who don't visit often know why I am gone and why there are fewer deals this week. Please scroll down under this post to see new content.
I wanted to let you all know that it will be quieter than usual around here for the next week. My father passed away suddenly today. I'm flying out to Washington State tomorrow for the funeral, and will be gone all week.
Trish will be posting some of the grocery store deals etc. while I am gone, and I'll be posting here and there, but only sporadically. I'll be back next weekend — please continue to share the deals while I'm out.
(Note: I am "stickying" this post to the top of the site for a couple of days so new visitors can see what's going on. Please scroll down to see what is new.)
Some of you have been asking for a place to trade and share coupons, so I've started a Mashup Mom Coupon Trading Facebook group! Come on over and join in.

What's this about?
I have a cat, you have a dog, you have a baby, I have a husband on Atkins… we all end up with coupons we can't use and coupons we could use more of, so why not swap? The rules and guidelines and how-tos, they are simple:
Stay on topic — this group is for trading and sharing coupons. Post coupons you have available to trade, and coupons you are looking for.
No selling.
When posting the coupons you are looking for, it will be helpful to say where they can be found so people can check if they have them.
Trade printables at your own risk — SmartSource, Coupons.com, and other major coupon sites can track printables back to your specific computer. So you want to be very sure that no one is making multiple copies of any printables you originally printed.
Realize that anything you post in this group, including things like email address, postal addresses, and phone numbers, is visible to every other member of this group.
So, if you want to exchange info privately, you can use Facebook messaging to contact other members.
When trading, please be sure to hold up your end of the bargain — if you promise to exchange coupons with another group member, do so in a timely fashion, etc.
All trades are between you and the other group member; trades are in no way sponsored or guaranteed by Mashup Mom.
That all being said, a couple of Facebook tips:
Notes on notifications
Note that by default, Facebook will notify you of every new message in a group. If you want to turn these off, go in the Mashup Mom Coupon Trading group and choose Notifications in the upper right. You can choose to be notified of every new post, just posts from friends, or turn them off entirely.
Notes on Facebook messaging
The best way to exchange contact information for mailing or otherwise exchanging coupons will often be through Facebook messages. Facebook generally puts messages from people who are not your Facebook friends into an "Other" mailbox and does not notify you when you have messages in there. If you are actively trading coupons, you'll want to make a habit of checking that "Other" box. To do so, go in your Facebook messages and just switch from "Inbox" to "Other" at the top. Once you reply to the person once, further messages from that person will then appear in your "Inbox."
Questions?
Check out the new Mashup Mom Coupon Trading Facebook group here! Hopefully this will help out all of us and help keep those great coupons from languishing unused.


So… who here has been around long enough that you remember the raspberries?
Mashup Mom launched four years ago today in 2009! That makes today, January 28 2013, our four-year blog-iversary. I want to say a huge thanks to all of you who have stuck along for the ride, or who have found the blog along the way. Back in 2009, I never could have imagined where my little hobby site would be in 2013! Mashup Mom has grown into what it is today entirely because of you, and because of all the deals, feedback, advice, coupons, and finds you have shared. I feel incredibly blessed that Mashup Mom has grown into such an amazing community, and am constantly inspired by how you guys reach out to help one another and share information. You rock.
Today I also want to give back to some of you, so keep an eye out for a fun giveaway or two I have lined up! Happy four-year anniversary to all of us.

I'm off to Bridgeview to do a couponing program! Today's discussion topic while I'm gone (so it doesn't get toooo quiet around here) is:
Why do you coupon? Is it to pay down debt? To save toward a goal? Because of unemployment or underemployment? Just for fun? Let us know what inspires you to do this.

… It's when she knows there is a prescription gift card deal at Jewel, but goes through the CVS drive through instead because she can't face parking and walking through the whole store to get to the pharmacy, lol. So the flu I had a couple weeks ago has apparently turned into bronchitis — I'm back from urgent care, and heading back out to pick up my new little collection of medications in a bit. Grr, winter.
Had a couple of requests to add "Amazon" to the stores list in the menus, so I wanted to let you guys know that "Amazon deals" is always accessible from the "Online deals" menu at the top.
I also had a request to add Kohl's, which can now be found in the online deals menu. And a hint — if you are looking for online codes for Kohl's or anywhere else, if you pick "Top RetailMeNot codes" from that same menu, it will show you their current top codes plus bring up a search where you can search for codes for other online retailers.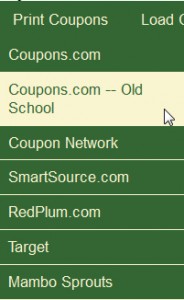 I also had a question about where to find the easy ZIP code box on Coupons.com. If you look in the "Print Coupons" menu at the top, just pick "Coupons.com — Old School" to see their old-style easy-to-navigate interface. (Which I'll keep available as long as they let me!)
And, if you want to change the ZIP or get hints on moving around the new interface, you can find info on that here.