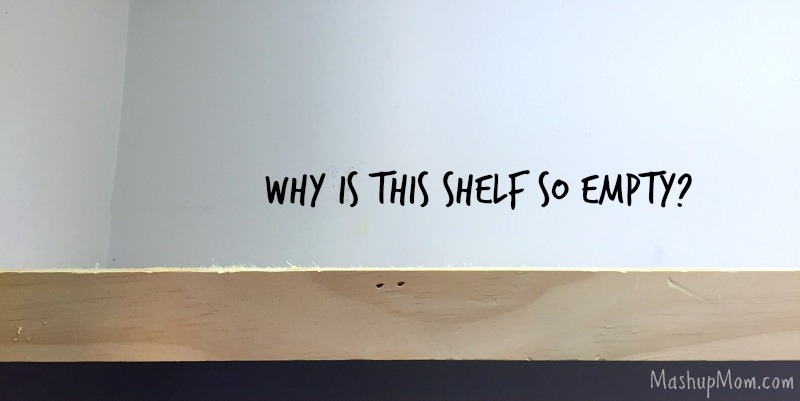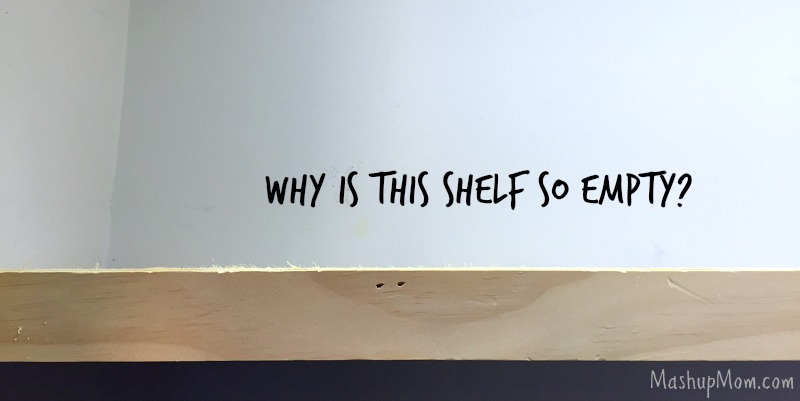 Why is this shelf so empty? Well… yesterday Mr. 10 wanted to bake, so we opened a new bag of flour and dumped it into a tupperware container. He goes to scoop some out and SHRIEKS! because there are wiggling live wormy bugs in there.
Sooo… I go to pour the weevil-y flour back into a plastic bag to throw away. I swear there were no holes in the bag when I started, but… the bug filled flour all over the counter, my jeans, and the floor beg to differ.
Sooo… the kitchen rugs have been washed, my jeans have been washed, but I can't wash the image out of my head and must start a low-carb diet immediately.
A plea for collective wisdom
Sooo… this all leads up to this question: I emptied out the top shelf of the pantry where the buggy flour was living, threw out anything that was in a bag or cardboard box up there, and am about to sanitize it within an inch of its life. There were a couple of bugs stuck to the wall (eww eww eww), so I know they were out of the bag.
Do I need to throw things out from the other shelves? Just things that were open? Do I need to worry about, say, chips and pretzels or just flour/oatmeal/baking mix/cereal type stuff? Help me, collective wisdom people…
Update
This is a big pantry. I'm almost done emptying it and have tossed more food than I'd like to think about — found more bugs and the cobwebby things a couple shelves down, so I think I've answered my own question above. 🙁