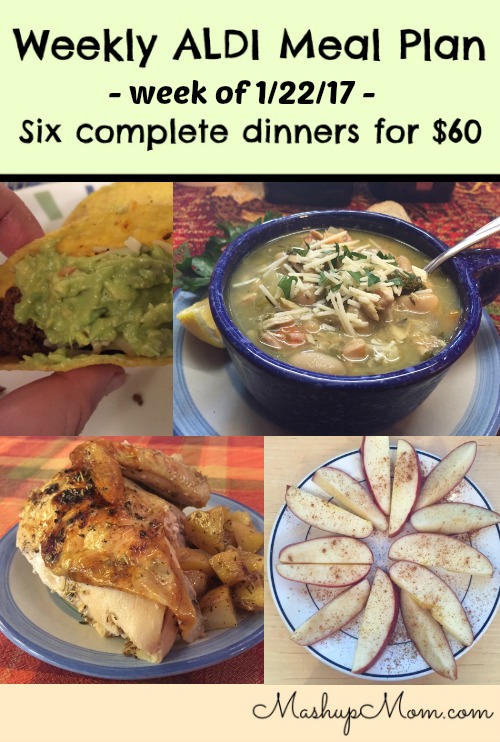 Here's your easy weekly ALDI meal plan for the week of 1/22/17: Pick up everything on the shopping list below, then start cooking on Sunday! Hope you find it useful.
Note: I try not to repeat the same recipe here more often than once a month, but you will see favorite easy recipes come up again on these weekly ALDI meal plans as the same meats and produce items come up on sale again. 🙂
Note the second: If you prefer to substitute for one or more of these meals, pork butt is also on sale $1.49/lb this week — we did shredded pork last week, though, so I left it out of this week's meal plan for the sake of variety. 
ALDI meal planning week of 1/22/17 – 1/28/17
Six complete dinners for a family of four for $60.00
Prices here are collected from this week's ad and my local store, but may vary somewhat by location. I'm assuming here that you already have pantry basics like olive oil and spices on hand.
Six Easy Dinners from ALDI for $60.00
Sunday: Lemon garlic roasted chicken with potatoes (adjust seasonings down for smaller bird, substitute additional rosemary & thyme if you don't have herbs de Provence, and start checking temperature at an hour). Sides: Sliced pineapple, roasted broccoli. After dinner: Shred the rest of the chicken for Monday's dinner, and make stock in the slow cooker overnight from the carcass, also for Monday's dinner. 
Monday: Slow cooker Tuscan chicken soup. Serve with toast (save enough bread for Wednesday's sandwiches) plus kale and apple salad (substitute dried cranberries & sunflower seeds for the walnuts in her recipe).
Tuesday: Tacos topped with diced avocado, cilantro, shredded cheese, sour cream, and diced tomatoes. Sides: Sliced oranges, sliced apples with cinnamon, and simple black beans.
Wednesday: Leftover Tuscan chicken soup with grilled cheese sandwiches, plus dice up some cucumber, avocado, tomatoes, onion & mix with a little wine vinegar, lemon juice, olive oil, salt, pepper for an easy side salad.
Thursday: Buffalo chicken drumsticks (substitute drumsticks in this recipe, add crumbled blue cheese on top, and shred the leftovers for Friday). Serve with cut up carrots & celery + blue cheese dressing for dipping and spinach salad topped with Parmesan, dried cranberries, & sunflower seeds, plus sliced apples.
 Friday: Baked potatoes topped with warmed shredded buffalo chicken mixed with cheddar and sour cream + blue cheese crumbles — or twice bake with the chicken mixture then top with crumbled blue cheese for bonus browned goodness. Sides: Oranges and sauteed spinach with garlic.
Saturday: Leftovers — or date night!
Shopping list
Dairy & refrigerated
16 oz mild Happy Farms shredded cheddar, $2.99
Priano shredded Parmesan, $1.99
16 oz Friendly Farms sour cream, $1.19
Specially Selected blue cheese crumbles, $1.99
Grocery
2 cans Dakota's Pride cannellini beans, $1.30
Casa Mamita taco seasoning, $.35
Casa Mamita taco shells, $.89
Tuscan Garden blue cheese dressing, $1.29
Burman's hot sauce, $.85
Specially Selected Italian bread, $1.69
SimplyNature organic black beans, $.79
Southern Grove dried cranberries, $1.59
Southern Grove roasted salted sunflower kernels, $1.99
Meat & seafood
4 lb Never Any whole chicken, $5.96
5 lbs chicken drumsticks, $3.45
1.5 lbs 80/20 ground beef, $4.19
Produce
2 lb bag of lemons, $2.89
3 heads garlic, $.99
3 lb onions, $1.89
3 bags Little Salad Bar spinach, $2.07
4 lb navel oranges, $1.99
Pineapple, $1.29
3 lb organic apples, $2.99
12 oz SimplyNature organic chopped kale, $2.49
3 avocados, $2.67
1 lb Roma tomatoes, $1.19
2 lb carrots, $1.19
Celery, $1.19
5 lb large baking potatoes, $1.99
16 oz broccoli crowns, $1.49
Cilantro, $.69
Cucumber, $.49
---
That comes to $60.00 even!
You can adapt this ALDI meal plan
Adapt this ALDI meal plan to your own family's preferences or just use it for ideas to add to your own meal planning for the week. These meals will likely run you even less if you supplement this week's ALDI purchases with clearance meat you already have in your freezer, produce you have on hand, and/or sale produce from your local produce market. Let me know if you give it a try!