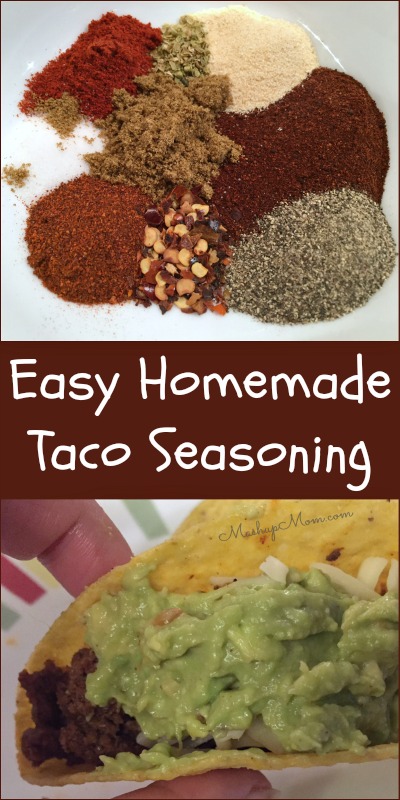 Today in Frugal Homemade: Easy Homemade Taco Seasoning! I looked at multiple | examples of taco | seasoning | recipes | online before scratching this up. They're all very, very similar, so I just tweaked the proportions slightly for our own family's tastes. Here's a basic easy homemade taco seasoning mix, which you can then play with to change up proportions or flavors as desired — mine will likely be slightly different every time, now that I have the basics down.
Easy Homemade Taco Seasoning
Ingredients
1 Tbsp chili powder
1 tsp garlic powder
1/4 tsp oregano
1/2 tsp smoked paprika
1/2-1 tsp salt
1 tsp cumin
1/4-1/2 tsp cayenne
1/4 tsp crushed red pepper
1 tsp black pepper
Directions
Combine all spices. Brown your ground beef for tacos, drain, then add homemade taco seasoning and about 3/4 cup of water. Stir, bring to a boil, then simmer for a few minutes.
Note: You might also add in 1/4-1/2 tsp onion powder — I somehow didn't have any in the house, so just skipped it. You can also brown the beef with a little fresh onion instead. 🙂
This is equivalent to about one packet of taco seasoning

I used my easy homemade taco seasoning mix to flavor about 1.5 lbs of ground beef. For comparison purposes above, here is the ingredient information from a store-bought taco seasoning packet I had in the house. My family didn't notice the difference at all (I thought it was sooo much better, and better for you!), and homemade taco seasoning took me about one minute to mix up. You could also play with the proportions for your own family's tastes — make it spicier or less spicy, reduce the sodium, add some chipotle chili powder (ooh! next time), substitute sweet paprika, whatever you'd like.
If you're as busy as I am, a major factor in whether to make something from scratch (or semi-scratch) or to buy it prepackaged is the time and effort required. I'm not going to be churning my own butter or making my own sausage anytime soon, but small steps are good: Jazzing up plain yogurt? Check. Homemade seasoned salt? Always, now — so good! Salad dressing from scratch? Yup, I do that too.
This homemade taco seasoning mix is now firmly in the easy, cheaper, and better, so just do it category. What prepackaged convenience foods or mixes do you always make from scratch?
Easy Homemade Taco Seasoning Mix printable recipe

Easy Homemade Taco Seasoning
Author: Rachel at MashupMom.com
Recipe type: seasoning
Ingredients
1 Tbsp chili powder
1 tsp garlic powder
¼ tsp oregano
½ tsp smoked paprika
½-1 tsp salt
1 tsp cumin
¼-1/2 tsp cayenne
¼ tsp crushed red pepper
1 tsp black pepper
Instructions
Combine all spices.
Brown your ground beef for tacos, drain, then add homemade taco seasoning and about ¾ cup of water.
Stir, bring to a boil, then simmer for a few minutes.
Note: You might also add in ¼-1/2 tsp onion powder -- I somehow didn't have any in the house, so just skipped it. You can also brown the beef with a little fresh onion instead. 🙂