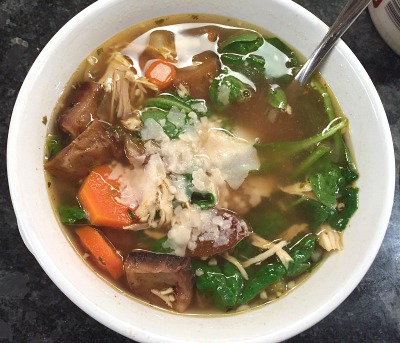 I'm really pleased with the results of this past week's Cook Once, Eat All Week experiment (pictured above, the jazzed up homemade chicken soup I had for lunch yesterday by adding fresh spinach, roasted potatoes & mushrooms, and shaved Parmesan). So, I thought it might be useful to scratch up a shop on Saturday, cook on Sunday meal plan around this week's Jewel ad so that dinner is mostly done* Sunday through Friday this week. Why Jewel? Because it's the most ubiquitous Chicago chain, so most of you should have a store near you.
* I have a family of four, so modify for your own family size and situation — we'll get at least three meals out of the one batch of pulled pork, for instance, but you may not. In the shopping list below I'm assuming you have basic pantry staples on hand for these recipes — if not, add what you need into your own shopping list after looking at the ingredient lists.
Some weeknight dinners require a little cooking, but will be super quick to prepare with leftovers from the precooked main dishes — using leftover meat in grilled sandwiches and hash, for instance.
Recipes to make on Sunday
This week's $60 meal plan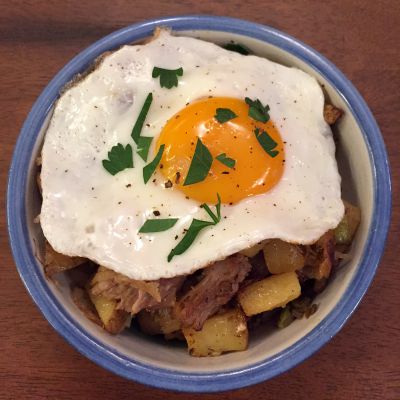 Sunday: Roasted chile-lime chicken and potatoes, with easy spring salad and watermelon slices on the side. (Shred the leftover chicken and store for later in the week.)
Monday: BBQ pork sandwiches using the slow cooker pulled pork, with leftover chile-lime potatoes and watermelon slices.
Tuesday: Pot roast & its associated veggies, watermelon, and cucumber slices from the other half of your cucumber.
Wednesday: Burrito bowls made with the slow cooker pulled pork. Garnish with fresh avocado, sour cream, tomatoes, and shredded cheese, and serve spinach salad (half the 16 oz container) on the side.
Thursday: Carnitas Hash (double recipe to serve four) made with leftover potatoes from the pot roast and leftover pulled pork, with sourdough toast.
Friday: Pot roast grilled cheese sandwiches using the leftover pot roast, shredded cheese, and sourdough bread, served with sauteed garlic spinach (other half of your 16 oz container).
Saturday: Chicken quesadillas made with leftover chile-lime chicken, served with sour cream and guacamole. On the side, roasted baby carrots & cauliflower (use a couple of tsp dried thyme if you don't have fresh handy).
Shopping list for Jewel — Seven dinners for four for $60.00.
I'm guesstimating on some of the unadvertised prices here. Produce such as limes, potatoes, and avocados will be cheaper at many other stores if you are up for a separate trip. If you save on produce at another store, I'd definitely add in some more fruit. 🙂
One 7-8 lb whole pork shoulder roast. A seven pound roast would cost you about $5.00 (after $2.00 coupon); Jewel has Hormel fresh bone-in pork shoulder roast at $.99/lb limit 3 through Sunday and you can use the $2.00/1 Hormel coupon I told you about here. There's also a $1.00/1 printable here (but it hasn't reset in a long time).
One boneless beef chuck roast, around $10.00.
4 lb Signature Farms chicken leg quarters, $4.96.
One pack hamburger buns, about $1.50.
5 lb bag of russet potatoes, about $2.50.
Five avocados, $4.95.
One 16 oz Earthbound Farm organic spinach, $3.99. Use $1.00/1 in the April Organic Booklet, on MyMixx, or printable here = $2.99.
2 lbs tomatoes on the vine, $1.98.
2 lbs Signature baby carrots, $1.69.
1/2 pound fresh green beans, $.50.
8 oz container mushrooms, about $1.99.
16 oz Lucerne sour cream, $1.50.
Two packs Lucerne shredded cheese, $2.79.
One whole seedless watermelon, $2.99 (through Sunday).
One loaf sourdough bakery bread, $3.99.
Celery, guessing $1.50.
One cucumber, guessing $.99.
Dozen Lucerne large eggs, $.88.
Four limes, $1.34.
Four large jalapeno peppers, about $.50.
One head garlic, around $.30.
Mission soft taco shells, $1.50. (Use the $.55/1 printable if you still have, or look for $1.00/2 tearpads in store.)
2 lbs white onions, $1.58.
One head cauliflower, about $2.00.
That brings you to $59.92, and seven dinners for four for $60.00.
Your turn
My meal plan won't exactly match this one, but I'm definitely getting that cheap Hormel pork roast! What are you guys meal planning and/or once a week cooking for this coming week?