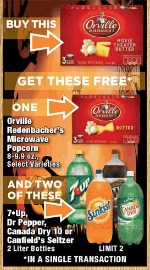 Update: This coupon prints with an "available at Walmart" logo on it, so per Jewel's unfortunate summer 2014 coupon policy update, they won't take it. Sorry, guys!
Starting Wednesday 10/22 at Jewel, buy one 3 pack of Orville Redenbacher's microwave popcorn, get another pack AND two 2-liters 7-Up type pops (specifically lists Canada Dry TEN) for free. Well, since Jewel allows coupons on both items in a BOGO sale, print yourself two of these new $1.00/1 TEN coupons (must share) for a nice deal.
No prices in the ad — I'm going to GUESS Orville runs about $3.69, so you could get two boxes and two 2-liters for around $1.69 after instant savings and two $1.00/1 coupons.