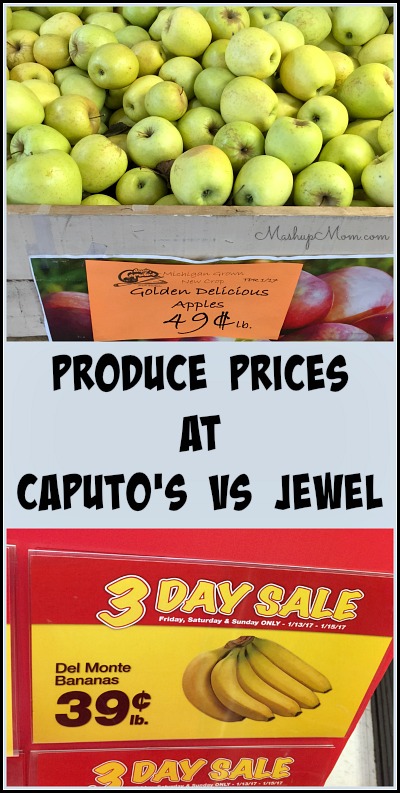 One of the ways I save on produce is by picking up most of my fruits and vegetables each week at ALDI and/or a local produce store like Pete's Market or Caputo's. I mainly shop the produce that's on sale each week, but thought it might be interesting to do a snapshot price comparison of common items between Caputo's and Jewel to see more generally how produce prices stack up between major chain and produce stores.
Since produce prices vary so often, these prices will be different next week, or even by tomorrow! Some items on these lists were part of an advertised sale (bananas at Jewel, green peppers at Caputo's), while others… not so much. In the interests of fairness, I made my list of items to check before looking at the sale ads, and tried to include common and frequently purchased produce, not just items that are currently seasonal and/or on sale.
Note: Today I looked only at conventional produce prices in order to compare apples to apples (as it were, lol). Organic produce prices will have to wait for another day.
Fruit prices at Caputo's vs Jewel (on 1/14/17)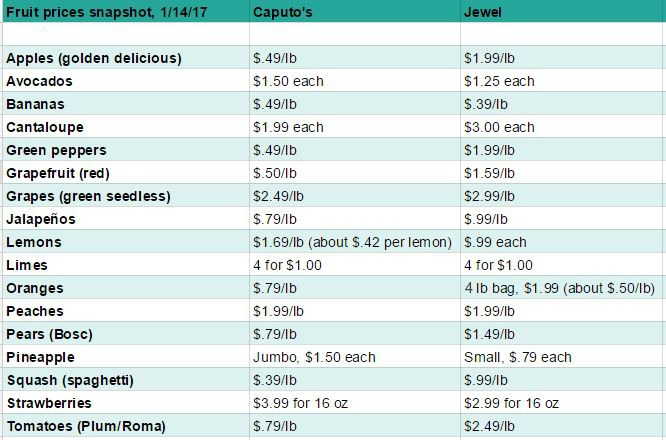 I tried here to find as equivalent items as possible in each store (although the pineapples at Caputo's were markedly larger!). So, let's play a little game where we buy one of everything above and see how we stack up today.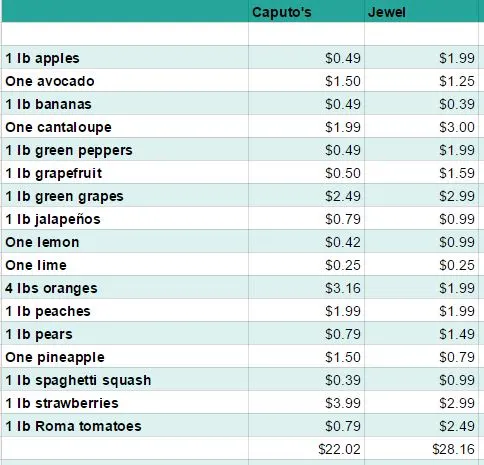 If I bought every type of fruit I checked today, I'd save 23% on produce by shopping at Caputo's — spending $28.16 at Jewel, and $22.02 at Caputo's.
Vegetable prices at Caputo's vs Jewel (on 1/14/17)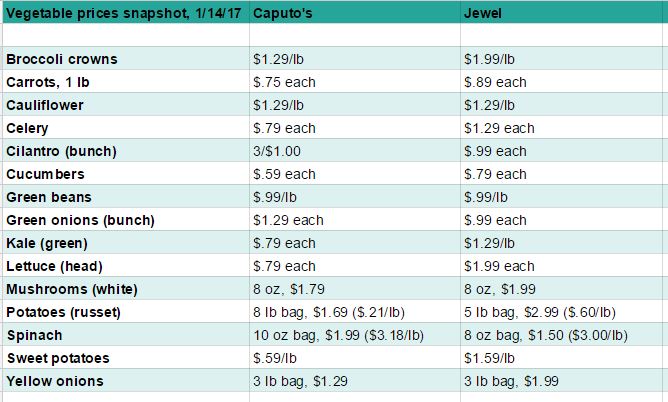 I was surprised that Jewel beat out Caputo's on green onions today, but otherwise this list seems about on track for what I'd expect. Let's play the same one-of-everything game with veggies. (I'm assuming a bunch of kale is about 8 oz, and doing a per pound equivalent price on potatoes & spinach because the bag sizes don't line up.)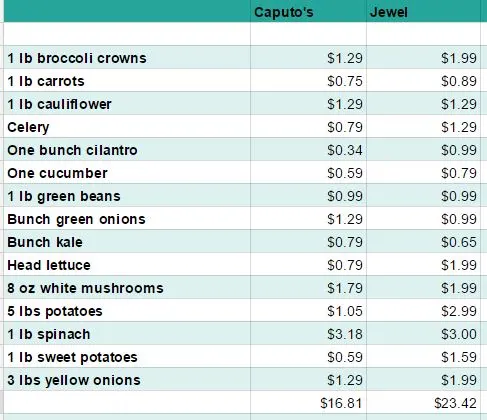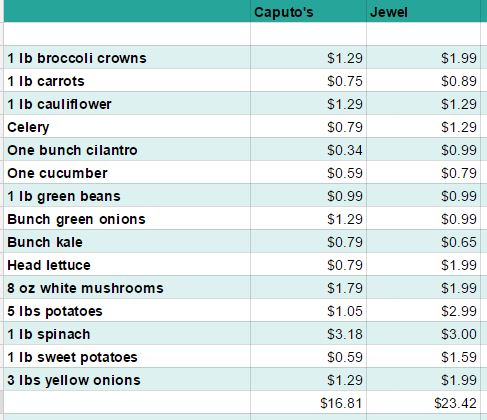 If I bought every type of vegetable I checked today, I'd save 28% on produce by shopping at Caputo's — spending $23.42 at Jewel, and $16.81 at Caputo's.
Don't shop like this, though
"One of everything" is not a great way to shop — and I actually bought my avocados at ALDI this week, because they handily beat out the prices at both Caputo's and Jewel at $.49 each. The price lists above are just for purposes of illustration and to give a general idea of how much you really can save on produce by picking up your fruits and veggies at a local produce store rather than trying to do it all in one trip at a major chain store.
One of the reasons I'm couponing less these days is that I'm trying to focus more on fresh produce and other real foods — I'll happily also use coupons for produce when available (more on that in a future post), but if I can save around 25% just by switching stores? I'm down with that.
But what about quality?
I do shop for produce a couple of times a week because I like having fresh food in the house, but as an overall rule I have had much better luck with produce from Caputo's, Pete's Market, and even ALDI than I've had at Jewel. I did buy a tiny pineapple, bananas, and some spinach there today, but have learned my lesson on their strawberries… Maybe it's just my stores, though: What's your experience been?