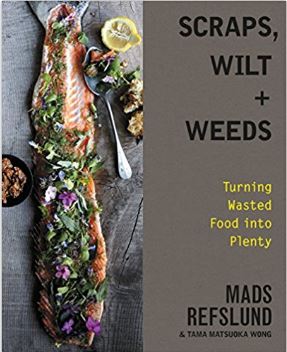 It's a week of serendipity over here as we dive into Mads Refslund's fascinating cookbook: Scraps, Wilt & Weeds. After I told you about Waste Free Kitchen Handbook last week, I randomly ran across this perfect companion volume on my library's new book shelf.
Not only that: Refslund references Waste Free Kitchen Handbook and its author more than once when talking about food waste statistics — such as that Americans are throwing away an average of $120 each month per household of four in the form of uneaten food (!). So, I guess it's meant to be. 😉
Recipes to use up all the parts…
Refslund's recipes offer intriguing uses for commonly discarded food items:
Cauliflower cores and leaves become skillet-roasted cauliflower cores & leaves with brie
Leftover pulp from juicing becomes beet pulp crepes
Wrinkled blueberries become wrinkled berry salsa with herb & kale stems
Fish heads & tails become fish head & tail soup
Coffee grounds become coffee ground ice cream
… and so many more.
The bulk of the book is divided up by type of food — vegetables, fruits, grains, seafood — with a number of recipes for each, while the last couple of chapters are devoted to leftovers and foraging.
Some of the recipes here will be more useful than others, especially those such as "roasted ugly garlic," "overripe banana-coffee grounds bread," "parmesan rind broth," and "carrot raisins" that make use of common pantry staples. Even if you only actually make a couple of these recipes as written, however, the book's main strength lies in helping highlight the potential of foods and scraps that often go to waste. Use the ideas here to spark your own, and as a jumping off point to see how these foods can be used as ingredients in various recipes.
Caveats
While the book features big, beautiful food photos, the choice of light & small fonts throughout (especially when coupled with its Danish author's slightly formal language) makes it a more difficult read than necessary. This is also not necessarily a book for beginning cooks. Although most of the recipes themselves seem fairly simple to execute, the "scraps, wilt, and weeds" Refslund features are often paired with ingredients (crème fraiche, rice bran, grapeseed oil) that may not be staples in many American kitchens — which itself creates a potential food waste issue.
I would also have liked to see alternative suggestions for when ingredients aren't readily available. His recipe for "vegetable scrap & peel stock," for instance, calls for soaking a sheet of konbu overnight to create a light konbu dashi to incorporate into the stock. Well, that's probably going to result in the loveliest rich stock — but konbu is not generally a staple in my kitchen, and you can also create a perfectly serviceable vegetable broth without.
Overall
Scraps, Wilt & Weeds is a useful jumping-off point for thinking of creative ways to make use of commonly-wasted foods and a really interesting read — and it's definitely a beautiful book to browse through; I quite enjoyed it. I'd suggest picking it up at your local library & giving it a browse-through, but for most home cooks this won't be a must-buy reference.
What are you reading this week?
What have you been reading lately? Tell us about it! ? And, you can browse all the What's Rachel Reading? book reviews here.