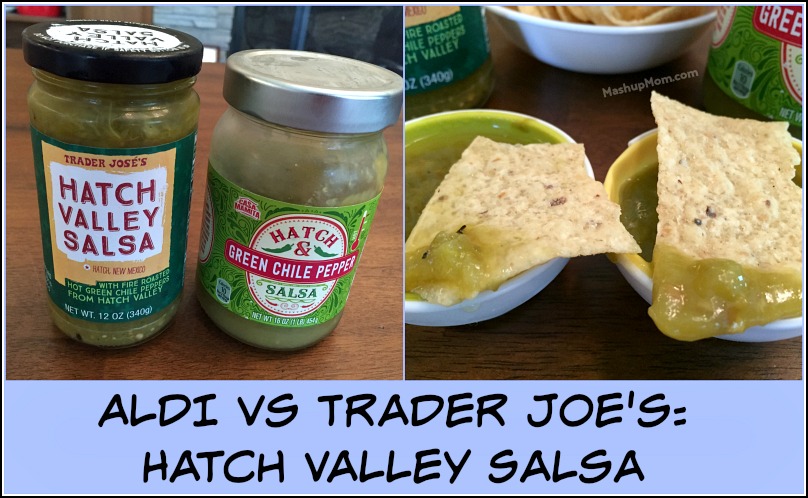 I've had a thing lately for this Hatch Valley Salsa from Trader Joe's. I keep buying it, because there are really not a lot of places around Chicagoland that you can generally get Hatch Valley peppers or salsa at a decent price. At $2.79 for 12 oz, though, this salsa is not super cheap; and this being Trader Joe's, it's not like it goes on sale or there will be coupons out for it.
Update — As of June 2020, I think it's up to $2.99.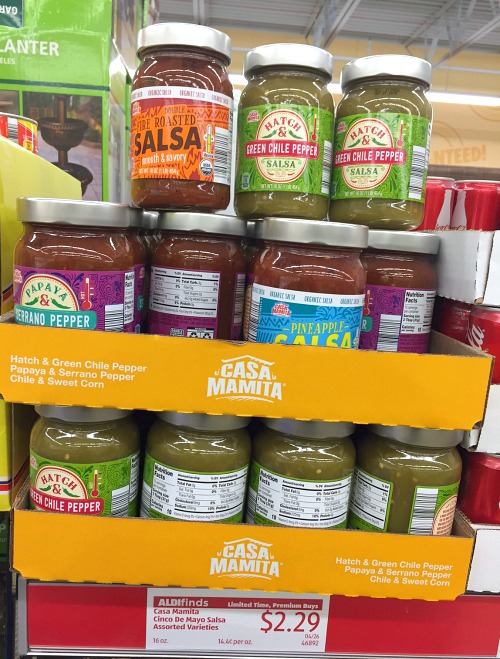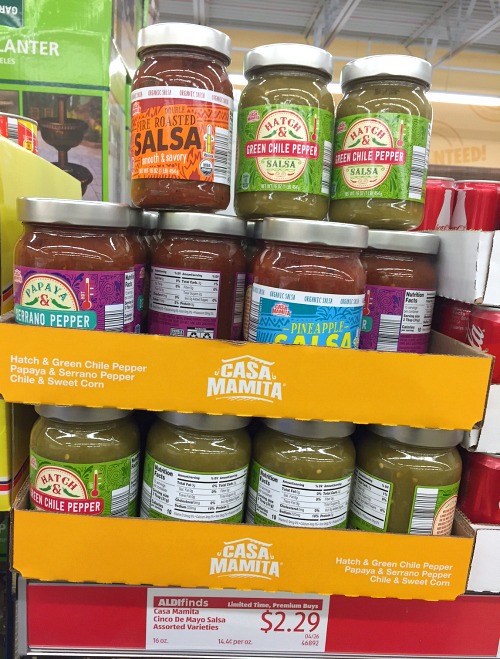 So, I was pretty excited when I spotted a 16 oz jar of Casa Mamita Hatch & Green Chile Pepper Salsa at ALDI for just $2.29. (This is a limited time special buy for Cinco de Mayo, but my store still had a bunch in stock a couple of days ago.) How could I not try this? So, a jar of course made it into my cart.
There's a common misconception that you'll find Trader Joe's products relabeled at ALDI, so I thought it might be interesting to do a little compare & contrast experiment here. Let's take a look!
ALDI vs Trader Joe's Hatch Valley Salsa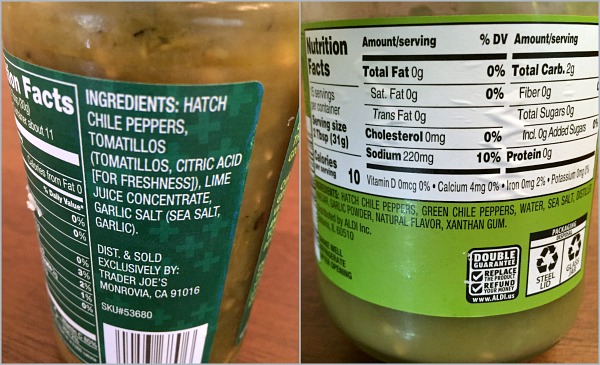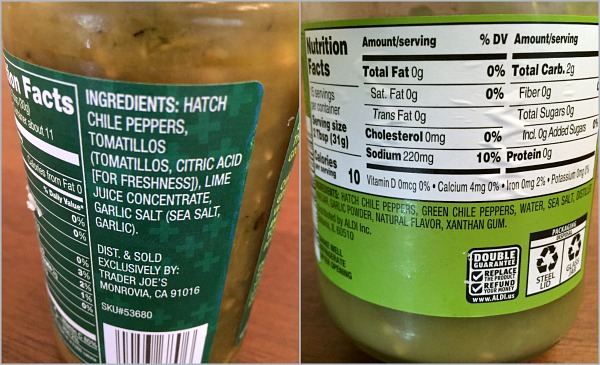 Our first clue that these salsas aren't really the same lies in their names: Trader Joe's sells "Hatch Valley Salsa with fire roasted hot green chile peppers from Hatch Valley," while ALDI is selling "Hatch & Green Chile Pepper Salsa." Thus, when we turn to the ingredient list, both salsas list Hatch chile peppers as the first ingredient but then diverge from there:
Trader Joe's brand: Hatch chile peppers, tomatillos (tomatillos, citric acid for freshness), lime juice concentrate, garlic salt (sea salt, garlic)
ALDI brand: Hatch chile peppers, green chile peppers, water, sea salt, distilled vinegar, garlic powder, natural flavor, Xanthan gum
Trader Joe's is a more traditional salsa verde made from Hatch chiles, tomatillos, and lime juice, while ALDI's incorporates two types of peppers rather than using tomatillo.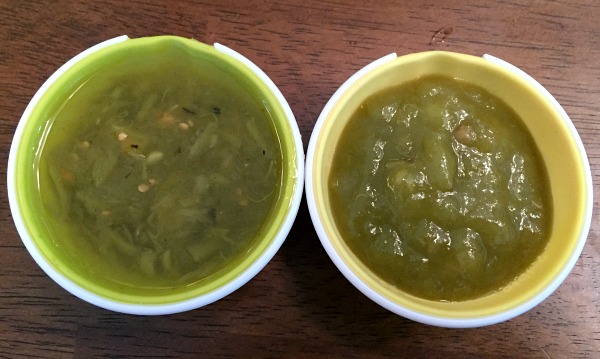 Since ALDI's Casa Mamita salsa includes Xanthan gum, it's also much thicker than the Trader Joe's brand — which is actually quite watery. In the Trader Joe's version, however, you can really see and taste the individual peppers, while the ALDI salsa is more uniform and… well… gooey.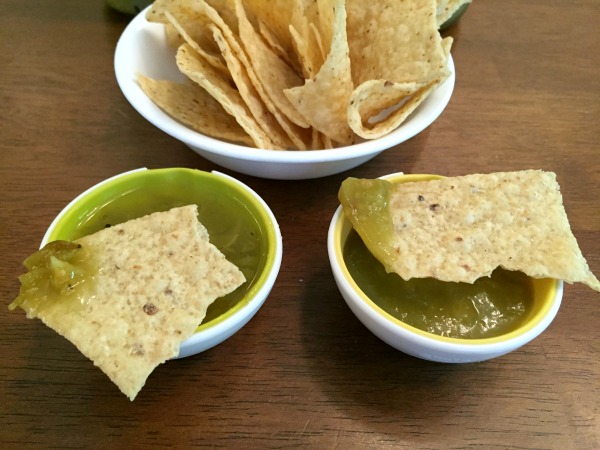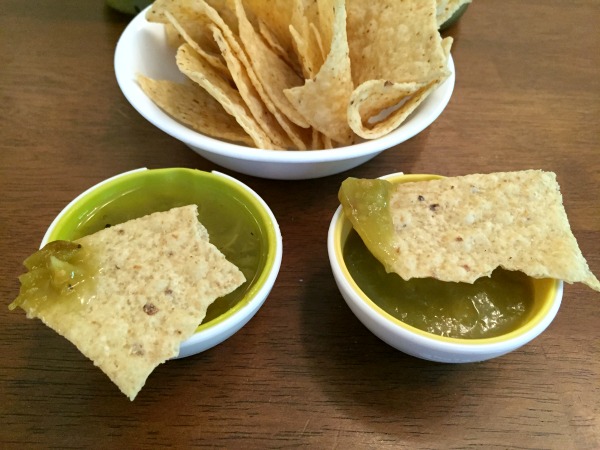 The difference in textures makes it much easier to scoop the ALDI brand salsa onto a tortilla chip (the Trader Joe's variety is much drippier and messier), but alters the texture and mouthfeel so that ALDI's is more gummy.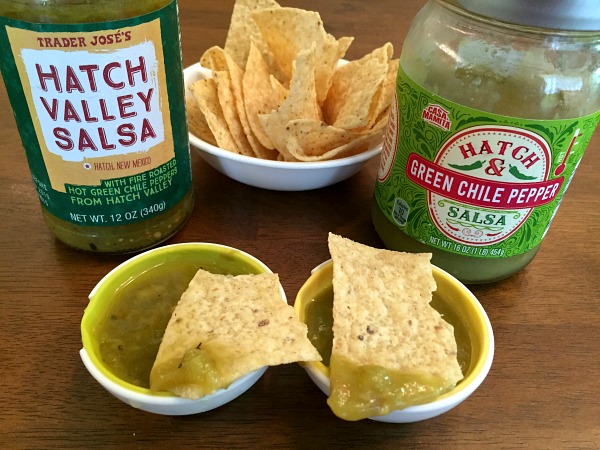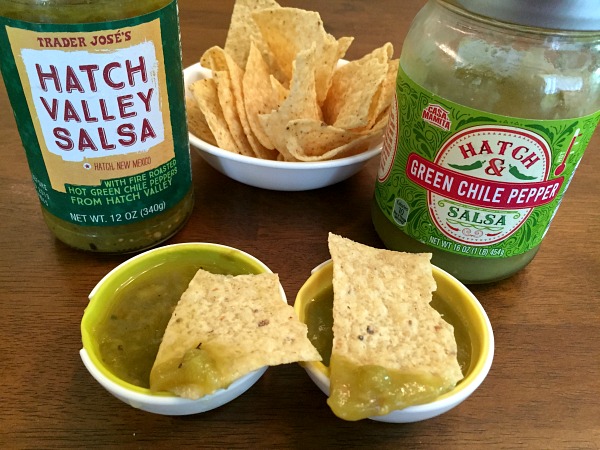 But what about taste? Trader Joe's fire roasts its peppers, giving their salsa more depth — and it seems to me to have more complex and distinct flavors. ALDI's salsa is spicier and more overpowering, but it's High School Guy's hands-down favorite.
Which Hatch salsa wins?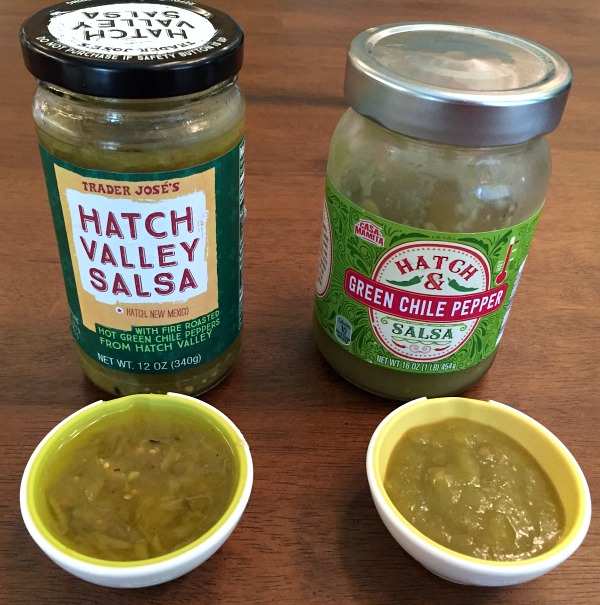 Both salsas were tasty, don't get me wrong! But overall:
Trader Joe's is superior in flavor
ALDI's is a better value
Trader Joe's wins in terms of simple ingredients
ALDI wins on ease of use
Trader Joe's wins on texture
My overall preference (and I think the clear winner in terms of authenticity) would be for Trader Joe's, even though it's harder to eat. The Trader Joe's Hatch Valley salsa lets the Hatch Valley flavor shine through in a way that ALDI's really doesn't. But, this little experiment was a nice excuse to enjoy chips and salsa, so really… I think we all won here. 😉