I received this product for free from Moms Meet to use and post my honest opinions. Compensation for this post was provided and this page may contain affiliate links.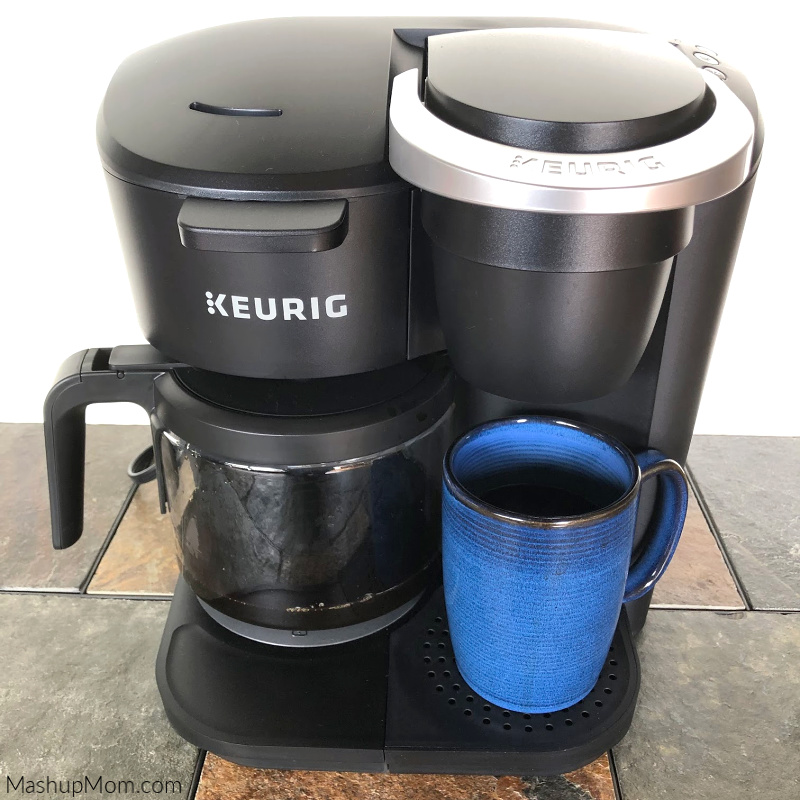 I recently had the opportunity to review this newer Keurig K-Duo Essentials Coffee Maker, which will let you brew either a single cup or an entire carafe with just one machine. You can use both K-Cups and ground coffee here, with multiple brew sizes available in both single cup and carafe.
How handy is that, right? I drink enough coffee that I prefer to brew up a pot in the morning, but sometimes when a friend drops by later in the day it's useful to be able to make just a single cup for her — or to lay out a variety of choices in K-Cups, to meet people's different coffee preferences during a family gathering.
The Keurig K-Duo Essentials Coffee Maker is only available at Walmart. But at $99, this is a fairly budget-friendly choice (given its dual functionality), and a great gift idea for the upcoming holidays this year.
How does the Keurig K-Duo Essentials Coffee Maker work?
The Keurig K-Duo Essentials Coffee Maker holds a full 60 oz of water in its removable reservoir, which is a good size and easy to refill. Simply fill the reservoir to the max fill line, then choose your brewing method (both sides pull from the same reservoir):
On the carafe side, you just insert a flat bottom paper filter into the basket, scoop in your choice of ground coffee, place your carafe on the heating plate, and select an 8, 10, or 12 cup brew. The machine unfortunately doesn't let you choose a smaller brew size than 8 cups. So, if you're making a pot of coffee for one, you might be better off just using the K-Cup side. A heating plate keeps the 12-cup glass carafe warm, and a Pause & Pour feature gives you 20 seconds to grab a cup before the machine is done brewing. Because sometimes: You just.can't.wait.
On the K-Cup side, just pop in your favorite K-Cup, place your coffee mug or travel mug on the drip tray, and choose either 8, 10, or 12 oz. This brewer is nice because, unlike with some other Keurig models, you don't have to wait for the water to heat up before choosing a cup size.
The Keurig K-Duo Essentials Coffee Maker brews fairly quickly, but both the K-Cup and carafe brewing methods are on the louder side. The brewer and heating plate both have an auto-off feature.
What's the verdict?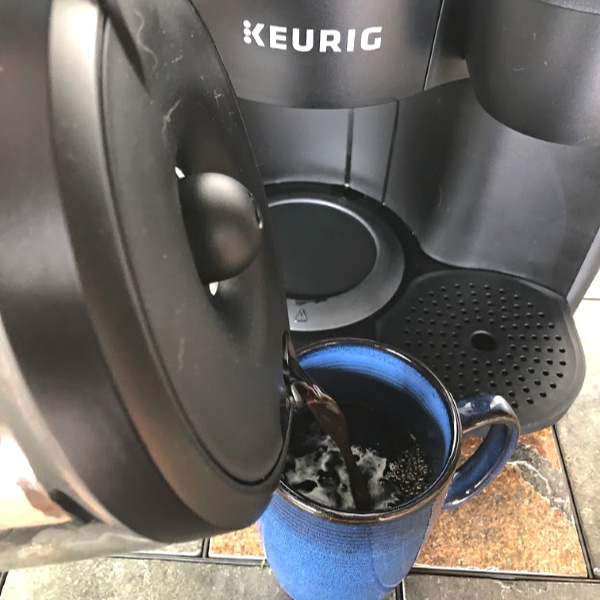 I like my coffee strong and dark, and have always enjoyed it black. On the carafe side, the Keurig K-Duo Essentials Coffee Maker seems to brew a little less strong than my usual coffee maker; on the single serve side, you get a typical K-Cup brew.
If you have a smaller kitchen, be aware that this is a bulky machine that will take up a good bit of counter space — less, though, than if you have been devoting space to two separate machines. It brews a little noisily, but is fast and efficient. I also quite appreciated not having to let the water heat up before selecting an oz size on the K-Cup side, which is a real time saver.
My Keurig K-Duo Essentials Coffee Maker Review in a nutshell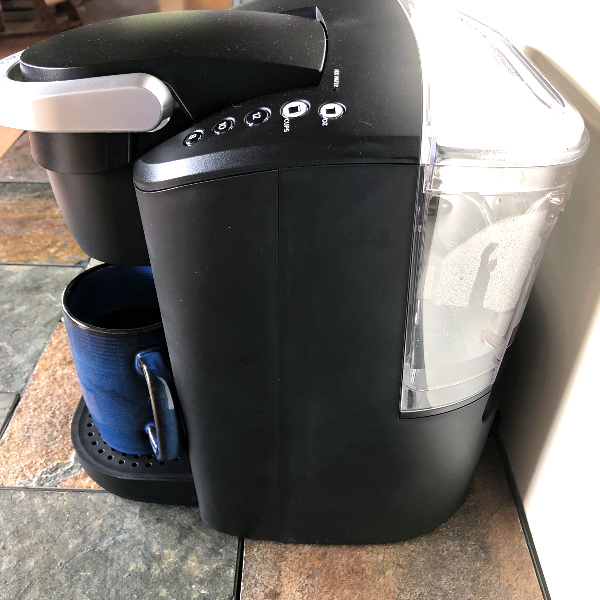 Pros: Easy to brew up a whole pot of coffee in the morning, and then just do a single cup later in the day. The Keurig K-Duo Essentials Coffee Maker is easy to use, it holds a lot of water in its removable 60 oz reservoir, and you don't have to wait until it heats up to select a brew size for your K-Cups.
Cons: This machine is bulky, and is a little bit noisy. It really does take up a lot of room on the counter, so consider your available space before purchasing. Also, if you're a fan of bolder coffee as I am, note that a pot of brewed coffee doesn't come out as strong as with my old brewer. Lastly, you can't set it to brew fewer than 8 cups on the carafe side — meaning that you're out of luck if you want to run a smaller pot.
Overall: A solid buy, giving you the best of both worlds in one affordable machine. It's always good to have options.
Pick up your Keurig K-Duo Essentials Coffee Maker today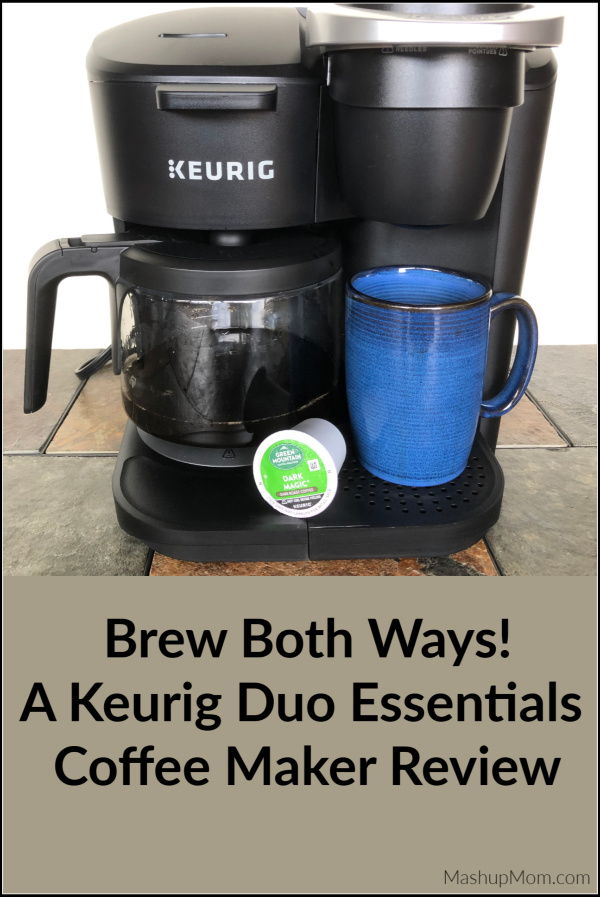 Kudos to Keurig for recognizing that there is a time and a place for both K-Cups and carafes. The Keurig Duo Essentials Coffee Maker allows you to enjoy both, without having to choose.