What's Rachel Reading this week? Mad Genius Tips — full of food hacks & recipes. See my review, then let me know what you're reading lately!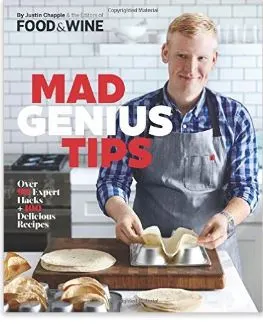 Let's do another cookbook this week: The library new book shelf always reels me in with its pretty cookbooks all in a row, and Mad Genius Tips doesn't disappoint in the lovely food photos department. This book by Justin Chapple & the editors of Food & Wine riffs off of Chapple's popular "Mad Genius Tips" video series (which, by the way, are pretty fun to watch!), mashing up 100 kitchen hacks with 100 recipes to provide the best of both worlds.
So many kitchen tips, tricks, and hacks!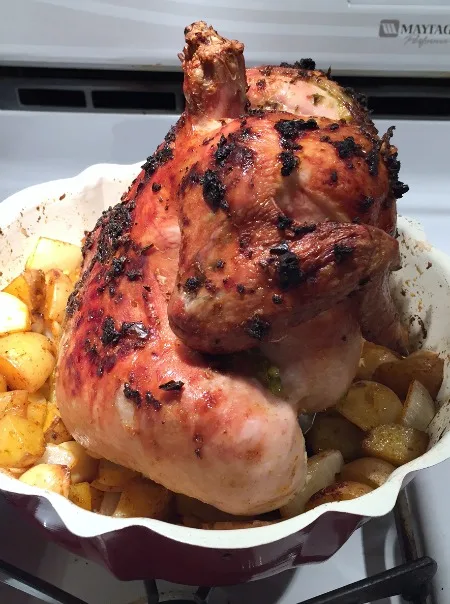 The kitchen tips & hacks in Mad Genius Tips are broken up by specific tools (bundt pans, dental floss, plastic baggies, waffle irons…). Since I happened to have picked up a little organic clearance chicken this week, I decided to try out the tip to use a bundt pan as a rotisserie and surround the chicken in the pan with its associated potatoes or veggies. (Be sure to cover the hole in the middle of the bundt pan with foil if you try this.) This worked and was a fun novelty, but I think both the chicken & potatoes turn out better & crispier when made in a regular roasting pan per my original recipe. Other handy bundt pan hacks & recipes in the book, though, include bundt pan pasta loaf (watch the video here) and using it to hold corn on the cob while you slice off the kernels — and that's just one chapter.
More Mad Genius Tips?
I'm also definitely going to try out his tip for making Parmesan frico, or cheese crisps, in the microwave (watch the video here)! I've been making homemade cheese crisps in the oven — but sometimes I'm a little too impatient for that, so this is going to be today's experiment. 😉
From pounding garlic paste using a baggie, to poaching eggs in a muffin tin or peeling hard boiled eggs with a spoon, as I went through the book I found a lot of tips that look useful. Some I already knew about — but the nice thing about both the book and the videos is that most seem well within the reach of the average home cook. Although provided in a playful spirit (making Mad Genius Tips truly enjoyable to read), both the hacks and recipes are uniformly useful and doable.
Plus, bonus! A lot of delicious-looking recipe inspiration — Waffled Potato Blini with smoked salmon, anyone? Mad Genius Tips provides a handy reference for anyone looking to kick their kitchen and cooking skills up a notch, containing plentiful time-saving shortcuts and recipe ideas to take advantage of them. Recommended.
What are you reading this week?
What have you been reading lately? Tell us about it! ? — and, you can browse all the What's Rachel Reading? book reviews here.