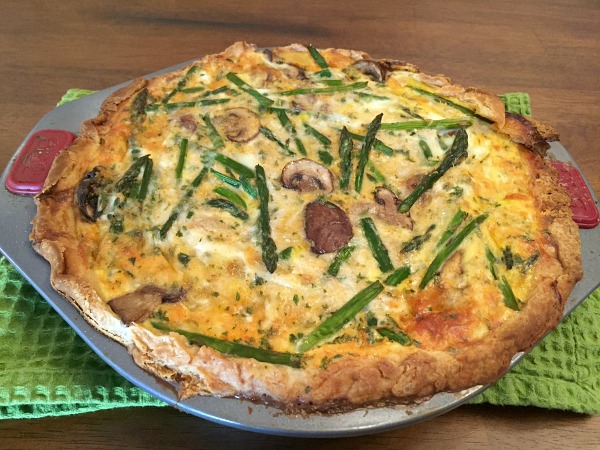 I decided to make an asparagus & mushroom quiche today, but it's not quite ready for prime time so I'll likely post the recipe another day after I get it right. Sometimes it does take a few tries; I just don't usually show the fails and not-quite-there-yets!
So to recap my day so far here: In the above photo Mr. Quiche was not all the way cooked through, so I had to put him back in the oven for 15 minutes. (He had such potential, too! Not a great photo since I was pretty sure of failure at this point and going more for speed, but so pretty…)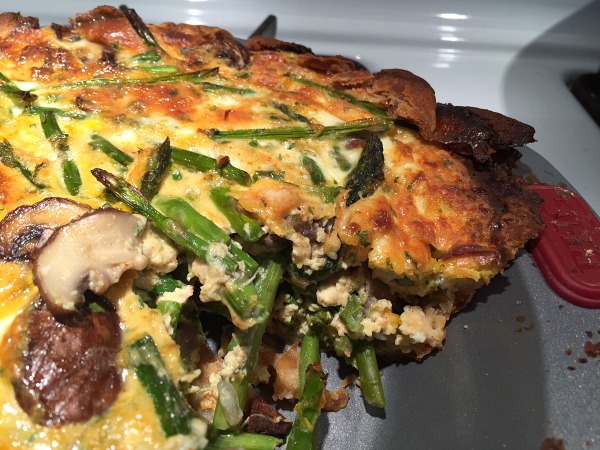 Frazzled me neglected to cover the crust edges with tinfoil at that point, so Mr. Underdone Quiche quickly turned into Mr. Quiche with Burnt Edges.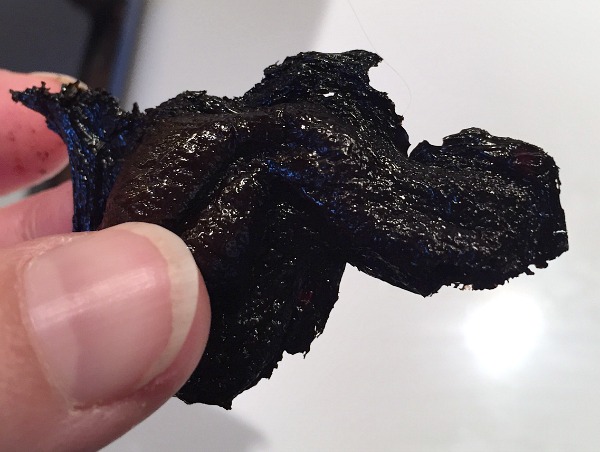 And, why wasn't he cooked through in the first place? Well… it's likely due to the fact that I filled the pie pan too full… Which also caused the quiche to overflow while cooking… which also set off the smoke detector while I was standing right under it… which also caused me to jump and bang my elbow on the wall… and this is just one of the charred egg-y quiche remnants I've scraped off of the bottom of the oven.
(And the seasoning isn't quite right, but that's not really the major issue here, lol.)
Did I eat quiche today anyway? Darn right I did! I just had a piece for lunch and am thinking that this recipe has great potential, even given all of the above issues. So I thought I'd post about what went wrong with this one, because I think it's worth mentioning that everyone has recipe and Pinterest fails. When I post recipes here I try to make the food photos as pretty as possible (given my limited photography skills), but of course not everything we eat in this house looks like that — and not every recipe is a hit. In our social media obsessed society we sometimes get caught up in comparing ourselves with others and buying into the myth that everything they ever do is Pinterest or Instagram worthy, when the reality is often something completely different.
This particular quiche itself? Kind of a fail. But that doesn't make me a failure as a home cook or as a blogger; instead it makes me determined to figure out where I went wrong and how I can get this recipe right the next time — because I really do want a beautiful asparagus & mushroom quiche in my life! 😉
So anyway
That about sums up my latest Pinterest fail. What's yours?