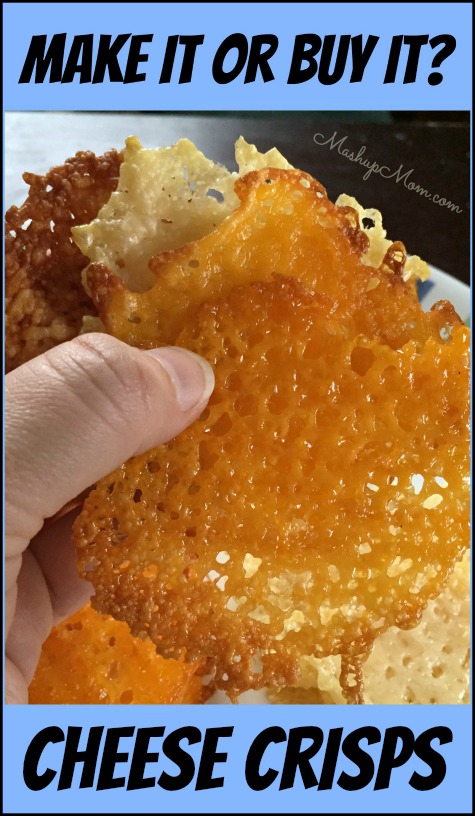 So the other day I walked by Mrs. Cubbison's baked cheese crisps in the store and saw that they were on sale at $2.49 for a 1.5 oz box — and that the only ingredient in them is: Cheese. $2.49 for a 1.5 oz box of cheese crisps works out to a whopping $26.56 a pound, so I thought that perhaps we could do just a bit better than that with some copycat Mrs. Cubbison's baked cheese crisps at home.
For my copycat Mrs. Cubbison's cheese crisps experiment here, I gathered four cheeses I already had in my refrigerator to try out: Happy Farms mild shredded cheddar from ALDI ($2.99/lb), Belgioioso Grana Padana extra aged Parmesan ($5.99/lb on sale at Caputo's last weekend), Priano shredded Parmesan from ALDI ($1.99 for 5 oz, so $6.39/lb), and Lucerne sharp cheddar block cheese from Jewel ($1.49 for 8 oz on sale a while back, so $2.98/lb).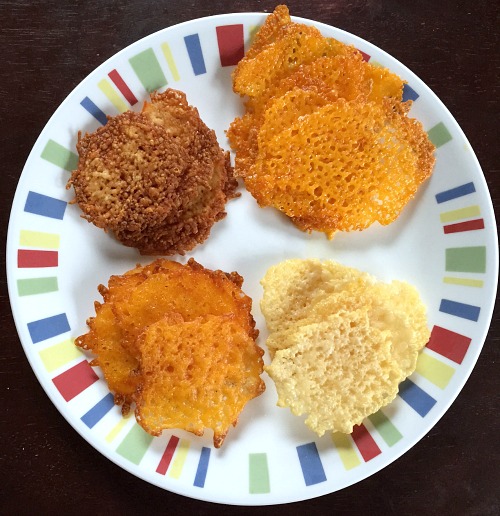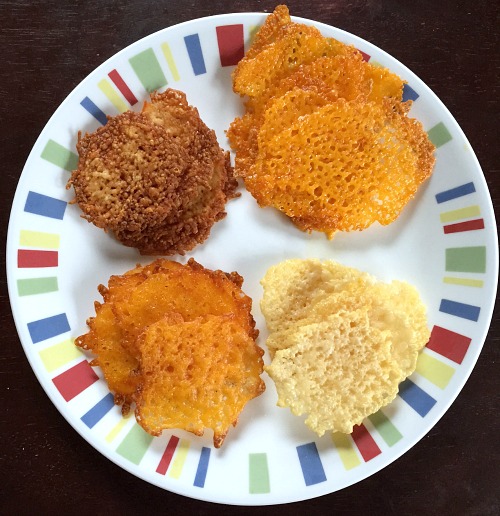 I baked each of my four types of homemade cheese crisps exactly the same way: I used one tablespoon dollops of shredded (or fresh-shredded) cheese flatted out in a circle on a parchment-paper-lined baking sheet, and baked these at 400 degrees for 5 minutes. The results are pictured above, and clockwise from the bottom left you're looking at:
Pre-shredded cheddar
Pre-shredded Parmesan
Freshly shredded cheddar
Freshly shredded Parmesan
By weight, both types of Parmesan came out just about exactly the same before and after baking and left very little grease behind. Freshly shredded cheddar turned out to be the greasiest (watch for your crisps melting together, too) so two ounces of freshly shredded cheddar cheese turned into about 1.75 ounces of baked cheese crisps.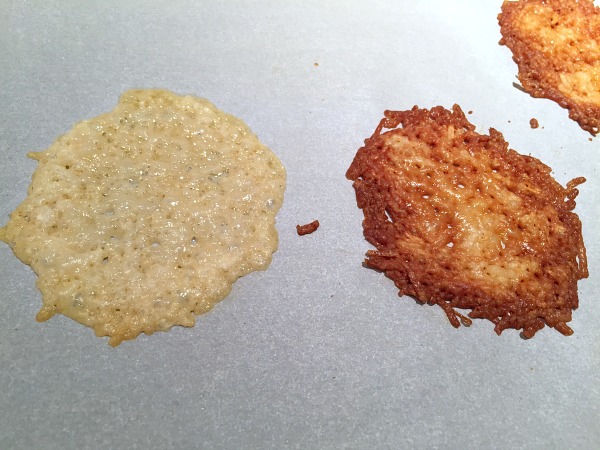 And by the way: Lest you think I somehow snoozed and burned the pre-shredded Parmesan, note that I cooked these two types of Parmesan cheese crisps together on the same baking sheet! If you try this recipe with pre-shredded Parmesan, I'd check at the three minute mark rather than at five minutes.
But how do they taste?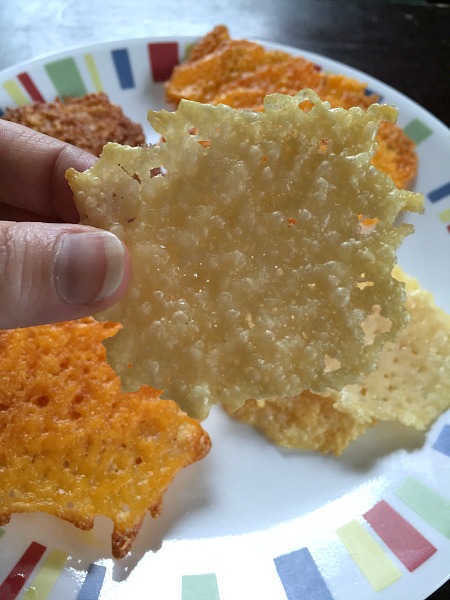 Freshly shredded Parmesan was the clear winner here in every category: Appearance, texture, and taste. Both types of the cheddar crisps were good, but slightly greasy — they could probably benefit from blotting between a couple of paper towels. Lastly, aside from clearly being overbaked, the pre-shredded Parmesan lacked the authentic cheesy flavor of the others, so I'd highly recommend using block Parmesan if possible. (You'll also avoid cellulose and other additives by using freshly shredded.)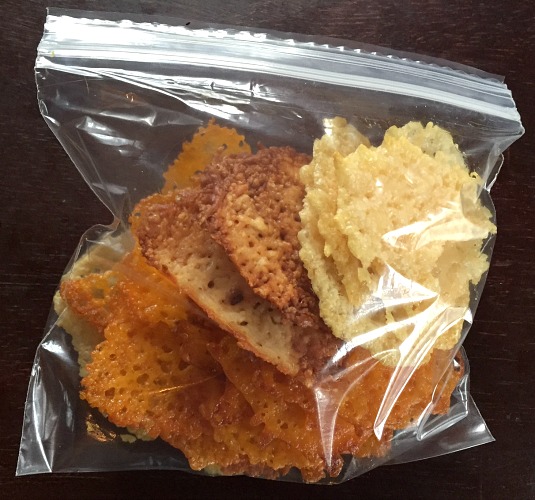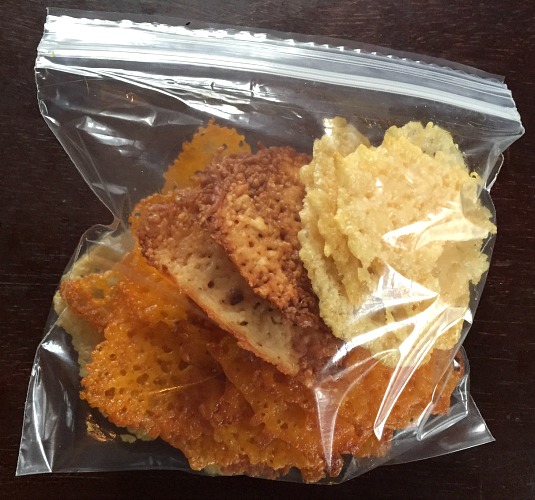 Store your baked cheese crisps in a plastic bag in the refrigerator and use them to top salads, soups, and more.
So… Make It, or Buy It?
Freshly baked cheese crisps are both delicious and easy, and it's also easy to make some extra crisps to store for later to avoid heating up the whole oven for just a few. (And since they take just a few minutes, you can think of throwing a batch of these in an already hot oven after you bake another dish.)
Copycat Mrs. Cubbison's cheese crisps are also much more affordable than their store bought counterpart. Even using block Parmesan at $5.99 a pound, 1.5 oz of homemade baked cheese crisps would run you just $.56 as opposed to the regular $2.49 price of store-bought baked cheese crisps — which is 77% cheaper.
I made my crisps on the larger side, but you could choose to make a batch of Mrs. Cubbison's sized tiny crisps to substitute for croutons or wherever else you'd like an easy low carb crunchy topping. (Make sure that the cheese you use is gluten- and/or corn- free, and you'll also have yourself a batch of gluten free, corn free crisps.)
Copycat Mrs. Cubbison's cheese crisps, printable recipe
Make It or Buy It? Cheese Crisps
Ingredients
8

Tbsp

(2 oz) freshly shredded Parmesan cheese
Instructions
Line a baking sheet with parchment paper.

Add Parmesan cheese in 1 Tbsp dollops, then flatten each out into a circle.

Bake at 400 degrees for 5 minutes, or until edges are slightly browned.

Let cool for a couple of minutes, then peel off baking sheet and serve.
Notes
If you use pre-shredded Parmesan, bake for 3 minutes rather than five. Freshly shredded is highly recommended, however, and don't even try this with the powdered stuff in the green can...
More Make it or Buy It Ideas
If you're looking for more "make it or buy it" ideas, read more here:
Anything else you'd like to see covered in these categories? Comment here!