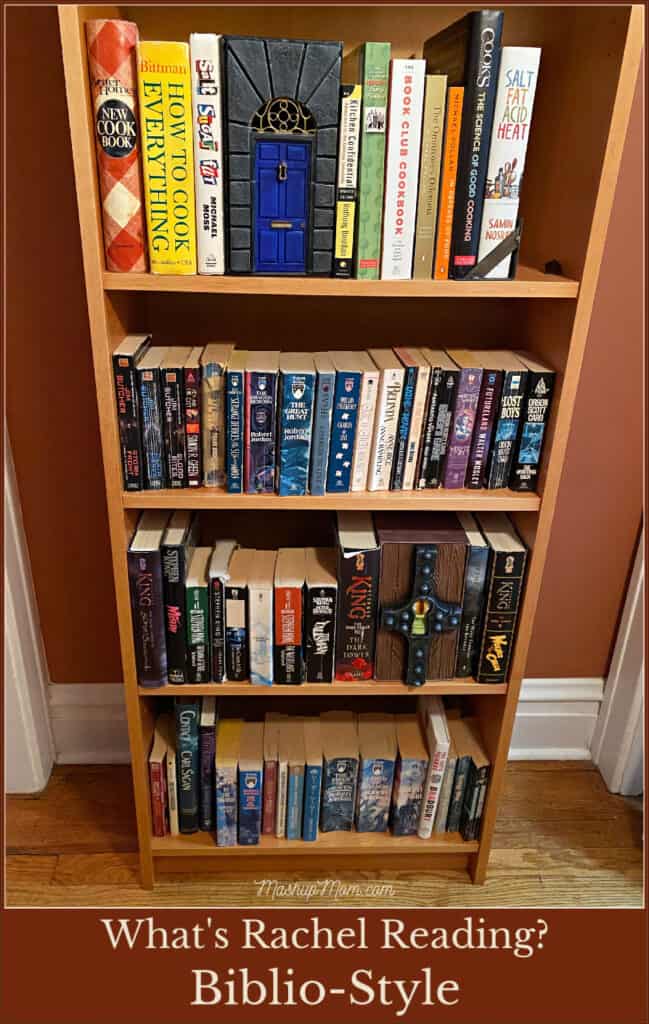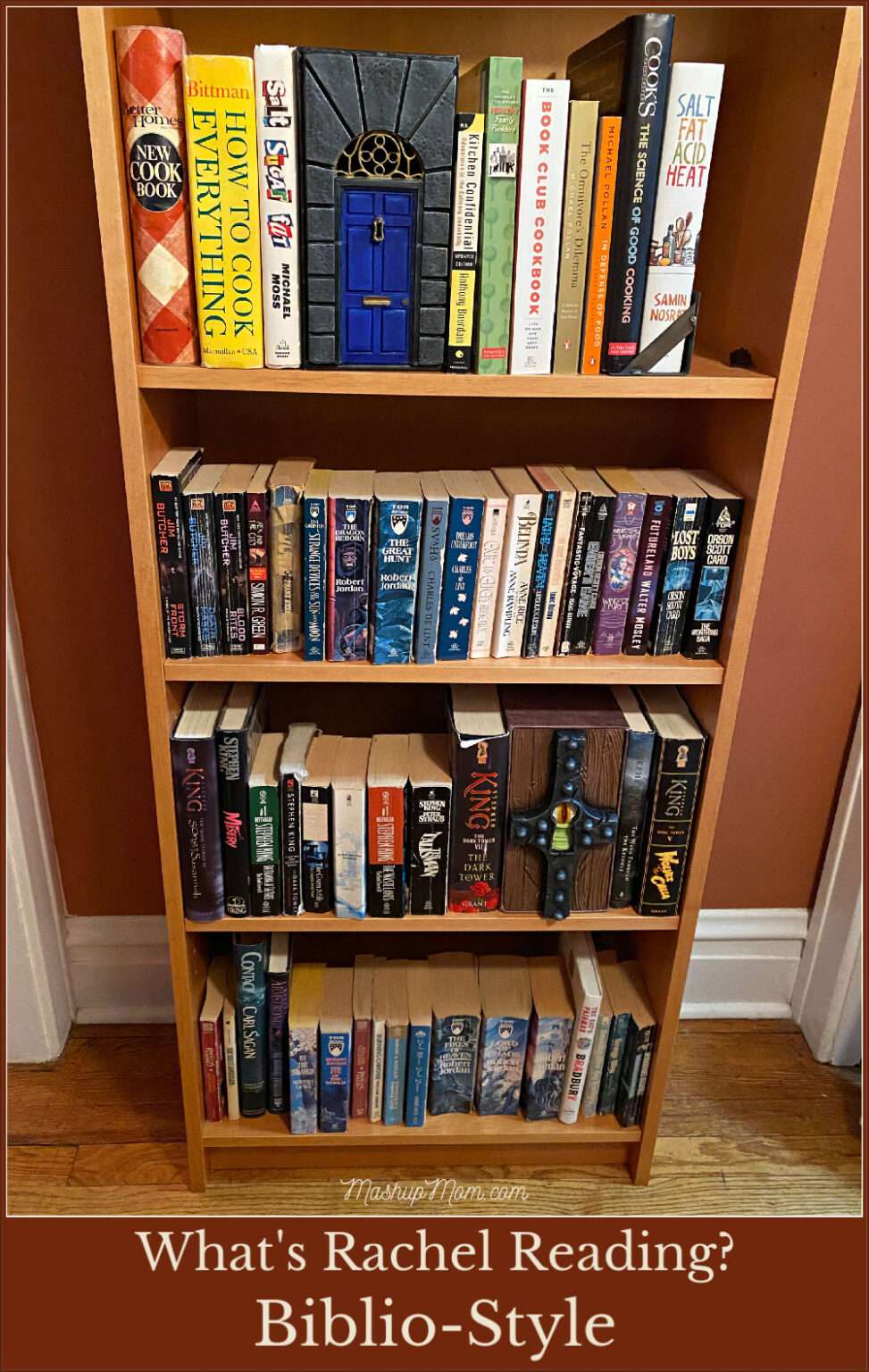 Why yes, my house IS decorated largely in books — always has been, always will be. Books are part of what make a house a home. And, whenever visiting someone else's home for the first time, I sneak a peek at the collections they have out in their public spaces. Just me?
While I did some necessary weeding before we moved a few months ago, I now live dangerously close to a good used bookstore… so, lately I've been eyeing places in my cozy new home where I might be able to tuck more bookcases.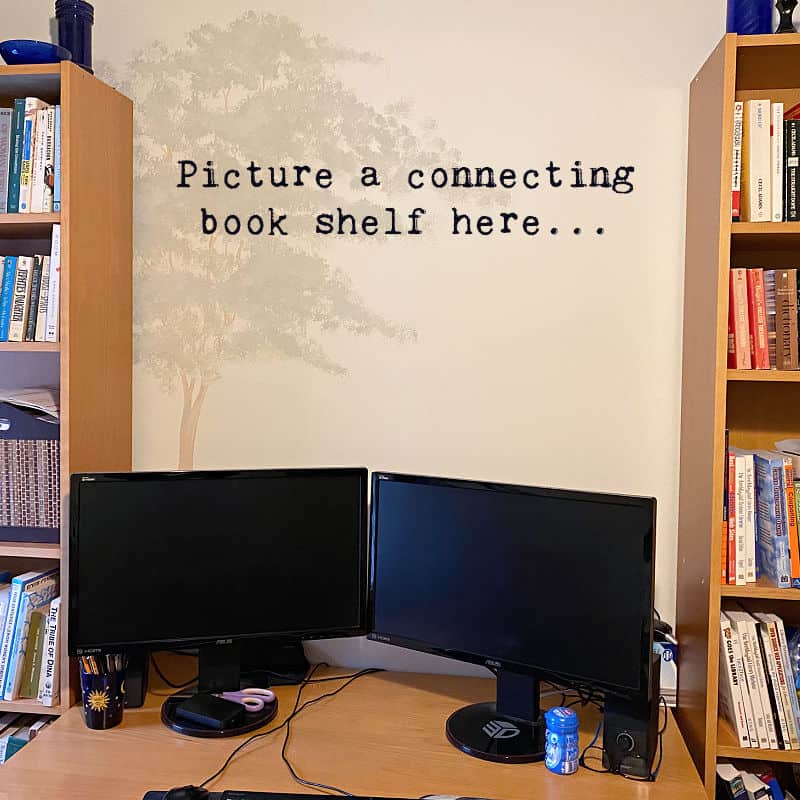 I mean… wouldn't a connecting shelf or two between these two boring old IKEA bookcases flanking my desk kind of mimic the look of built-ins? I think that might be just lovely.
A mini Biblio-Style book review
I found renewed energy for my bookish design musings after spotting Biblio-Style: How We Live at Home with Books at my local library. Enter: Book. Decorating. Envy! This pretty coffee-table-sized book by interior designer Nina Freudenberger, New Yorker writer Sadie Stein, and Architectural Digest photographer Shade Degges spotlights home book collections around the world — with a couple of side trips into unique bookshops, book-filled inns, and more.
This book is not about unattainable libraries, any more than it is about perfectly decorated homes. Rather, it's about the power of books to tell stories, in both the literal and figurative sense. As we found repeatedly, surrounding yourself with books you love tells the story of your life, your interests, your passions, your values. Your past and your future. Books allow us to escape, and our personal libraries allow us to invent the story of ourselves — and the legacy that we will leave behind.

Biblio-Style: Introduction
Arranged in sections from "The Sentimentalists," to "The Arrangers," to "The Collectors," each profile features full-page photos of various book collections, along with the stories of their owners. Each is organized according to the whims of its owner, showing how each personal "biblio-style" reflects the collector's personality.
"Unattainable libraries," however, is a relative term. In some ways Biblio-Style is perhaps better described as aspirational, rather than inspirational. Overall, the featured collectors were obviously well-off: Able to devote considerable time and resources both to their book collections and to the design of their homes in general.
Meta Biblio-Style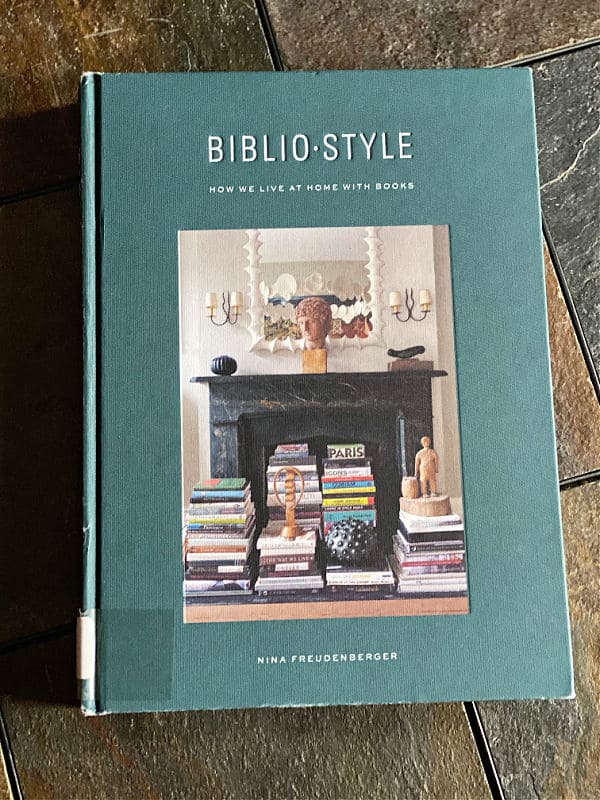 With its large size and full-page photos, Biblio-Style is decorative in its own right, making for a nice coffee-table book to add to your collection. (Yes, the library copy I have here is slightly battered — but books are also meant to be read and enjoyed, right?!)
While the collections themselves were gorgeous, I do wish that the print quality of some of the photos was a bit better. When I visited some of the public collections online, I found brighter, crisper photos. Featured private library collections here range from those of well-known authors such as Larry McMurtry, Ann Patchett, to bookstore owners, comic book writers, musicians and more.
So many places to visit… someday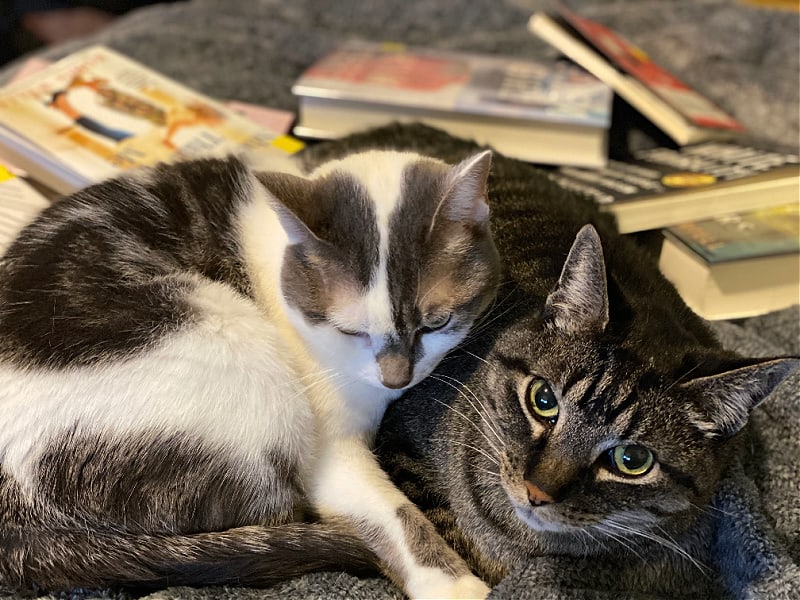 When I'm not decorating with books, I'm decorating with cats. Or, with cats and books, books and cats… but, in my defense: They naturally go together. While the cats are curled up homebodies (and, while the bulk of Biblio-Style features home collections), the book did highlight a few more public bookish places I'd like to visit some day.
For instance… how about Il Convento di Santa Maria di Constantinopoli, an Italian B&B located in an old convent. While their website only shows one bookish photo, Biblio-Style features a number of them, with piles of books everywhere.
Or, how about Bart's Books — the world's largest outdoor bookstore, in Ojai, California. (That's in Ventura County, and, yes: Around 130,000 used & new books qualifies as large!) Read more in Enterprise: "What makes Bart's so different from other bookstores is the fact that most of its books are shelved outdoors, with some of the books on sidewalk shelves, where they are left overnight for customers to buy on the honor system by dropping money through a slot on the front door."
What are you reading this week?
Other than Biblio-Style, I've been reading a lot of library books during our quarantine-ish times. I just, for instance, finished If It Bleeds, a newer short fiction collection from Stephen King, and Waisted, an interesting (yet uneven) novel centered around the lengths women will go to in order to lose weight.
What have you been reading lately? Tell us about it in comments — And, you can browse all of the What's Rachel Reading? book reviews here.