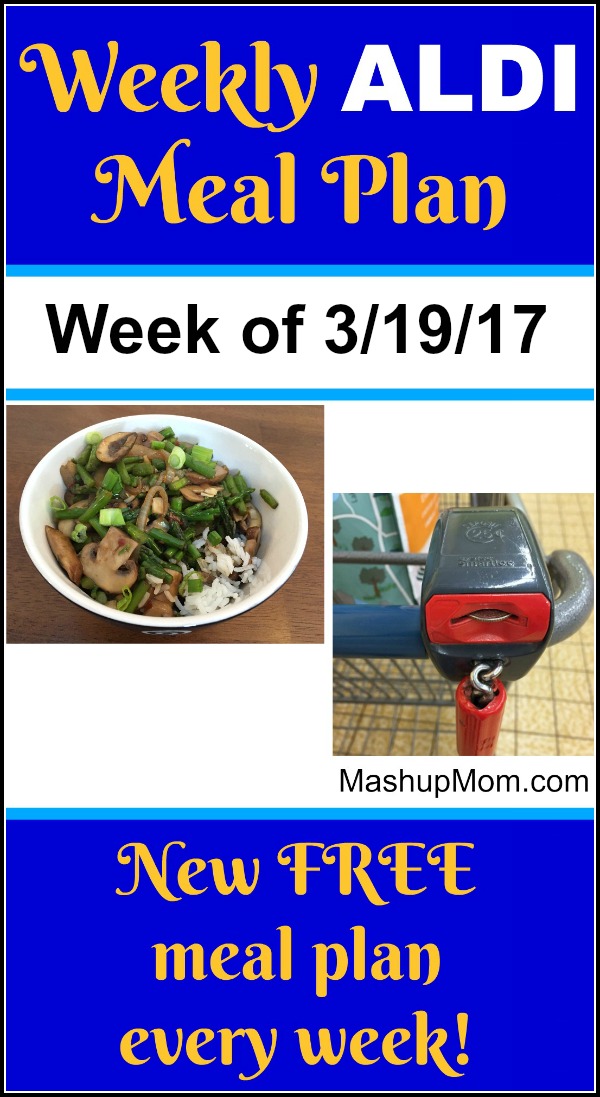 Here's your easy weekly ALDI meal plan for the week of 3/19/17: Pick up everything on the shopping list below, then start cooking on Sunday! Hope you find it useful.
Note: Main dish recipes in these plans only repeat a maximum of once a month, but you will see favorite easy recipes come up again on these weekly ALDI meal plans as the same meats and produce items come up again on sale. Part of the fun of meal planning is mixing old stand-bys with something new each week! 🙂
ALDI meal planning week of 3/19/17 – 3/25/17
Six complete dinners for a family of four for $60.00
Prices here are collected from this week's ad and my local store in the Chicago suburbs, but may vary by location & region. I'm assuming here that you already have pantry basics like olive oil, soy sauce, and spices. Read through the recipes before you shop to make sure you have the necessary pantry staples on hand.
Six Easy Dinners from ALDI for $60.00
Sunday: St. Louis ribs with BBQ sauce. (Seasonings of choice, wrap in foil, & bake on a rimmed baking sheet at 300 degrees for about three hours, or until tender. Unwrap foil, baste with BBQ sauce, and bake another 15-20 minutes or so until sauce is browned nicely, then serve with additional sauce. Note: If you have an Instant Pot, you can also pre-cook the ribs in there much more quickly and just baste and grill or finish off in the oven.) Sides: Oven roasted red potatoes (use 1.5 lbs) and lemon glazed carrots (reserve a couple of carrots for Thursday).
Monday: Asparagus mushroom stir fry served over rice. Sides: Orange slices, strawberries, and egg drop soup (use vegetable instead of chicken broth for Meatless Monday, and use four eggs to make it a little heartier and provide one egg per person).
Tuesday: Garlic lemon pork chops (use the assorted pork chops; substitute a finely chopped green onion for the chives and vegetable broth for chicken broth). Sides: Salad topped with bacon bits, plus mashed red potatoes. (Use 2 lbs potatoes, washed but unpeeled, boil until fork tender, drain, and mash with 1 cup vegetable broth, pepper, dried parsley, butter, bacon bits, and minced garlic to taste. Chop and stir in any green onions you have left.)
Wednesday: One pan paprika chicken drumsticks & rice (use half the pack of chicken). Side: Sauteed spinach with garlic, lemon juice, & crushed red pepper, plus bananas.
Thursday: Sheet pan chicken drumsticks & veggies (use other half of chicken, and peel & cut up a whole carrot or two instead of using baby carrots). Side: Salad topped with several sliced hard boiled eggs, sliced cucumber, and bacon bits, plus orange slices.
 Friday: Crunchy homemade fish tenders with tartar sauce. (Substitute Swai for cod and crushed Rice Squares for Panko. Crush by hand or run through the food processor, and three cups crush down to about 1 cup of "Panko.") Sides: Oven baked red potato wedges (use the rest of the bag), bananas, and oven roasted asparagus with crushed red pepper, lemon juice, olive oil, sea salt, & pepper.
Saturday: Leftovers, or date night!
Shopping list
Dairy & refrigerated
A dozen Goldhen eggs, $.99
Grocery
Two boxes 32 oz Chef's Cupboard vegetable broth, $2.78
3 lbs Earthly Grains long grain white rice, $1.29
Millville Rice Squares, $1.99
Burman's BBQ sauce, $.99
Burman's tartar sauce, $.99
Tuscan Garden salad dressing, $1.29
Tuscan Garden bacon bits, $1.29
Meat & seafood
5 lbs chicken drumsticks, $3.45
2 lbs Swai (frozen), $5.49
4 lbs St. Louis pork spare ribs, $7.98
2 lbs assorted pork chops, $4.58
Produce
2 lbs asparagus, $2.78
3 lb yellow onions, $.79
Two packs baby bella mushrooms, $2.98
3 heads garlic, $.99
Bunch green onions, $.99
8 oz bag spinach, $1.49
1 lb organic lemons, $1.79
One red bell pepper, $.69
2 lbs carrots, $.49
16 oz broccoli crowns, $1.59
5 lb red potatoes, $1.49
1 bag salad of choice, $1.99
5 oz SimplyNature organic mixed greens, $1.99
4 lbs navel oranges, $3.29
16 oz strawberries, $2.29
Cucumber, $.59
2 lbs bananas, $.76
---
That comes to $60.09.
You can adapt this ALDI meal plan
If one or more of these recipes aren't to your taste or if you have other ingredients to use up, just adapt this ALDI meal plan to your own family's preferences or use these ideas to supplement your own meal planning for the week. These meals will likely run you even less if you supplement this week's ALDI purchases with clearance meat you already have in your freezer, produce you have on hand, and/or sale produce from your local produce market.
Let me know if you give it a try!
Subscribe above to receive a weekly email message about new ALDI meal plans — no spam, just one email a week with the new plan! 🙂
Browse all of the weekly ALDI meal plans here *** note: prices may have changed since originally posted.