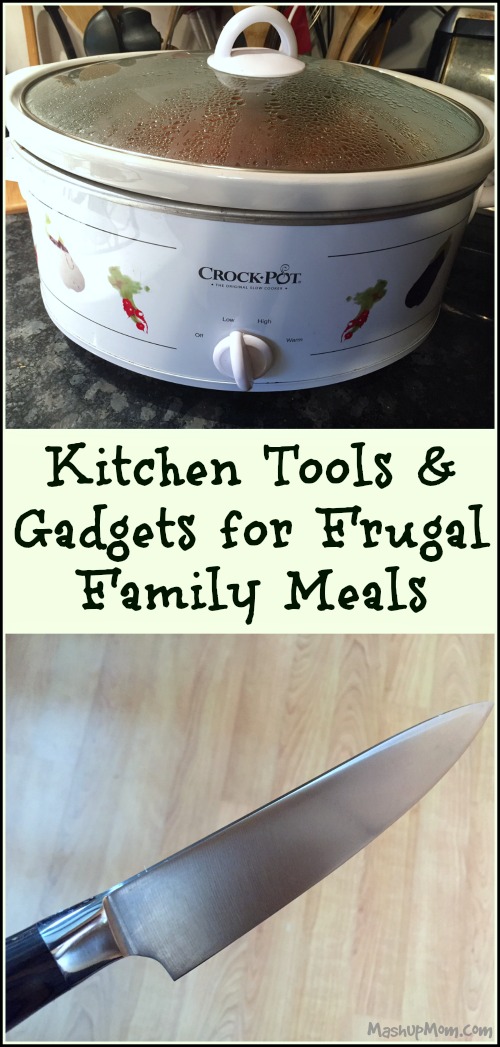 A couple of months ago we talked about the top pantry staples to keep on hand in your cabinets — So today, let's talk about the top 15 kitchen tools and gadgets to help you easily transform these staples + any given week's sale ingredients into frugal and filling meals for your family! What's worth the investment, and what's more optional?
Fair warning: I kind of adore kitchen tools, so have deliberately capped this list at 15 to ensure that it remains at least somewhat selective. If your style of cooking differs from mine, your list might also differ from mine. This list is also for cooking, not for baking (so you won't find, say, a KitchenAid stand mixer on here even though a dedicated baker might beg to differ).
Top 15 Kitchen Tools and Gadgets for Frugal Family Meals
Having the right tools for the job makes dinner prep so much easier! Note: This list is in no particular order. 🙂
1) One Sharp Chef's Knife
Back on Amazon Prime Day this year I ordered this highly rated 8″ chef's knife (for about the same price as it is right now; so much for Prime Day discounts!). Worth. Every. Penny. I didn't realize just how bad my old knives were until I used the new one for the first time — it cuts through everything from raw chicken to carrots like butter, and has cut my prep time down tremendously, now that I am not trying to saw through everything.
2) A Large Slow Cooker
I started out with a basic little four quart Crock-Pot years ago, but eventually realized that it just wasn't going to do it for us! My current seven quart Crock-Pot is a life saver when it comes to fitting in a whole chicken, big pot of soup, or large roast (I have salsa pork tacos going in mine as I type, and the smell is maddening…), and they regularly go on sale under $20. I've used my slow cooker at least weekly for several years, so would say I've gotten my money's worth here!
I prefer the basic manual slow cooker without a timer because they seem more reliable and consistent — and, the fewer bells and whistles, the less chance for something to go wrong. Nothing beats coming home to a fully cooked meal, so browse through some of my favorite slow cooker recipes.
Note: Some people have asked on Facebook why I choose to include the Crock-Pot rather than the Instant Pot. I do own and use both, but here are the reasons why my Instant Pot will never replace my Crock-Pot. 😉
3) A Small Food Chopper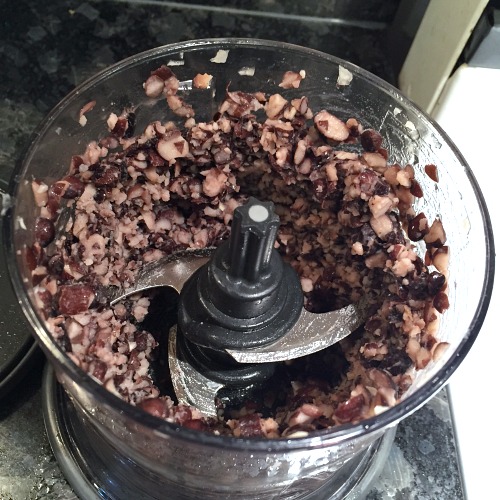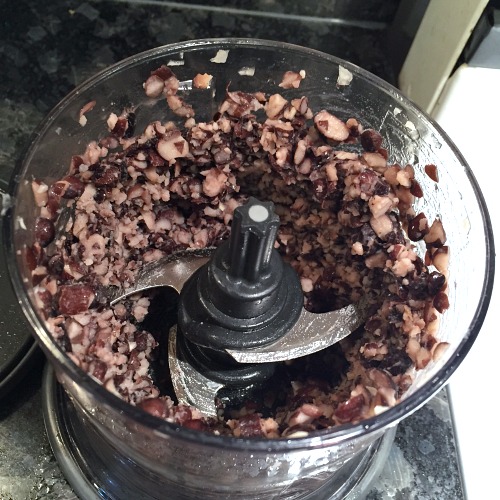 I highly recommend this little Ninja Express food chopper, which is a life saver when you want to chop, say, a bunch of garlic cloves or a few hot peppers for salsa or chili but don't want to haul out or clean the larger food processor. I use mine for everything from black beans to chipotle peppers (and just from this paragraph, you can probably figure out my favorite types of food…!).
4) A Food Processor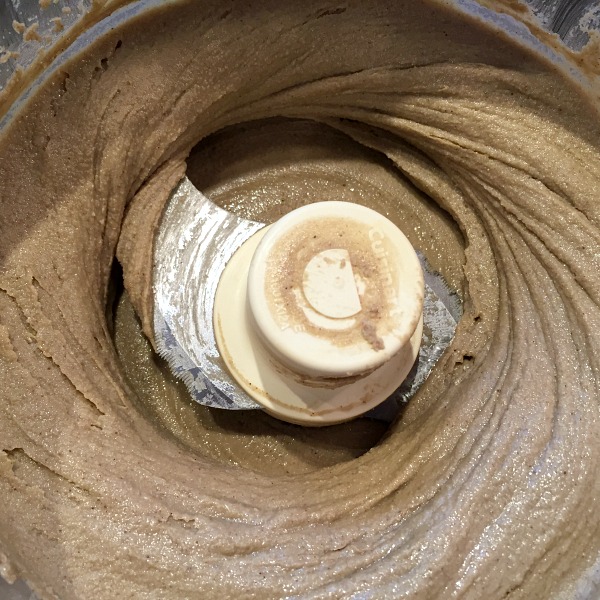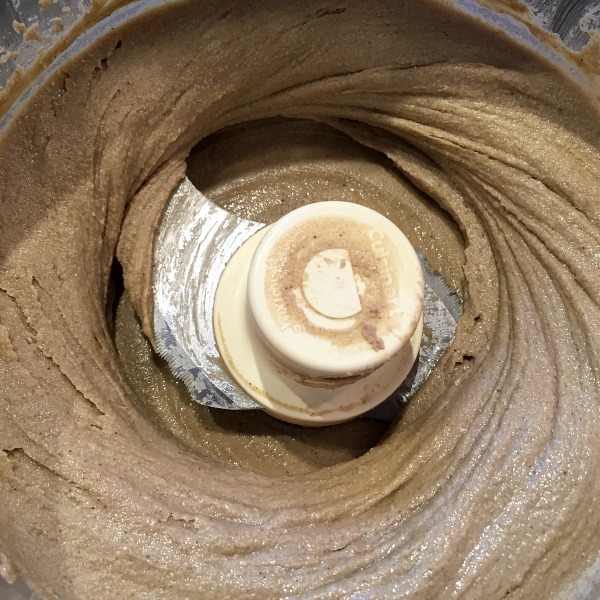 It may seem redundant if you already have a little food chopper, but sometimes you just need the bigger food processor — especially if you like to make homemade nut butters, salad dressings, pesto, or baby food. I have an older Cuisinart which they don't appear to sell any more, but keep an eye out at Kohl's to find a great deal on similar ones when they run % off codes + Kohl's Cash back.
Note: Here you will definitely see a difference in quality with the cheaper food processors. I started with a $24.99 food processor that strained to process anything, sounded like a small aircraft taking off, and burned out in about a year before making the investment in my current one.
5) Measuring cups and spoons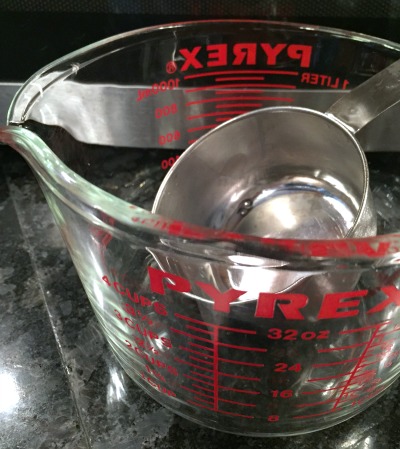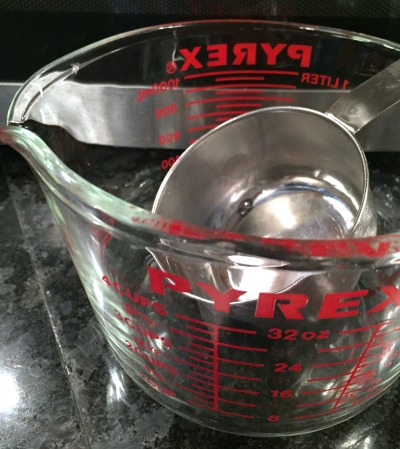 Back to basics with measuring cups and spoons, but first, a question: Why do the 1/4 cup measures always disappear? Seriously, I have multiple measuring cups for every measurement but 1/4 cup rattling around here. ANYway, you'll want both a liquid measuring cup for easy pouring (I almost always use a four cup Pyrex one), and a set of dry measuring cups for easy leveling of things like rice and flour, as well as at least one set of measuring spoons. (On those, the ones that hold together on one ring are cute but impractical, since you'll often use multiple measurements in one recipe — only pick a set up if they're removable from the ring.)
You can pick up a set of plastic measuring cups for as low as $1.00 at Dollar Tree, but I've cracked and broken enough of those in my time that I now prefer the stainless steel ones. (Here's a handy set of stainless measuring cups AND spoons.)
6) Cutting boards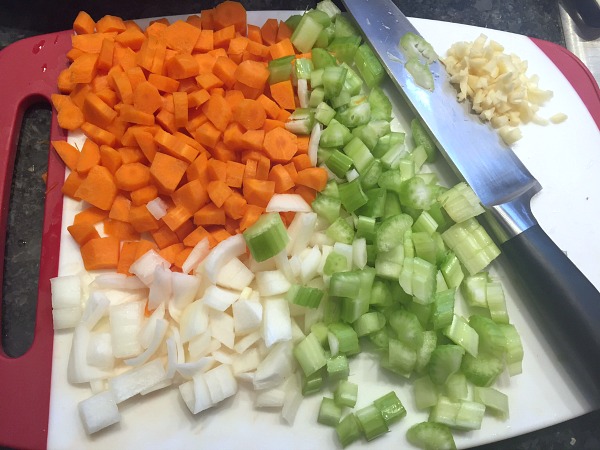 It's useful to have multiple cutting boards if you make larger meals or often cook recipes back-to-back, so consider picking up a little set. (It's also good to have a smaller board on hand for little jobs like slicing a single tomato or apple.) I purchased up my plastic cutting boards on Amazon, but have also had good luck with the wooden ones from IKEA.
7) Basic Cooking Utensils (Spatula, Wooden Spoons, Ladle, Tongs…)
So I'm kind of cheating by listing cooking utensils all together, but I think we could quickly fill up the top 15 just on those otherwise, right? If you're just starting out, I'd go with a set of basic bamboo utensils plus a nonstick kitchen utensils set.
Psst — throw a good can opener in your utensil drawer, too! 😉
8) Cookware Set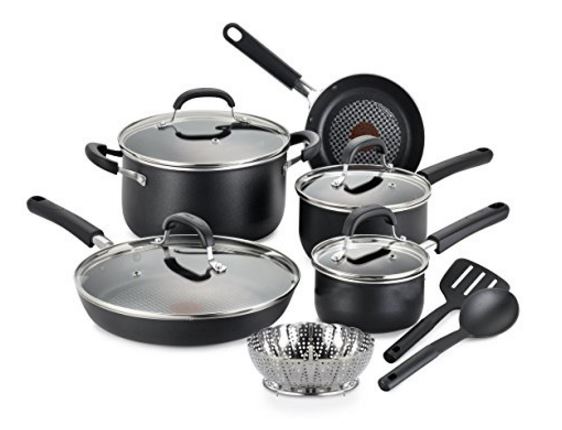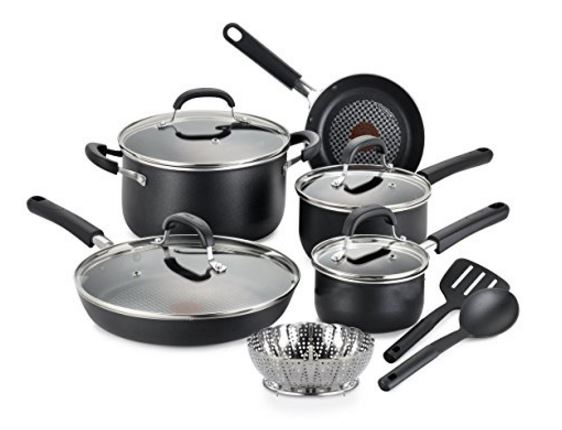 I'm using a super old Circulon non-stick set that I'm looking at replacing one of these years, but am not quite there yet… You can currently get into a highly rated T-FAL nonstick set for about $50, though, and it comes with multiple sizes of pots and pans for multiple jobs (including a large skillet with a lid, which is super handy for recipes like burrito bowls!).
9) 12″ Cast Iron Skillet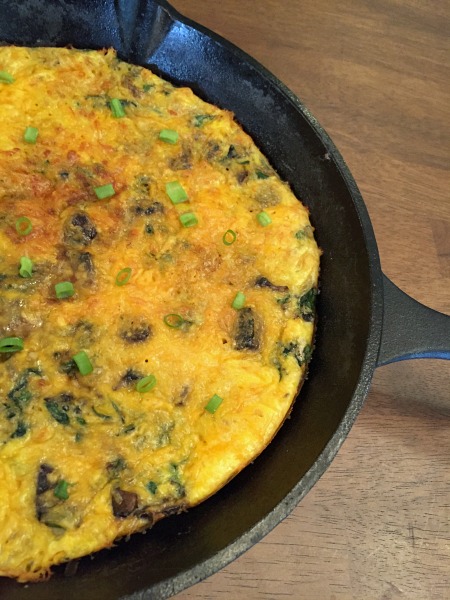 You'll want a cast iron skillet for so many reasons, and at the time of this post you can pick up a pre-seasoned 12″ skillet for under $10 — well worth the investment. (ALDI also sells them for around $10 as a special buy a couple of times a year.)
These go straight from stove top to oven, making them great for dishes like frittatas, or, say, skillet lasagna. They are great for adding a lovely sear to meat. They're helpful if you have an iron deficiency. They cook all kinds of foods easy and beautifully, and you'll never part me from mine. 😉
10) Rimmed Baking Sheets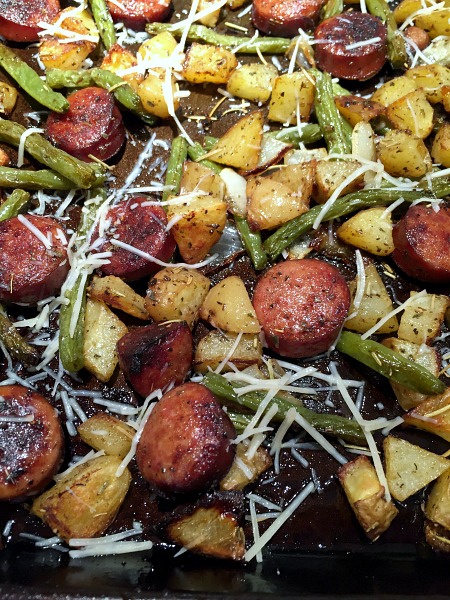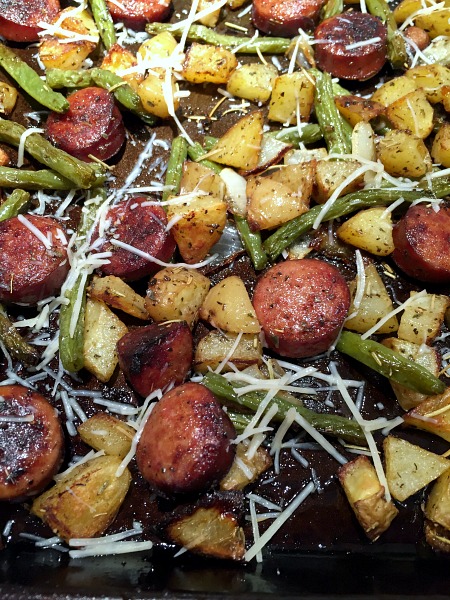 You must have a rimmed baking sheet or two on hand — not just for cookies, and not just for flatbread pizza, but also for: Easy all-in-one sheet pan dinners!
ALDI occasionally stocks baking sheets as a special buy (especially around the holidays), but you can pick up a cheap one at Target or Walmart or even invest in a heavier duty half sheet pan with baking rack to expand your repertoire out to recipes such as dry rub chicken drumsticks, which will benefit from the extra air circulation.
11) Colander
You'll need a large colander for everything from draining pasta, to draining ground beef, to washing berries, to rinsing canned beans. Again, you can find cheap (yet flimsy) smaller ones at Dollar Tree, ALDI has nicer metal ones on special buy a couple times a year, or you can pick up a sturdy and functional colander fairly affordably at Walmart.
12) Dutch Oven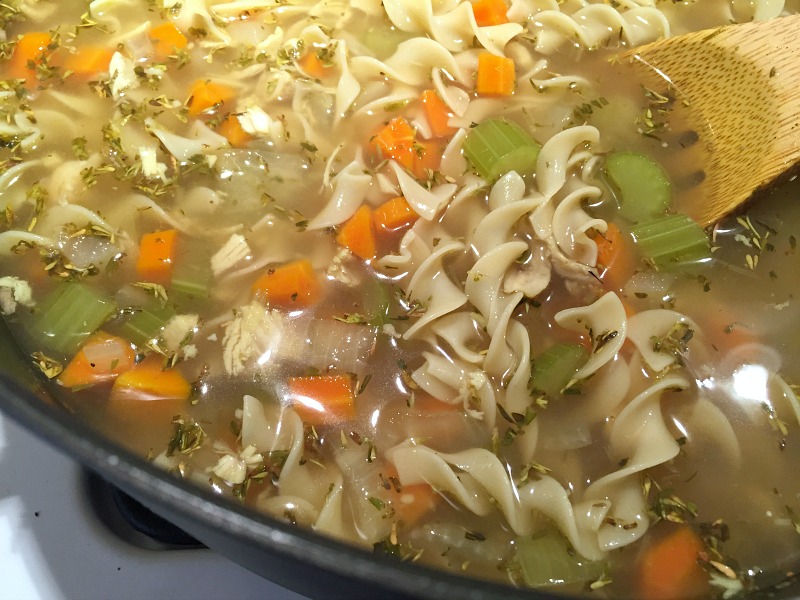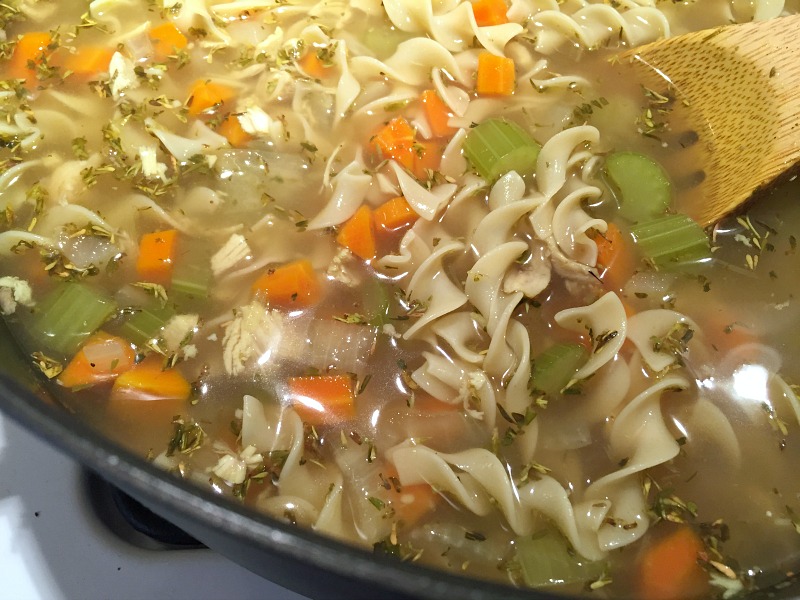 A large oven-safe Dutch oven also doubles as a big soup pot — I use mine for everything from chicken soup, to pot roast, to turkey chili, to corn on the cob. I have both a five quart cast iron Dutch oven and larger Simply Calphalon nonstick Dutch oven, which are both great in their own way. (Watch for significant sales on the Calphalon Dutch oven around the holidays every year, which is a great time to buy cookware of any type.)
13) Food Storage Containers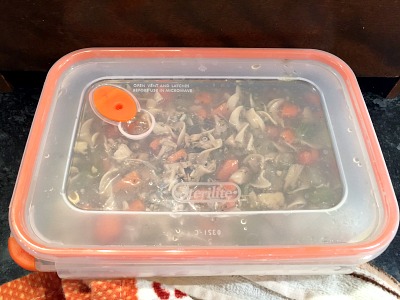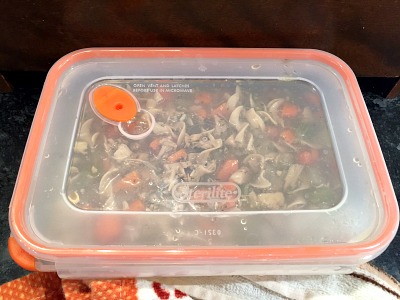 You can invest in a cheap Rubbermaid set to get you started, but I'm a huge fan of Sterilite food storage sets, for two main reasons. 1) They latch really tightly, so don't spill if your children knock them out of the refrigerator onto the floor, and 2) Color. Coded. Lids. Enough said! I haven't switched to glass food storage because of the aforementioned children; the Sterilite currently works great for us.
14) Mixing Bowls
Invest in a little set of mixing bowls to use for everything from mixing to marinating to setting aside chopped veggies until you need them. I prefer plastic or melamine to start with (since they're non-reactive for marinating), but a stainless steel mixing bowl set is somewhat sturdier and easier to clean.
15) Meat Thermometer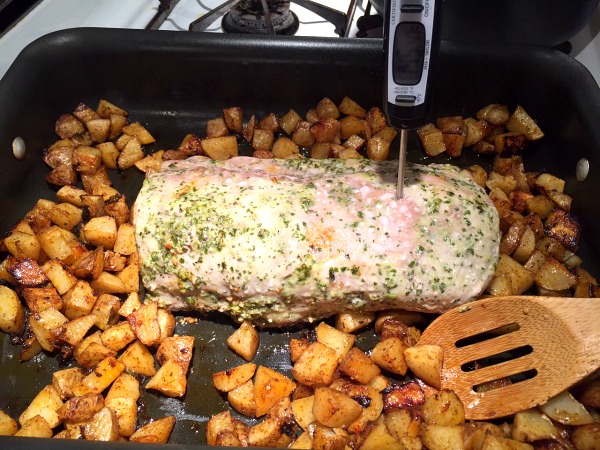 Food safety first! Color is not always an indication of done-ness, so you'll want to pick up a reliable meat thermometer to check whether your meats are cooked to temperature before serving.
Your turn
Would your list of top kitchen tools differ from mine? I'd love to hear your comments and suggestions!