Earlier today we talked about stocking your pantry with ALDI staples, giving you the groundwork for quick & easy meals at times when you may not be able to get out to the store for a while. Now, let's talk about my favorite way to stock up and stockpile household products by using Amazon's handy subscribe & save service: You don't even have to leave your house!
Most of you have probably seen some of the recent news stories about people stockpiling and panic buying around the current epidemic. In addition to a well-stocked ALDI food pantry, your subscribe & save stockpile of health & household items can also help see you through anything from a 14 day quarantine, to 10 days of kids with the flu, to any unplanned emergency where you just can't get out to the store.
Why Amazon subscribe & save in particular? Well, because I use it just about every month myself, so that I never have to worry about running out of anything from toilet paper to bar soap, from ibuprofen to cat food. (I don't often buy household items at ALDI, aside from the occasional sale or clearance deal, since I generally do better on these products on Amazon.)
Stocking up with Amazon subscribe & save
We're not talking here about hoarding all the face masks or hand sanitizer, but about picking up ordinary household items so you don't need to worry about running out, having to head to the store at the last minute, or being caught unprepared when you're advised to stay in.
The cool thing about using subscribe & save, too, is that subscribe & save items are stocked and sold by Amazon. This means that you once you subscribe, you don't have to worry about third party sellers jacking up the price of items to profit off people's panic. (You can change your delivery date under your account, too, if you want items to come earlier.)
How does subscribe & save work?
If you're new to Amazon subscribe & save, here's how it works. When you order an item on Amazon using subscribe & save, you're signing up for repeat deliveries of a product. In exchange, you get free shipping plus (often) a 5-15% off discount on Amazon's single order price on that product.
Rather than shipping immediately, any item to which you subscribe gets added to your next monthly subscribe & save delivery order, which is scheduled for the same date each month. You can always, though, skip a shipment, change delivery dates, or move items to a later month's shipment at any time.
Subscribe & save orders ship for free; you don't need to have Prime, and there is no minimum purchase threshold.
Most subscribe & save orders containing one to four items qualify for a 5% discount off the one-time purchase price, while most orders of five items or more qualify for a 15% off discount. You'll need to have five items scheduled in the same month's delivery in order to get the 15% off. Once you add that fifth item, the 15% discount automatically applies to all qualifying items scheduled for that month.
Your first shipment of any item will be locked in at the price at the time you ordered, while future shipments will be charged at the current Amazon price, so could go up in cost. You'll receive an email with current pricing about a week before your order is due to ship, however, and can make cancellations or adjustments at any time. Your credit card will not be charged until just before the items ship.
Hot tip: Adding cheap "filler" items can help you save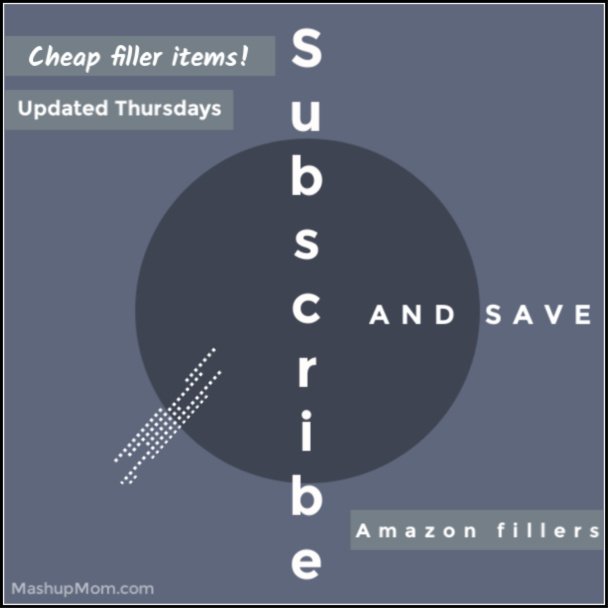 On many Amazon subscribe & save items, you'll save more when you have five or more separate subscriptions arriving in the same month (up to 15%, or even 20% on select Amazon Prime/Family products). Adding in low cost "filler" items reduces the cost of your higher-priced items — so sometimes can actually make your entire order cheaper than if you only picked up a couple of higher-priced products.
Every Thursday, I update this huge master list of cheap subscribe & save items — giving you lots of choices when it comes to subscribe & save fillers to help you save.
Using coupons with Amazon subscribe & save
Always check to see if there is a coupon listed on the product page for any subscribe & save item. There are three places to look: 1) under the item's price in the upper right of the page, 2) under the subscribe & save price, or 3) in the middle of the page above the item's description. To add the coupon to your account, just click where it says "Clip XYZ Coupon," or check the box that says "Apply XYZ coupon."
Your subscribe & save 5%-to-15% off discount will come off the original price of the item, and then any dollar- or cents-off coupons will come off that subscribe & save price. Percent-off coupons, however, stack with your subscribe & save percent-off discount to take a total percentage off the one-time price of the item.
More subscribe & save fun?
If you just can't get enough of that Amazon subscribe & save, browse through all Amazon subscribe & save items here.
As always, prices on Amazon can change at any time. Always check the current price before subscribing. As an Amazon associate, I earn from qualifying purchases.