This review has been sponsored by Restaurant.com as part of its Review Crew program. I am a Restaurant.com sponsored blogger. All opinions in this post, however, are my own.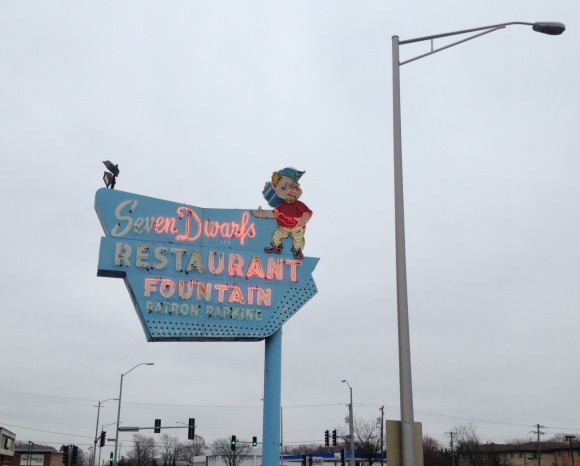 We must have driven by the Seven Dwarfs restaurant in Wheaton, IL a million times, but never before stopped in. (Yes, the sign has been this way as long as I can remember — I think it's part of their deliberate dive diner charm!) Last week during Spring Break, though, we finally decided to stop by and check it out on our way to a family bowling outing.
Minor quibble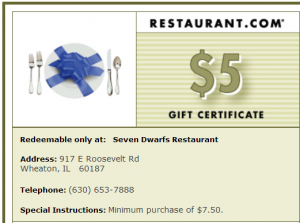 The only available Restaurant.com certificate denomination for Seven Dwarfs was $5.00, which is pretty minimal when you're feeding a family. We had no problems purchasing or redeeming, but I'd really like to see $25 certificates to make it more worth going through Restaurant.com and encourage us to go back.
They take their theme seriously

I mean, very seriously. As soon as you walk in, you're greeted with a full length wall featuring a Snow White and the Seven Dwarfs mural, which was so long I couldn't even fit it all in one photo.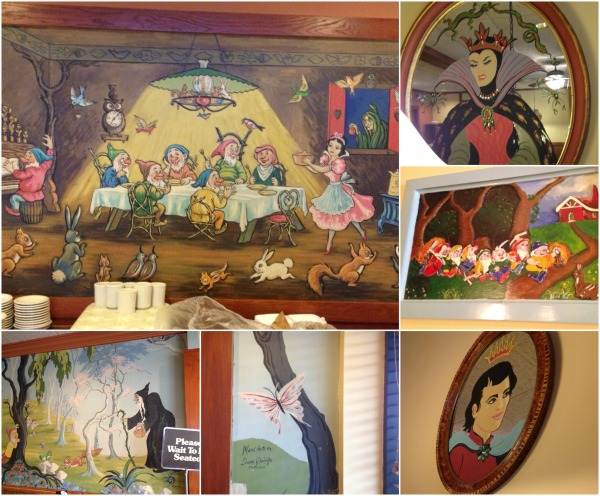 And, wherever you're seated, your kids will never run out of artwork to admire — this is just a small sampling of what you'll find in an entire restaurant full of Seven Dwarfs kitsch.
But what about the food?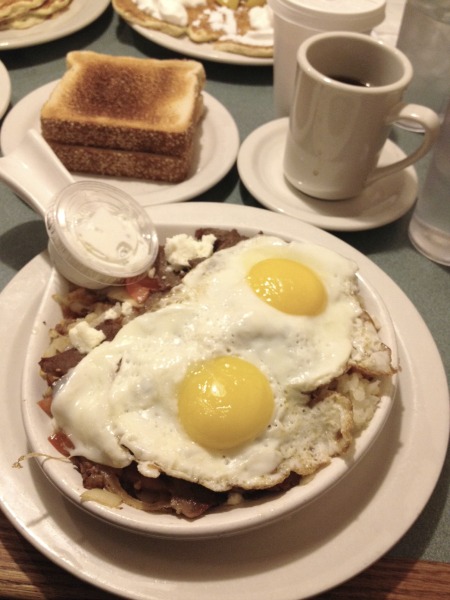 We're talking typical Greek-ish diner food here, heavy on breakfast specials, burgers, and sandwiches. I'm a firm believer in going with a restaurant's apparent strengths, which in this case looked like breakfast and Greek specials. As a fascinating mashup of both, let me present: The Athenian Skillet.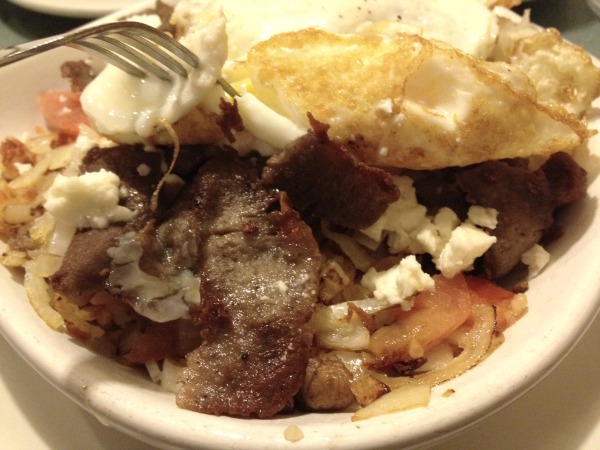 In an interesting twist on the traditional breakfast skillet, this featured hash browns, onions, tomatoes, gyro meat, and feta, topped with two eggs cooked to order and served with a side of tzatziki sauce. Well: Yum, what a good idea! The gyro meat itself was darn tasty, so I might go with the gyros plate next time.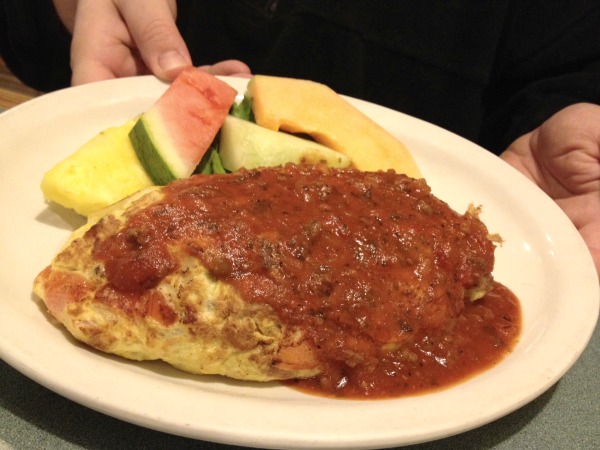 MashupDad also went the breakfast-for-lunch route, and was quite pleased with his Italian omelet, which was filled with sausage, onions, and mozzarella and topped with meat sauce. It was fun to see some more unusual options like these on the breakfast menu.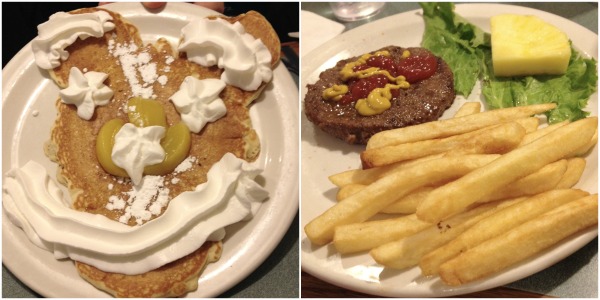 The kids, of course, went with their favorite restaurant standbys: Mickey Mouse pancakes for Mr. 7, and bunless burger with fries for Junior High Guy. They enjoyed, although Mr. 7 picked off those suspicious looking peaches (I don't blame him!) and then sugar crashed right after bowling, lol.
The service
… was, honestly, pretty slow, although our waitress was quite pleasant. The place wasn't particularly busy — but we still had to flag someone down every time we wanted a coffee refill. Not a place to go if you're in a hurry, but a fun restaurant to visit with the kids. Try the Athenian skillet, if you do!
About Restaurant.com
The only thing better than going out for a great meal, is getting a great deal. Restaurant.com has been filling tables since 1999 and is the destination for dining whether you like to plan ahead or find a meal on the go. Restaurant.com helps diners discover the perfect dining experience and boasts nearly 50,000 dining deals available every day, even on the weekends! And, the deals are easy to use – present the certificate to the server on a mobile device, or print out a copy, and voilà – the savings will be deducted from your final bill. Bon Appétit!