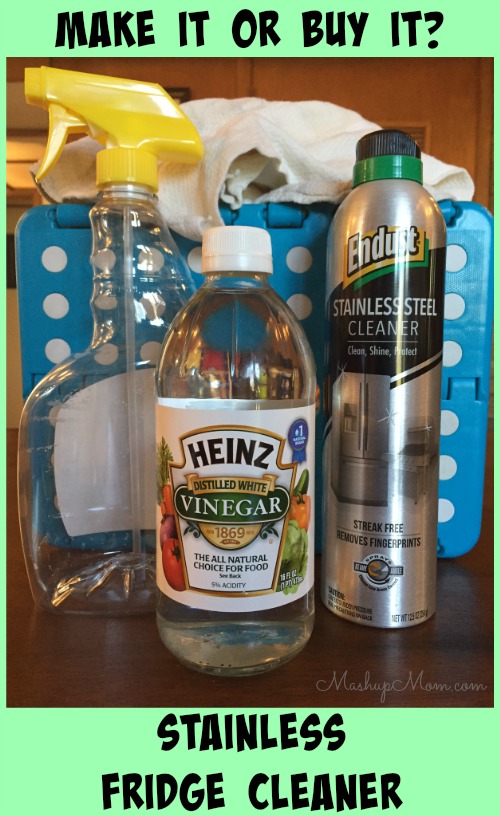 Welcome back to Make It or Buy It! Up today: DIY stainless steel refrigerator cleaner vs Endust. Because a stainless steel fridge is beautiful, but it is also a fingerprint magnet extraordinaire…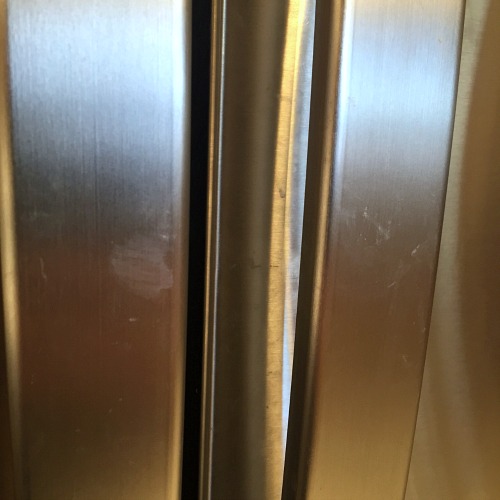 It's not particularly easy to take photos of a reflective surface in a kitchen with poor lighting and a lot of glare, but you can see that I had a lovely collection of fingerprints and smudges on my refrigerator door handles, here.


And you can also admire these various other smudges and spots all over both the refrigerator & the freezer doors. No, I don't normally let the fridge get this spotty — but figured that it would make for a truer test! lol
DIY stainless fridge cleaner vs store-bought (and why my kitchen smells like salad dressing…)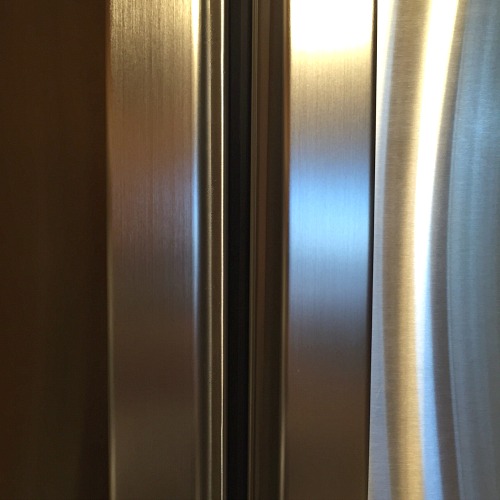 So here's the "after" photo of the refrigerator handles after cleaning. On the right, I used a can of Endust stainless steel cleaner. On the left, I used undiluted white vinegar in a spray bottle. With each, I wiped in the direction of the grain with a clean soft cloth
I did find that the Endust worked better when I sprayed it directly on the fridge, but that the vinegar worked better when I sprayed it directly on the cloth and then used that to wipe.
How does the DIY fridge cleaner stack up vs. the competition?
Both products removed fingerprints admirably — they pretty much wiped right off with either the white vinegar DIY fridge cleaner or the can of Endust spray cleaner. Endust, however, left behind more of a shine.
So, then I grabbed something else out of my pantry to help the vinegar along. Just drip a tiny bit of olive oil on a clean soft cloth and use that to polish the fridge — again, in the direction of the stainless steel grain. Don't use a lot, because you don't want your refrigerator to be oily; just a tiny bit was enough to give it a nice sheen and make it look fairly comparable to the Endust side.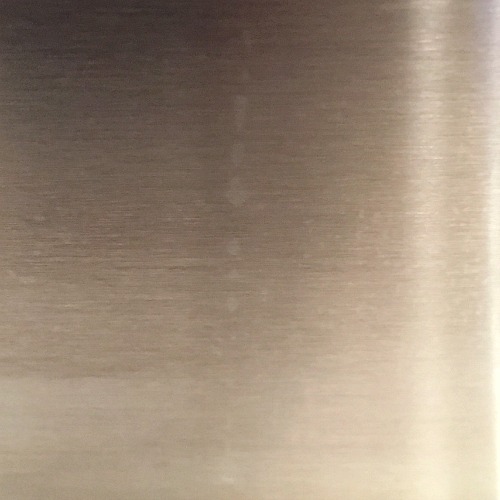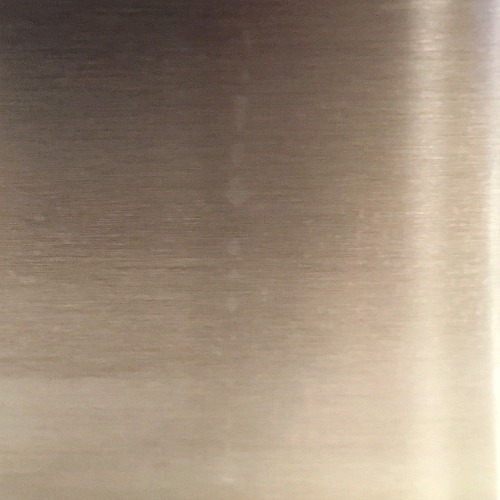 While the vinegar worked nicely to remove fingerprints and smudges, however, it wasn't as effective against drips and water stains. Cleaning with vinegar did help make this drip above much less prominent, but it stubbornly refused to go away entirely — however, one spray of Endust took care of that.
My kitchen still smells faintly of salad dressing
… but there are much worse smells in a kitchen, don't you think!? The Endust smelled faintly of artificial lemon, but that scent didn't linger. While it did take a little more effort to remove streaks and shine up the fridge with the vinegar & oil method, we're talking a difference of maybe a minute, so that's not really a deal breaker.
Let's talk cost
Just a glance through this week's grocery ads shows a couple of stores selling gallons of white vinegar for $1.49, while one can of Endust retails for $5.00-$6.00. The DIY stainless steel refrigerator cleaner requires a negligible amount of olive oil, but this I always have in my pantry anyway.
You'll probably find many more uses for the vinegar than just cleaning your stainless steel fridge, but that's quite a few more polishes for quite a bit less.
So… Make It, or Buy It?
Well, here's what I'm figuring. As a general rule I'm going to use the vinegar + oil method to clean my refrigerator: It's easy, it's incredibly affordable, it's natural, and… I like the smell of salad dressing. I'm keeping the bottle of Endust for the occasional stubborn water stain, but figure I won't have to pick up another one for the foreseeable future if I limit my use to that. What other tips do you guys have for keeping stainless steel appliances looking shiny and new?
More Make It or Buy It
Hope you enjoy this new feature on Mashup Mom! Browse more Make It Or Buy It posts as I add them, here.