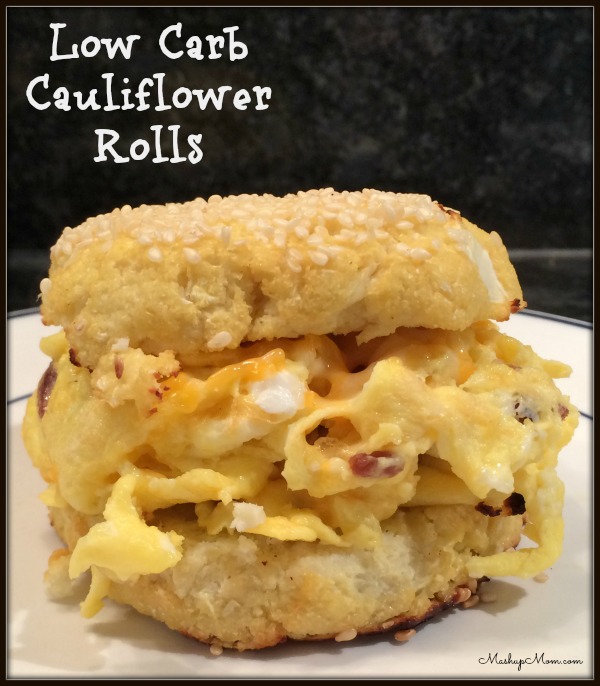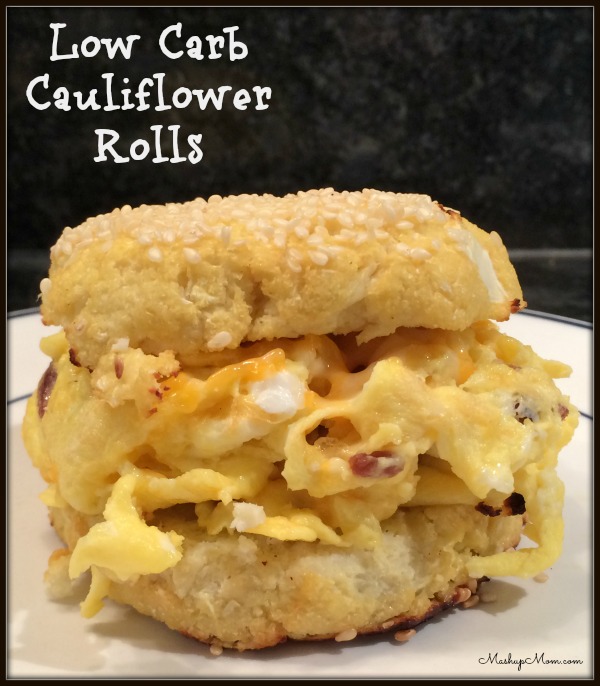 Welcome back to Sunday Scratchups, your weekly recipe from scratch around grocery store matchups, coupons, and sales. This week ALDI in Chicagoland has cauliflower on sale $.99 a head, which is a great price. So I'm bringing you a recipe I found on Pinterest and first tried this week: 'Everything Bagel' Cauliflower Rolls from Lexi's Clean Kitchen.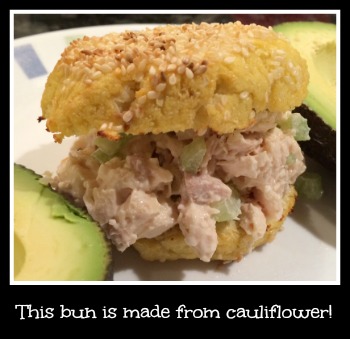 We made our Low Carb Cauliflower Rolls with just sesame seeds + sea salt on top (because we didn't have "everything") and substituted almond flour for the corn meal in her original recipe. Low carb MashupDad was very pleased with the results, and these are also Paleo and gluten free! They were pretty crumbly and moist, so next time we will also try wringing out the riced cauliflower to get some of the excess moisture out, although the original recipe doesn't call for doing so. (Update: We just tried another batch and pressing the water out didn't really change the texture, but added a lot more work — I'd skip it!)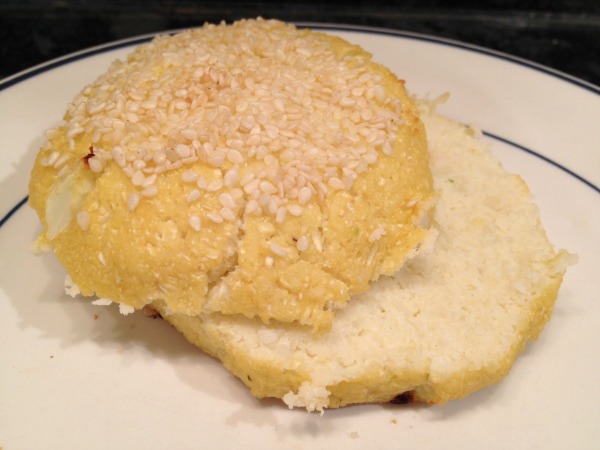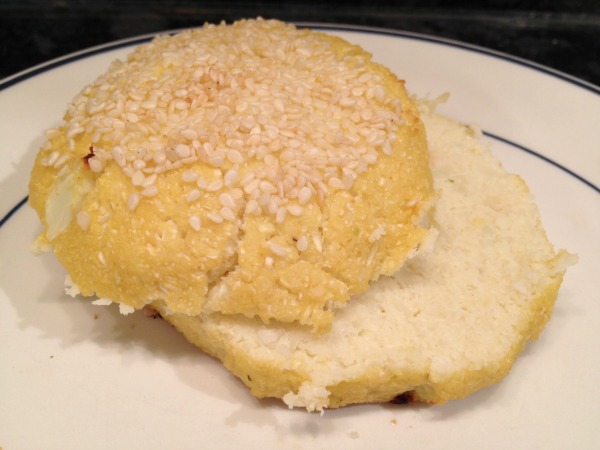 This makes four good sized rolls, which MashupDad enjoyed four days in a row: Scrambled egg sandwich, chicken salad sandwich, and two days of Italian beef.
Low Carb Cauliflower Rolls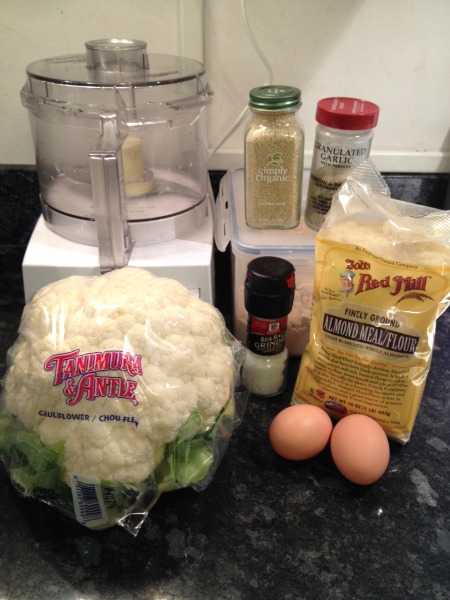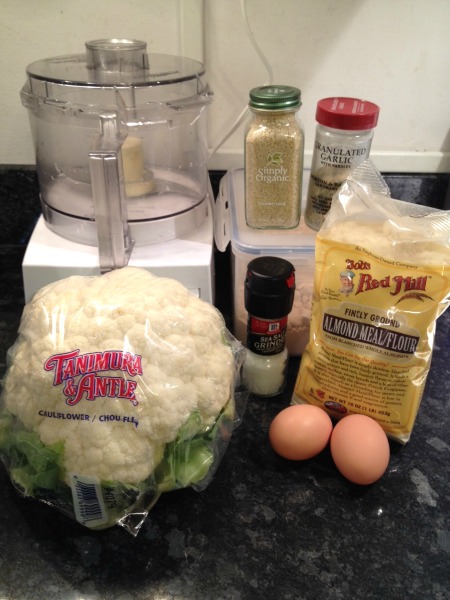 Ingredients
3 cups "riced" cauliflower (we used a good sized head, and there was some left over)
3 Tbsp almond flour
1 Tbsp coconut flour
2 eggs
1/2 tsp garlic powder
1/4 tsp sea salt
Sesame seeds + sea salt for topping (and/or dried garlic, poppy seeds, other topping of choice)
Directions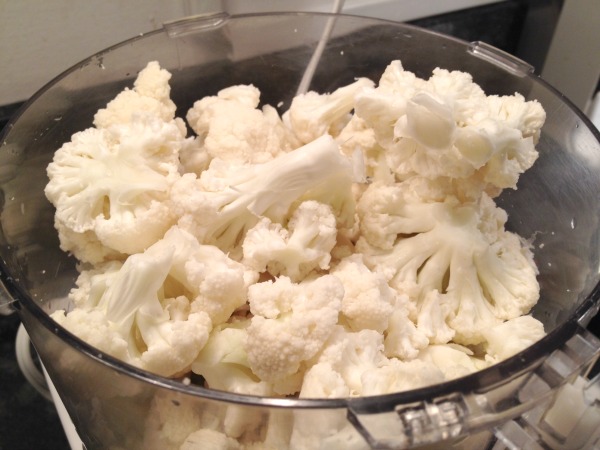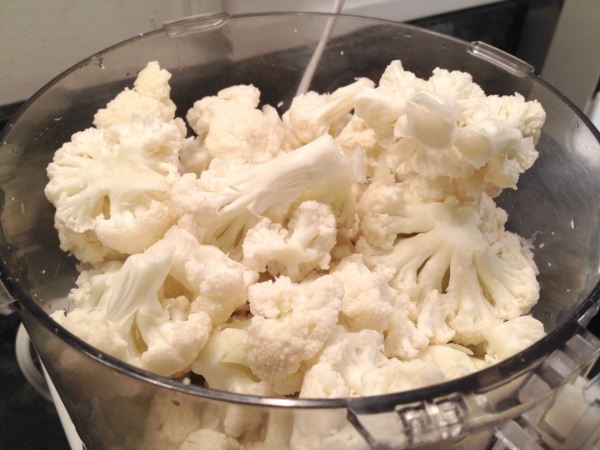 Wash cauliflower and chop into florets. Add to food processor and pulse until your cauliflower reaches "rice" consistency, scraping down the sides as necessary. Combine 3 cups riced cauliflower, eggs, almond flour, coconut flour, garlic powder, and sea salt in large bowl and mix until well combined. Roll into four balls and place on cookie sheet lined with parchment paper or silicone baking mat. Top with sesame seeds and additional sea salt (and/or your toppings of choice) and bake for 20 minutes at 400, then broil on high for another 4 minutes to brown the rolls and get the outsides slightly crispy.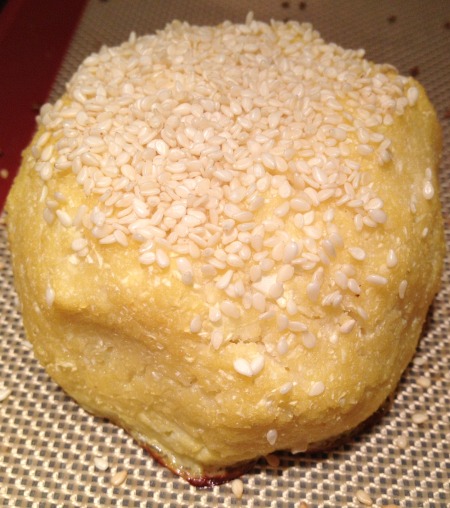 Remove carefully from baking sheet and let cool on rack. Store in tightly covered container in refrigerator. (I recommend slicing leftover rolls and toasting a bit in a toaster oven before eating, both to warm them back up and to help them hold together a little more.)
And that's a wrap — Um. A roll.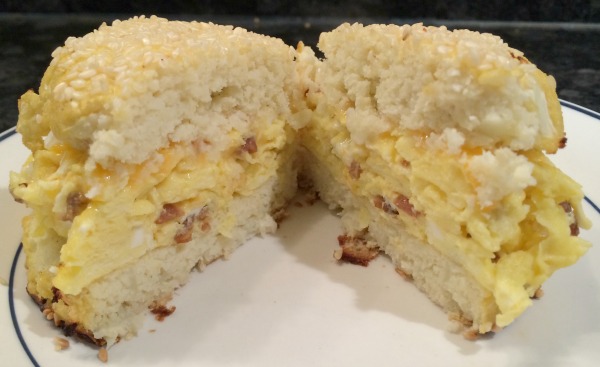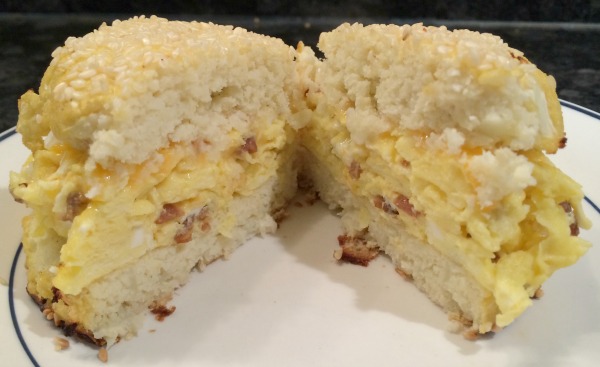 MashupDad just walked in here while I was typing this and said that he is so making these again tonight. We will take that as a ringing endorsement! Note that these are not the same as wheat rolls, so don't expect identical results — you probably won't like them if you don't like cauliflower to begin with. However, they are really quite nice for low carb, gluten free sandwiches; plus since these are cauliflower based they are more nutritious than some of the other substitutes out there.
Easy print version

Low Carb Cauliflower Rolls
Author:
Rachel at MashupMom.com
Ingredients
3 cups "riced" cauliflower (we used a good sized head, and there was some left over)
3 Tbsp almond flour
1 Tbsp coconut flour
2 eggs
½ tsp garlic powder
¼ tsp sea salt
Sesame seeds + sea salt for topping (and/or dried garlic, poppy seeds, other toppings of choice)
Instructions
Wash cauliflower and chop into florets.
Add to food processor and pulse until your cauliflower reaches "rice" consistency, scraping down the sides as necessary.
Combine 3 cups riced cauliflower, eggs, almond flour, coconut flour, garlic powder, and sea salt in large bowl and mix until well combined.
Roll into four balls and place on cookie sheet lined with parchment paper or silicone baking mat.
Top with sesame seeds and additional sea salt (and/or your toppings of choice) and bake for 20 minutes at 400, then broil on high for another 4 minutes to brown the rolls and get the outsides slightly crispy.
Remove carefully from baking sheet and let cool on rack.
Store in tightly covered container in refrigerator. (I recommend slicing leftover rolls and toasting a bit in a toaster oven before eating, both to warm them back up and to help them hold together a little more.)