ALDI Finds for the week of 4/13/22 include gluten free skillets, Easter ham, very large shrimp, bags of garden soil, and more. Check them out below, and let me know what you want to Find this week!
Gluten free folks! This week you can try out two varieties of liveGfree gluten free cheesy skillets. These are available in either cheesy cheeseburger or cheesy stroganoff varieties, at $2.39 per box. Then for dessert, you can also check out Nabisco GF Oreos for $3.65.
Dairy free folks! Something for you, too. How about 32 oz Chobani vanilla oat yogurt for $5.49, or Earth Grown vegan bowls (General Tso's, orange chicken, or beef) for $3.99.
Note that both advertised and unadvertised ALDI prices can vary by store and by region. But now, let's talk about the rest of the top ALDI Finds for the week of 4/13/22. You'll also Find some on 4/10/22 in Sunday ad markets, or if your store tends to put products out early.
Top ALDI Finds of the week
In no particular order as we rocket towards Easter 2022, here are 12 more ALDI food Finds (plus a food Finds heads up), as well as 30 non-food Finds from this week's ad (plus a few flower & garden Finds).
Top twenty food Finds this week
Beyond the dairy-free and gluten-free Finds mentioned above, here are 12 more ALDI food Finds to peruse in store:
Appleton Farms spiral sliced half ham, $1.19/lb
Cattlemen's Ranch homestyle or Texas barbeque seasoned meatloaf, $8.49
L'Oven Fresh trust your gut honey wheat bread 20 oz, $3.99
Siggi's Icelandic skyr yogurt in vanilla cinnamon or black cherry, $1.69
Fremont Fish Market extra jumbo EZ peel raw shrimp 32 oz, $14.99
Whole & Simple shrimp & grains single serve meal, $4.49
Never Any fresh butterflied lamb leg, $7.99/lb
Clancy's original or cheddar & sour cream rippled baked potato ships, $2.79
Carlini ghee blend spray oil, $3.49
Nabisco family size Oreo Thins, $3.95
Lesser Evil Himalayan Gold or "no cheese" cheesiness organic popcorn, $2.89
Brew Dr. kombucha, $2.67
Let me just say that ALDI's spiral sliced ham is so good! I highly recommend it.
Some of you look forward to the new skyr flavors when it rolls back around in stores, and vanilla cinnamon seems intriguing.
This big two pound bag of extra jumbo shrimp works out to $7.50/lb, which is not bad at all for this size.
And a quick heads up
I saw this Level Valley Creamery "cream cheese blend" on the shelf as a special buy this week, at $.20 cheaper (in my store) than ALDI brand cream cheese. Since cream cheese hasn't yet gone on sale for Easter this year, I picked it up — but then put it back on the shelf, because the "blend" part turned out to be palm oil (as the second ingredient). The extra $.20 is probably worth it for real cream cheese.
Top thirty non-Food Finds this week
Silicone baking mats are back this week, at the same $4.99 price as previously. These are great both for nonstick baking and for rolling out dough, and you can easily roll them back up to store. Then, 30 more good non-food Finds include:
Ambiano heated beverage dispenser, $69.99
Ambiano hand blender with chopping bowl, $24.99
Crofton 2 pack bamboo food storage, $8.99
Crofton 5 piece wood & silicone utensil set, $9.99
Crofton covered stoneware baking dish, $14.99
Crofton 12″ saute pan or 10″ & 8″ fry fan set, $18.99
Huntington Home 24″x36″ chef's mat, $12.99
Crofton color dipped wood board, $6.99

Crofton wine decanter, $12.99

Crofton casserole dish, $14.99
Huntington Home decorative wall sign, $9.99
SOHL accent cabinet (in white), $79.99
Huntington Home decorative woven baskets, $9.99
Huntington Home 24″x36″ handwoven accent rug, $8.99
Crofton ceramic canisters, $6.99
Huntington Home large or 2 pack small woven totes, $8.99
Huntington Home quilted king or queen mattress pad, $29.99
Huntington Home PEVA shower curtain liner, $5.99
Pembrook all occasion cards, $.99
Auto XS rechargeable 600 lumen LED spotlight, $14.99
Little Journey retractable gate, $29.99
Heart to Tail 15 lb pet food container, $9.99
Heart to Tail pet storage bin or cat tunnel & house, $8.99
Heart to Tail luxury cuddle pet bed or travel bucket pet bed, $19.99
Lily & Dan children's trekking sandals, $14.99
Serra Ladies' spring jacket, $16.99
Serra Ladies' 2 pack soft leggings or single pack fitness tights, $9.99
Crane Ladies' fitness bra, $8.99
Women's oversized cardigan, active pullover, or cozy lounge dress, $14.99
Easy Home layered scrub sponges 5 ct, $3.99
It's a much bigger non-food ad this week, which is probably why we saw a lot of clearance items last week to make room for all the new spring Finds.
The bamboo food storage containers are pretty neat; I wonder how they would hold up.
And, you know that the $.99 cards are always a great buy and good qualify for that price.
Flower, garden, and outdoor Finds
Who else is picking up garden soil now? At $3.49 each, I grabbed a couple of these bags today to help replenish my own little garden this year. For your continued outdoor enjoyment, also look for:
Belavi stacking rocker, $59.99
Belavi stacking outdoor side tables, $18.99
Huntington Home rubber gate coir mat, $9.99
I got one of the little side tables on clearance at the end of the season last year, and that reminds me I need to go scrub off the sticker they adhered all over its glass top.
And this is also the week to pick up your potted Easter lilies! (Or tulips, or hyacinths…) See price in store on these as well as on Easter kalanchoe, and 10 stem tulip bouquets.
What's Up with ALDI Finds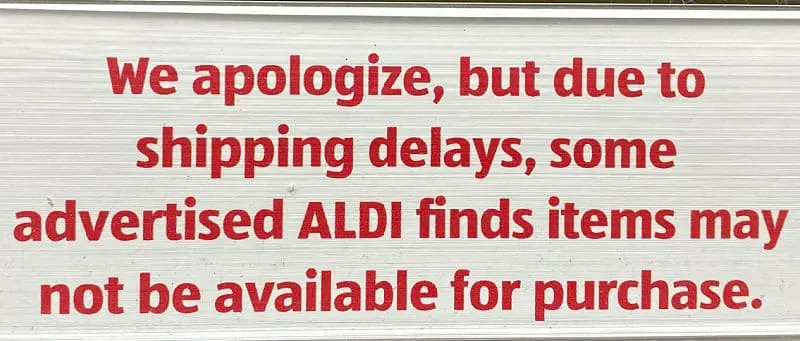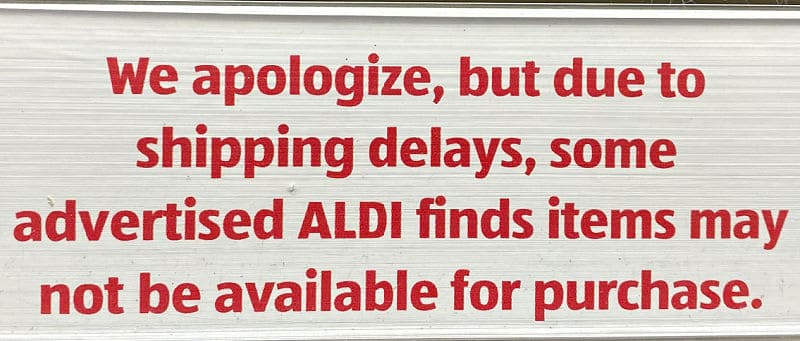 What's up with ALDI Finds? Well, these are limited time special buy items that are available in stores only while supplies last. So if you spot something you like, be sure to pick it up while you can.
Before shopping for new Finds this week, you might wish to visit the ALDI Finds product delays page. Because of ongoing shipping delays and materials shortages affecting ALDI and many other retailers, certain advertised products may not be available in all locations.
Finding the Finds
Where do you Find all of this week's special buys?
Check out the "ALDI Finds" and current weekly ad tabs (or mobile menu choices) on the ALDI site to window shop from home.
If you're planning an in-store shopping trip, use their online ad to help determine what you'll grab and purchase if you do see it in the store.
Products mentioned in this post were either spotted in store or are from the ads starting 4/10/22 in Sunday ad markets,4/13/22 in Wednesday ad markets. What caught your eye among this week's ALDI Finds?